Saying farewell to indie jazz band Really From
From a fan's perspective, Really From's announcement on Instagram that they were taking an indefinite hiatus came at a surprising time. After almost a decade of serving their one-of-a-kind, elusive blend of indie rock, jazz, emo and hip-hop, and with three albums under their belt, they had captured a dedicated fandom in Boston and beyond.
In December 2021, the band revealed they had garnered over a million and a half streams on Spotify. National media was paying attention. A few months prior, SPIN Magazine named them to a list of 50 best contemporary rock bands. The popular independent blog Stereogum picked up their hiatus announcement on their social media and, to the band members' surprise, followed their individual accounts.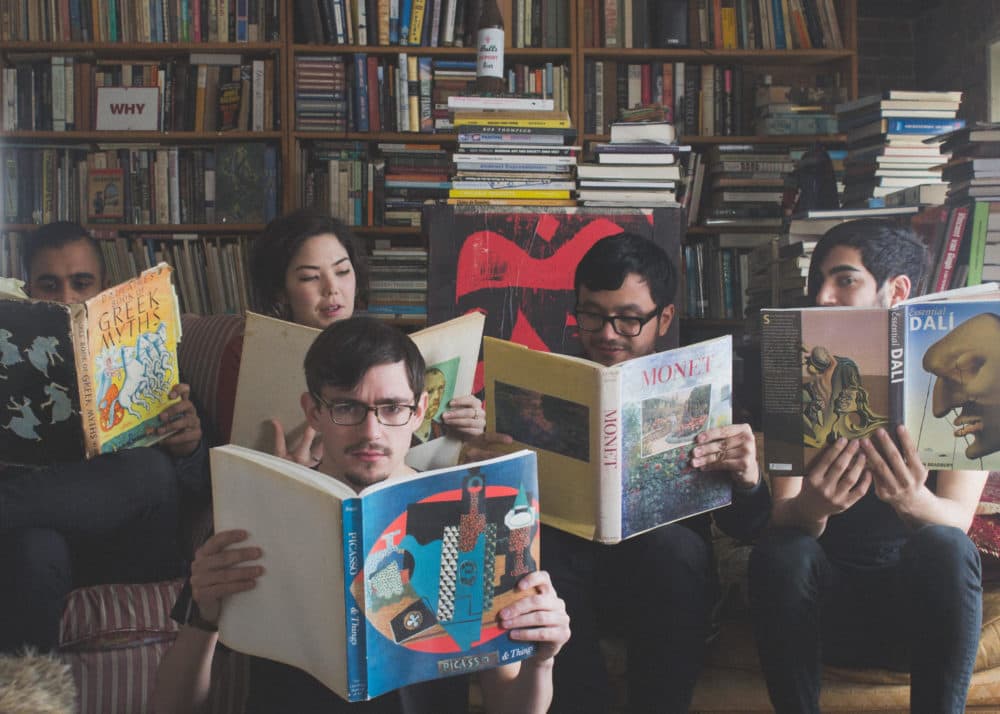 And while it's no wonder that Really From's profoundly authentic and thoughtful music rang true with so many ears and souls, the band's members weren't preoccupied with their own popularity. In fact, with the majority of members heading into their 30s, and the dislocating experience of playing music through a pandemic, they were mainly concerned with what would be sustainable for them.
"We've accomplished all of our goals for the band. This feels like a natural ending point."

Sai Boddupalli
That's why, while many — band members included — were saddened at the news, there has been plenty of support and hope for the future. Everyone in the band agrees that it was the right choice. "I believe there is a musical shelf life," says bassist and producer Sai Boddupalli. "We've accomplished all of our goals for the band. This feels like a natural ending point." Horn player Matt Hull agrees. "It feels right."
As the band prepares for their final show in the Boston area at Somerville's Crystal Ballroom on Nov. 3 (they're also playing at ALPHAVILLE in Brooklyn, New York on Nov. 6), they share their thoughts, emotions, and memories in interviews with WBUR.
Guitarist and vocalist Chris Lee-Rodriguez and drummer Sander Bryce have been in a similar emotional place before with their previous band, I Kill Giants. Having achieved an equivalent level of popularity with that more emo-focused act, Lee-Rodriguez and Bryce decided to disband and start anew.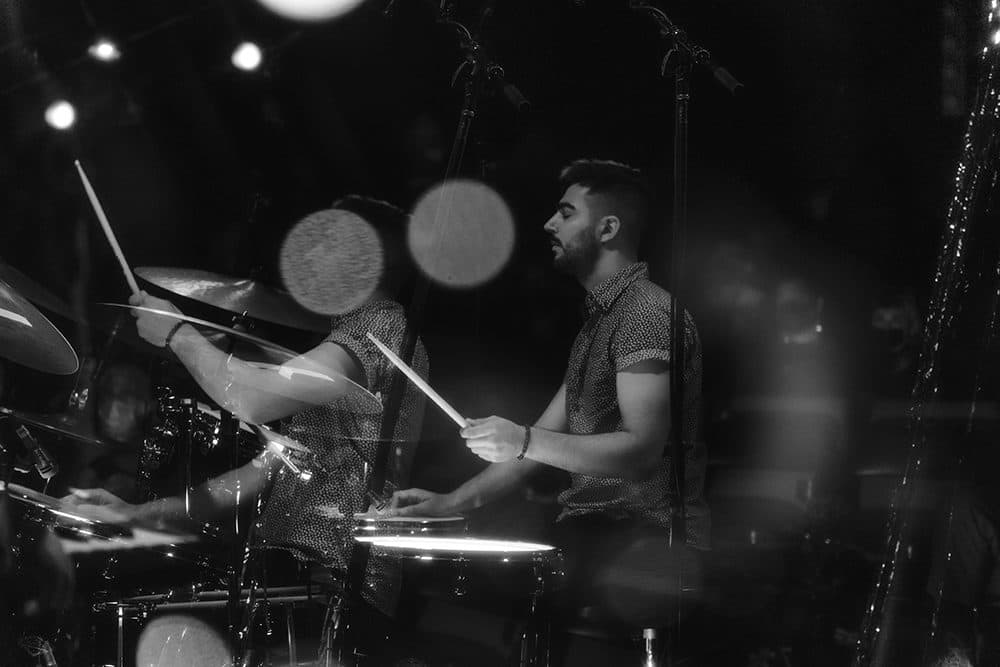 Bryce does express some frustration with this prospect, feeling justifiably disappointed having headed two acts on the cusp of breaking onto a national stage before dissolving. "You know there's potential for this thing that you've put a lot of work into," he explains. "But at the end of the day, I'm not the only person involved, and I have to respect their choices and needs."
He's been living off of money earned from private lessons and driving ride shares in his spare time. "You can't really make rent off of touring," he explains. So, Bryce has adjusted and remains optimistic about the future. "I'm in this industry for the long haul," he says. He speaks surrounded by moving boxes mostly packed. He plans to move to Los Angeles to join his cousin, Jonah Levine, to pursue H A U N T E R, a project focused on collaboration within the greater community of artists they've come to love.
He isn't the only one leaving Really From's Boston stomping ground. Trumpet, bugle and FM radio player (yes, their sets feature a performance on a small battery-operated FM radio), Hull has actually lived in Brooklyn for the past two years where work for aspiring professional horn players is more ubiquitous. Having grown up in the Greater Boston area, Hull feels the change of scenery was needed for personal and professional reasons.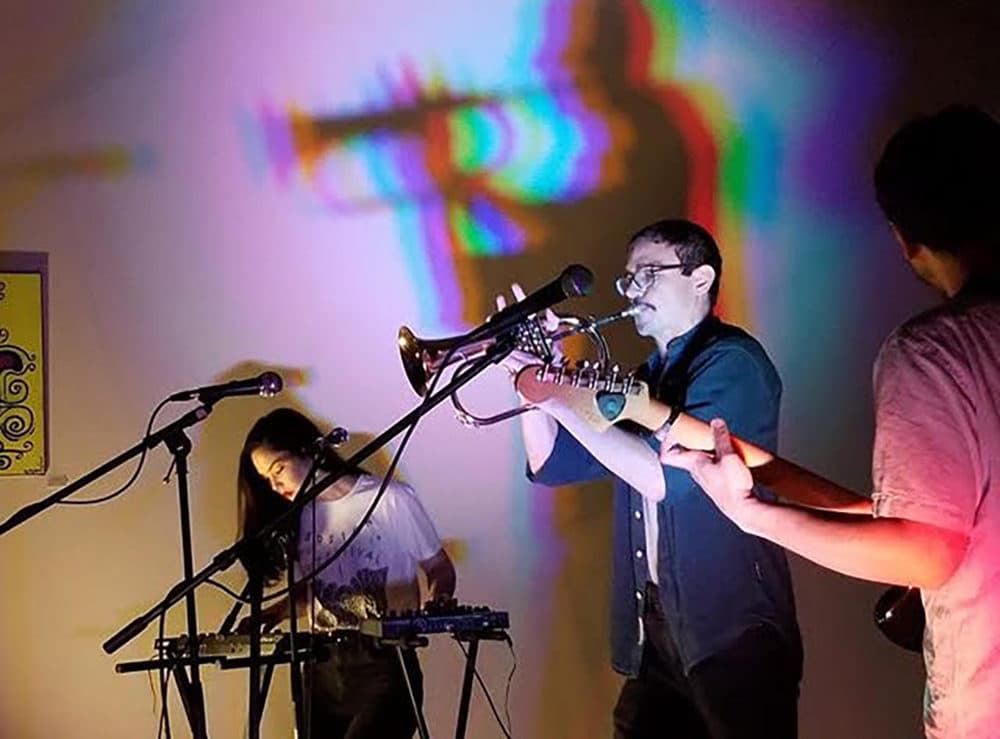 "It's good for the soul to get a new start," he says. "Or at least that's what I hear." In New York, Hull plays weddings and gigs whenever possible. He teaches private lessons and works on his solo music: quiet ambient, textural, compositions that heavily echo his work with Really From. "The band was a huge part of my life," he says. "In a way, it does feel like a breakup, but I know they'll remain my friends."
Lee-Rodriguez, Boddupalli and keyboardist and vocalist Michi Tassey, on the other hand, have all planted deep roots in Boston. The bustling, harbor streets of East Boston have become Lee-Rodriguez's chosen community where he hopes to live what he calls a simpler life. There, he teaches kids in middle school and after-school around the corner at the nonprofit ZUMIX.
"Working with those teenagers and having a breakthrough with one of them fills me with more gratitude and is more meaningful to me than any applause for my music."

Chris Lee-Rodriguez
He describes the work as humbling. "You can tell them all about the cool stuff you've done, but they'll say, 'who cares' and make fun of how big your head is," he laughs. But he takes great pride in the work. "Working with those teenagers and having a breakthrough with one of them fills me with more gratitude and is more meaningful to me than any applause for my music."
"I was hustling for so long, constantly on, tracking engagement, booking shows, comparing myself to my peers," he says of his professional music career. "I just want to chill with my fiance and cat."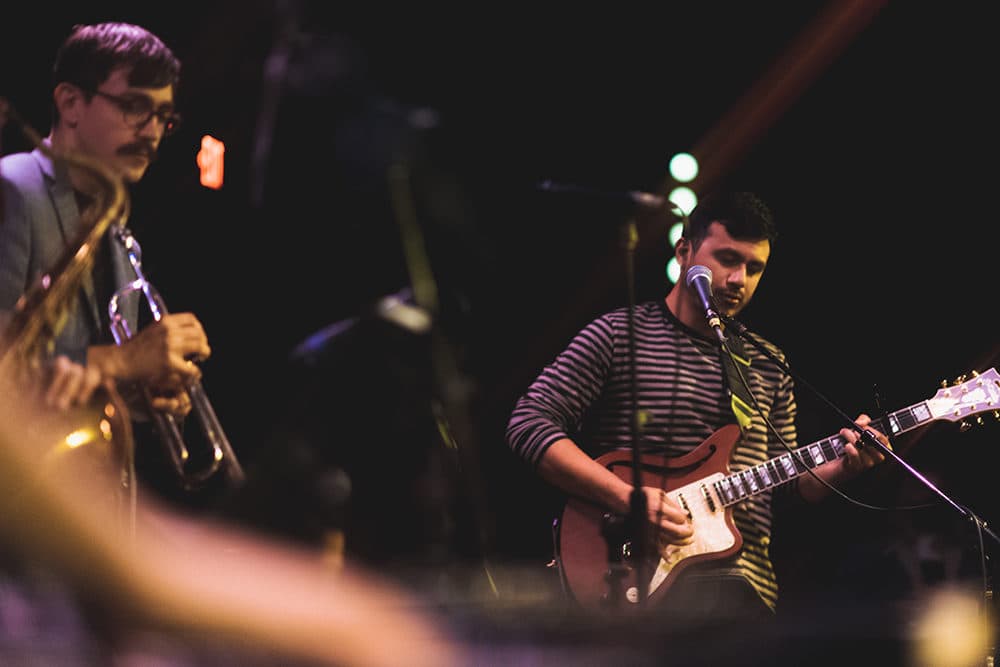 Boddupalli and Tassey have been building their own lives together. Having fallen in love while recording Really From's 2016 album "Verse," the two recently married. Living in Back Bay with their dog, Tassey works as a director of resident services and music therapist at an assisted living facility and Boddupalli is growing a nonprofit, Builders of Color Coalition, which seeks to increase access and diversity in Boston's commercial real estate sector. Like the others, Boddupalli has his own solo project, the meditative electronic act Mercet, which he plans to continue using as a creative outlet.
It's obvious that the band members' paths have diverged, and that could be a product of burnout. Lee-Rodriguez and Bryce have been playing in bands since high school. Many of the members describe the beginning of a reawakening of their true love for music, one that had faded with the pressures of recording and playing semi-professionally.
"I'm rediscovering a lot of the ways that I used to produce music," says Boddupalli, who never really considered himself a bass player and is enamored with synths and film scores. He doesn't foresee his collaborations with Really From members ending anytime soon. "That's been ingrained through friendship outside of the band. If I ever want a drum part, I'm turning to Sander, or if I want a classical guitar part, it'll always be Chris to me."
Tassey says she was "craving silence" during the days that the band was recording their self-titled album. Working in music therapy, coping with the heightened stress of being deemed an essential healthcare worker during the pandemic, and feeling undervalued in a profession whose value isn't understood, Tassey felt burnt out emotionally, mentally and physically.
"Having to project my voice through a mask singing to people with hearing impairment destroyed my voice," she says. Thankfully, the pressures have been relieved, and Tassey says focusing on her career feels like the right choice. "This is a sustainable future in work that I can excel at and be proud of," she says. "It's sad that I'm not able to do it all, but I just can't."
"It used to be easy. Five years ago, we didn't have as many responsibilities, and we could just say, 'let's go on tour,' on a whim. It's not like that anymore."

Sander Bryce
Or, it could simply be the natural result of growing as people — getting married, moving to a new city or finding a new career — made public by the fact of a devoted fan base. "Being a five-piece band inherently means you have personal lives to contend with and all of the sacrifices that come with being in a band," Boddupalli says.
"It used to be easy," says Bryce. "Five years ago, we didn't have as many responsibilities, and we could just say, 'let's go on tour,' on a whim. It's not like that anymore."
"Life is getting real," Tassey agrees. "We all have bills to pay and people that rely on us."
The bandmates would agree that it's a combination of these things with a healthy dash of pandemic-spurred existential crisis. Whatever their reasons, they share a bittersweet hope for the future seasoned by almost a decade's worth of touring and recording memories, spending nights on strangers' floors, including an odd one at a hoarder's loft in Ohio, dragging themselves to Waffle House the next day, sharing a stage with Kamasi Washington, smoking cigars on a rooftop during a release show of their album "Verse" and long days debating the direction of their self-titled album.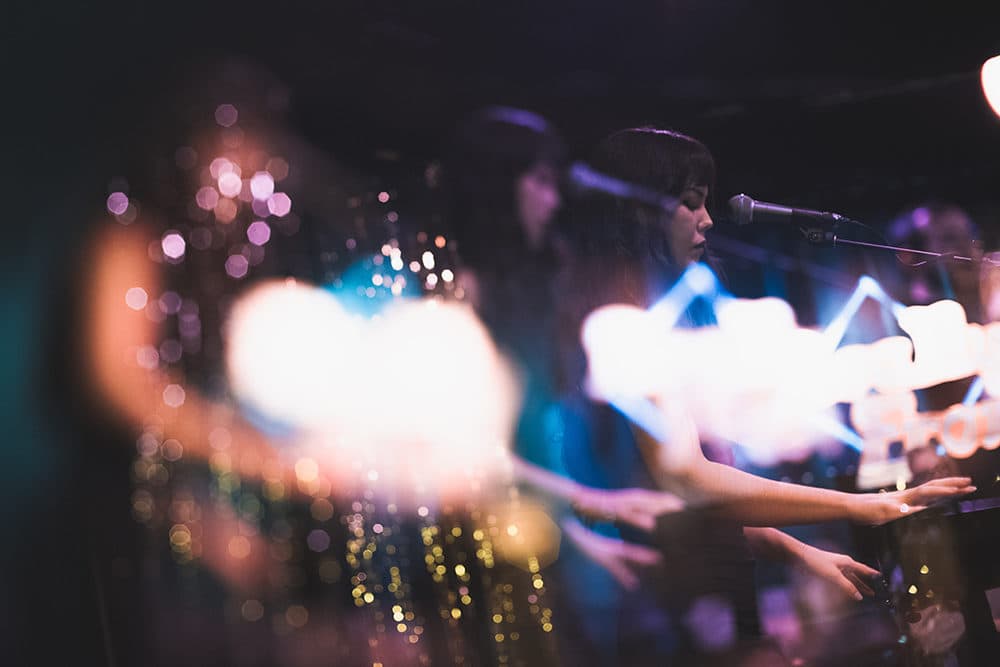 "I will truly miss playing shows with these people I'm so close to," says Tassey. "That is such a high, but at the same time I'm excited to just enjoy a friendship with my friends and not have the pressures of the band in the way."
"No matter what, Really From is proof that you can get a bunch of totally different people together, and if you work hard enough, make something totally unique," says Bryce. "I hope we've laid the blueprint in some way."
And fans can rest assured that, while this might be the last time for a while that they hear Lee-Rodriguez belt the refrain from "I'm From Here" or watch Hull tease out the mournful notes of "Apartment Song," the musical spirit of Really From lives on in each of the band members' art and work.