Mass. has too much food waste. Increasingly, it's being used to make electricity
Resume
The Fancypants Baking Company in Walpole is like a Willy Wonka cookie factory; at every turn there are giant bowls of dough and tall racks of snowflake cookies and gingerbread men.
Justin Housman, who co-founded Fancypants with his wife, said the company makes up to 300,000 cookies a day. And with that many cookies, there's bound to be some mistakes. 
He points to a line of women piping white icing onto blue snowflake cookies. "There's human error that's possible, they're moving quickly. If you drop something on the floor, it's sure not getting sold to a person, right? No matter what."
Those cookies that end up on the floor are part of a bigger problem: Massachusetts throws away almost one million tons of food waste every year. To help decrease this, the state has tightened its food waste ban; as of November, 2022, any business that generates more than a half a ton of food waste per week cannot send it to landfills or incinerators.
At Fancypants, Houseman is already working to keep cookie waste out of landfills; he donates many misfit cookies or sells them at a discount, and the ones that can't be saved go to a facility called an "anaerobic digester."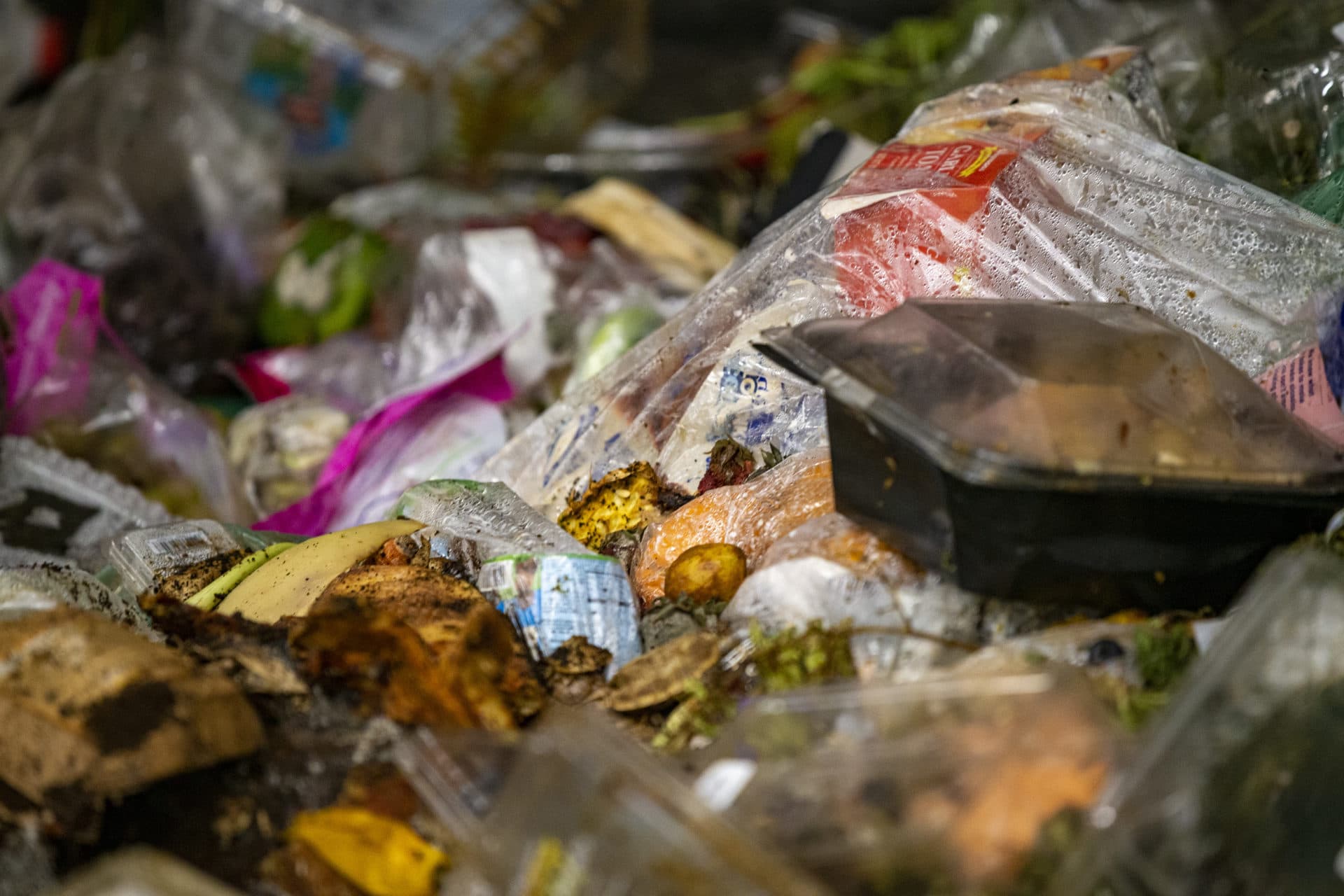 Anaerobic digesters have a spotty history in the U.S., but they're now enjoying a boom as a climate solution. Instead of the food waste rotting in a landfill and emitting methane, a potent greenhouse gas, digesters capture the emissions and turn it into energy. Environmental advocates aren't quite bullish on the technology, but cautiously optimistic.
"Anaerobic digestion should be part of the solution," said Kirstie Pecci, executive director of the waste-reduction nonprofit, Just Zero. "Not all of the solution, but part of the solution, so long as it's done well."
A giant cow stomach
The Bar-Way dairy farm in Deerfield doesn't smell as nice as the cookie factory, but the cows contribute an important ingredient to the anaerobic digester process: manure. About 22 tons per day.
"About 20% of what we feed to the digester is manure," said Kaylyn Bacha, the operations technical manager with Vanguard Renewables, the company that runs the digester at Bar-Way. "The additional 80% is coming from food waste."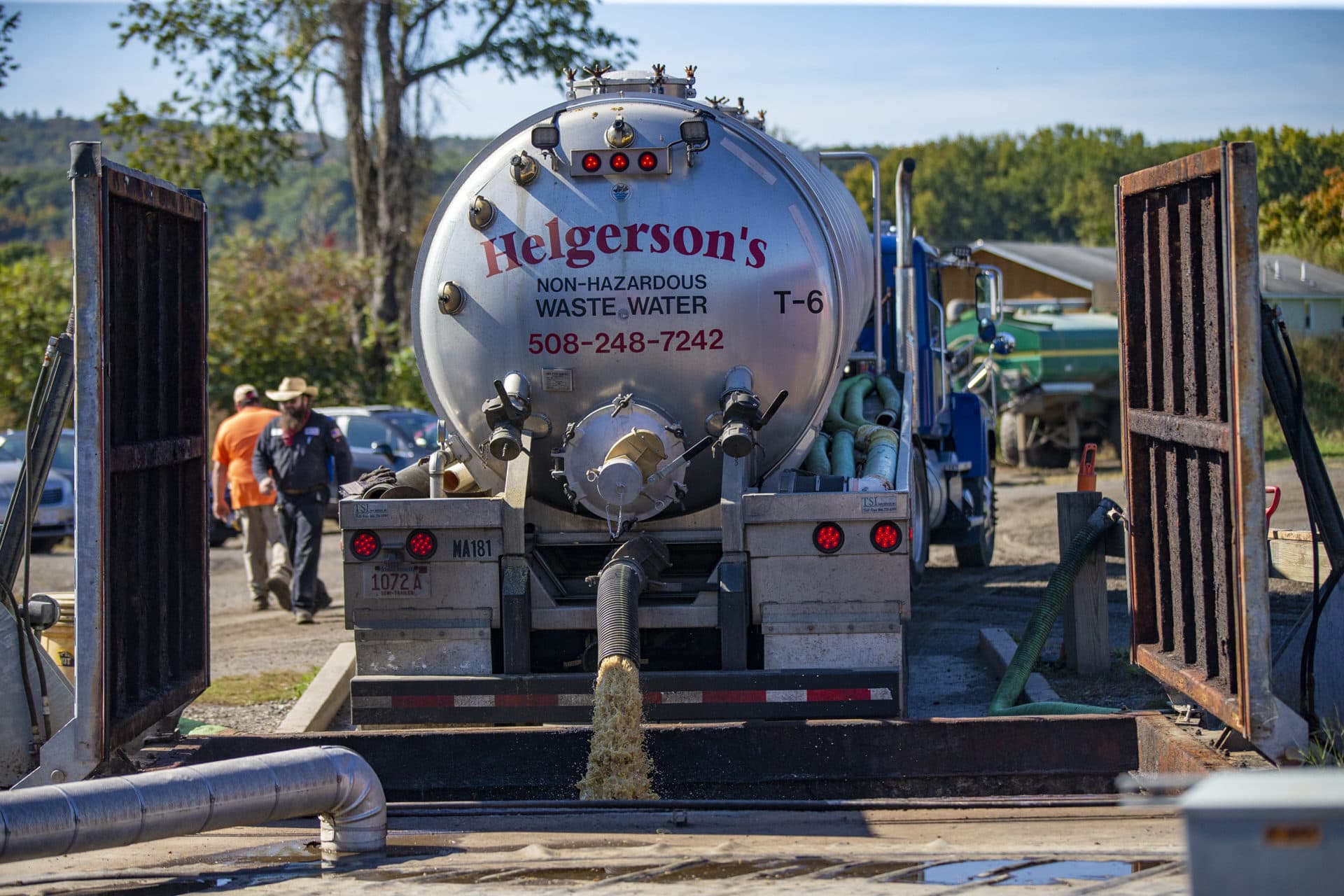 The digester is basically a huge tank that works kind of like a giant cow stomach, said Bacha. Bacteria from the manure eat the food waste and belch out methane — or "biogas," as digester proponents prefer to call it — which is collected in giant black balloons on top of the tank. The biogas is burned to make electricity, which is fed into the grid. (At some facilities, the biogas is refined and pumped into existing gas pipelines.)
"Co-digesters" like this one, which use both manure and food waste, offer a steadier supply of biogas than ones that run on manure alone, said Bancha. They can also be used on smaller dairy farms, like Bar-Way's 250-cow operation.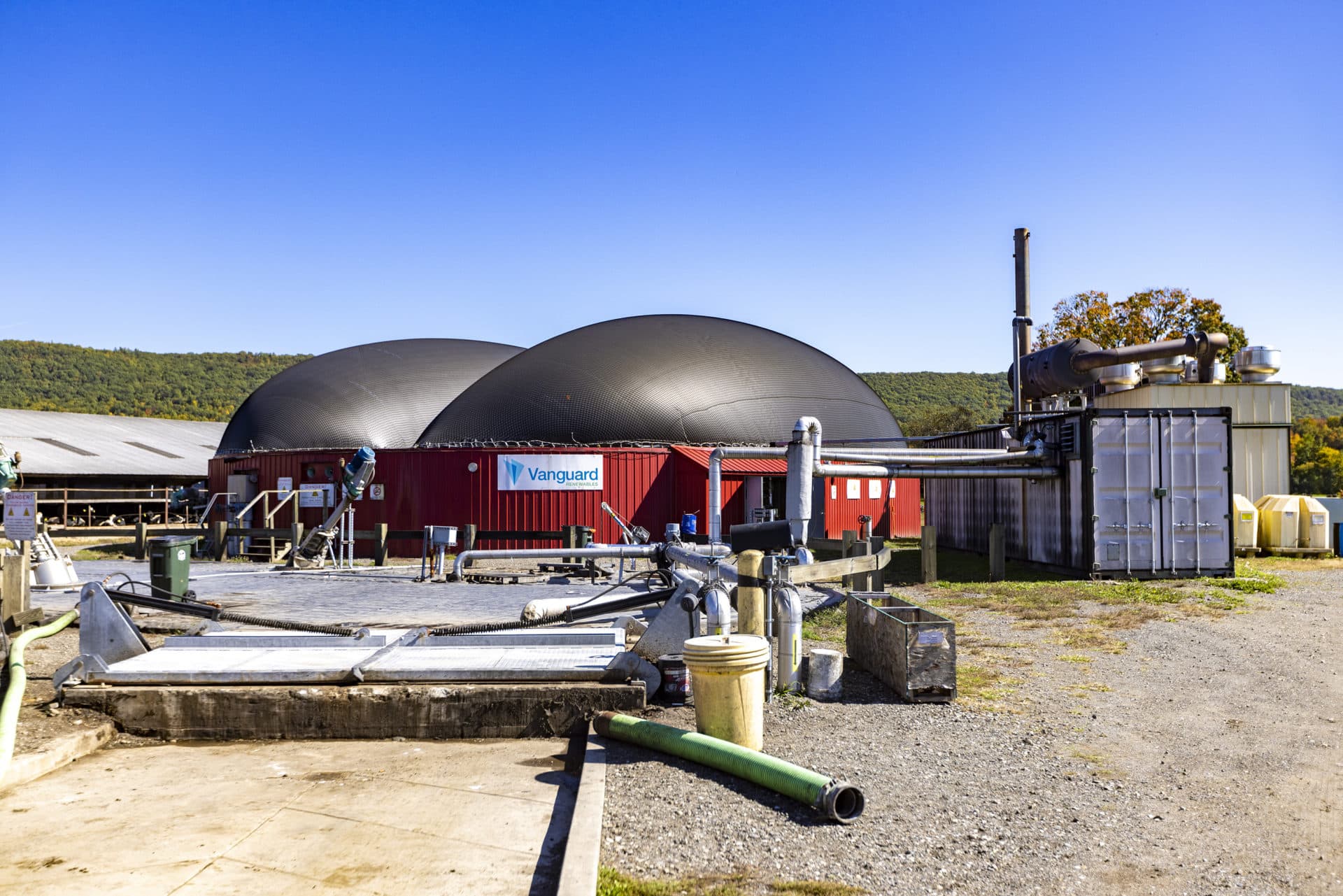 Putting food waste in the mix doesn't just boost digester efficiency, it also keeps those cookies and veggie scraps out of landfills and incinerators. When you add up all the fossil fuel emissions that go in to growing, processing, and then chucking uneaten food in the United States each year, the Environmental Protection Agency estimates that it's equivalent to the annual emissions of 42 coal-fired power plants.
But getting the right mix of banana peels, spoiled ice cream, and manure for the digester can be tricky.
"We've learned that too much fat will cause a 'foaming event' in the digester," Bacha said. That's when excess foam builds up and slows gas production. "It's like the way you would think about feeding yourself, right? If you eat too much ice cream, you might have a stomachache later."
Steve Melnik, a third-generation dairy farmer who runs Bar-Way with his son, is a fan of the digester. It solves his manure problem, and there are other benefits: he uses the leftover nutrient-rich liquid to fertilize his fields, and the crumbly-but-not-smelly leftover solids for cow bedding. Melnik also gets discounted electricity and a small stipend. Altogether, he said, it saves his farm about $150,000 a year.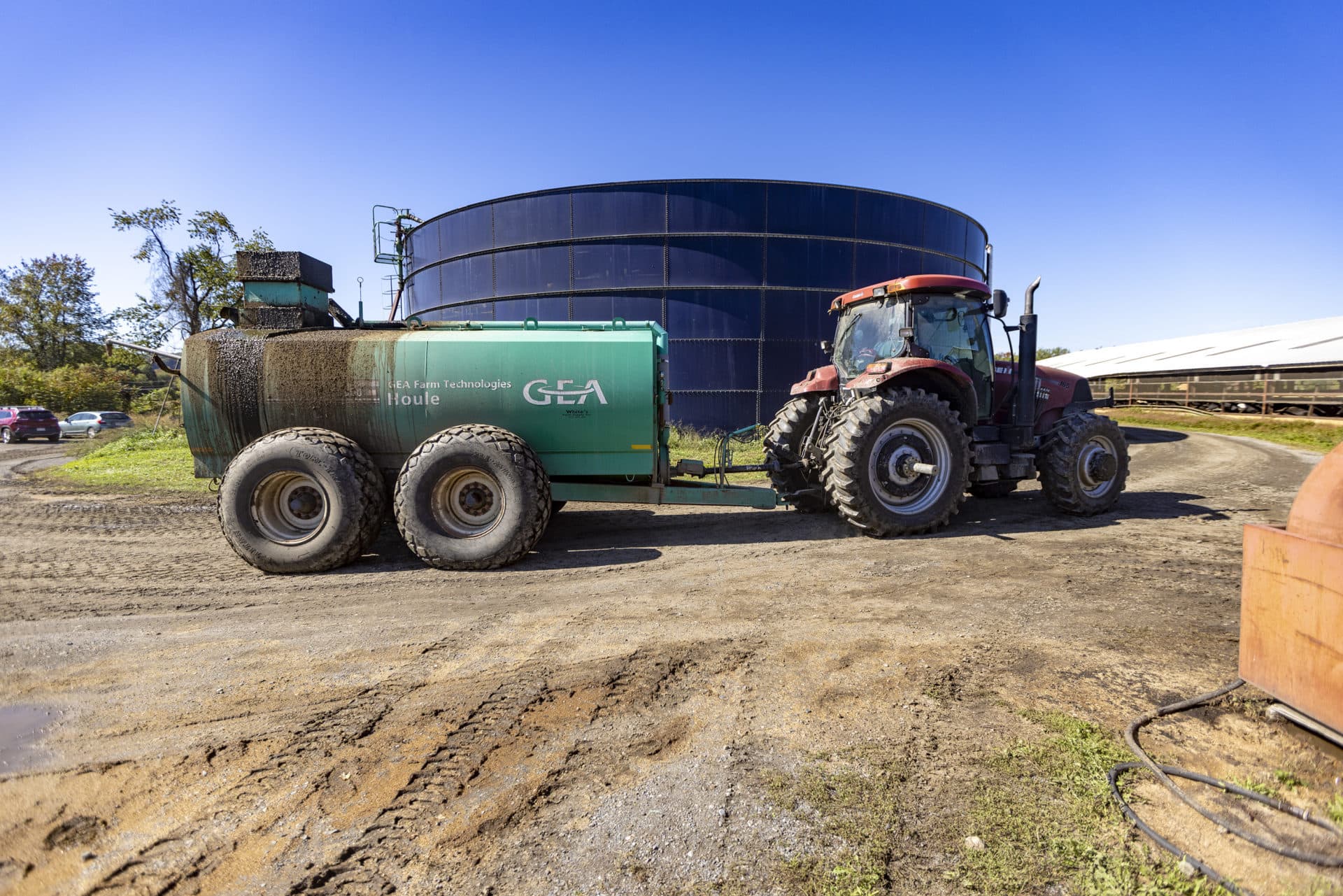 "That is a huge savings for really doing nothing, " he said. "It's going to keep us so we can keep farming for another generation or two."
Digesters on the rise
Anaerobic digesters didn't always get such high marks from farmers. They're hard to run well, and failures were common. Melnik was skeptical when his son first proposed it: "Five, six, seven years ago, there was a limited number of digesters and 50% of them didn't work," he said.
And when digesters don't work, farmers could be left in the lurch, stuck with a stinking tank of manure and food waste.
"What happened most of the time is that the digester providers sold a bill of goods to their farm partners, went and built a digester on the farm and then left. That doesn't work," said John Hanselman, chief strategy officer for Wellesley-based Vanguard Renewables. Vanguard operates five of the nine commercial digesters in Massachusetts, one in Vermont, and four others outside New England. That makes the company one of the largest operators of anaerobic digesters in the country.
"It's going to keep us so we can keep farming for another generation or two."

Dairy farmer Steve Melnik
Hanselman said that one of Vanguard's innovations was adding professional management and technology to the process. The company has a full dispatch and logistics center in Wellesley with real-time monitoring of the digesters and an organics recycling facility in Agawam where food is separated from packaging and mixed into a digester-friendly slurry.
"We went [to farmers] and said, 'Let us take care of it. We will finance the project, we will build the project, and then we'll operate it,' " said Hanselman. "The whole goal is to take that percentage of the food manufacturing stream that is unsafe to eat and get that into recycling. And even doing that has massive carbon reduction."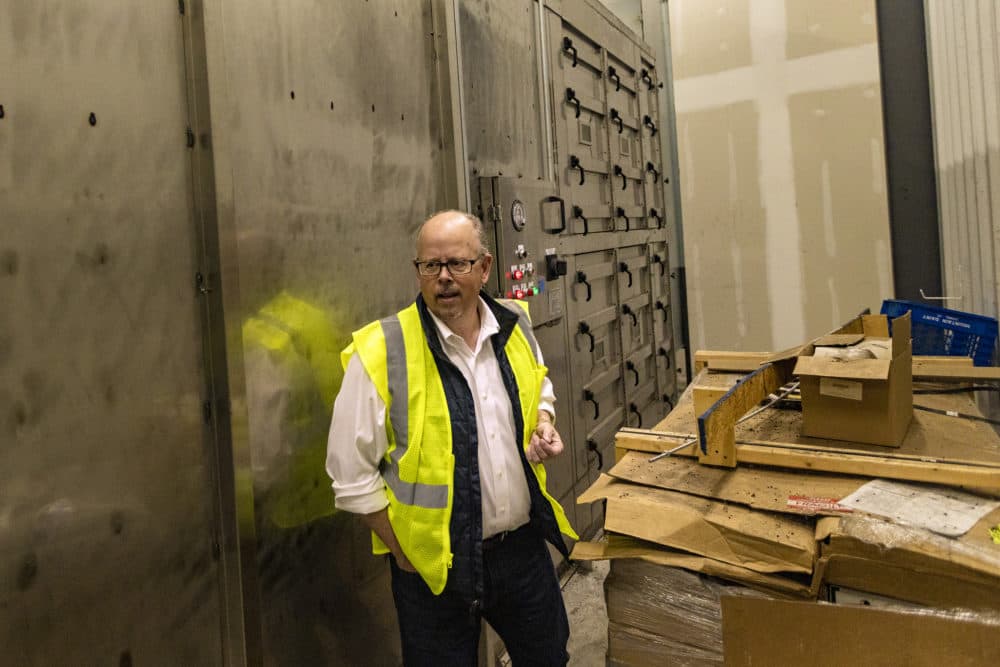 It's also meant massive growth for Vanguard, which was acquired by BlackRock last year for a reported $700 million, and is planning to build about 140 more digesters across the country by 2026.
Vanguard isn't alone. According to the American Biogas Council, the U.S. has 2,300 operating biogas systems across all 50 states, and the number of farm-based biogas systems — like the one at Bar-Way —increased by 21% in 2021. "We're not just seeing double-digit growth but an acceleration of growth," wrote a spokesperson for the council.
Those are astonishing statistics for a technology that's been around for decades, but never really caught fire in the United States. But the financial equation has changed in recent years, at least in some places. Food waste bans like the one in Massachusetts have spurred the growth of digesters and composting, and it can now cost about the same or less to recycle food waste rather than trash it.
"If you're in a state like ours where there were a lot of landfills, and a lot of them are filled up and closed and you don't have a place to put trash, then diverting 30% of your waste into a local renewable energy source basically is a great idea," said Gretchen Carey, president of the nonprofit MassRecycle.
"The digester providers sold a bill of goods to their farm partners, went and built a digester on the farm, and then left. That doesn't work."

John Hanselman, Vanguard Renewables
In addition, more companies are looking to burnish their environmental bona fides. Northeast dairy giant Cabot, for instance, operates a creamery in West Springfield that produces butter and powdered milk, and sends milky wastewater to a digester on a nearby dairy farm.
"It gives us the opportunity to say to our customers right there on a butter carton that the cows in our co-op are providing both the electricity and the cream for Cabot butter," said Jed Davis, director of sustainability for the Cabot Creamery Co-operative.
There are also new government incentives to spur the industry: under the latest Massachusetts climate law, certain digester facilities will be eligible for clean energy credits. The federal Inflation Reduction Act also includes some benefits for the industry. An American Biogas Council spokesperson called the IRA "the most supportive piece of legislation the U.S. biogas industry has ever seen."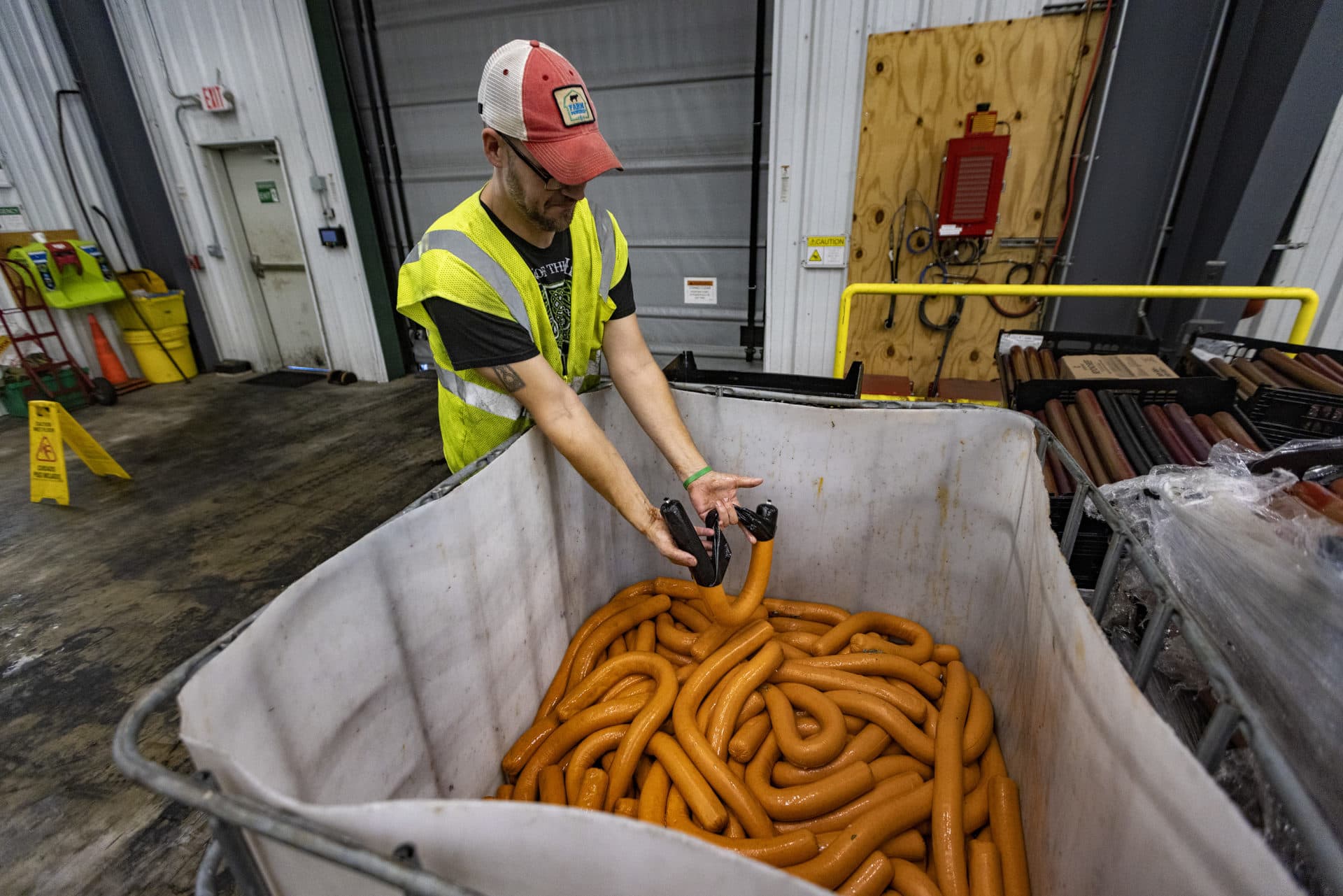 No green-energy nirvana
Anaerobic digesters won't get us to a green-energy nirvana, however. First off, they only make sense for farms that produce plenty of manure, and have access to a steady stream of food waste. And while Massachusetts has a food waste ban in place, it won't work unless it's enforced: MassPIRG pointed out in a 2022 report, about 40% of the waste stream in Massachusetts is currently made up of banned materials.
"I don't want any gas from an anaerobic digester to help out a gas line. Screw them. We're trying to get rid of that whole thing."

Kirstie Pecci, Just Zero
In addition, critics point out, using a digester means you have to truck heavy food waste around, and burning methane still puts carbon dioxide in the air (though less greenhouse gases overall than other disposal methods, according to an EPA assessment). And unlike the system at Bar-Way, some digesters feed biogas into existing gas pipelines, a process that some environmental advocates say could potentially extend the life and usefulness of fossil fuel infrastructure.
"I don't want any gas from an anaerobic digester to help out a gas line," said Just Zero's Kirstie Pecci. "Screw them. We're trying to get rid of that whole thing."
Pecci said the best way to deal with food waste is to not make it in the first place. When that's impossible, businesses should find ways to donate food to people who need it, or use it for animal feed. But she said that anaerobic digesters, run properly, offer a far more climate-friendly fate for food waste than incinerators or landfills.
And, she said, food waste is one of the easiest parts of the waste stream to attack; in more ways than one, it's low-hanging fruit.