Company decommissioning Pilgrim edges closer to dumping contaminated wastewater in Cape Cod Bay
Holtec, the company in charge of cleaning up the shuttered Pilgrim Nuclear Power Plant, is moving ahead with plans to discharge contaminated wastewater into Cape Cod Bay.
Holtec Senior Compliance Manager David Noyes said the company will ask the Environmental Protection Agency to amend Holtec's wastewater permit to allow the discharge.
"This is the path that the EPA has given for us to be able to move forward," said Noyes, speaking at a public meeting of the Nuclear Decommissioning Citizens Advisory Panel on Monday evening.
Noyes noted that the EPA had offered Holtec "no assurances" that the agency would amend the permit, but Noyes said that the company "will make every good faith effort to modify the permit and move forward."
But, when asked if the company will refrain from discharging wastewater while the permit is under review, Noyes answered "I can't say that," seeming to leave the door open for Holtec to dump wastewater in the Bay at will.
Noyes' words caused an audible gasp of astonishment from audience members at Plymouth Town Hall, many of whom held signs reading "Illegal! Illegal! Illegal!"
The wastewater in question is the 1.1 million gallons used to cool spent nuclear fuel rods. The water is known to hold both radioactive and non-radioactive pollutants, though the exact quantities are awaiting joint testing by Holtec and the state.
Holtec has proposed four options for disposing of the water: trucking it to another facility for disposal; evaporating the water and discharging vapor through the air handling system; long-term onsite storage; or cleaning it up and discharging it into Cape Cod Bay. The last option has raised considerable concerns within the community.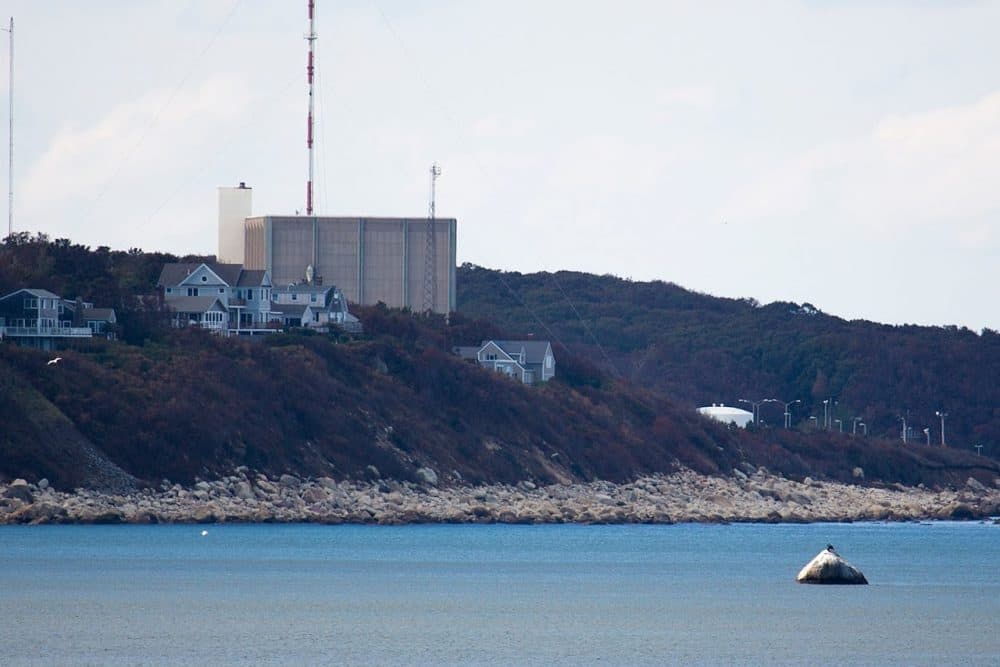 According to the Nuclear Regulatory Commission (NRC), which regulates radioactive waste disposal, Holtec may dump wastewater into the Bay as long as the radioactivity is below certain limits.
However, EPA, which oversees non-radioactive pollutants, warned Holtec in a June 17 letter that dumping polluted water in the Bay would be "plainly inconsistent with the unambiguous provisions of the permit."
Noyes' announcement that Holtec will seek to amend this permit came after a series of Plymouth residents, environmental activists and local politicians spoke against plans to discharge water into the Bay.
A spokesman for senator Ed Markey said the senator was in regular contact with Holtec officials, and would work "to ensure that there is no unsafe discharge of radioactive water into Cape Cod Bay."