Local marketplaces to shop this holiday season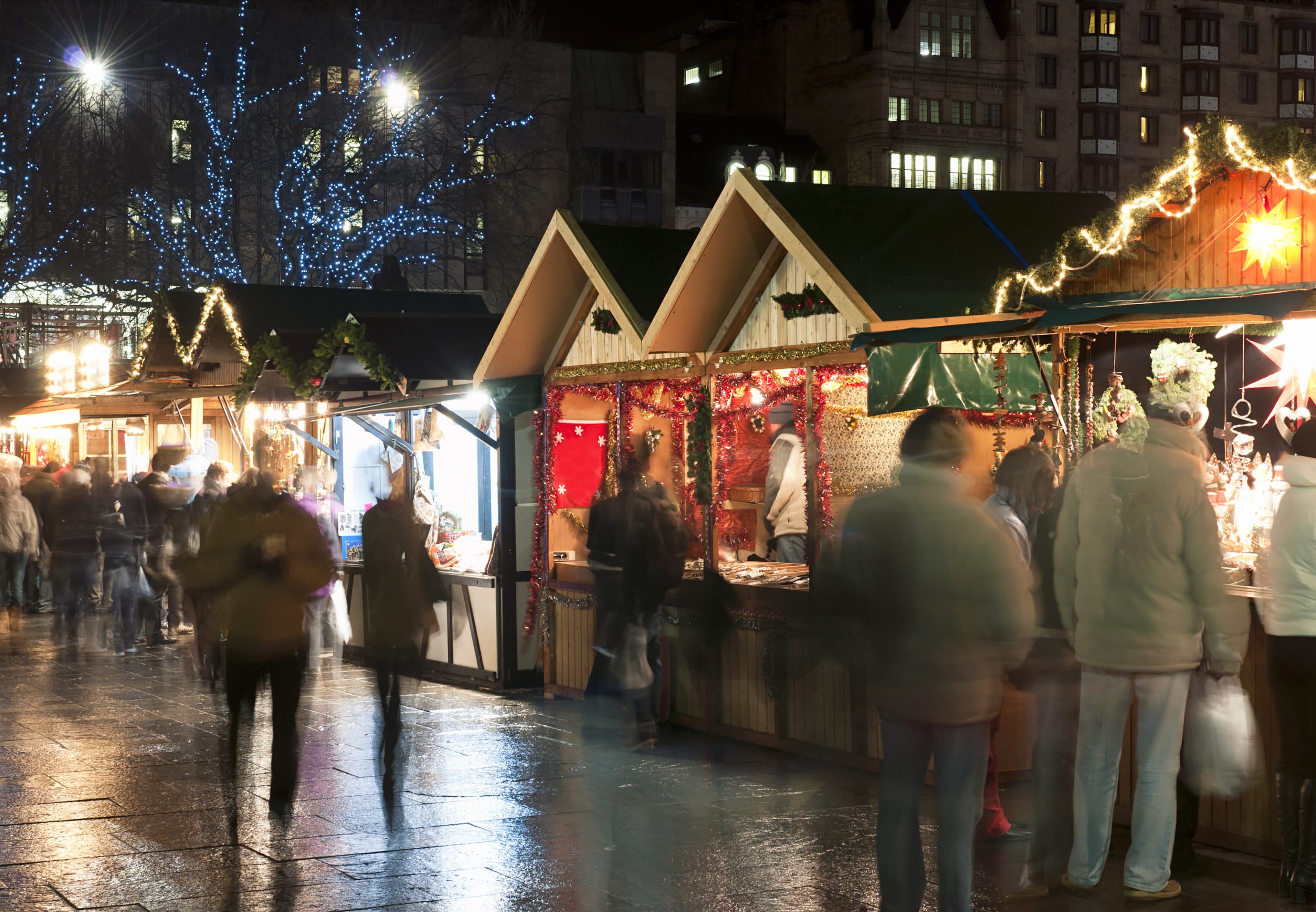 One of my favorite things to do during the holiday season is to shop. And that's not just because I'm a taurus, a zodiac sign with a notorious penchant for shopping. It's because my love language is gift-giving and, over the years, I've found there's no better feeling than finding the perfect items for the people you love (aside from watching their eyes light up when they unwrap it).
Local holiday markets are the perfect places to source truly unique and original gifts for loved ones. And what's better than supporting local artists in the process? Popular stores in the malls and shopping plazas get plenty of customers but for Greater Boston artists, this time of year can make or break their small businesses. We've curated this list of markets in the area that you should check out before hitting those big box, chain stores.
Nov. 30-Dec. 4 & Dec. 7-11 | Boston
Live music, shimmering lights and specialty cocktails add a special touch to the SoWa Winter Festival market. Over 100 vendors will sell their wares. This market does require a $10 ticket for entry so be sure to factor that in when making your plans to visit. This festival is giving more of a night out/date night vibe so it may be worth checking out, even if you've already checked off everything on your gift list. The market is open varying times through the week, so be sure to check the SoWa website before you go.
---
Dec. 3 & 17,  11 a.m.-4 p.m. | Somerville
If the amazing flyer isn't enough to get you to check out Small Mart, then the selection of over 50 sellers should be. This market is focused on all things handmade, vintage and fine art so you have a wealth of products to choose from if you're looking for small-batch, unique gifts. The organizers of Small Mart also note that the market "aims to turn the idea of the big box store on its head by empowering local businesses to come together."
---
Saturdays in December, 1-5 p.m. | Boston
Black Market Nubian's holiday markets have been a Roxbury staple since Kai and Chris Grant opened the space in 2017. This year is the final year Black Market will organize their signature Shop the Block market, which features local artists, vendors and food entrepreneurs from the Roxbury area. The market has been at the Bruce C. Bolling Building in the past but this year it's at Black Market Nubian, right across the street from Haley House Bakery and Cafe. Shop the Block will be open every Saturday in December, giving you plenty of chances to visit.
---
Dec. 10, 11 a.m.-6 p.m. | Boston
There's not much information online about this holiday market but everyone I know has attended in the past and always raves about it. Roxbury can be overlooked at times as an area to shop and buy from local artisans in favor of the glitzier Seaport and downtown holiday markets. This pop-up highlights artists from Roxbury and other areas like Dorchester and Mattapan. Make sure to stop by and check some things off of your gift list.
---
Dec. 10 & 11, 11 a.m.-5 p.m. | Boston
If you've never heard of the amazing space that is Humphrey Street Studios, now is the time to check it out. This year is Humphrey Street Studios' first holiday market featuring the artists who work and create out of the space. It's free and open to the public so this makes a great daytime activity if you're looking for something to do. Stock up on cards, art prints, apparel and more, all while supporting local artists in the process! (Before you go, read senior arts and culture reporter Amelia Mason's latest story on the artist-owned studios.)
---
Dec. 11, 12-5 p.m. | Everett
Boston Women's Market is undoubtedly one of the leading spaces that center goods and wares crafted by women. They have a long list of markets they're organizing this season but this particular market at Night Shift Brewing in Everett is extremely appealing because (in my opinion) nothing beats shopping with a cold glass of locally brewed beer. Fifteen vendors will be on-site so there's plenty to choose from.
---
Ongoing | Boston
If you don't already know, Black Owned Bos. aims to highlight the city's Black artisans and business owners. The organization opened a brick-and-mortar store, Bos. Shop, in the historic South End District, where you can shop from their selection of items from local Black vendors, including earrings, nail polish, soaps and more. They also offer curated holiday boxes that'll make shopping for loved ones much, much easier.
---
Through Dec. 31 | Boston
This outdoor, village-style market is a collaboration between Constant Contact and The Makers Show. The goal is to provide a "curated market platform rooted in social justice helping consumers shop local." This is one of the only markets around that is open every day (with mostly evening hours) so you have plenty of time to check out 120-plus vendors. They also have a pretty handy shopping guide that allows you to easily navigate the Black, Asian, Indigenous, Latinx, LGBTQIA and women-owned businesses featured at the market.