'Iscariot: The Musical' is a heretical gaysian love story
Play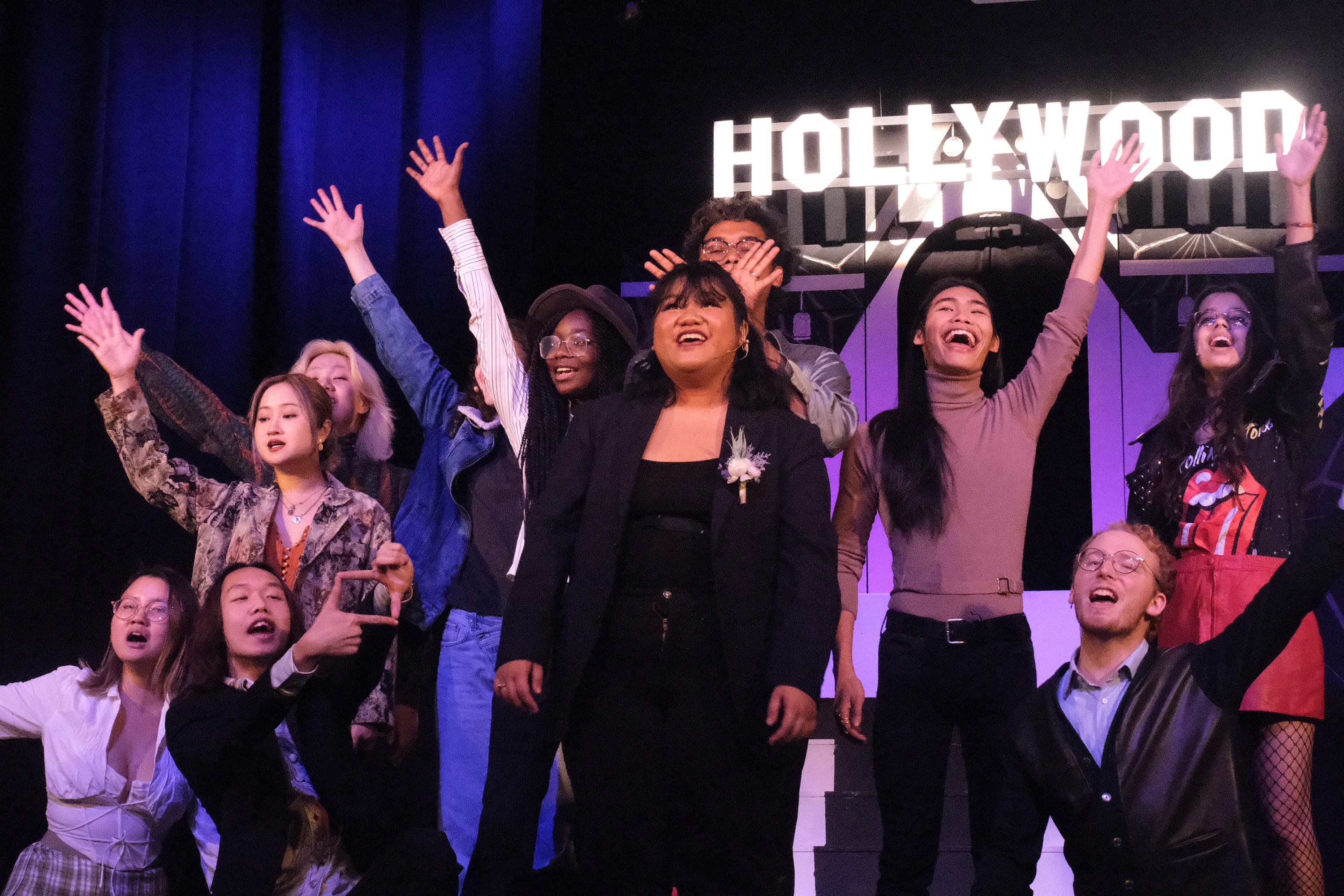 It's a tale as old as time. A high schooler develops a crush and compromises their integrity for a shot at validation and love. The main character is Judas, and Jesus is the subject of desire.
That's the foundation for "Iscariot: The Musical" playing at Harvard's Agassiz Theater this weekend.
"Denizens of Holy High, we are here to celebrate the architect of our adoration," Judas shouts from the stage under the HOLLYWOOD sign. "The savior of the senior class, the hero of Holy High! Jesus Christ!"
This musical is like "High School Musical" meets the rock opera "Jesus Christ Superstar."
"I would also throw in 'Crazy Rich Asians,' " said creator Sophie Kim at the first rehearsal for the musical that was conceptualized back in 2020. " 'Crazy Rich Asians' versus 'Jesus Christ Superstar' versus 'High School Musical.' "
Kim, a junior at Harvard, hasn't seen the latter, but has seen "Jesus Christ Superstar" and thought it was good.
"I wanted to kind of make it more contemporary and about different identities," said Kim.

Kim's a fan of underdogs, and the result was "Iscariot: The Musical," which includes musical genres like EDM, folk and pop rock. It tackles themes of race, sexuality and class, and the ideas of pariahs, messiahs and betrayals – all prismed through the context of present-day high school.
"I'm calling it a heretical gaysian love story. Gaysian being a portmanteau of gay and Asian," Kim explained. "Basically it's about Judas Iscariot. And he's reimagined as this queer Asian American high school senior in a glitzy high school in Los Angeles."
Despite the parallels to Kim's life – growing up queer in Los Angeles and being third generation Korean American – Kim said the reimagining of Judas's story isn't exactly autobiographical.
"It's basically him trying to figure out his identity. He falls in love with Jesus, who is reimagined as a white high schooler, betrays him, falls in love with him, kind of has to like pick up the pieces and everything," Kim said.
Kim said there's not a lot of options when it comes to stories of Asian people represented in the musical medium. There's basically two: "It's like 'Miss Saigon' and 'Madama Butterfly,'" Kim said. "'Madama Butterfly' is great. 'Miss Saigon,' eh."
"Miss Saigon" is a Broadway musical from the late 1980s and it's based on "Madama Butterfly," an Italian opera from the early 20th century – both are criticized for their inauthenticity and for perpetuating stereotypes.

So why a musical to tell this heretical gaysian love story? Well, Kim said it's probably one of the queerest artistic mediums.
"I really wanted to have this huge production that takes a lot of space and has a really huge ensemble cast, that's very diverse in order to see that these things can exist and should be viewed," Kim said.
The mostly pan-Asian cast is an extracurricular collaboration with students from Harvard and Berklee College of Music.
Maddie Sebastian, a sophomore at Berklee, plays Judas. And even though her career is just beginning, she thinks it could be one of the most important roles she plays.
"As a queer Asian American actress myself it is so, so hard to find roles that just show who I am and something that's not a caricature or a stereotype," Sebastian said. "And I'm learning a lot about myself while playing this character. Watching him stand up for himself makes me want to stand up for myself as well and learn my self-worth as he does."

At the heart of "Iscariot: The Musical" is the idea that standing up for yourself may look like betrayal to others who aren't used to you doing that. A concept familiar to some cast members in the play, who aren't able to share this project with their religious families.
Kim said that making this musical has been an exercise in fostering community.
"Creating that space where people can be like, 'Oh yeah, I've also experienced this experience. I didn't know I could see it on stage' has been very heartwarming," Kim said.
Kim is hoping to bring that to a bigger audience, with eyes set on the holy grail of theater: Broadway.
---
"Iscariot: The Musical" runs through Dec. 4 at Harvard University's Agassiz Theater.