Boston's classical music performances dazzled in person — and still online — in 2022
By the end of this past summer, concert halls were almost fully open, and often full. The pandemic isn't over, but people who have either had all their shots and have been ultra-careful, or have actually survived COVID, are feeling safer to go out in public and mingle with people they don't know. I didn't attend too many performances in the spring and summer, but I saw some very good things online and heard some on the radio. Then it was exciting to be back in the concert halls. I regret missing some programs that might have made my best-of-2022 list. But here are some of the events that will stay in my memory.
If it weren't for video, I would have missed some major events: Jeremy Denk's masterful and riveting performance of Book I of Bach's "Well-Tempered Clavier," or Emmanuel Music's gripping "St. John Passion," under the direction of Ryan Turner. Online, I saw the brilliant, inventive, witty and ultimately moving Aston Magna production of Stravinsky's "L'histoire du Soldat" (A Soldier's Tale), a masterpiece that doesn't get staged often enough. Tenor Frank Kelley directed a superb cast (including himself) and pulled out all the comedic and pathetic stops. I've just heard that Aston Magna plans to repeat this next season.
The young Enigma Chamber Opera company, under the direction of Kirsten Cairns, has been giving us rare productions at the Cathedral Church of St. Paul of Benjamin Britten's remarkable church parables, which I've been watching online. I was blown away by 2021's "Curlew River," slightly less so by this year's "The Prodigal Son," which maybe isn't quite as good a work. I hope Britten's third parable, "The Burning Fiery Furnace," is in Enigma's pipeline.
Finally, I got to attend some unforgettable opera productions in person. Odyssey Opera, as usual, tops my list. Artistic director and conductor Gil Rose joined forces with BMOP (Boston Modern Orchestra Project) at Dorchester's Strand Theater for a powerful revival of Anthony Davis' "X: The Life and Times of Malcom X."  This was a fuller, more complete staged version, with a stellar cast including bass-baritone Davóne Tines as Malcolm, than the abbreviated oratorio version called "Xcerpts" that Davis and the group Videmus brought to Boston in 1988. And it marked the first in Odyssey's five-year series of operas by Black composers. A recording of the live performance has recently been released on CD.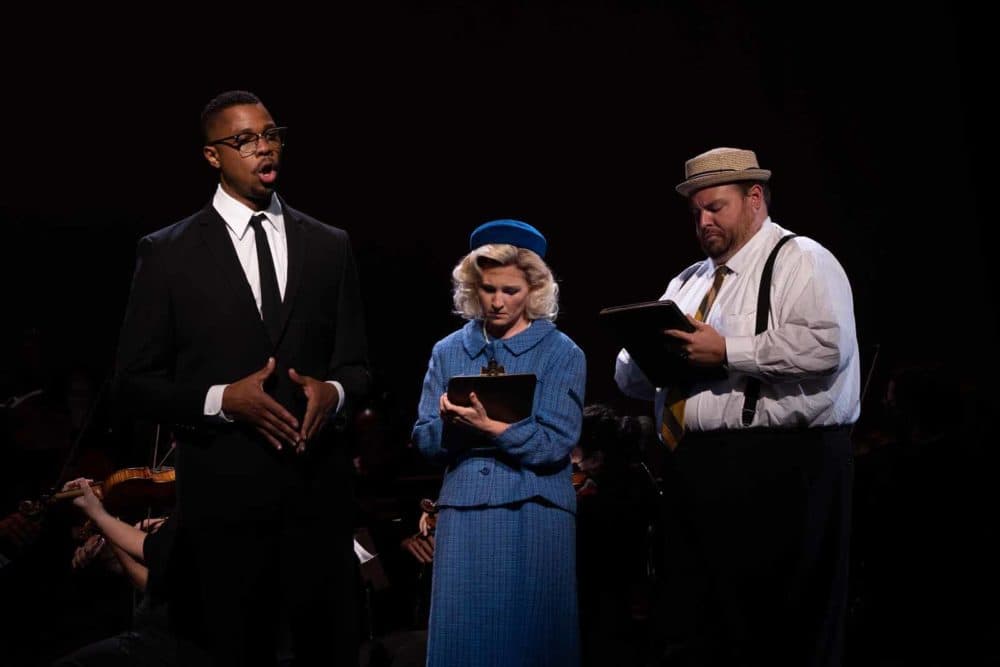 Rose and Odyssey Opera returned to Jordan Hall for an outstanding (and long) afternoon called "Troika," the very first program in North America to include all three of Rachmaninoff's only operas—"Aleko" and "The Miserly Knight" (both tales derived from Pushkin) and "Francesca da Rimini" (from Dante)—each opera a single but substantial act. Rose, the orchestra, chorus and vocal soloists seemed tireless, especially bass Mikhail Svetlov in his extraordinarily complex and nuanced 20-minute monologue as the miserly baron.
Martin Pearlman's Boston Baroque, in a co-production with Philharmonia Baroque Orchestra & Chorale, presented a rare and splendid performance of Handel's early opera "Amadigi di Gaula," at GBH's intimate (and uncomfortable) Calderwood Studio. I wanted to go in person because I couldn't bear to miss countertenor Anthony Roth Costanzo—not only a wonderful singer but a great dramatic artist—in the title role. I was right to go! Joining him were the beloved Boston soprano Amanda Forsythe and a thrilling mezzo-soprano new to me, Daniela Mack ("Opera News" described her voice as "like polished onyx"). I was very glad the performance was recorded, so I could watch it again at home several days later.
Like Costanzo, the French countertenor Philippe Jaroussky is an extraordinarily expressive artist in early music, and it's a good year whenever the Boston Early Music Festival brings him to Boston, this time with his own superb and at times uninhibitedly playful instrumental Ensemble Artaserse. He sang arias by Handel and Vivaldi, as well as by such obscure Baroque composers as Ferrandini, Hasse and Piccinni. Most interesting, the Ferrandini aria had the same text as a Vivaldi aria, by the extremely popular Baroque librettist and poet Pietro Metastasio—an aria sung by a father whose son is killed in battle. The two versions are both extremely beautiful and even similarly orchestrated to express the icy chill in the father's veins. But the high point in the concert was Jaroussky's final encore, Handel's exquisite and heartbreaking "Lascio ch'io pianga" (Let me weep), from his opera "Rinaldo." I could see people around me wiping away tears. As was I.
An intimate vocal recital that both moved and delighted me was the rare Boston appearance of the beloved Brazilian singer and composer Adriana Calcanhotto, accompanying herself on the guitar, at the Berklee Performance Center (presented by the non-profit world music organization Global Arts Live). In a video excerpt from that concert on YouTube you can hear the audience spontaneously singing along with her in a song they obviously knew and loved. Her one song in English was the old Nat "King" Cole hit "Nature Boy" and it was sheer magic.
It was also very good to be back, in person, for the Boston Conservatory's excellent student production of Carlisle Floyd's popular folk opera "Susannah" (an Appalachian version of the story from the Apocrypha of Susannah and the Elders, with a circa-1955 political, anti-McCarthy-ite twist).  "Susannah" can't succeed without three powerful, and (on my night), soprano Nina Anderson as the slandered heroine, tenor Teddy Edgar as her protective but alcoholic brother and bass-baritone Christopher Humbert as the moralizing minister who rapes Susannah and is then overcome by guilt all seemed ready for prime time.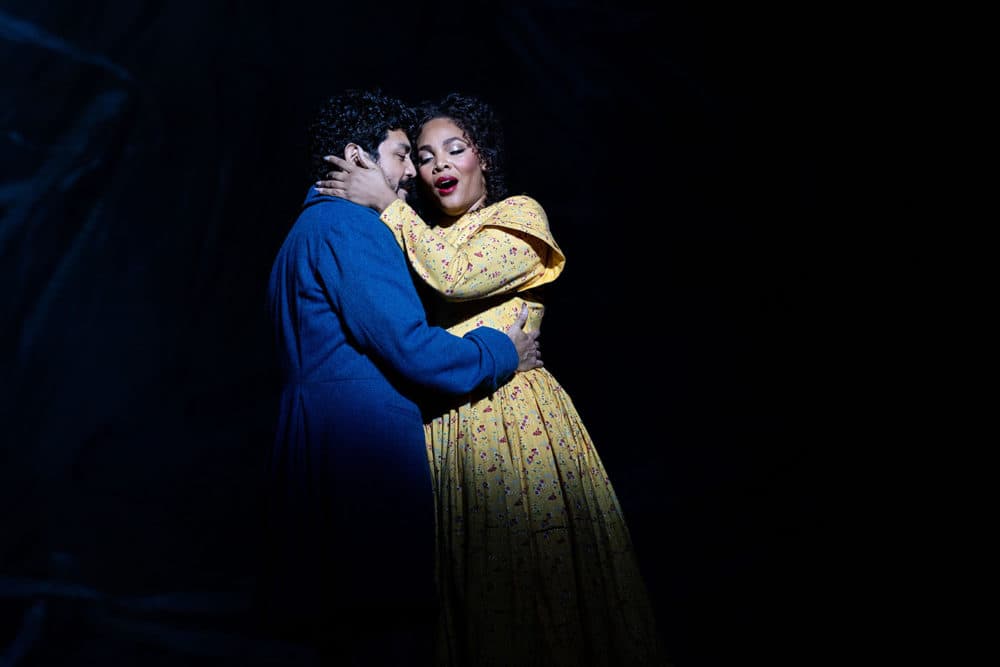 It was also a treat to be back in the beautifully refurbished Emerson Colonial Theatre for the Boston Lyric Opera's production of Puccini's "La bohème," which was certainly memorable, but for the wrong reason. It was the much-lauded stage director Yuval Sharon's idea to do Puccini's four acts in reverse order (like Sondheim's "Merrily We Roll Along," except that Sondheim wrote it that way). The cast was excellent and the physical production fine, and it got very good reviews for its "fresh perspective" (shouldn't every production of every opera have a fresh perspective?). But I found this manipulation an appalling betrayal of Puccini's musical structure, in which, for example, key musical phrases reappear at carefully planned moments. Opera isn't only about storyline. Can you imagine a conductor being praised for performing a symphony in reverse order?
Maybe the two most outstanding events of this year, thanks to the Celebrity Series of Boston, were the return visits of two of the world's leading orchestras: the Berlin Philharmonic, under its new music director Kirill Petrenko, and the Los Angeles Philharmonic, under its longtime superstar conductor Gustavo Dudamel. The Berlin flooded Symphony Hall with glorious sounds, but the odd program—a brief orchestral explosion by Eric Norman, Mozart's first and essentially undistinguished Violin Concerto, and Erich Korngold's big four-movement "Symphony" (a Petrenko favorite)—made one wish for more inspired music. On the other hand, Dudamel brought with him a phenomenal 19-year-old violinist named Maria Dueñas in a new concerto he commissioned from the Mexican composer Gabriela Ortiz, and then, like a great story-teller, led an absolutely mesmerizing performance of Mahler's First Symphony.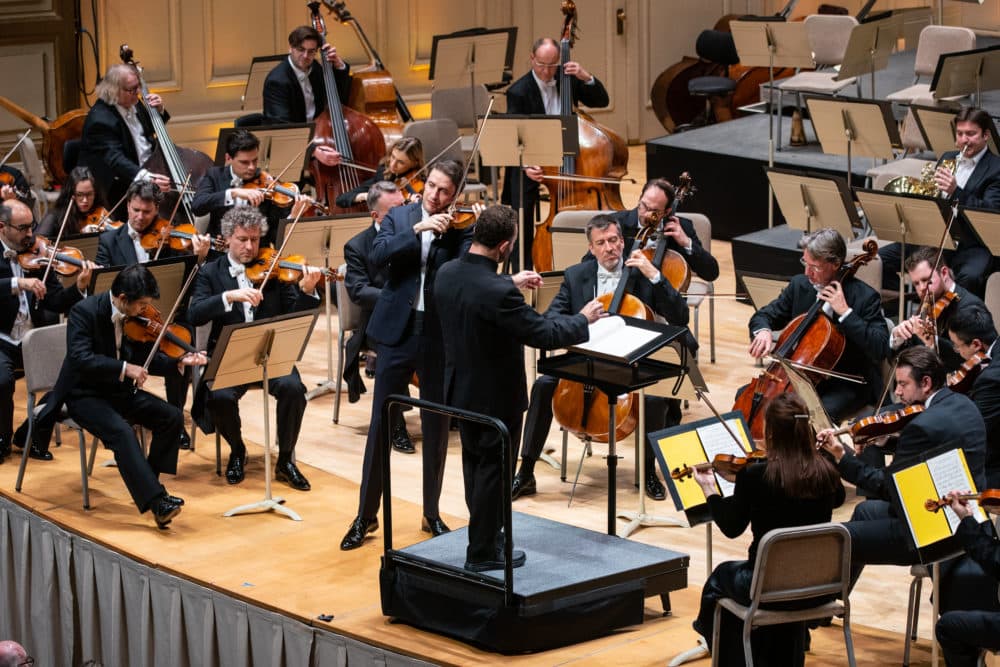 Our own orchestras didn't do so badly either. Benjamin Zander and the Boston Philharmonic gave outstanding performances of Mahler's Symphony No. 3, Beethoven's Fourth Piano Concerto (with Jonathan Biss), and a beautifully-shaped version of Rachmaninoff's huge Second Symphony—the one with the unforgettable tune. Zander also led the Boston Philharmonic Youth Orchestra in a brisk Beethoven Fifth (following the composer's own tempo markings) and a richly laid out, beautifully played Richard Strauss "Ein Heldenleben" (A Hero's Life—Strauss himself being the hero).
And of course, there's the Boston Symphony Orchestra. I haven't been going very often. Partly because I'm not seduced by the repertoire that music director Andris Nelsons seems devoted to. But on the radio, I heard his performance of the Mahler Sixth Symphony, and although I wasn't captivated by his interpretation, I thought the orchestra sounded spectacular. I was looking forward to the one-night-stand of the Norwegian heroic soprano Lise Davidsen making her BSO debut in Richard Strauss's glorious "Four Last Songs," but sadly she canceled.
More intimately, there was some high-level chamber music. David Hoose led Collage New Music's spring concert featuring Yehudi Wyner's mysteriously moving (and mysteriously titled) "Sequel," and one of Peter Child's most engaging new pieces, "Turning Point." Then in the fall, beginning Collage's 50th season, there were premieres of John Harbison's latest intricate exploration of the poems of Louise Glück, "Winter Journey," and Augusta Read Thomas's lively piano and marimba duet, "Bebop Riddle II." It was a good year for Wyner admirers. Shortly after the premiere of Wyner's gorgeous "Concord 7," a septet commissioned by the Concord Chamber Music Society, the Boston Symphony Chamber Players gave its Boston premiere.
I also enjoyed an ambitious concert by the Boston Chamber Music Society that included the seldom performed Beethoven String Quintet, Op. 29, the big César Franck F-minor Piano Quintet, and the world premiere of Scott Wheeler's delicious new Sextet—with oboist Peggy Pearson, violist and BCMS director Marcus Thompson, and pianist Max Levinson among the stellar players.
In 2021, after 38 years at the helm, David Hoose retired from the Cantata Singers. But his celebratory farewell season was intercepted by the pandemic. The 2021-2022 season was devoted to the search for his replacement. But at season's end, Hoose returned for a classic Cantata Singers concert at Sanders Theatre that was also filled with the announcement of honors for the former director, videos from across the years, and lots of amusing and touching anecdotes. The program consisted of three pieces responding to war. First a typical Cantata Singers rarity, Gerald Finzi's tender "Farewell to Arms"—the radiant voice of tenor William Hite articulating the touching post-war verses by 16th- and 17th-century poets George Peele and Ralph Knevet. Then a David Hoose specialty, Haydn's "Mass in Time of War" (does Boston have a better Haydn conductor?). The concert ended with Vaughan Williams's massive plea for peace, which includes passages from the Mass and the Bible and three poems by Walt Whitman. Bravo, David! Hail and farewell!
The annual Terezin Music Foundation gala is always one of the year's most moving events. I was not free to attend this year, but I'll never forget the moment last year when 90-year-old Holocaust survivor Simon Gronowski sat down at the keyboard on the Symphony Hall stage and, leaving his worries on the doorstep, joined BSO bassist Larry Wolfe in a scintillatingly syncopated "On the Sunny Side of the Street." This year, the foundation's director, retired BSO violist Mark Ludwig, has published a wondrous volume called "Our Will to Live." Let me end by quoting from Elisa Birdseye's review in the "Boston Musical Intelligencer":
"There are times when a book is far more than "just" a book. That is the case with Our Will to Live by Mark Ludwig. Nominally, this book is a compilation of the music critiques written by composer Viktor Ullmann of the performances carried out in the Nazi Death Camp of Terezin. It is so much more. It is a history lesson, a warning, a reminder, a work of scholarship, a work of love."
All these memorable performances are works of love. And we look forward to a lot more of them that we can share together in the coming year—and in the same space.