Report: Mass. food delivery trips double during the pandemic, researchers urge greener transportation options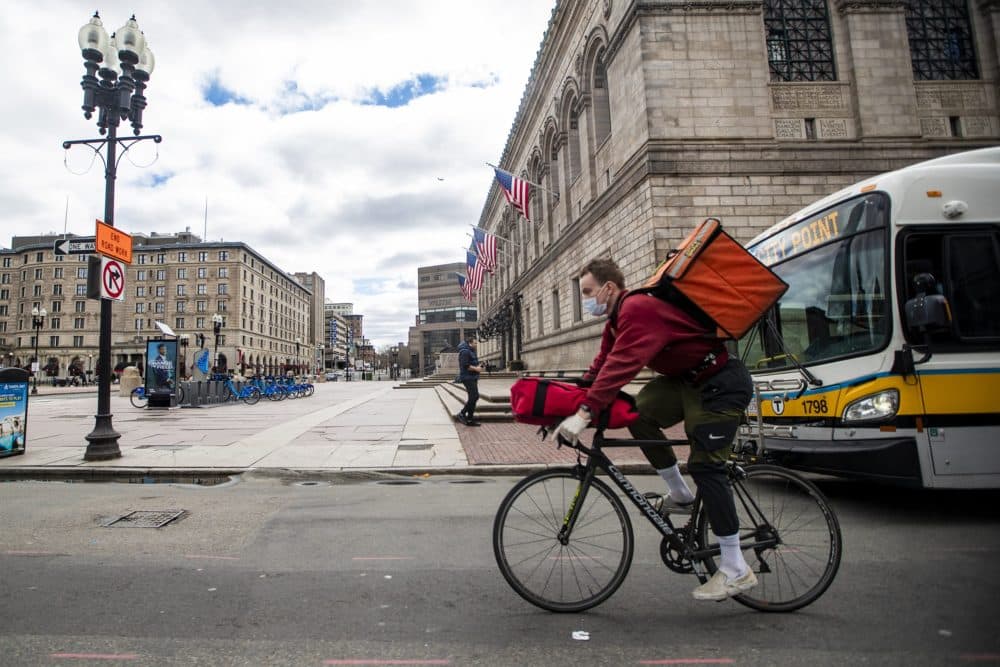 The number of food deliveries ordered via the apps DoorDash, UberEats and Grubhub doubled in Massachusetts during the pandemic. Researchers from the Metropolitan Area Planning Council, a planning agency for cities in the Greater Boston area, say the increase is boosting greenhouse gas emissions and traffic congestion.
The researchers estimate that trips went from a high of about 45 million in 2019 to as high as 105 million in 2021 in Massachusetts. These food delivery trips surpassed ride-hailing trips from apps like Uber and Lyft, which reached 39.7 million trips in Massachusetts in 2021. Boston ranks third in the U.S. for per capita spending on food deliveries.
The report found rapid food deliveries by car had substantial negative impacts, including increased traffic congestion, curbside idling associated with emissions and unsafe double parking in bus and bike lanes.
"Data suggest that the impact per trip may be even greater for rapid food deliveries than ride-hailing," the report authors write.
The Massachusetts study was not able to obtain detailed data to assess which transportation modes are most commonly used in these deliveries, making it difficult to fully measure the impact of increased emissions.
MAPC researchers inferred some learnings from a 2021 London study of food deliveries. "The [London] study found that intensive greenhouse gas emissions are associated with meal deliveries," says Alison Felix, one of the Massachusetts report authors. "It found that mopeds and cars emit, respectively, five and 11 times more greenhouse gas emissions per meal delivered than bicycles."
In Massachusetts, Felix and her colleagues estimate that most food order deliveries involve a trip of about one to five miles. She says this is an opportunity to use more climate-friendly transportation. "We're really trying to encourage other modes of travel, such as e-bikes, bikes, scooters, mopeds, even foot," says Felix.
The additional car idling associated with food delivery could add up to substantial greenhouse gas emissions. A ride-hailing vehicle picking someone up lingers for about one to five minutes while a food delivery pickup may park or idle for up to 10 minutes while the driver picks up the food, the British study found.
Felix recommends that the delivery apps share data with local governments to track their impact on emissions and traffic congestion. These requirements are already in place for ride-hailing apps such as Uber and Lyft.
"At a minimum, [the requirement] should include data on precise trip origins, destination's time spent at the curb, time of day and travel," says report co-author Travis Pollack, a senior transportation planner with MAPC. Ride services such as Uber and Lyft are already required to share similar data.
Despite the increase in food deliveries, gig workers are often paid less than salaried workers in similar roles. They represent about five to ten percent of the state's workforce in the state.
"According to surveys we could find rapid food delivery workers are more likely to be nonwhite, younger, immigrant and low income," says Pollack.
He says many earn less than $16 per hour after expenses and report poor overall physical and mental health compared to salaried workers. Pollack and his colleagues recommend that platforms offer fair compensation and safety training to workers.