How inflation is affecting Massachusetts wind and electricity costs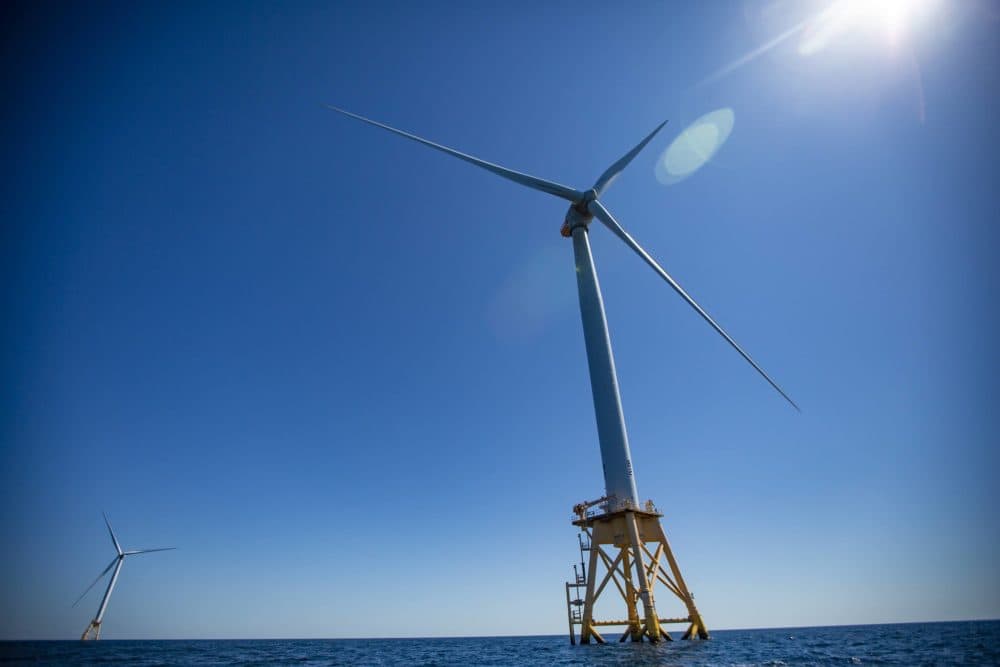 Editor's Note: This is an excerpt from WBUR's daily morning newsletter, WBUR Today. If you like what you read and want it in your inbox, sign up here. 
---
We're talking about energy this morning — something I don't have quite yet and something the state is looking to better harness, too. Shall, we all just run on Dunkin?
Jokes aside, here's what you need to know:
Massachusetts is working with Maine to get enough wind energy from the neighboring state that it can power nearly 200,000 homes. The Commonwealth is setting up contracts with a planned turbine farm near the Canadian border, according to a report from The Boston Globe.
Why is this useful? Well, it should help Massachusetts meet its clean energy goals, especially as our own state wind projects have hit some speed bumps.
Remind me what's happening with Massachusetts wind farms? Massachusetts' largest approved offshore wind project, Commonwealth Wind, has lost its developer. On Dec. 16, Avangrid told the state's Department of Public Utilities that it will pull out of its contracts for the Commonwealth Wind project, citing inflation, supply constraints and rising interest rates. The company says it plans to file a new bid this spring when the state opens another round of offshore wind solicitations.
Wind developers aren't the only ones feeling the sting of inflation and rising costs. Eversource customers are feeling it, too — so much so that regulators in Massachusetts are looking into the rate hikes.
How much are we talking here? The average Eversource residential customer in Massachusetts is expected to pay about $50-60 more a month this winter compared to last year. Eversource says the company is not making any extra profit from the hike, but rather covering the rising costs of natural gas, which is used to make electricity.
Eversource president James Shuckerow gave WBUR's Morning Edition team a little more context: "Many of these pipelines were built by the natural gas companies to provide residential heating. Those gas pipelines have plenty of capacity during the summer months. But unfortunately, during the coldest of days during the winter months, that pipeline capacity is limited."
Remember in yesterday's newsletter when I said Gov. Charlie Baker could sign a few more bills into law if they got unanimous support from legislators? It happened. As one of his last acts as governor, Baker signed a new law designed to protect bicyclists, pedestrians and other non-drivers.
The specifics: Drivers must leave at least 4 feet of distance when passing a non-motorist.
Larger vehicles must also be equipped with additional mirrors and backup cameras to avoid collisions.
Does that mean you should cross the center lane to give cyclists et al the required space? Yes it does. The new law makes it clear "the overtaking vehicle shall use all or part of an adjacent lane, crossing the centerline if necessary, when it is safe to do so and while adhering to the roadway speed limit."
Speaking of Baker, today is his last full day in office. And it's packed with ceremonious activities. First, he'll take part in a traditional "symbol exchange" with Gov.-elect Maura Healey. Then, later tonight, he'll take his "lone walk" down the red carpet of the State House (with some company: his wife, Lieutenant Gov. Karyn Polito and her husband.)
A reminder: we'll have live coverage of Healey's inauguration tomorrow on Radio Boston starting at 11 a.m.
You might want to stop what you're doing and wash your hands. Massachusetts is one of six states with the highest flu rates in the country, according to data from the Centers for Disease Control and Prevention from the week that ended on Christmas Eve.
There were over 7,000 confirmed flu cases in the state during that week alone, and over 5% of hospitalizations during that time period were associated with the flu. To put that in perspective, that's five times higher than this time last year.
P.S.— Did you know your Christmas tree could become a fun goat toy? Yes, many local goat farms would like to take your dying Christmas tree off your hands, including Goats To Go in Georgetown (the animals like rubbing their horns against them). If you'd like to donate your tree to the goats, Goats To Go is accepting donations this Saturday (just be sure to pre-register and pay the small fee).