Rachmaninoff tells it to his shrink in 'Preludes' at Lyric Stage Company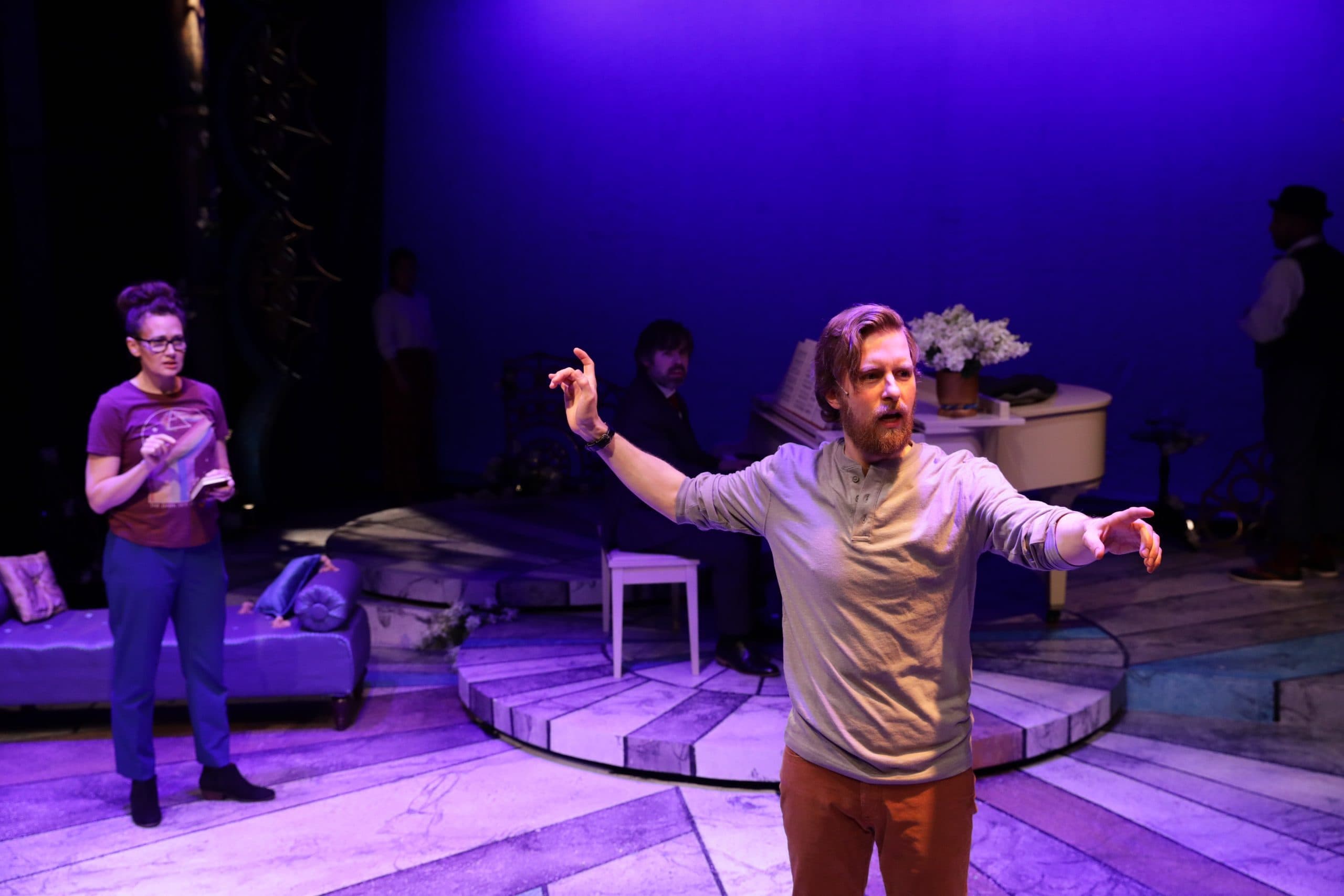 Sergei Rachmaninoff's mind is loud.
Teeming thoughts of success, failure, lack of inspiration and visits from famous musical titans all combine in the composer and pianist's head in a chaotic flurry.
The early 20th-century Russian composer is suffering from writer's block in musician-composer-playwright Dave Malloy's "Preludes" at the Lyric Stage Company of Boston through Feb. 5. Rachmaninoff did suffer from depression and the production, directed by Courtney O'Connor, is a peculiar imagining of Rachmaninoff's relationship to his work and his process that explores the mounting dread some creatives, musical and otherwise, face.
 
Dan Prior's Rachmaninoff shares with therapist Nikolai Dahl his debilitating troubles following a terrible premiere of his first symphony.  His battle calls to mind authors David Bayles and Ted Orland's book "Art & Fear: Observations on the Perils (And Rewards) of Artmaking," which outlines the kinds of doubt and worries some artists face and how it wounds them. The authors write, "We carry real and imagined critics with us constantly — a veritable babble of voices, some remembered, some prophesied and eager to comment on all we do."

That seems true of Prior's Rachmaninoff, obsessed with not being good enough, famous enough, or contributing enough. At one point, Rachmaninoff asks Dahl (Aimee Doherty) what if his most famous work is the best he'll ever do? Dahl responds that most people don't even do that. Rachmaninoff wrestles so much with how to outdo himself and how he'll be remembered that he misses the beauty in what he's already done.
Here's Rachmaninoff playing his Piano Concerto No. 2, his post-depression breakthrough following the disastrous premiere of his first symphony.
Prior, who starred as Seymour in the Lyric's "Little Shop of Horrors," is part of a talented ensemble that includes Anthony Pires Jr. from last year's "Once on this Island" and "Ain't Misbehavin'" as opera singer Feodor Ivanovich Chaliapin. The Elliot Norton Award-winning Will McGarrahan (Lyric's "Souvenir) — who portrays multiple characters including Chekhov, Tolstoy and Glazunov — is delightful.  Doherty and musical director Dan Rodriguez nicely rendered a four-hand arrangement of the second movement of Beethoven's Symphony no. 6,  and Rodriguez provides gorgeous piano throughout. Prior and McGarrahan also take a quick turn on the keys.
Malloy's reverence for and excitement around Rachmaninoff — like his devotion to Tolstoy in  "Natasha, Pierre & the Great Comet of 1812" — is evident in "Preludes." He successfully shows how Rachmaninoff's bold, brooding and urgent compositions could cascade in the mind and spirit. At one point, Prior's character says that his music aims to capture wind and rain, thunder and lightning, and screams.
But the show's fun-frenzy feeling with compositions from Rachmaninoff and original music by Malloy starts to drag on in the second half, except for the odd-trance like "Loop" performed by Pires Jr.
History shows that Rachmaninoff emerged from his dark period, having conquered his demons, renewed. But the lesson learned about facing, dismantling, and triumphing over whatever ails us is one that everyone, not just artists, might benefit from.

---
"Preludes" runs through Feb. 5 at the Lyric Stage Company of Boston.