Musical revue 'Ain't Misbehavin'' is a lively homage to the Harlem Renaissance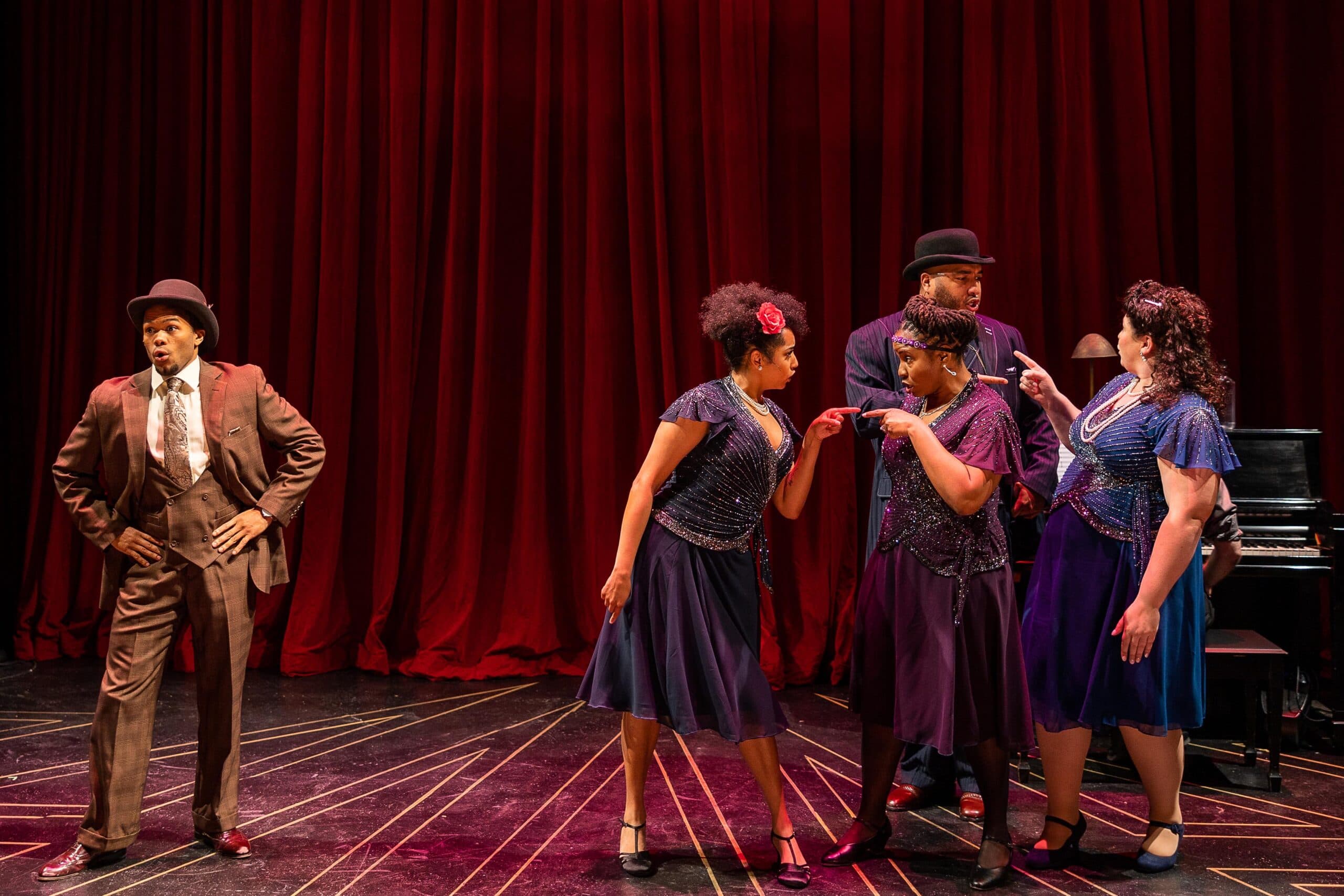 Actor and director Maurice Parent is having a stellar year. A long-time fixture of the Boston theater scene, Parent has a long list of credits to his name. But recently, through his one-person show "Mr. Parent," detailing his journey from teaching in the Boston Public School system to becoming a consistently working actor, audiences got to know him more deeply. Now, his fans — and newcomers to his work — get to see his passion for diasporic storytelling come alive through his direction and choreography in the high-octane "Ain't Misbehavin' - The Fats Waller Musical." The Tony Award-winning show, produced by Front Porch Arts Collective, The Nora@Central Square and Greater Boston Stage Company, runs through May 29.
At the theater, showgoers are thrust into an old, moody club outfitted by scenic designer Jon Savage and lighting designer Jeff Adelberg. The vivid greens, blues and purples pop in the grand murals that feature Black people playing instruments, dancing and enjoying themselves, adorning the walls. The three pieces "Saturday Night," "Hot Rhythm" and "Nightlife" are digitally printed reproductions of paintings by Archibald Motley Jr., a modernist painter of the Jazz Age.
Soon, Sheree Marcelle, one member of the exemplary five-singer cast — who all perform in fierce fascinators, fur stoles and three-piece suits by costume designer Elisabetta Polito — enters in a glittering gown. Marcelle employs all the pomp necessary to sway the crowd with her glowing vocals as she starts the title song.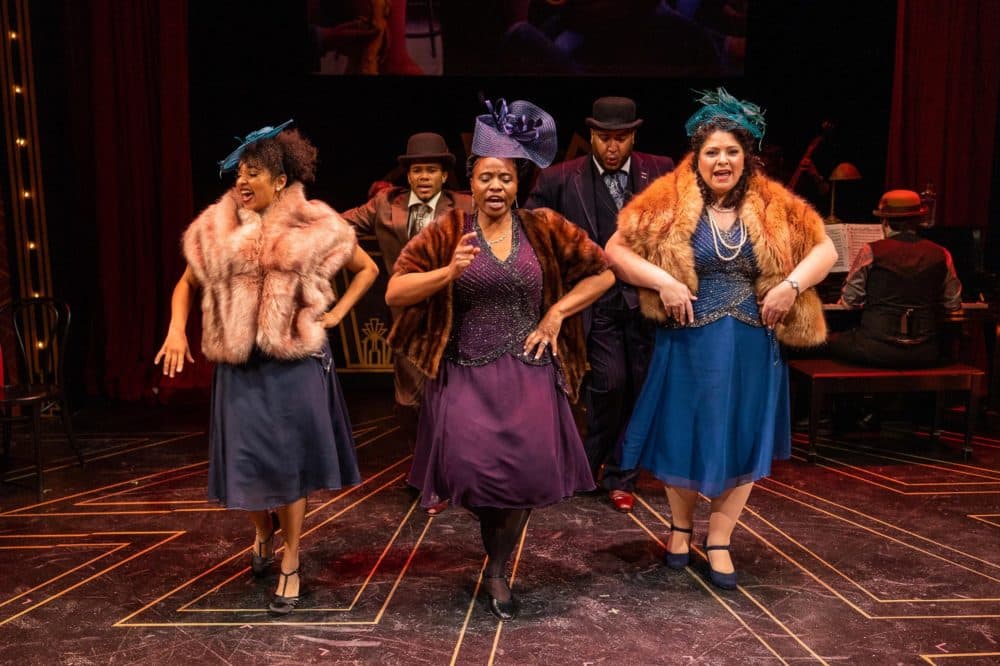 The musical revue "Ain't Misbehavin'" was conceived by Richard Maltby Jr. and Murray Horwitz and features musical adaptions, orchestrations, and arrangements by the late composer Luther Henderson. First performed on Broadway to rave reviews in 1978 (including the aforementioned Tony Award), the show is an homage to some of the great musicians from the Harlem Renaissance period when the New York borough became a cultural mecca teeming with Black creatives like Zora Neale Hurston, Billie Holiday, Paul Robeson, Cab Calloway and Thomas "Fats" Waller. Waller was a revered and gifted stride pianist and composer with a larger-than-life personality. From starring in many of Harlem's rent parties to gracing stages from Chicago to Philadelphia and New York, Waller was considered one of the greatest musicians of the time.
In the show, Anthony Pires Jr., who most recently starred in "Once on this Island," is magical, especially during the comedic "Your Feet's Too Big" and "Fat and Greasy," a duet with Jackson Jirard. Pires' facial expressions, timing and energy are superb. Jirard's singing also exudes joy, but his dancing — honed at Ballet Austin in Texas, the Sacramento Ballet in California and the local José Mateo Ballet Theatre — augments his performance by embodying the sentiments pulsing in the chords of each song. His "Viper" solo is something to behold.
Another "Once on This Island" cast member, Christina Jones — who stunned this theatergoer with her only solo as Erzulie — got a chance to further unleash her vocal prowess. Early in the first act, her rendition of "Handful of Keys" signals that Jones, a musical theater student at Boston Conservatory at Berklee, is a talent to reckon with. She has star power and fearlessly pours herself into every number and engages with the crowd and her colleagues at every turn. Her performance commands rapt attention.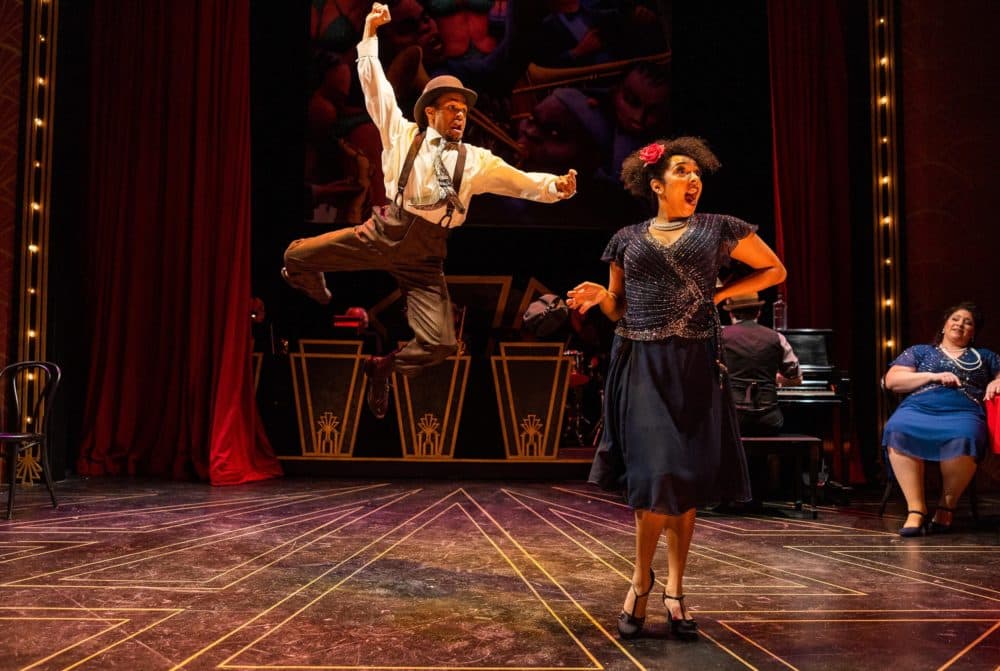 With musical direction from David Freeman Coleman and Dan Rodriguez, none of the classic tunes in this show disappoint, especially with the pulsing music of the six-piece live band with conductor Rodriguez on the keys, Sahil Warsi on bass, Yoron Israel on drums, Greg Hopkins on trumpet, George Jones on trombone and Todd Brunel on reeds. The high-energy first half just oozes with pearl-clutching sensuality, especially "Honeysuckle Rose," with Pires and Lovely Hoffman, and the electric "The Jitterbug Waltz" performed by Pires and the bright-voiced soprano Marcelle at its start. The duo's vocal chemistry is undeniable, and watching them vocally entangle throughout the night is easy.
Hoffman's voice is pretty too, but it's not until the second act, when she sings the sad but emotionally charged "Mean to Me," that audiences get a chance to experience its true beauty. Also, she and Marcelle's deceptively genteel "Find Out What They Like" is gold. Hoffman is an IRNE Award-winning actress for her role as Celie in SpeakEasy's "The Color Purple."
"Ain't Misbehavin'" is great fun and highlighting vibrant Black stories like this one is Front Porch's ethos. The Black theater company, of which Parent is the co-producing artistic director and co-founder along with celebrated director Dawn M. Simmons, will launch its first independently produced show in the fall, Broadway's "Chicken & Biscuits." The company aims to advance racial equity in Boston through theater by employing Black artists and bringing Black stories to the stage.
If this enthralling co-produced show indicates what's in store, audiences are in for a treat.
---
"Ain't Misbehavin' - The Fats Waller Musical" runs through May 29 at Central Square Theater.