SpeakEasy Stage's 'The Inheritance' asks what one generation owes to another
This article is more than 1 year old.
At the end of life, belongings such as money, books, homes, and cars get bequeathed to some and denied or stolen from others. But less tangible heirlooms like memories, culture, history and love are also gifts rendered from generation to generation to those willing and able to receive them.
In the four-time Oliver-Award winning Matthew López play "The Inheritance," this question (of what is bestowed or owed to one another, physically or otherwise, gets explored through multiple generations of gay men in New York city both during and after the height of the AIDS epidemic. The narrative, an engrossing two-part production by SpeakEasy Stage Company (at the Calderwood Pavilion through June 11) premiered in 2018 in London to great acclaim and later debuted on Broadway. The work re-envisions the 1910 E.M. Forster novel "Howard's End" about class and money. Forster wrote several popular books, including "Maurice" about two men in love — one of several gay touchstones mentioned throughout — which was published after his death in 1970. Forster shows up as Morgan, his middle name, as a guide for the characters, pushing them to be brave, tell their stories and live fully.
The more than six-hour play is artfully directed by Paul Daigneault. Daigneault, the company's artistic director,  has his hands full with a complex production that calls on the cast to play multiple characters. Fortunately, both Daigneault and the gifted ensemble are more than up to the task.
 Performed in the round, there's an immediate sense of intimacy and immersion cultivated. The narrative centers mostly around Toby Darling, an ambitious self-centered writer afraid of authenticity and his partner Eric Glass whom he lives with. Eric is a kind-hearted bibliophile and activist who went to all the right schools and has a rent-controlled apartment on the Upper West Side. Eric's befriended an older married couple, Walter Poole and Henry Wilcox (who was once married to a woman and fathered two sons), who both witnessed the ravaging AIDS epidemic firsthand.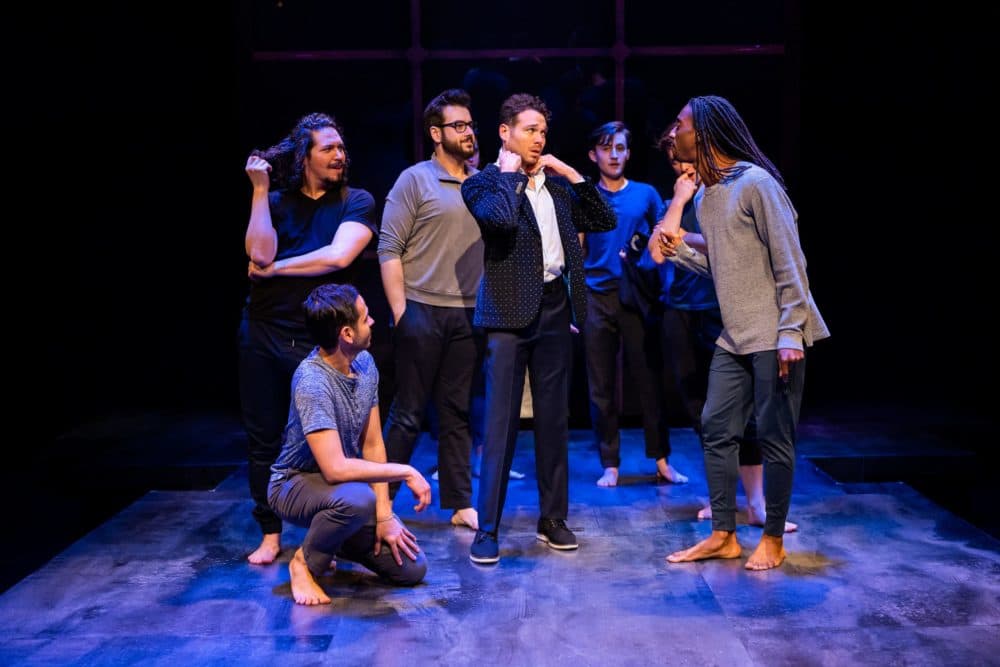 Walter (Mark H. Dold, an acclaimed veteran of Barrington Stage Company plays), and Henry (Dennis Trainor Jr.), a billionaire Republican, have been together for 36 years and have accumulated all the trappings of the rich including a house in the Hamptons and later, an address in Eric's building at full price. They represent something to aspire to. But just like life, things aren't always as rosy as they seem.
Dold was part of the original Broadway cast and is a consummate storyteller both as Morgan and Walter, bestowing wisdom in each role. He's particularly moving as the latter. His recounting of stories evokes the warmth of an elder sharing tales with a family member by the fire. Despite Henry's companionship, his existence seems marked by loneliness. One autumn, Walter and Eric (Eddie Shields of SpeakEasy's "The View Upstairs") grow close when their partners are away. Toby's (Jared Reinfeldt) book "Loved Boy," adapted for the stage, is premiering in Chicago and Henry is away on business. In this short season, some bonds form and others slowly sever. Toby, a lover of martinis, money and drugs, falls for the lead actor in his new play, rich-kid Adam (Mishka Yarovoy of "Don't Look Up"), while in Chicago and Walter tries to show Eric how much he's worth through friendship and affirmation.
"Do not discount my words the way you discount yourself," Walter tells him.
Though there's no elaborate set, props like flowers and umbrellas, coupled with sound and projection, help produce rainstorms and signal the changing of locations. There's also no major climactic event to point to per se. But the absence of these things makes space for the characters — all played by formidable thespians — to swell and lash out, falter and fail. Love, sex, betrayal, ugliness and reflection persist throughout. As the characters work to pursue partnerships, change America for the better, and become even better people, it becomes clear that a heart well-loved and a life well-lived might be life's worthiest goals.
López's script takes showgoers back in time through memories. Walter tells Eric about his life and how the epidemic killed many of his friends in the '80s. But Eric's world isn't touched by AIDS in the same way. Medical treatment has slowed the death of those with the disease and can make HIV undetectable. As they struggle to understand one another, Walter asks Eric to name all his friends. As he does, Walter explains that they'd all be dead, sick or ostracized.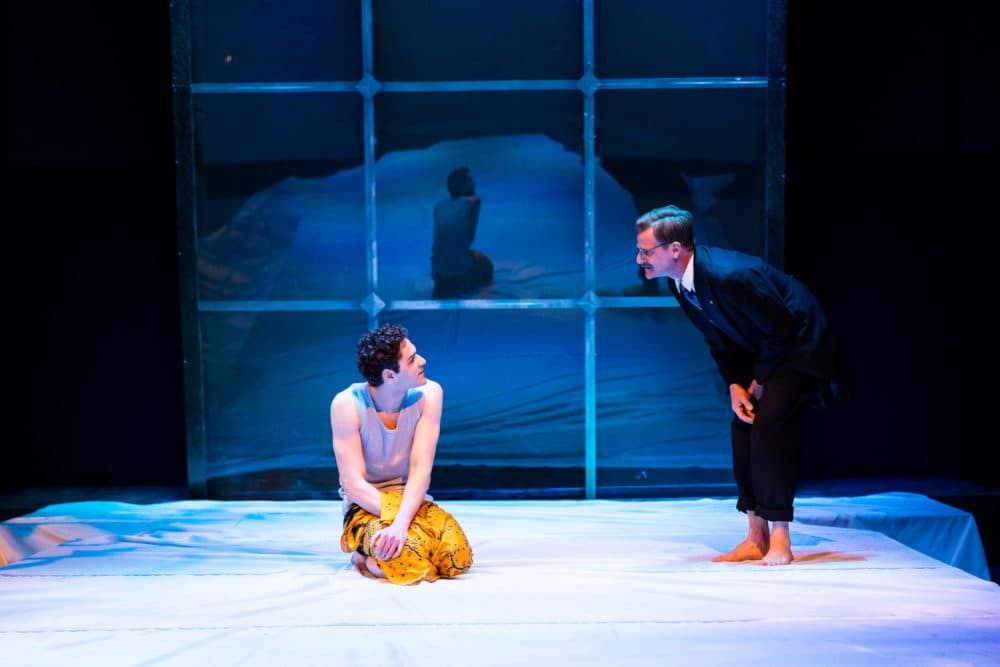 During the epidemic, Walter and Henry bought and fled to a farmhouse in upstate New York for a while to escape the disease. Later, the house becomes a refuge for the sick and dying, with Walter at the helm as the lead caregiver for many. When Walter dies unexpectedly of cancer, Henry receives a note with Walter's last wish: to give the house to Eric, who will soon be evicted from his apartment. Though Walter raised both of Henry's sons, he wanted to pass his home, "a spiritual possession," to a "spiritual heir."
This physical inheritance is just one of several themes explored. Loneliness, loss, purpose, and love are a few more. Eric's liberal friends get introduced to Trainor Jr.'s Henry at a party after Walter dies. Tension quickly bubbles up between the Trump-supporting Henry and the rest of the group.
Here, Brandon Curry as Tristan, an HIV-positive physician, finally gets a chance to shine when they take Trainor Jr.'s Henry to task for his political leanings. But it's Henry's sparring with Jasper (Greg Maraio) that causes an explosion that hushes the crowd. Henry tells the younger crowd that they can be the men they are because men his age paid for those rights with their lives. When Jasper tries to respond about men his age, Henry screams, "There are no gay men my age, not nearly enough!"
The clear divide in thinking, socioeconomic status and loss caused by the death of countless men during the epidemic sours the gathering and changes Eric and Jasper's friendship.
Though the play focuses on the lives of gay men, ultimately, it feels like a universal call to live vibrantly and thoroughly and to consider what we owe to the generations that come before or after. Just by existing Morgan shares that one has no idea how many lives will be touched nor how many will be saved. "But do that," he explains, "you must love."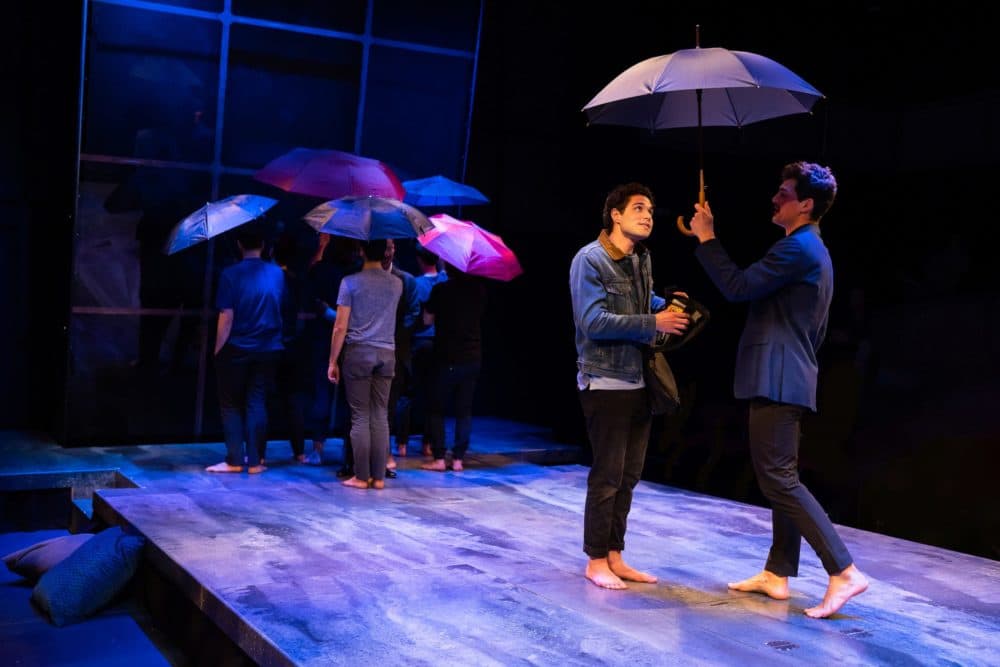 ---
SpeakEasy Stage Company's production of "The Inheritance" runs through June 11 at the Calderwood Pavilion.