'A representation of vulnerability and security': Memorial honoring the Kings opens on Boston Common
Play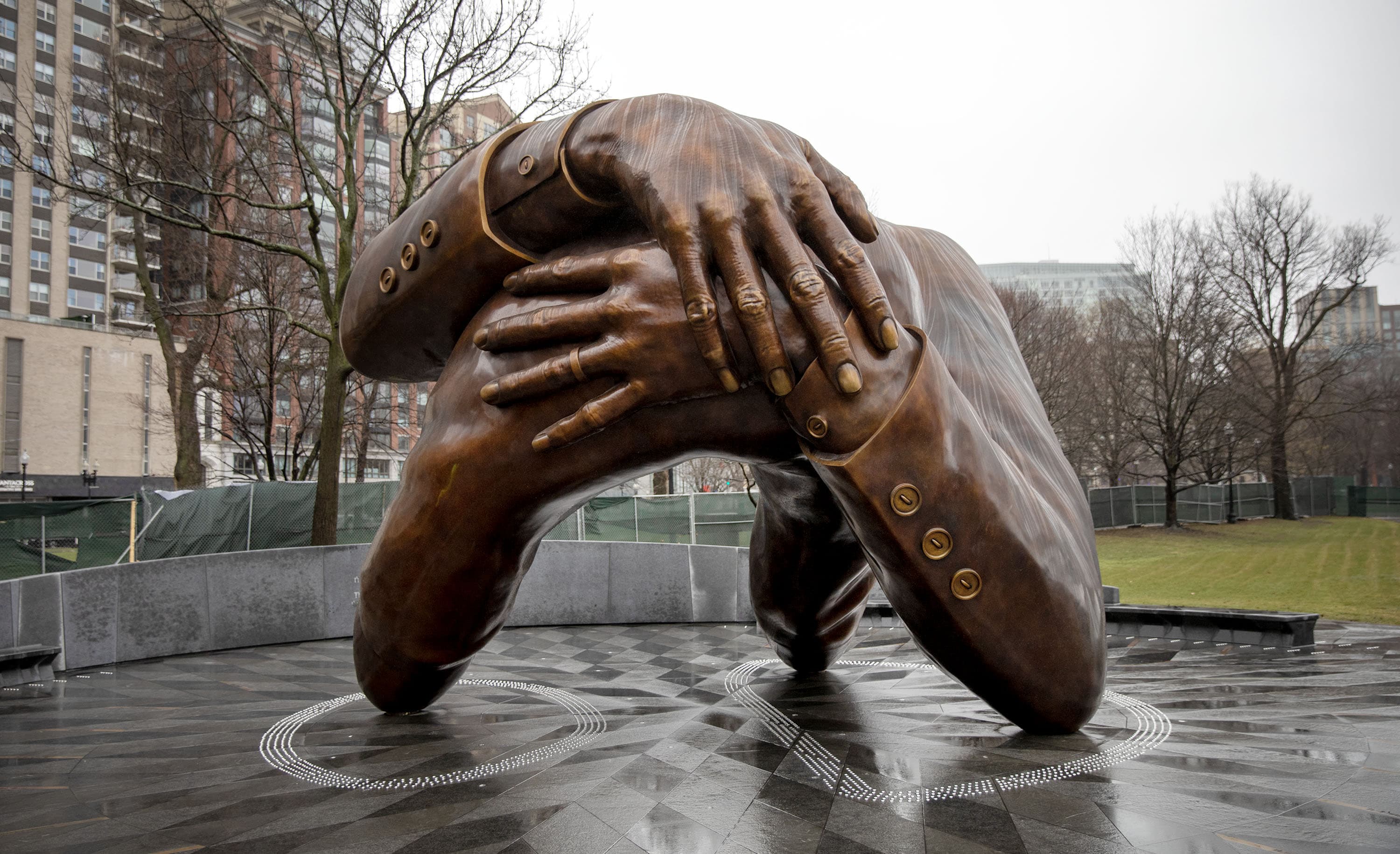 A permanent monument to Martin Luther King, Jr. and Coretta Scott King, who met in Boston, officially opens on the Common on Friday.
Imari Paris Jeffries, executive director of Embrace Boston, the group that oversaw the installation, said he cried the first time he saw the memorial.
"And someone said to me, before I saw it for the first time, 'Imagine when you see it, you're going to cry.' " Jeffries said. "And I said, 'I've seen monuments before. I'm not going to cry when I see a monument.' And I actually did."
The monument, designed by Black artist Hank Willis Thomas, is two stories high. Jeffries said the "scale and magnitude is one of the thing that makes this monument awe-inspiring when you see it."
"And despite the fact that we're in the middle of the city, it is a quiet place. And so it's a place of both contemplation and joy simultaneously," he said. "And so I think it's one of America's most miraculous pieces of public art."
The monument is also very detailed, down to sculpted wrinkles on Martin Luther King, Jr.'s fingers. Jeffries said utilizing eight industrial 3D printers in the process helped created those details.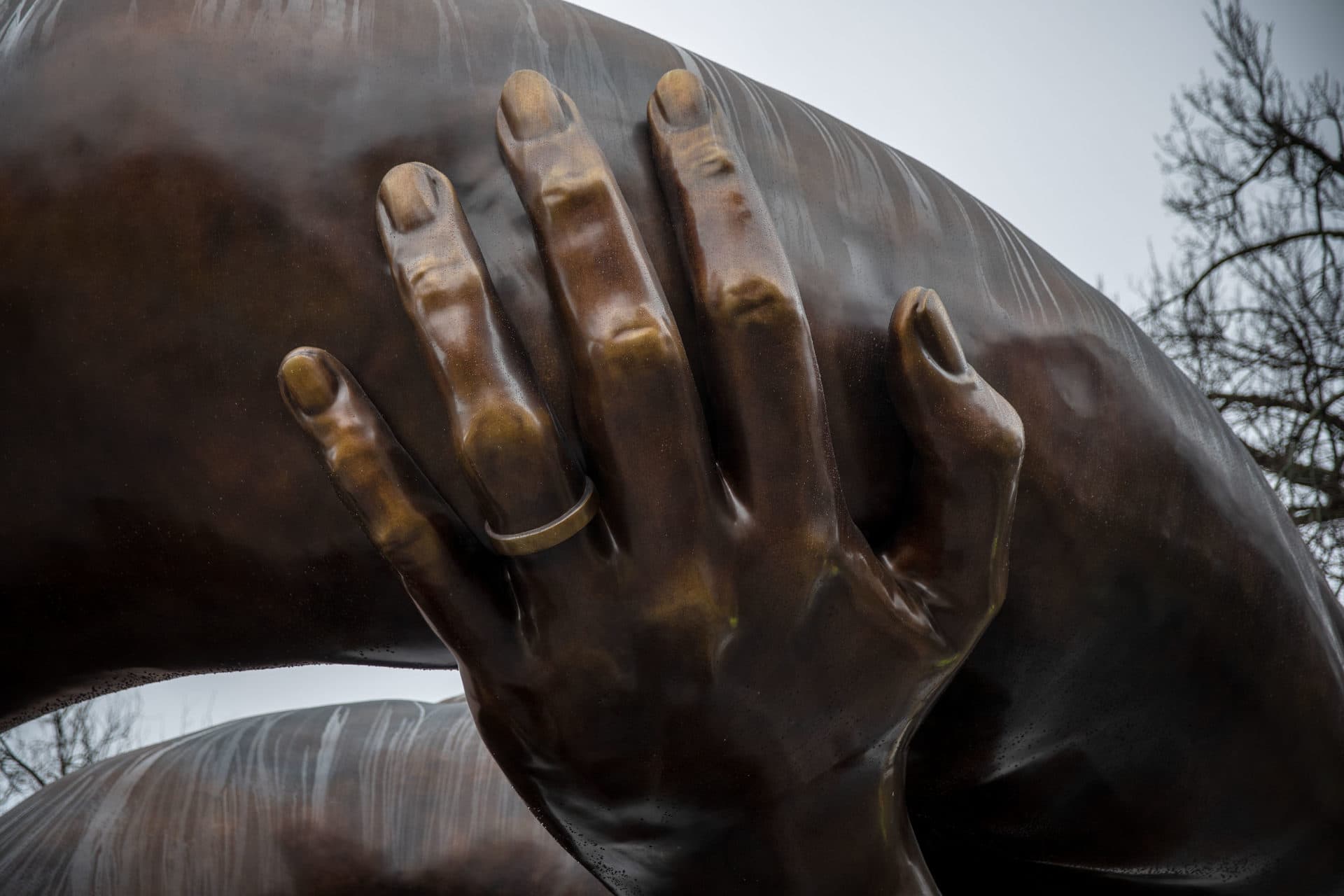 The memorial was built in such a way that visitors can walk inside The Embrace and feel as if they are standing in the center of a hug.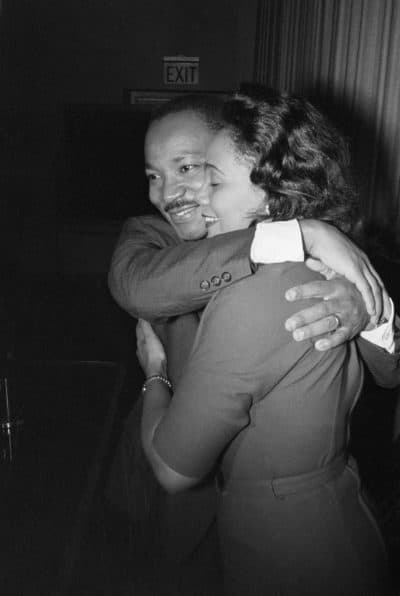 "This idea of a hug being both a representation of vulnerability and security — the inspiration of the photo of Dr. King and Mrs. King embracing was why this was chosen," he said.
"Mrs. King is on the bottom of the hug and you could see the joy and the love in the photo, but you could see Mrs. King literally holding the weight of Dr. King in her arms. And it also speaks to the power of Black women and women in general, being the anchors and the keepers of movements in this country. And so to have a memorial not only honor Dr. King, but Mrs. King was important to us."
The memorial was the first built on Boston Common in 60 years, though Jeffries said it's been in the making for the last two decades. And Jeffries noted it's one of few homages to the Kings in the city — and the only one on city property — though Martin Luther King Jr. lived, studied and preached here.
"And so for such a historic city, not to acknowledge the Kings — it's been a sad chapter in Boston's history," he said. "And I think we're emerging from that."
This article was originally published on January 12, 2023.