New Bob Dylan photo exhibit provides a candid look into a critical point in the artist's career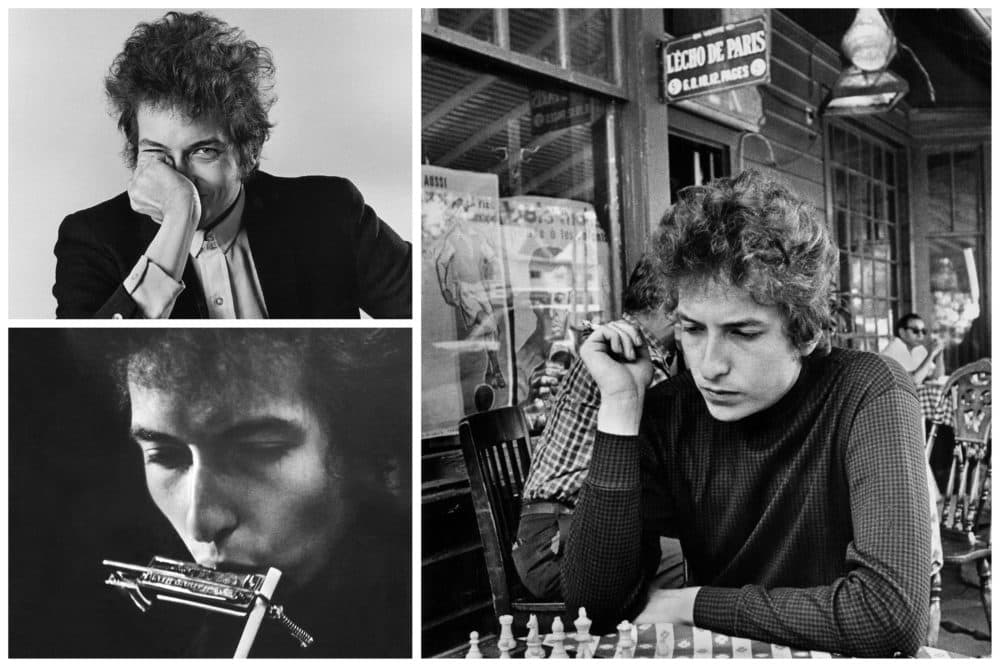 There's little question about how deep the pool of Dylanalia is.
Bob Dylan is everywhere, forever in the zeitgeist.
Perhaps, it's always been that way, but with Dylan — now 81 and an enigmatic musical and cultural force for six decades — it seems even more so. Whatever the platform.
He keeps recording new albums, releasing authorized live bootlegs and touring. We have his books — a semi-fictitious memoir in 2005 and an over-heated take on his "philosophy" of song last year. There have been documentaries and mockumentaries, exhaustive magazine thumb-suckers, dedicated websites and Facebook groups. Many books have been written about him — Goodreads estimates 146.
I've jumped on and off the Dylan train over the decades. I'm not alone in this. But there's little debate about the value of his early years musically, and as it most definitely turns out, photographically.
"Don't Think Twice: The Daniel Kramer Photographs of Bob Dylan, 1964-65" just opened earlier this month in a basement room at the Boch Center Wang Theatre, part of its Folk Americana Hall of Fame Roots series. It was originally supposed to hit Boston in 2020, but the pandemic lockdown killed that and then another planned opening was nixed by a second COVID-19 wave. Third time's the charm. It's here through March 29.
Kramer's 51 photos, most in starkly beautiful black-and-white, give a window into a special period for Dylan and pop music in general. Dylan was pushing the limits of what could be expressed in song – in length, in lyrics, in sound - and pop music was turning a corner toward, at least potentially, a more worldly phase.

Kramer spent 366 days with Dylan. The working relationship started with a studio photo shoot — he did the album covers for "Highway 61 Revisited" and "Bringing It All Back Home" — and expanded into a friendship, where Kramer had unprecedented access. Dylan was clearly comfortable with Kramer's presence; Dylan loved the camera and the camera loved him. Aside from the concert shots, Dylan lifted the veil and Kramer showed sides of Dylan he hadn't previously revealed: sharp pictures of Dylan shooting pool, playing chess, mugging with Joan Baez as he irons her hair or dances with her, looking faux-fierce posing with Johnny Cash.
"Dylan hadn't done that for any other photographer," says Bob Santelli, a music historian and this exhibit's curator, who was at the pre-opening party Tuesday night hosted by Boch Center CEO Joe Spaulding. "It couldn't have come at a better time in the history of American music or Bob Dylan's history. This is about the transition of Bob Dylan from folksinger, the heir to Woody Guthrie, to a rock artist who brought with him not just a brand-new sound but poetry and significant meaning to rock 'n' roll lyrics."
All this, Santelli says, was in motion before the famous 1965 show at the Newport Folk Festival where Dylan "went electric." Dylan was in one of his re-invention phases, for which he'd become well-known.

Kramer's photos can jettison you back to that time – even if you weren't alive or cognizant then. Maybe it's 20/20 hindsight, but the confident, playful air about Dylan then suggests a feeling that he knew he was on the cusp on something great. He was not yet the superstar he'd become. Nor was he the unspeaking, even-more-gruff-voiced, non-guitar playing Dylan audiences have seen in the last few years. Dylan rarely revisits key songs from that era like "It's All Over Now, Baby Blue," "Mr. Tambourine Man," "Like a Rolling Stone" and "Don't Think Twice, It's All Right."
David Bieber, a collector who runs the David Bieber Archives in Norwood, also sees that time as a period of transition. The photos convey "that sense of intimacy and informality, the accessibility, where he was transforming himself from a folk performer to a songwriter other people were recording and finding acceptance of his own voice," he says.
"The all-seeing eye of Kramer's camera captured a moment in time you wouldn't see again," adds Bieber, whose Archives has 100 items on permanent loan at the Boch Center. "Now, Dylan is on this never-ending tour where he goes from tour bus to stage, back to tour bus. He's almost a ghost of former self, the myth preceding the man."
Bieber's preference is for the black-and-white photos, but he takes note of the colorful album covers, especially "Bringing It All Back Home." Bieber sees it as possibly allegorical. "You could say at that time Dylan's music went from black-and-white to color," He says. "In 1963, it was Peter, Paul & Mary and protest songs and in 1965 he was hanging out at the Factory in Andy Warhol's world."
The 90-minute tours, which include five other Wang exhibits, generally begin at noon with guide Scott Towers. There's a minimum of two guests per tour.