Take a peek inside James Beard Award-winner Irene Li's new dumpling factory and cafe
Play
The pandemic forced scores of Boston area restaurants to shutter, including chef Irene Li's Mei Mei in Brookline. But with help from a team of devoted collaborators, Li's business has been revived and reimagined. The result is the newly opened 4,000-square-foot dumpling factory and cafe in South Boston. At the bustling space, community, transparency and "world dumpling domination" are on the menu.
Li, the co-founder and co-owner of Mei Mei, believes dumplings make the world go round. She always loved watching the TV show "How It's Made," which takes viewers behind the scenes in different industries. So, when she and her team started strategizing a reboot of the business, they ran with a novel question: "Wouldn't it be cool if people could see inside a dumpling factory?"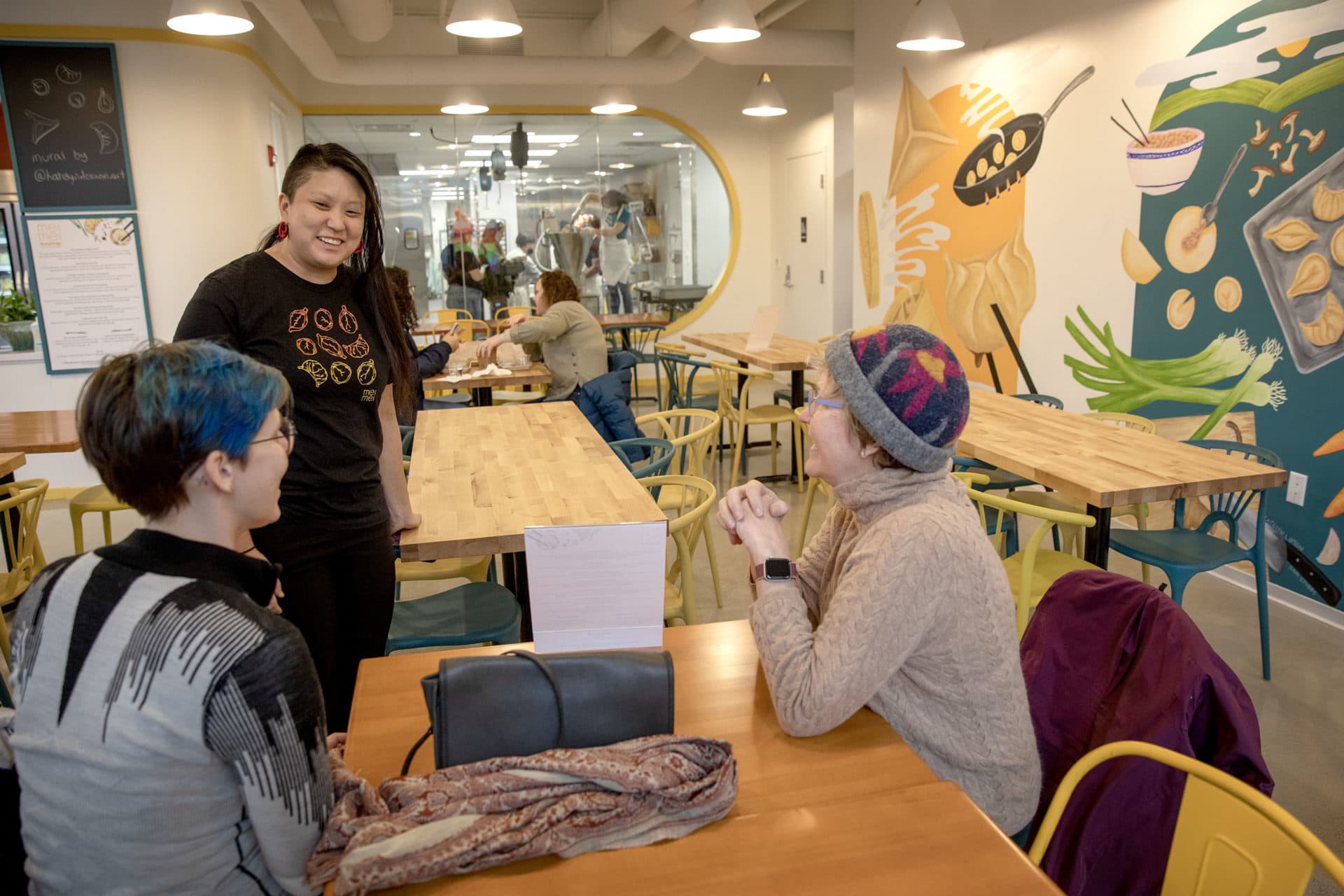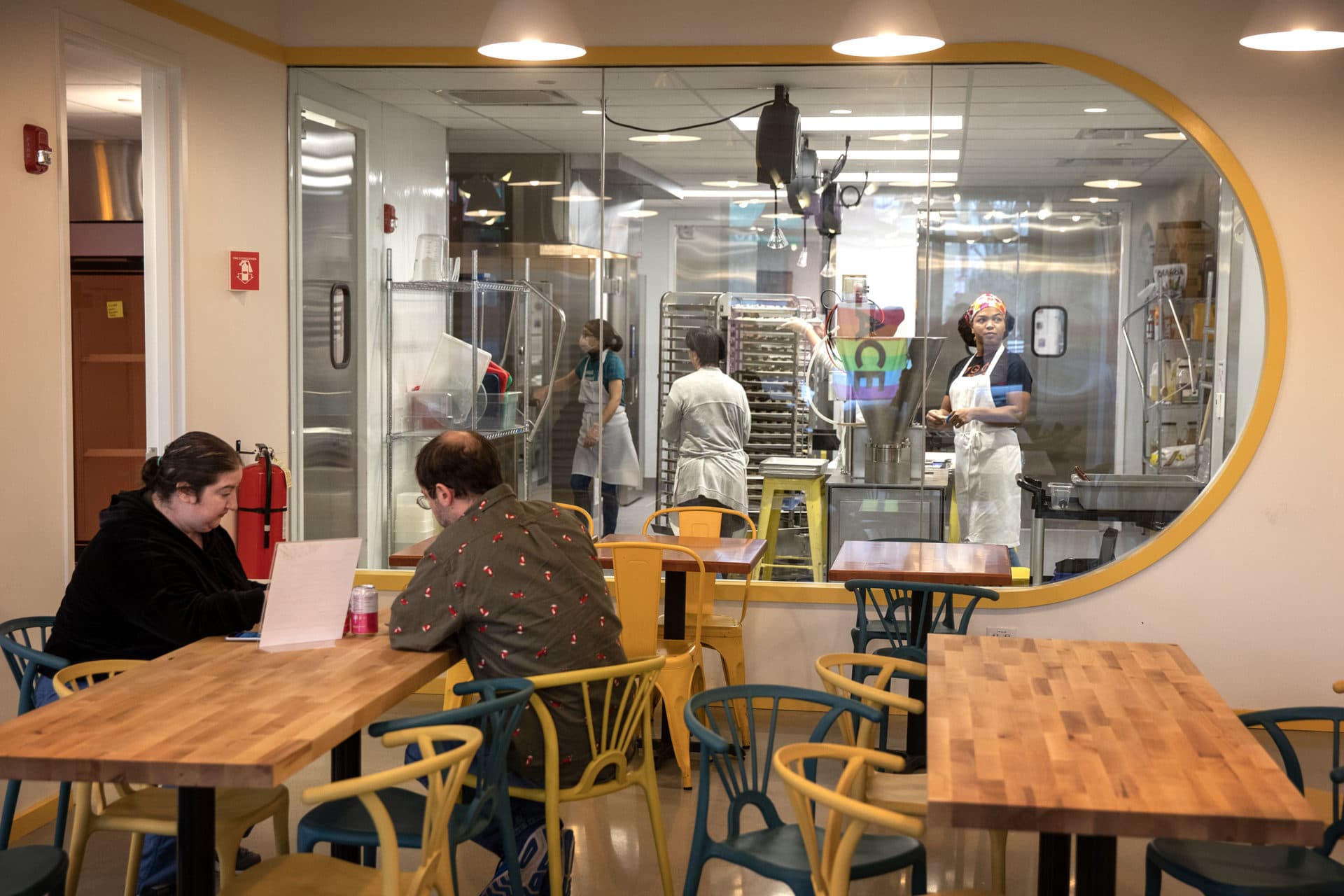 "For us, having this kind of interactive element where the guests really get a sense of the people working, and the process, really aligned with how we think about our work at Mei Mei," Li explained.
"It's kind of like a modern brewery where you go, you can take a tour, you can see how the stuff is being made. Then you get to hang out in the taproom — or in our dining room, as the case may be — you can sample the product, and you can also buy some to take home with you to enjoy later." 
In the dining room, a wall mural follows the dumpling life cycle from farm to table. Customers can also peer through a huge glass window into the production area where staff members mix dough from scratch and fillings made with mostly local produce and responsibly raised meat. A hulking, new machine helps speed things up.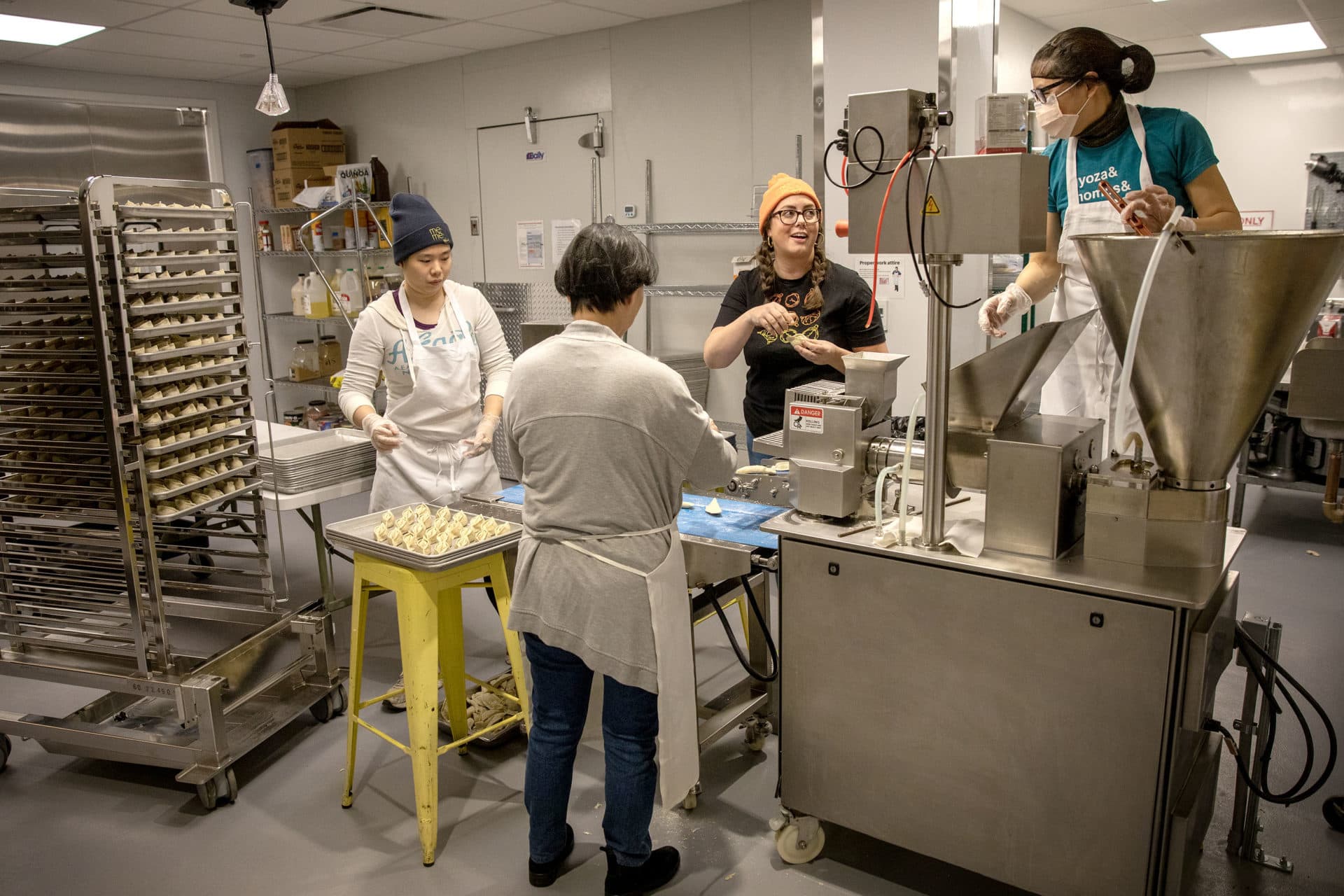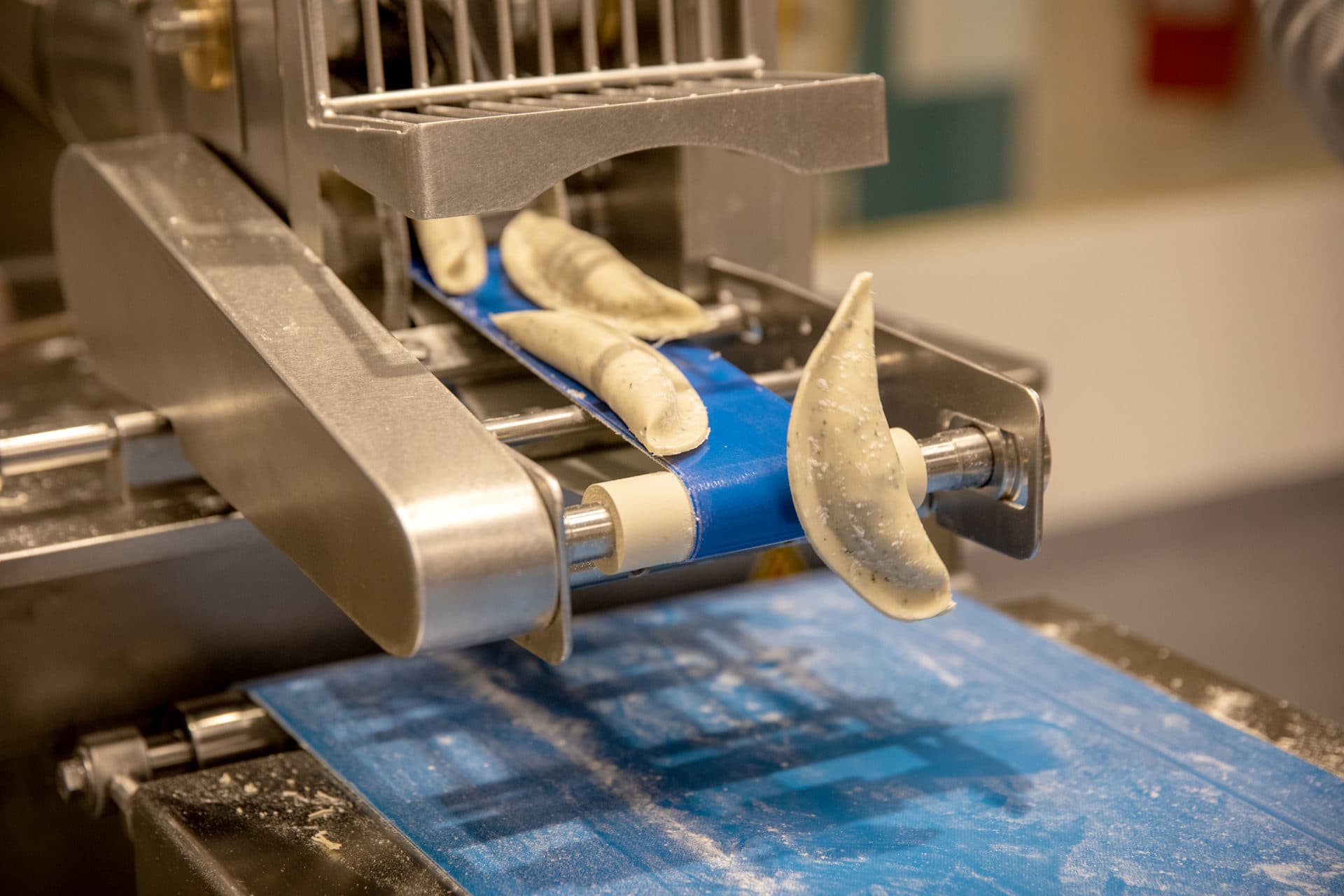 "We average somewhere between 500 to 1000 dumplings an hour when we're in production," Li said. "This really kind of opens up a whole new level of volume for us. We were squeezing this process out of our old location, and so this space is really designed to allow us to pump out dumplings."
Employee Angelle Castro mixed flour and parsley into a batch of dough for tofu dumplings. She started working with Mei Mei in September. "I feel like I get to experience so many things. Some days I'm in the cafe and I get to work the fryer, I get to work the grill." Castro also learned how to maneuver 800 steamed dumplings out of an oven in the production area. She added, "What you see is what you get with Mei Mei."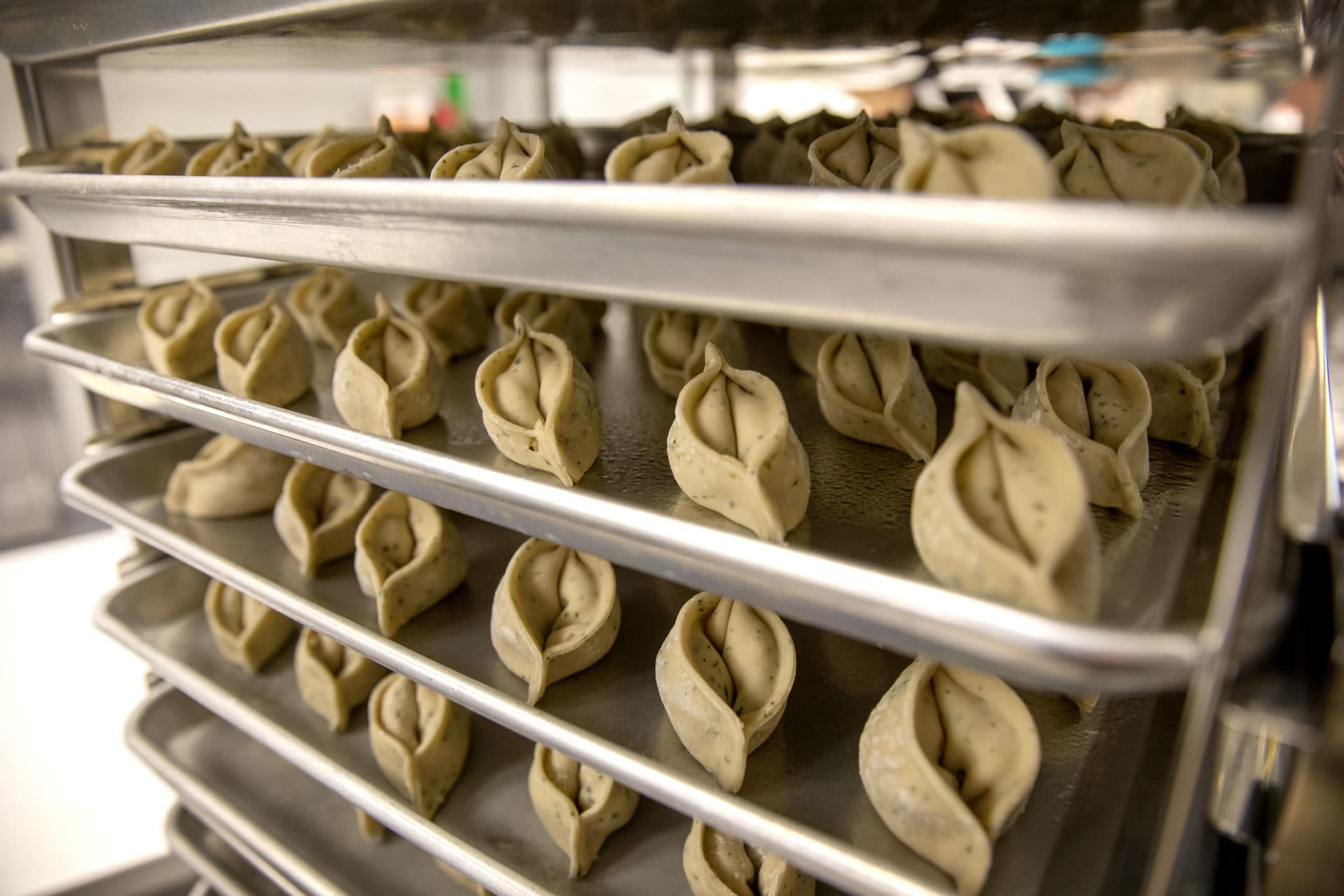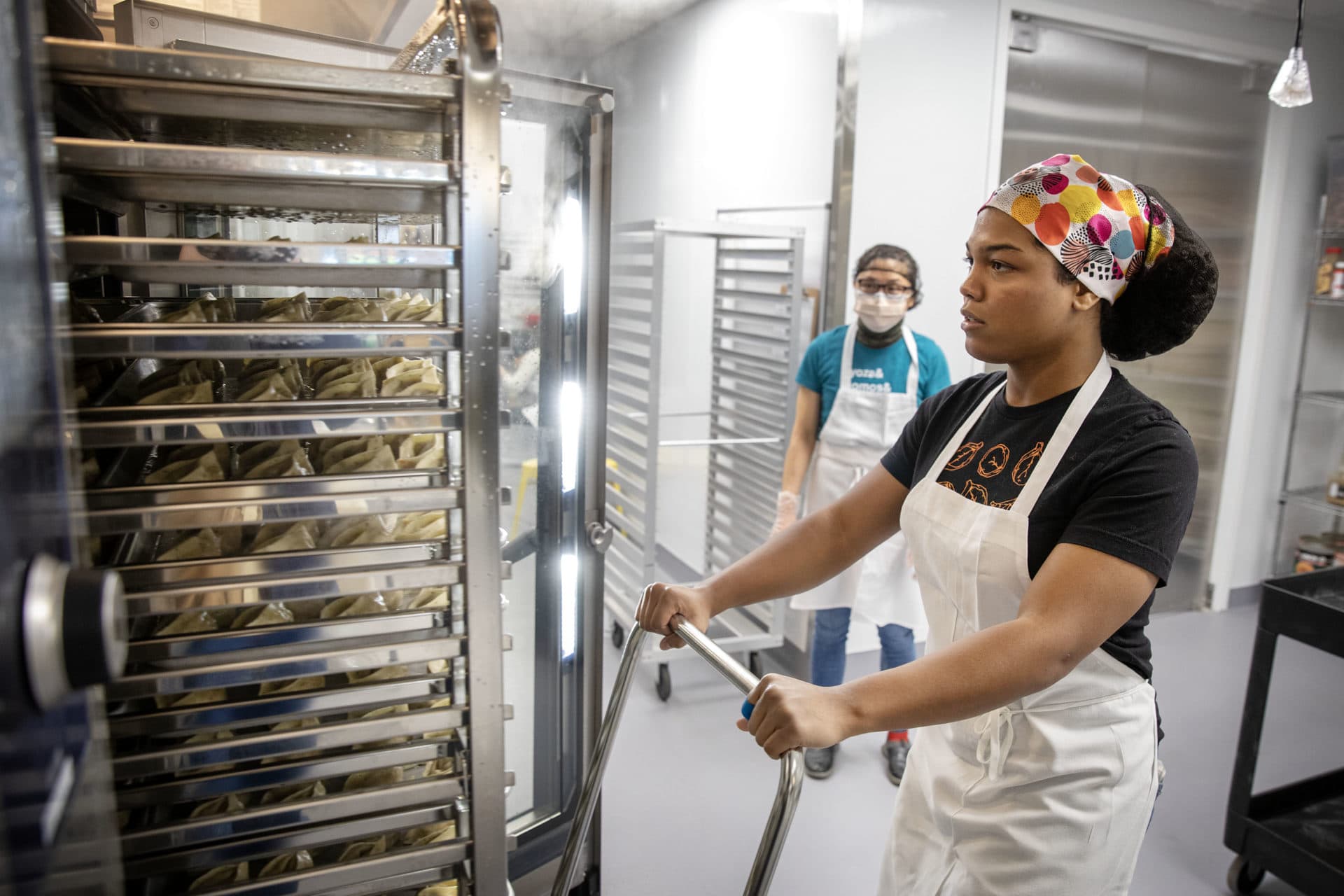 Turns out Irene Li never intended to open a dumpling factory. But the original Mei Mei in Brookline — which she and her siblings started as a food truck in 2012 — went into a tailspin because of the pandemic. "We were pivoting every which way, spinning around in circles, doing groceries, doing takeout, doing family meals."
When a customer suggested they try selling their dumplings at farmers markets, Li recalled pooh-poohing the idea. "I was like, 'We don't need to go to a farmer's market. Like, that's for food startups, and we're not a startup, we're a restaurant.'"
Her partners replied, "It's COVID. We're all startups again."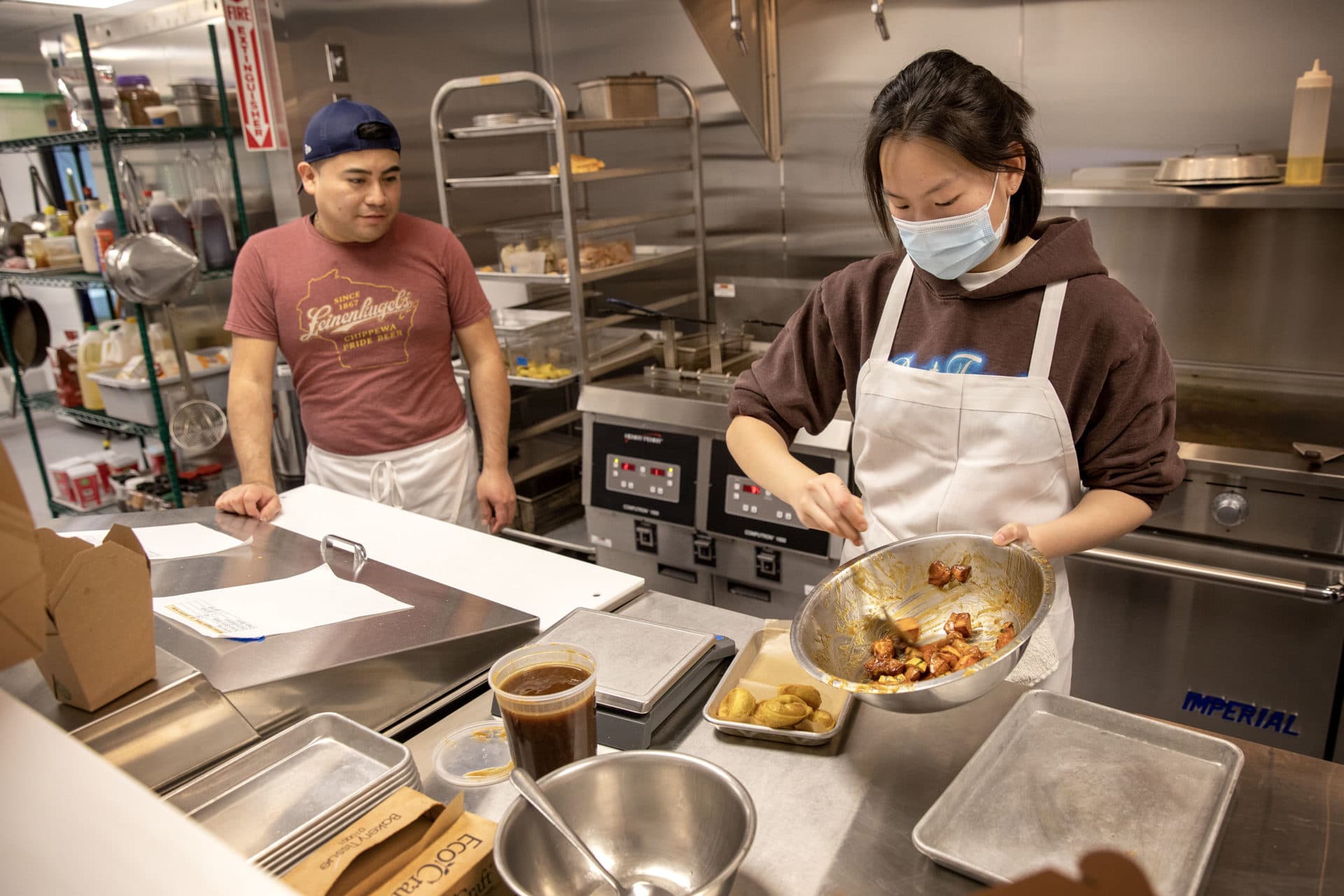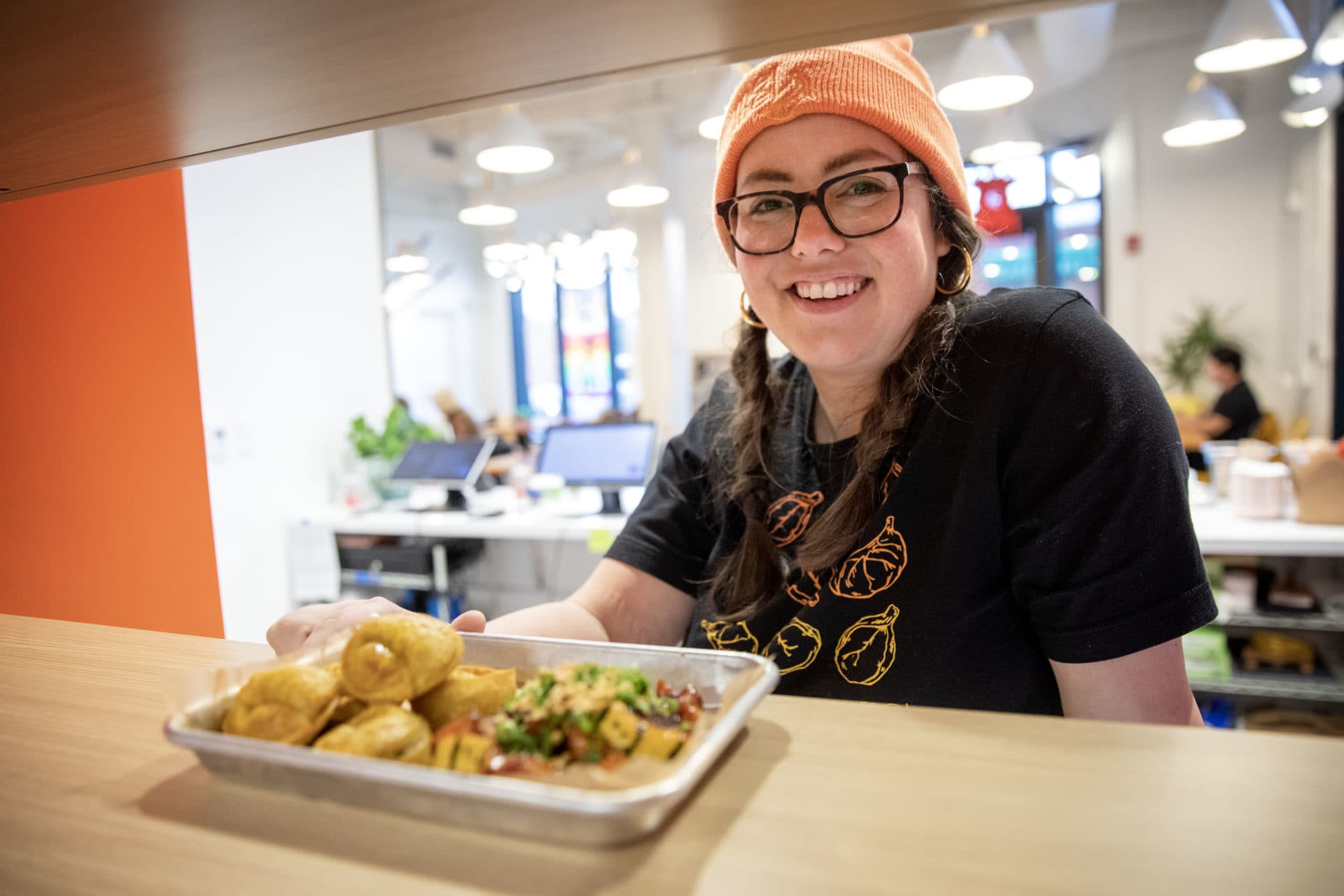 The dumpling packages were a hit and expanded to about 20 farmers markets across Massachusetts. "We always have known that dumplings make people happy. Every culture has a version of a dumpling," Li said. "And so for us, the demand signal was there — big time!"
But Li had no idea how to manufacture mass quantities of dumplings. Luckily her two managing partners — who have MBAs from Babson College — did. "I admitted upfront that I didn't want to be the one who was in charge of it," Li said. "And they have really brought a level of sophistication and intention to this plan that the old Mei Mei, frankly never had."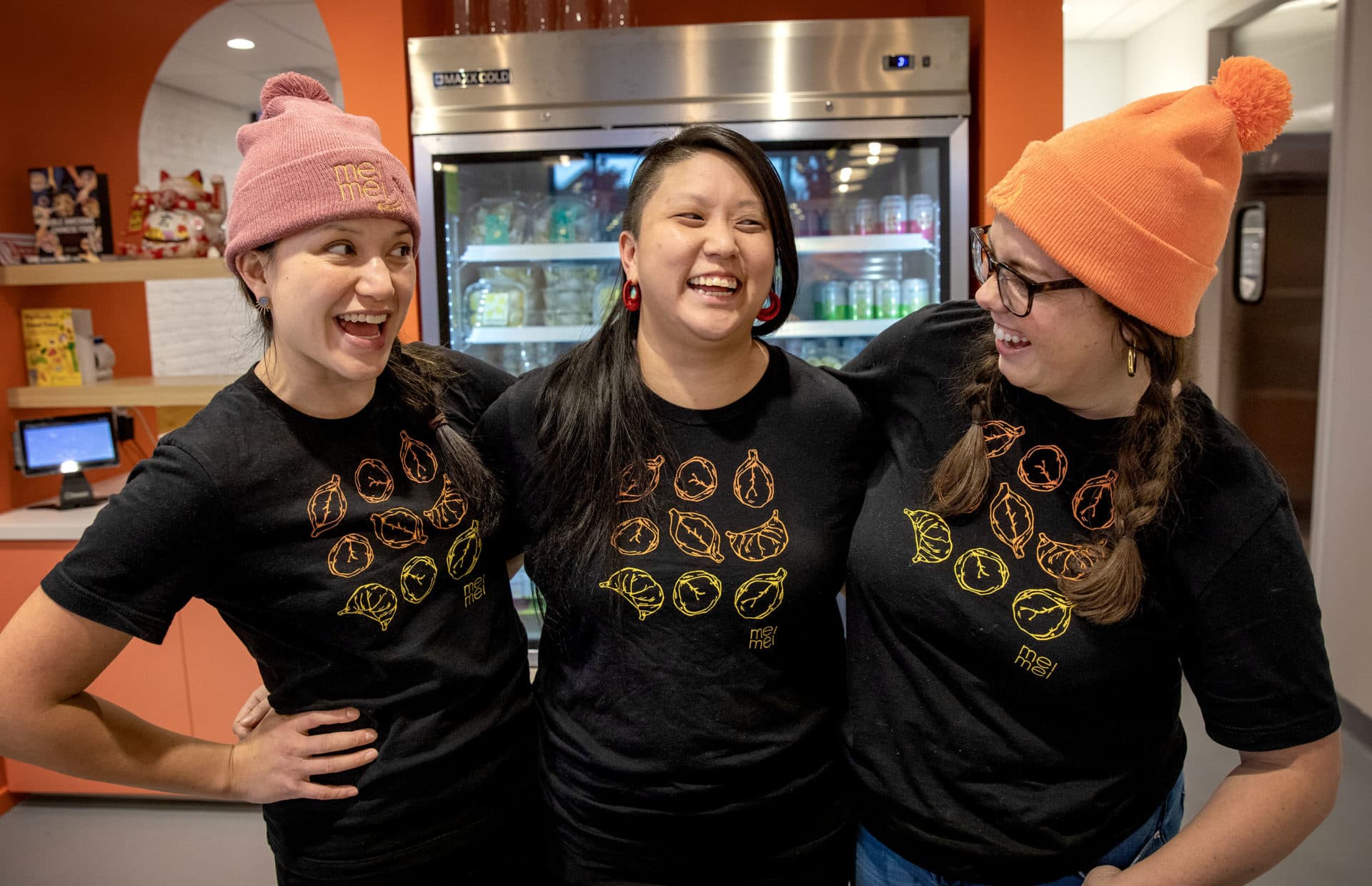 Manufacturing guru Annie Campbell joked that their goal is "world dumpling domination." "I think for us, it's really being able to see the dumplings on grocery store shelves coast to coast."
Mei Mei's other managing partner, Alyssa Lee, said it's also about carrying on Irene Li's pioneering business practices, which earned her the James Beard Award for Leadership last year. "She is a vision setter, and that's why I think she's attracted so many great people to work with her for her. And a lot of us here, too, have been able to grasp on this better vision that she has for the food industry."
Before joining Mei Mei, Campbell said she was already inspired by Li's open book management, which she described as, "Opening up their books and saying 'this is the nitty gritty and the ugly truth of what it takes to run a restaurant.' And to teach the whole staff so that they understood what was really happening — that really spoke to me as the kind of business that I wanted to be involved in."
After production manager Wei Wu heard an interview with Li on WBUR, she further researched the restaurant owner's advocacy efforts — including her fight against food waste — and applied to work at Mei Mei. "I don't like food waste," Wu said. "And I think with myself working in the food industry, you know, I can do my part to help that." Leading up to the factory's opening Wu has been learning how to work the new dumpling machine and is training other staff how to use it.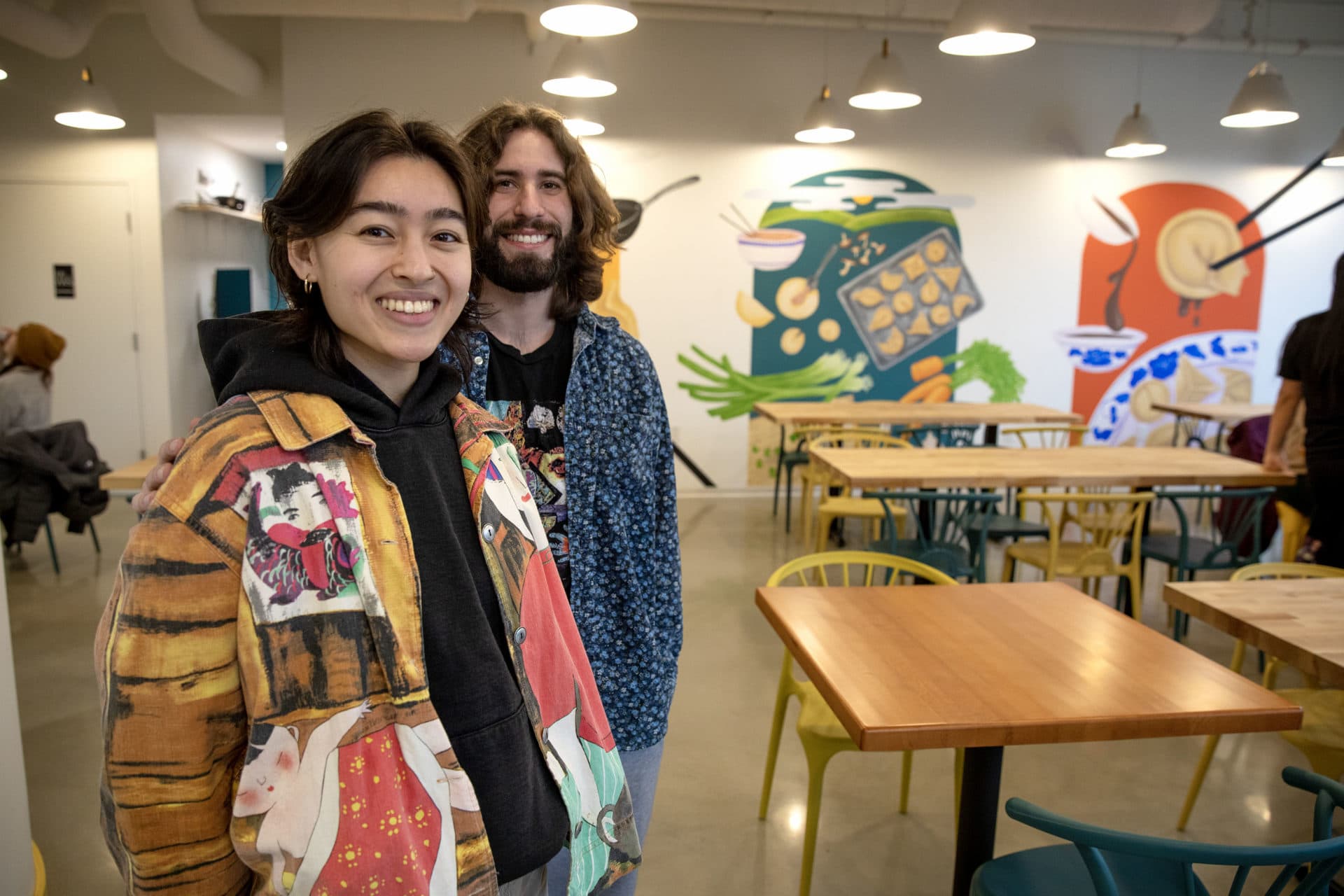 Li is a role model for many of her collaborators, including employee Katelyn Lipton, who's also an artist. She created the adorable graphics on Mei's Mei's t-shirts and tote bags, and the partners also asked her to paint the dumpling murals inside the new cafe.
"It's been a lifelong dream of mine to paint a mural," she said, adding her Korean grandmother taught her how to fold dumplings when she was a kid. When asked about working for Li she said, "it's really important to have someone like her to look up to who not only cares about her own community — Chinese, Asian Americans — she also cares for food workers in the restaurant and farm workers. She really brings a holistic lens to everything."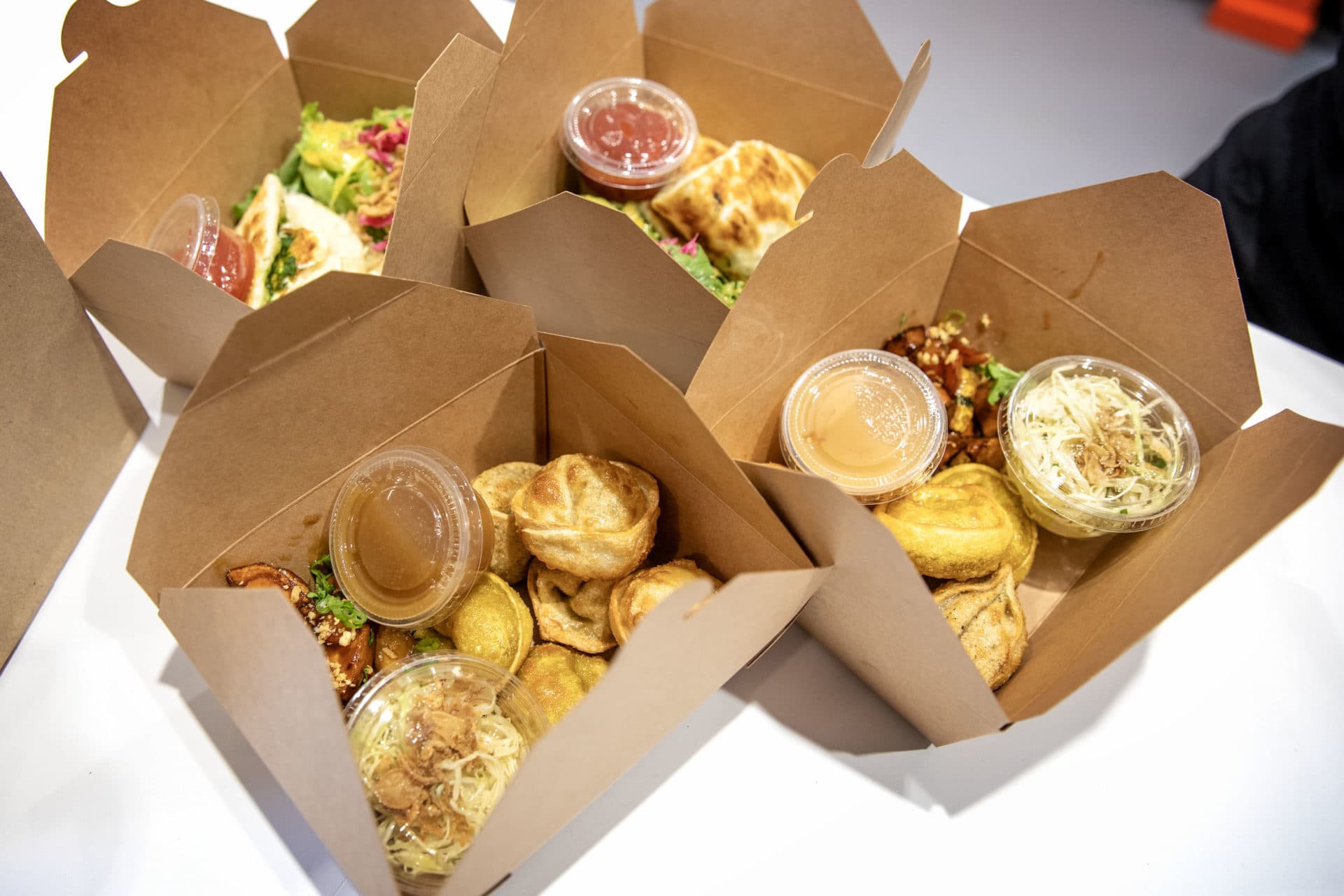 Li's vision for the restaurant industry is that it can and should be more independent, more diverse, more equitable, more ethical and more accessible than it is right now. "I'm hopeful that we can push towards that future," she said. And she'll continue doing that beyond Mei Mei's walls with Prepshift, her new tech-based consulting company. Li wants to "pay it forward" by helping other restaurants create their own equitable, sustainable business models. To focus on this next chapter Li is backing away from daily operations at the dumpling factory — but she knows Mei Mei is in good hands.
"It's exciting to see a brand that I've loved and stewarded for so many years evolve into something else," Li said. "The only thing that I hope stays the same is that we can be a business that people are proud to work for and proud to support."
To spread even more dumpling love Mei Mei will also keep hosting dumpling-making classes.
This segment aired on January 26, 2023.