After a drubbing last election, Mass. GOP finds itself at a crossroads
Play
Massachusetts Republicans failed to field a single successful candidate for statewide office last November. Now, the party is at a crossroads.
Incumbent GOP Chairman Jim Lyons is vying for a third term with a vote expected among state committee members on Tuesday. But there is discontent among some Republicans, troubled by Lyon's election-losing strategy and the party's financial woes.
Lyons has made no apologies for being a staunch conservative in a liberal-leaning state like Massachusetts.
"The only way we're going to make long term change in Massachusetts is to stand for the things we believe in," Lyons  told a few dozen Republicans at a recent meeting in Worcester. A video of the event was posted on social media by the Grafton Town Republican Committee.
"I am unabashedly pro-life, and I'm proud to say it," Lyons told attendees. "I stand for freedom, and I'm proud to say it. I'm against this 'woke' agenda. And I'm proud to say I will never, ever back down."
Lyons has been a strong supporter of former President Donald Trump and claims the party troubles are not because of his leadership as chair.
Instead, he blames centrist party members who supported former Gov. Charlie Baker, and says they're undermining his agenda.
"So far, we know that the Baker people have invested all kinds of money because they want to silence you. Silence me," he told the group in Worcester. "Are they going to silence you people? They're not going to silence me neither."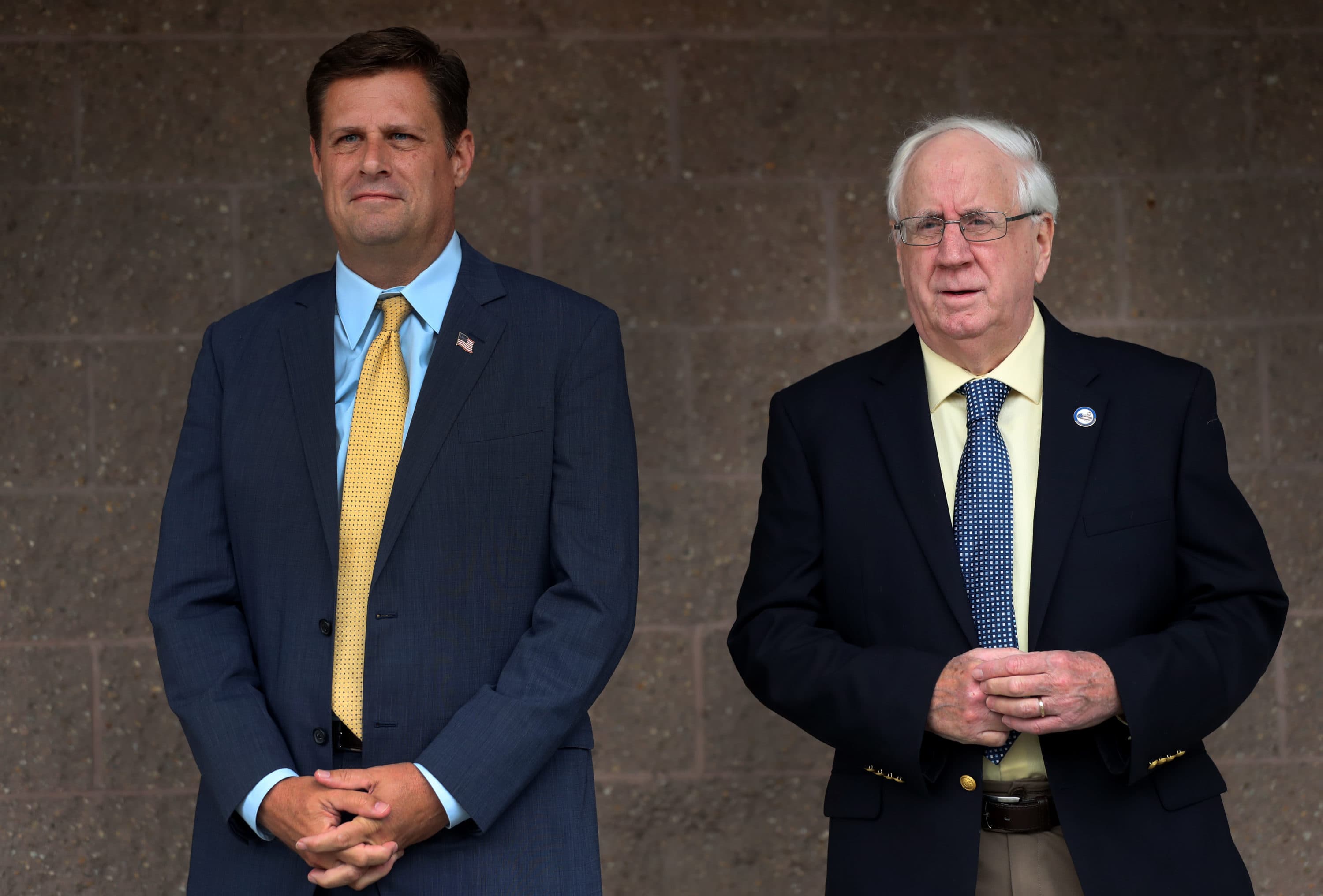 The number of Republican elected state officials has dwindled in the four years Lyons has been chair.
This includes November's lopsided losses for Governor and Lt. Governor, the only statewide offices then held by Republicans.
The party also saw a pair of sheriff's seats as well as the Cape and Islands District Attorney's Office switch to the control of Democrats. Republicans have lost at least nine seats in the state legislature since Lyons took control of the party.
"I think if we continue on with Jim Lyons, that we're going to have even more infighting," said Auburn State Rep. Paul Frost, who is also a voting member of the State Republican Committee. He said more Republican incumbents could be in danger of losing their seats in contentious primaries if the party sticks with Lyons.
But the concerns go beyond losing elections.
The party's treasurer, Pat Crowley, has raised questions about opposition research conducted into now-Gov. Maura Healey during last year's gubernatorial campaign.
Crowley sent other Republicans copies of emails and invoices that suggest Lyons may have coordinated with a political action committee and wealthy donors to pay $53,217 for the research.
Such coordination would be a violation of state campaign finance laws.
WBUR has repeatedly reached out to Lyons through the party but has not received a response.
"It appears that our party may, in fact, be in the red and owe money to vendors," said State Committeewoman Amy Carnevale.
Carnevale is one of several candidates challenging Lyons for the chairmanship this week. She said the party needs change at the top.
"Under the current leadership, the party has gone in a direction that has not been helpful to winning elections," she said. "We need to communicate a message that is welcoming and attractive for recruiting both candidates and donors to the party."
It's not unusual for a political party to do some soul-searching following election losses, said Brian Frederick, who teaches political science at Bridgewater State University.
"It's sort of the classic purist-versus-pragmatist sort of approach," Frederick said. "That especially occurs when parties are out of power, when they're not currently occupying very many positions of power and see themselves locked out."
It will ultimately be up to the 74 members of the Republican State Committee to determine the leadership of the party.
They'll gather in Marlborough Tuesday night and will vote by secret ballot.
This program aired on January 30, 2023.