Berklee's buzziest band puts a fresh spin on pop convention
Play
The title of Little Fuss' album, "Girls at Parties," is a deliberate sleight-of-hand. At first blush, it's easy to imagine a spring-break-like milieu seen through the eyes of a young man. The girls are the objects of his desire, his fantasy, his yearning. But scratch the surface and you'll find, instead, a collection of songs written from the perspective of the girls. "Bathroom mirror/ I'm drunk on anger and/ My new best friend's a stranger," Little Fuss' Olive Martinez sings on a track called "Guardian Angel." "She's been s--t-talking the boys."
"Basically it's an album about a bunch of different girls at a party, or the same girl at a bunch of different parties, depending on which way you want to look at it," Martinez says. In one song, she sings about the discomfort of being looked at by others; in another, she imagines how being the object of fascination can be a source of power: "Feeling like I'm wanted/ But I don't need your attention, I'm doing fine."
It's a contradiction, but that's kind of the point. "Even if it's the same girl going to a bunch of different parties, she can contradict herself in one song, be thinking about this thing, and then the next song be thinking about a totally different thing," Martinez says. "Neither of which have to revolve around her love life, necessarily."
The trick is to find a way to pack these complex, politically-charged ideas into a perfect gem of a pop song — a talent for which Little Fuss is fast becoming recognized. The group, whose members have yet to graduate from college, has already been nominated for a Boston Music Award and is set to perform at Boston Calling, the city's biggest music festival. Both milestones were achieved before the band even released "Girls at Parties," its debut album, in January.
Their success owes much to the particular alchemy between Martinez and her Little Fuss co-founder, producer/guitarist Cody Von Lehmden. The musical partners, who are also a couple, met in 2019 as freshmen at Berklee College of Music, at the school's study abroad campus in Valencia, Spain.
Von Lehmden had applied for the program basically by accident. "You had to write, I think, 100 words," he recalls. "And then I got my application back, it was like, 'Congratulations, you've been accepted to go to Valencia, Spain.' I was like, 'Oh s---. Now I realize what all that entails.'"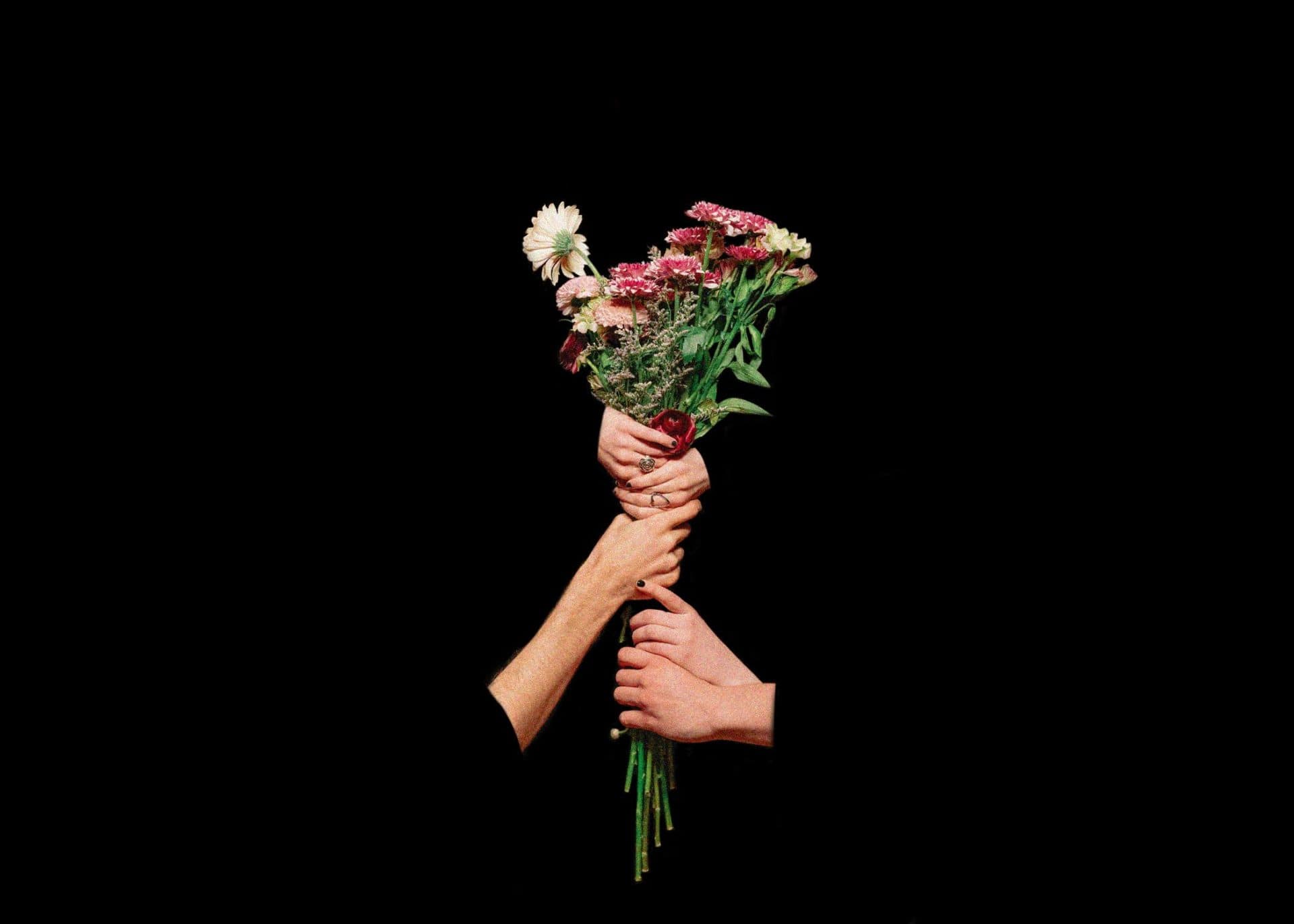 His carelessness turned out to be kismet. Martinez had also checked the box to go to Valencia — albeit with more intention — and the two immediately clicked.
"Within the first day or two, we were already kind of pulling all-nighters and just making a bunch of demos," Von Lehmden says.
When the pandemic hit, the campus was shuttered and the students summarily sent home. Martinez and Von Lehmden both flew to their hometowns in Ohio, which happened to only be a few hours' drive from each other, and continued to make music.
During this time they tinkered with their sound. Von Lehmden and Martinez describe themselves as fans of classic rock — they cite The Doors as a big influence — but their desire to speak to contemporary music pushed them toward electro-pop. The pair released their first EP as Little Fuss, "Hazy," in 2021. On "Hazy," the core elements of the band's sound are already evident: hooks crafted with maximum sing-alongableness combined with sleek, moody production designed to fill an arena — all of it anchored by Martinez's voice, which mutates between coy etherealness and conspiratorial immediacy.
Martinez prefers to write by ear and let melodies come to her. "At the end of the day, music is what you hear," she says. Take, for instance, one of the band's most popular tracks, "A Modern Olympia." The verse's distinctive melody — a tense mantra that starts at the bottom of Martinez's vocal range and swoops upward with open-armed abandon — came to her in the shower, along with the idea for a staccato piano riff. In a voice memo she recorded afterward, Martinez snaps her fingers and intones an approximation of the piano part: "duh-duh-duh-duh." It's rough and unfinished, but the essence of the song is instantly apparent: anthemic and a little ominous.
Von Lehmden, by contrast, is a finicky and exacting producer. He is apt to spend hours agonizing over a single drum tone. The results are at once textured and polished, animated by playful flourishes like the electronic fizz of a laser or the chiming of bells. The sonic palette sounds synth-driven, but in almost every case Von Lehmden is simply making creative use of guitar effects pedals. His other main instrument is Martinez's voice, which he mixes expressively using stacks of vocal harmonies and vaporous "oohs" and "ahs."
For Von Lehmden, the goal — and the challenge — is to pen something instantly recognizable without succumbing to cliché.
"I feel a responsibility to make our songs competitive and make them of the time that they're from and make them able to be played next to other songs on the radio and not have people bat an eye," Von Lehmden says. "But then also infusing that with a sense of songwriting and lyricism that's been lost in a lot of pop music."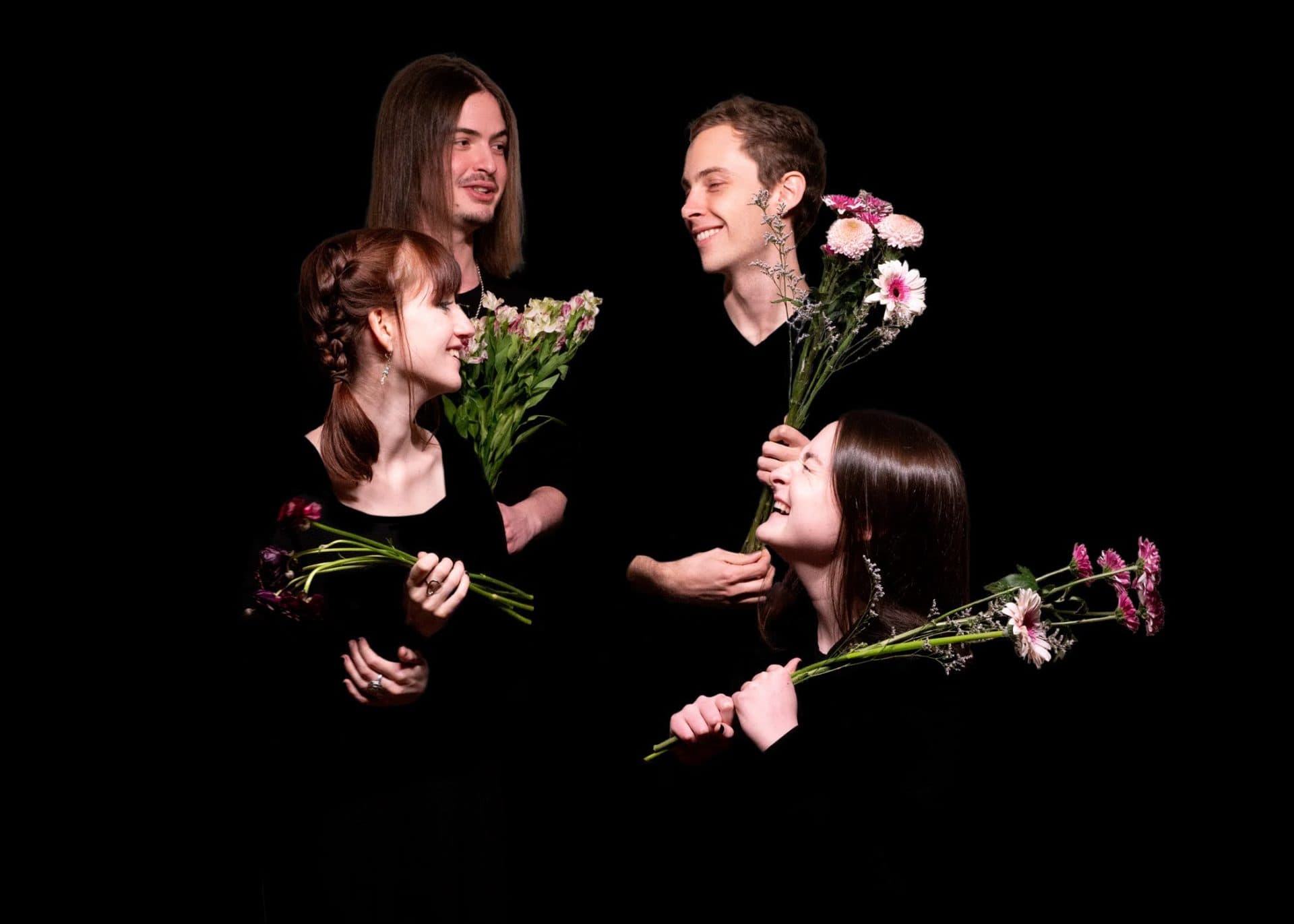 Last year, Little Fuss added two fellow Berklee students, bassist Delia Martin and drummer Vitor Oliveira, to the lineup. The addition of two instrumentalists marks a shift from what was essentially a bedroom pop project to something resembling a live band. Now they have to write with bass and drums in mind, though Von Lehmden sees an advantage in these new sonic constraints, which he says makes the group "more focused." The band is already at work on another EP.
For Martin, the invitation to join Little Fuss was an opportunity to play in a band with a feminist bent.
"I've been in other bands before and I'm usually the only woman," she says. "So it's great to not only be playing these songs about this stuff, but also the band lineup reflects that, too."
For Oliveira, it was a chance to join one of the buzziest bands on the Berklee campus. He remembers the first time he heard one of Little Fuss' early singles. He sensed, instantly, that the project was something special.
"You know when your ears just, they catch on something and it kind of feels like home? And it's not necessarily something that you heard before, but it kind of feels familiar?" Oliveira says. "Yeah. It had a little bit of that."
That familiarity is something the band has lately been embracing. They find themselves returning to their foundational influences: Bowie, Pink Floyd, the Beatles, and, of course, The Doors. Von Lehmden says he no longer tries to disguise these tastes in his production choices. At some point, he let go of the belief that he and Martinez needed to invent something entirely new every time they wrote a song.
Instead, Von Lehmden, says, they try to "take some of these clichés from classic rock and reappropriate them." It's not that they're traditionalists, exactly. It's simply a matter of confidence. No matter what they do, they know they'll sound like Little Fuss.
This segment aired on February 23, 2023.