Lenelle Moïse's 'K-I-S-S-I-N-G' is worth e-m-b-r-a-c-i-n-g at the Calderwood
Occasionally, we are lucky enough to stumble upon unexpected beauty: a song or artwork that resounds in the heart or a story that leaves the soul brimming with emotion. This sentiment holds true for Lenelle Moïse's exquisite play "K-I-S-S-I-N-G" at the Boston Center for the Arts' Calderwood Pavilion through April 2.
The first few minutes of the play are jarring. But don't fret; it'll soon switch gears. Moïse's summer tale of a teenage love and lust triangle between Lala, Dani, and Albert isn't what it seems. It's more. Moïse's writing captures the luminous shine that marks youth, love's promise of feeling seen and the discovery of fine art, while simultaneously engaging pain, loss and more. But joy is most abundant.
The production is a joint effort between the Huntington Theatre Company and Front Porch Arts Collective. And Front Porch's heart-forward, community-centered aesthetic sings here with Dawn Simmons' masterful direction. It's wildly funny and culturally specific without being exclusionary. "K-I-S-S-I-N-G" has been in development for a while, with workshop productions in 2014 and 2018 and readings in between. It was worth the wait.
The stellar Regan Sims (Lala) leads a gifted kinetic cast that includes Elliot Norton Award winner Sharmarke Yusuf (Dani), Ivan Cecil Walks (Albert), Patrese D. McClain (Dot, Lala's mom) James Ricardo Milord (Jack, Lala's dad) and Bobby Cius (Neighbor).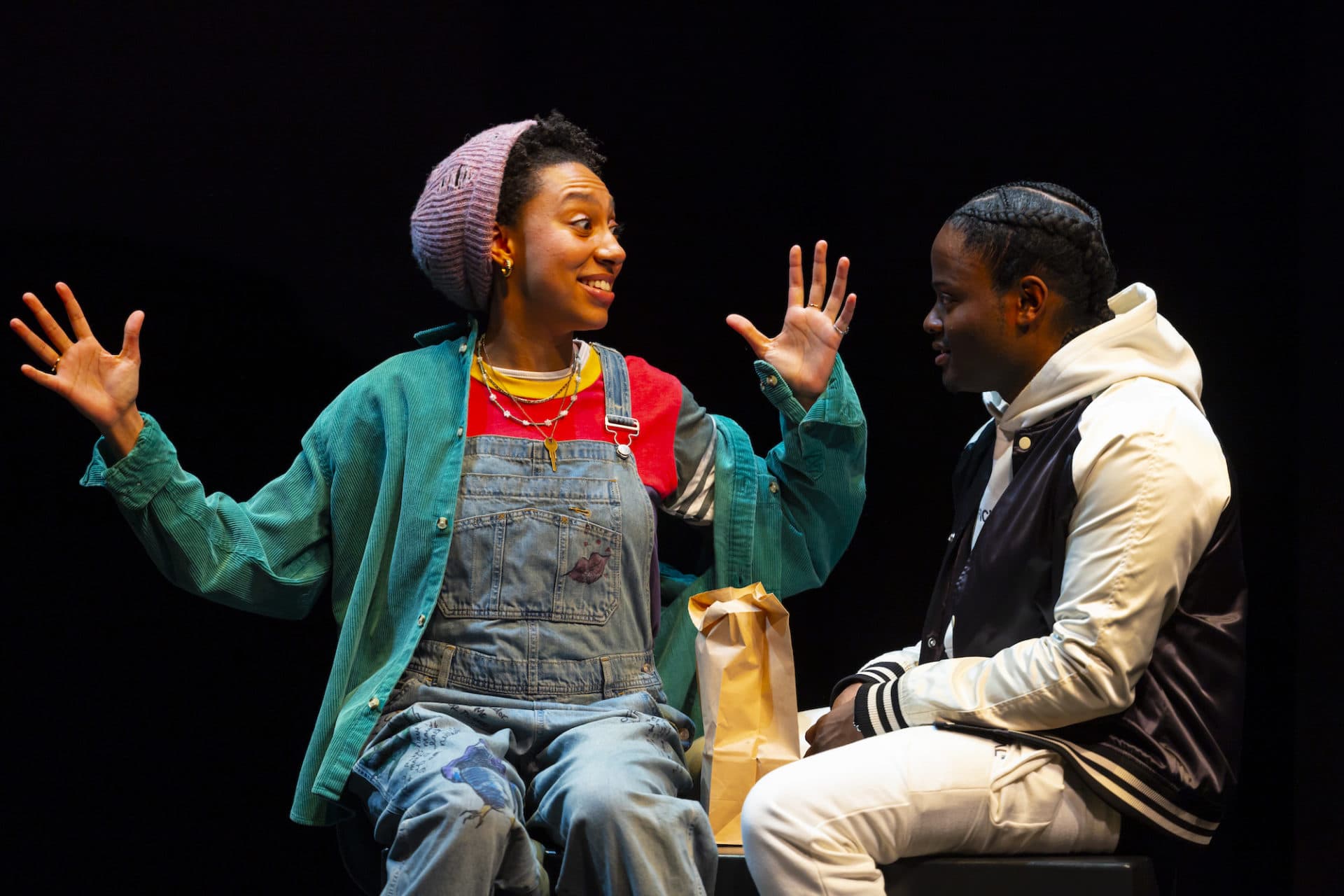 As the play opens, Lala meets slick-talking Albert (who has quite a reputation) while she's trying to enjoy a burger, recover from chickenpox and watch her brother Max, who is nonverbal. But his always-doing-too-much persona is a turnoff, and Lala isn't having it, at least at first.
Later, she meets Dani and finds within him a kindred spirit with an innocent heart who loves art, David Bowie and trees. Their affinity for one another is transparent, consuming, and vulnerable.
Dani and Lala are from two different worlds. His family is wealthy with rooms full of fresh flowers and gin and tonics for mother; she's from the projects and recalls climbing through a hole in the fence and carefully stepping over glass and needles on the way to the movie theater. But each informs the other's worldview in surprising ways. Dani pushes Lala to see and smell a blossoming honeysuckle bush when they walk through that fence in her neighborhood amid the debris. He even eats a few of the petals, to her dismay. Lala says she "never stops to smell nothing." She's always looking down and watching her step.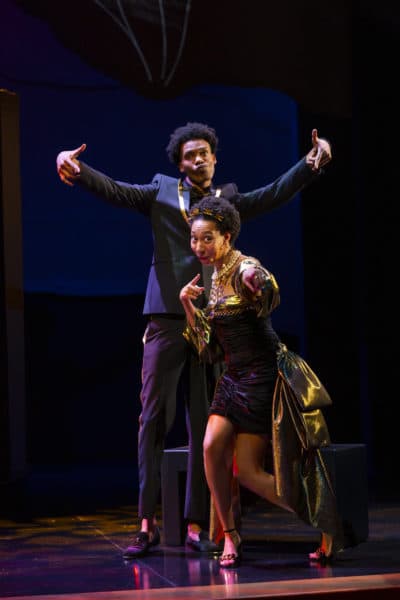 The two also encounter God, sort of. Dani shows Lala his favorite tree, which he feels is celestial and grand. He calls the mass of curved giant limbs and swirling green foliage God. Watching the majestic tree projected on a series of screens that engulfs them does feel otherworldly. So too, does the inky canopy of stars. The energy between the two characters is a sight to behold, but soon, an honest admission from Dani changes things. And Albert swoops in with his smooth moves to pick up the pieces.
Another kind of loveliness unfolds between Lala's parents, who have some long overdue conversations about their past. Albert unloads some heavy burdens after showing off his excellent dance skills (Walks minored in dance). Dot realizes she has persevered despite her circumstances and decides to forgive herself and try something new.
The work comes together like a kaleidoscopic tapestry, with Simmons weaving Moïse's humorous, poetic script and Jason Ardizzone-West's scenic design, Anna Drummond's expertly aligned sound, Jorge Arroyo's lighting expertise and Yee Eun Nam and Hanna Tran's gorgeous projection design into a fully realized work of art on every level.
---
"K-I-S-S-I-N-G," co-produced by the Huntington Theatre and Front Porch Arts Collective, runs through April 2 at the Boston Center for the Arts' Calderwood Pavilion.