10 years after the Boston Marathon bombings, here's how these survivors are finding joy
This year's Boston Marathon marks 10 years since two explosions at the finish line killed three people and injured hundreds. It was a time when the city came together not only to mourn, but to also celebrate the strength and resilience of the survivors and the healthcare workers who jumped to action that momentous day to save lives and limbs.
WBUR spoke to several survivors about how they're finding some joy these days.
Jessica Kensky and Patrick Downes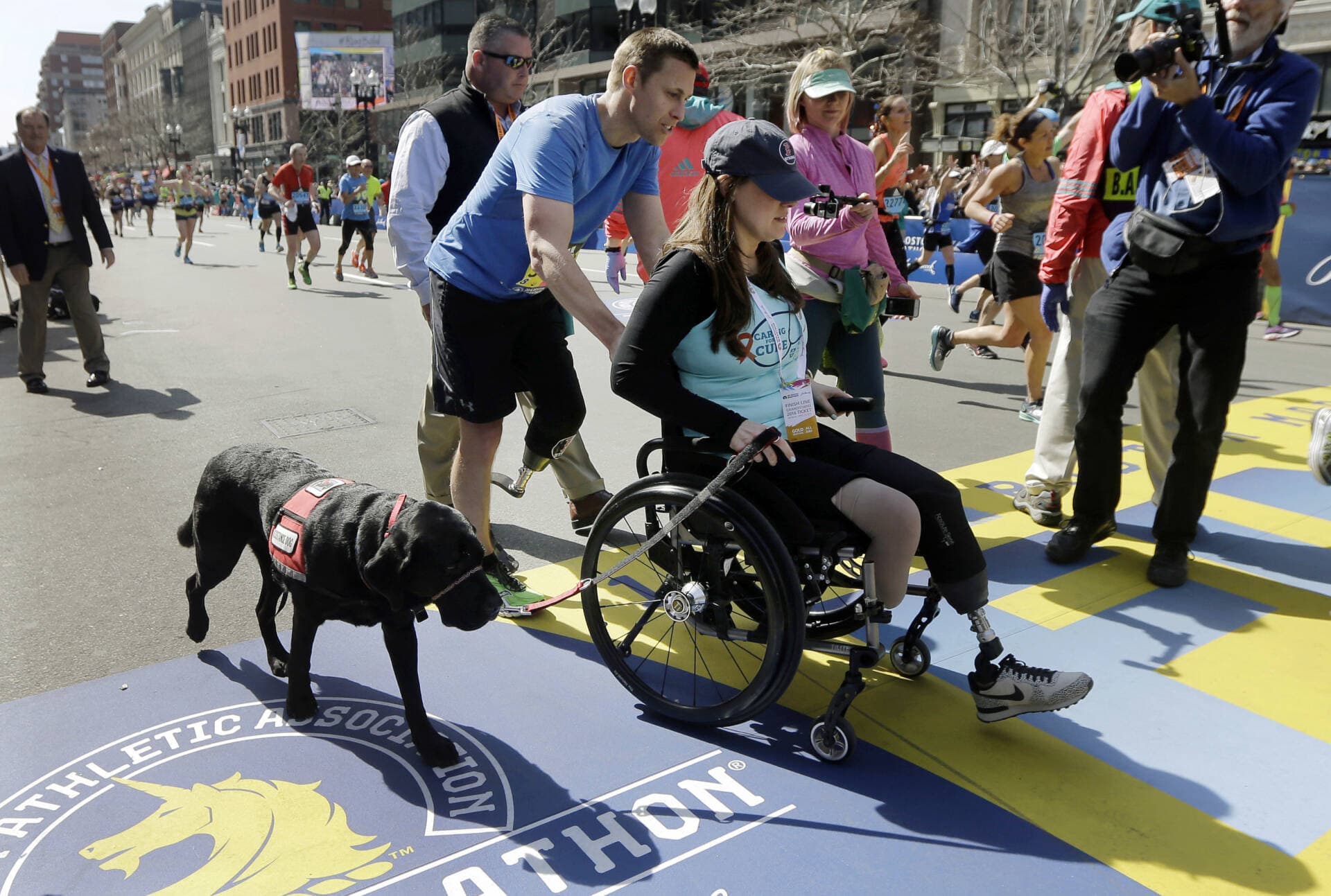 The couple had only been married for seven months the day of the marathon. They were at the finish line watching the race when the bombs went off. Downes lost a leg in the bombing and Kensky lost one at first, and then the second one in 2015 after numerous surgeries. They've since written a children's book about their service dog, Rescue, called "Rescue & Jessica."
"Steps when they were new, they were so precious ... And I think getting to be a little bit mindless with them again and [walk] for pure pleasure has become a real joy."

Jessica Kensky
Downes said the Red Sox winning the World Series in 2013 is what comes to mind when he thinks about the joy he was able to find after the bombings.
"And when they won, to go on the field afterward and what that did for the city and the excitement that it brought, the lightheartedness that it brought, the way in which it really felt like the team had pulled up all the energy that the city had from that 'Boston Strong' spirit and applied it to their performance, really felt special to me."

Patrick Downes
Gillian Reny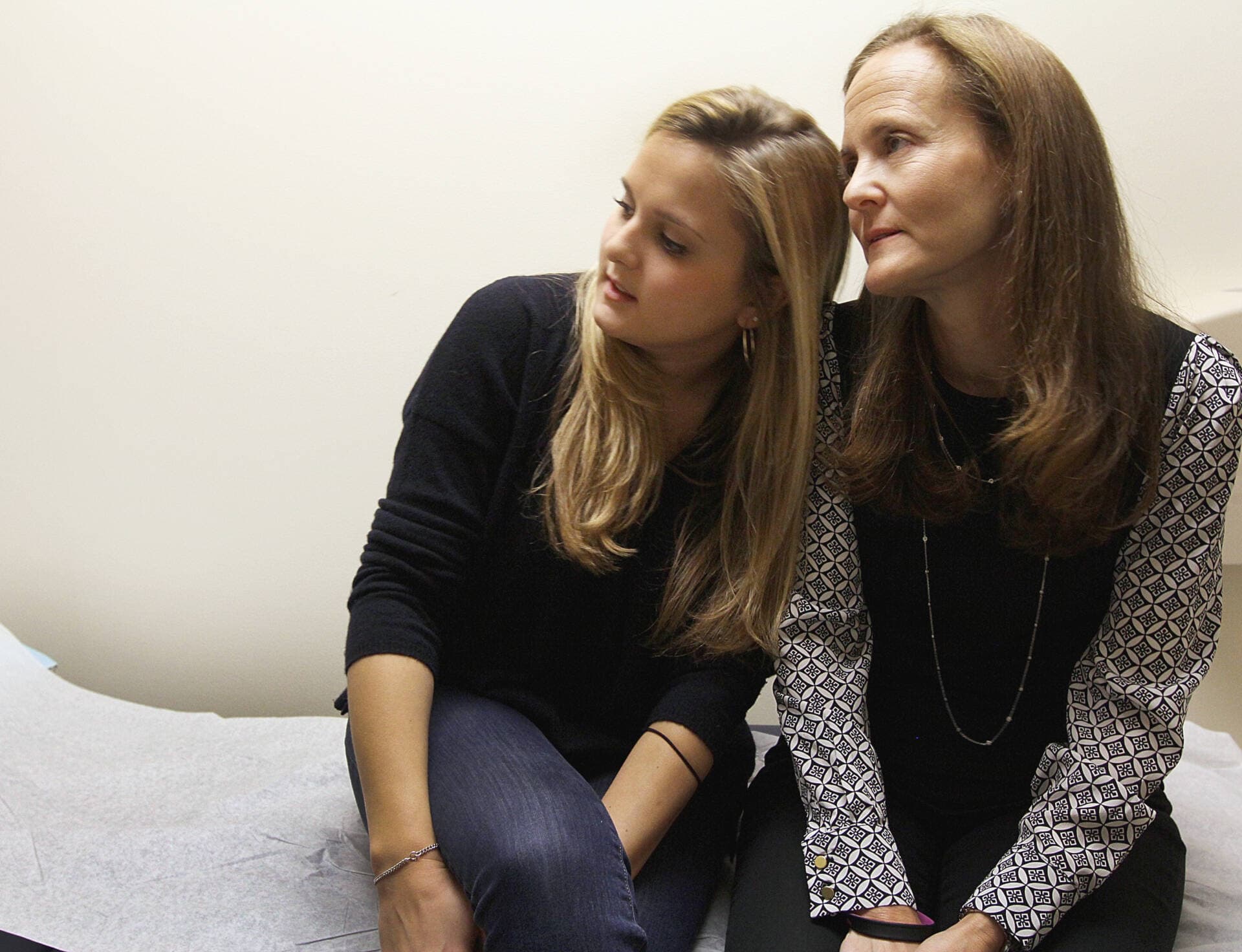 Gillian Reny was at the finish line in 2013 with her parents, waiting for her sister to finish the race. She was severely injured in the blasts but doctors were able to save both her legs. She and her family established the Gillian Reny Stepping Strong Center for Trauma Innovation at Brigham and Women's Hospital. "I wanted to find a way that we could give back to my medical heroes, but also advance trauma care for all other future trauma patients like myself," she told WBUR.
"We've raised over $27 million to date. That is something I feel so proud of. It really just brings me so much hope and so much joy to have turned this tragedy and this trauma into a pillar of hope and resilience for the future."

Gillian Reny
Meghan Zipin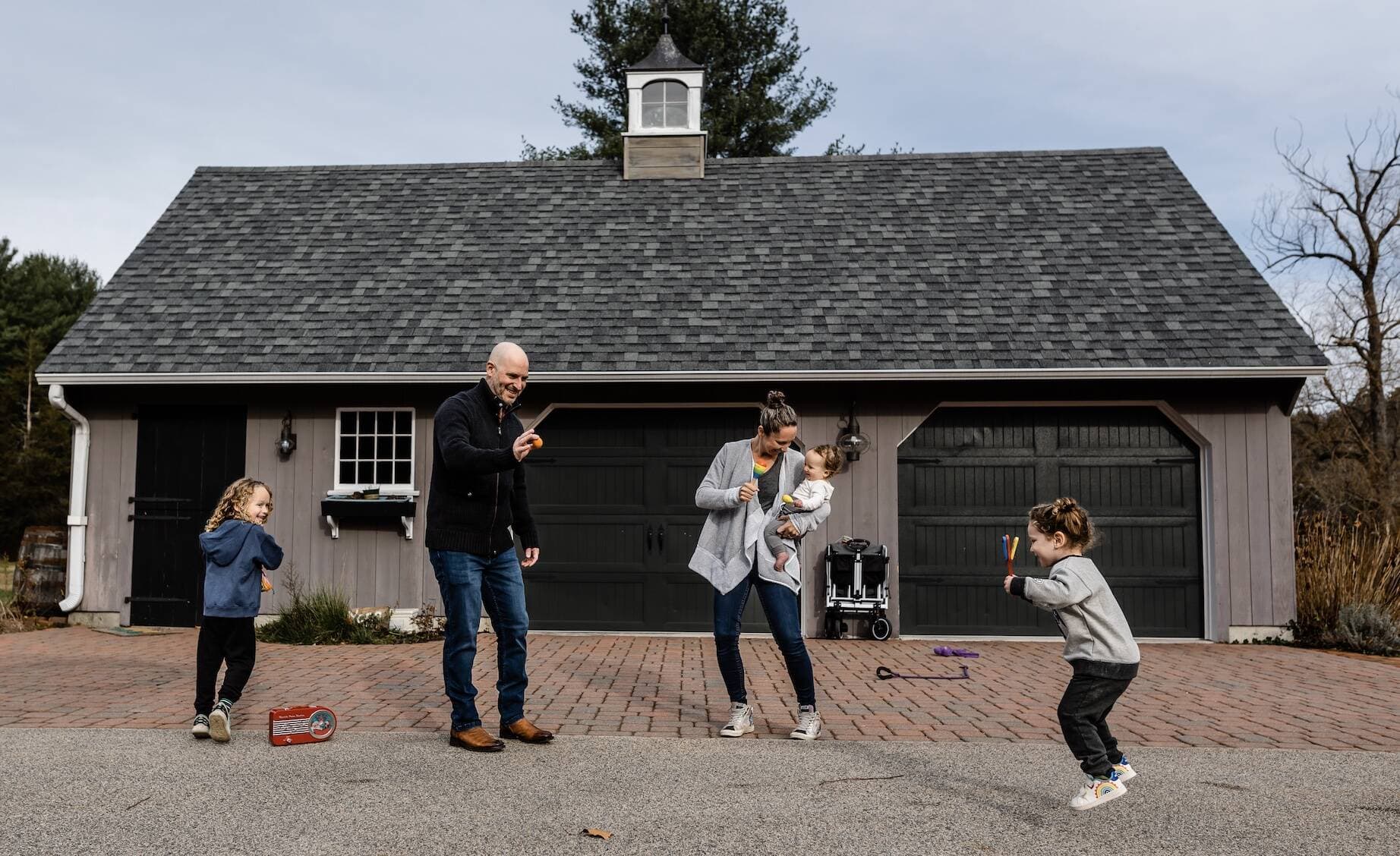 Meghan Zipin was at the finish line cheering on her friends when the bombs went off. She was not physically injured but has dealt with PTSD from the trauma of the day, and now focuses on showing her children the good things in the world.
"We live deeply in the moment with them. They force you to stay present. We make messy art. We all have super curly hair and we let it be wild. We stand in the wind and jump in puddles. And all those things that really make you feel like I'm here right now — things PTSD can sometimes steal from you — those boys bring you right back into it."

Meghan Zipin
Dave Fortier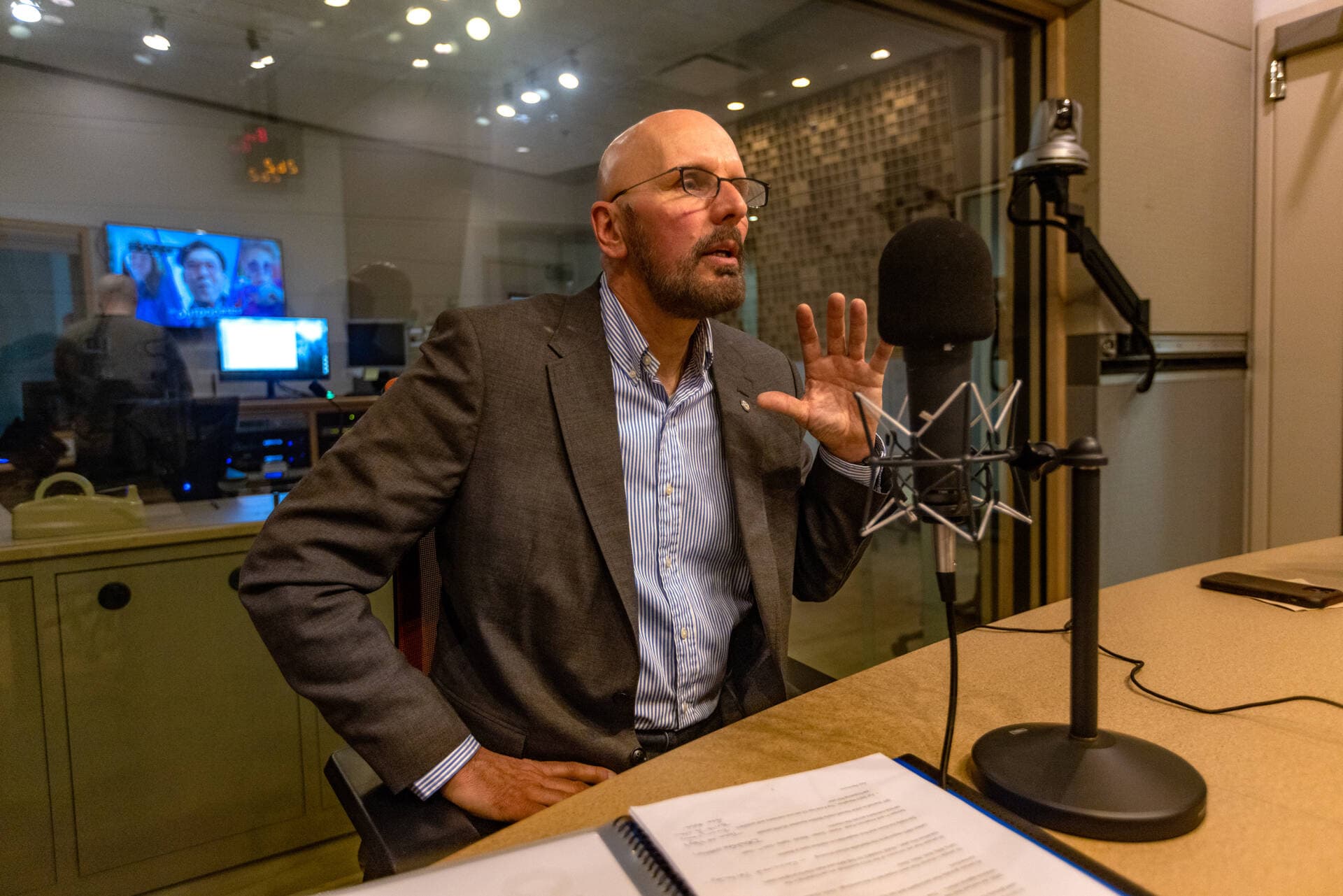 Dave Fortier was running his first marathon ever to support a friend with cancer when the bombs went off. He was injured by shrapnel and has some hearing loss. His daughters were cheering him on from the sidelines, but were far away enough from the bombs not to see the aftermath.
Along with others who survived the bombings, Fortier created the One World Strong Foundation, which has responded to tragedies that range from the Pulse Nightclub shooting in Florida to the Manchester Arena bombing in England.
In 2018, he ran the Boston Marathon with one of his daughters, and treasures the memory.
"That was the marathon with all the rain and the wind and the cold. And she was fantastic. That moment of finishing the marathon with my daughter, with my other daughter there to greet us, was amazing. And that's something that I will never forget."

Dave Fortier
Roseann Sdoia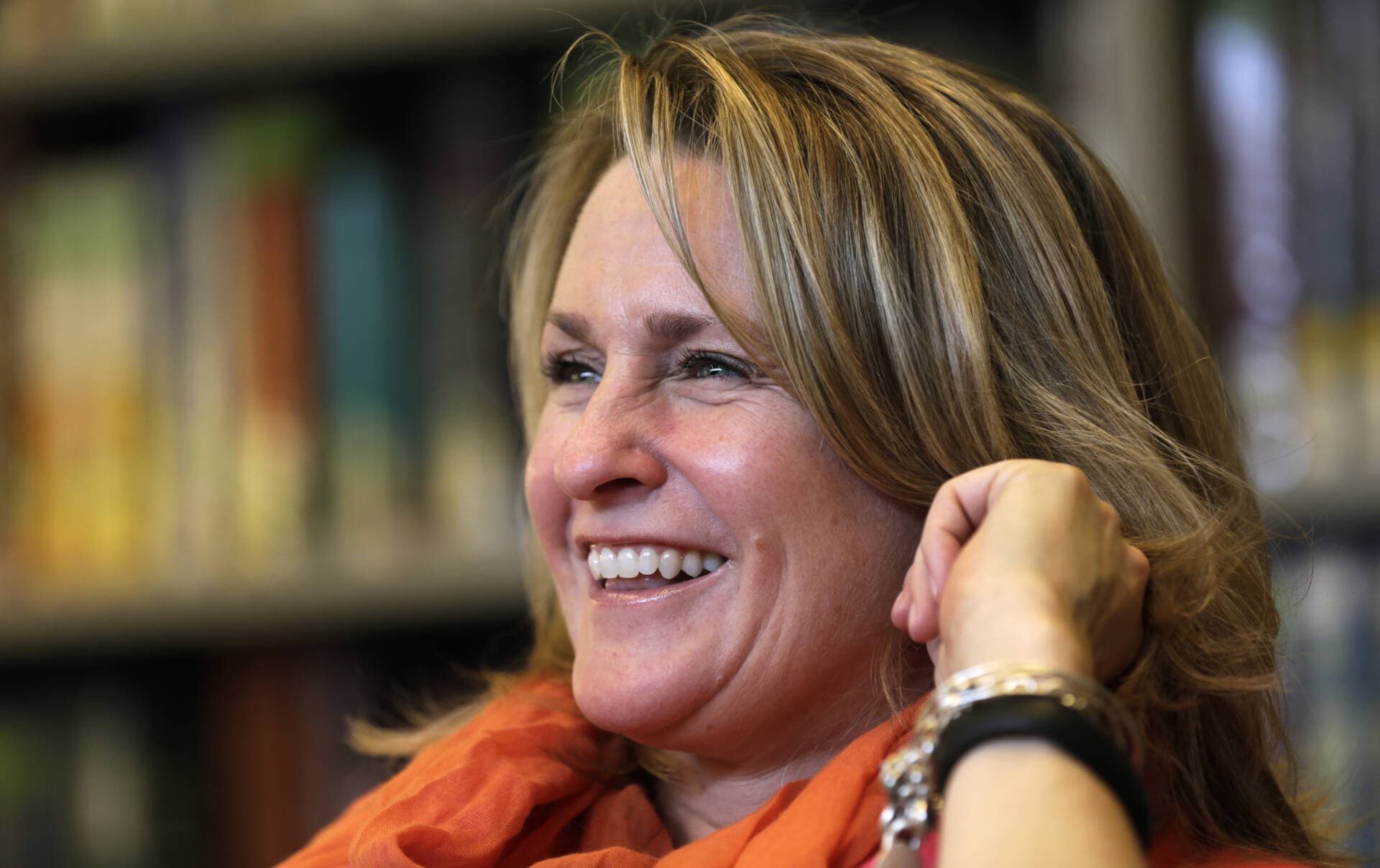 On the day of the bombings, Roseann Sdoia had just stepped out of a restaurant on Boylston Street to look for a friend who was close to the finish line. That's when the bombs went off, and shrapnel shredded most of Sdoia's right leg.
In the years since, Sdoia has become close friends with another survivor, Heather Abbott, and has written a memoir about her recovery, called "Perfect Strangers: Friendship, Strength, And Recovery After Boston's Worst Day."
She says her family, friends and especially other survivors have helped her get through it all.
"My husband, other survivors [who] have really become more family than anything else — and that goes for some of the other amputee survivors — I just really can't imagine life these days without them, to be there for each other when and if needed."

Roseann Sdoia