City of Boston names Street Theory as new mural consultant
It would be hard to walk across Boston and not see a mural that Street Theory, Inc. — a local public art organization — has facilitated or completed in some way. From the artwork that transforms the highway underpass at Underground at Ink Block to a mural by Rixy honoring Rita Hester's memory in Allston, Street Theory has had a major hand in using public art to highlight Boston's diverse and varied communities.
On April 20, Mayor Michelle Wu and the Mayor's Office of Arts and Culture (MOAC) announced that Street Theory will be the city's mural consultant. It's a three-year contract totaling over $3.5 million. Through December 2025, Street Theory will work with MOAC and other entities to facilitate and complete "10 to 15 murals or other mutually agreed upon public art projects across Boston each year," according to a press release.
To date, it's the biggest contract for public art awarded by MOAC. "I think the city now making this investment is a really big deal," says Karin Goodfellow, Boston's director of public art. "The city believes in the immense power of public art and its ability to foster community connections, create problems, create pathways for problem-solving and provide opportunities for creative expression, but also to recognize this street art, this graffiti community is here and thriving. And we want to celebrate that."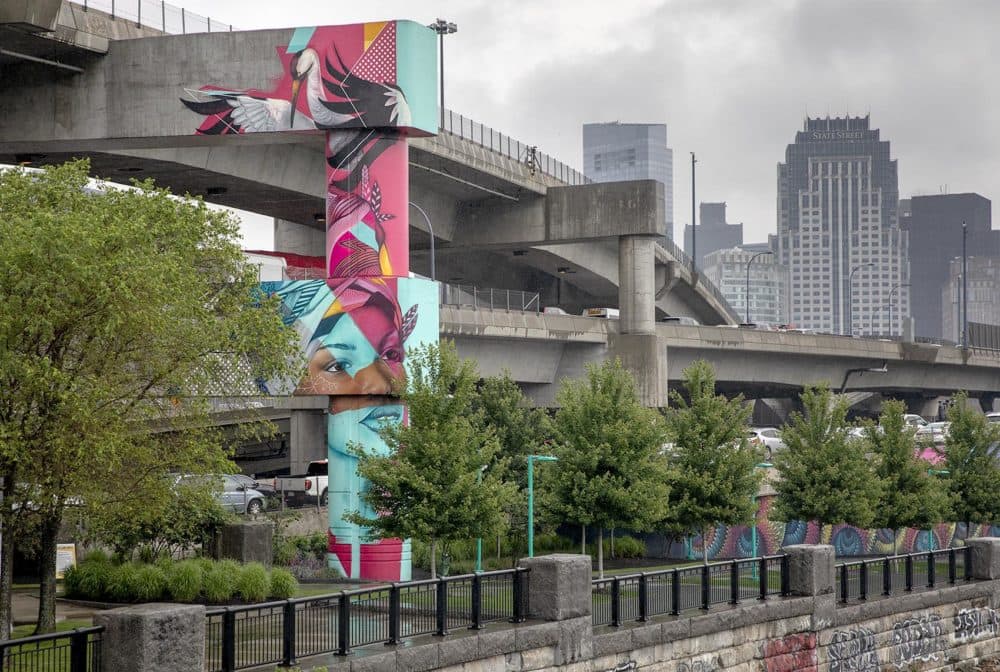 Street Theory has long been a part of that art community Goodfellow references. The organization officially formed in 2016, with curator and producer Liza Quiñonez and street artist Victor "Marka27" Quiñonez at the helm. But in reality, the married duo started their work in the public and street art realm years before then.
"We've been creating work in the city and doing things at a grassroots level since the early 2000s," says Quiñonez. "We were college kids throwing park jams ... at Peters Park, painting the handball court with advocacy and support from Duggan Hill at Boston City Lights. Super grassroots, super DIY. That was the work that we were devoted to and it's been really exciting over the past several years to get a lot more support from the city and to have a lot more visibility."
Street art and graffiti are art forms that were and in some ways still are criminalized — Marka27 and other artists like him have felt those impacts. "My family, my husband alone is a product of having been criminalized for his art form, 20 years ago. And some of that still affects us today," Quiñonez says. Now, cities like Boston are investing more and more in the art form. "I think folks with power were able to see the lasting impact of [street art] and became intentional around supporting it as opposed to criminalizing it."
One of the most prominent benefits of street art is its accessibility. Pretty much anyone can access murals and public art, without the barrier of purchasing a museum ticket or even entering a building. Murals also help add vibrancy to an area, particularly when they are representative of the people who call that area home. "The center of our ethos is to make sure we're coming into the community with intention," Quiñonez emphasizes. "We want to be representative of the community, not just in content and subject matter, but in making sure the artists ... in one way or another reflect that community as well."
This is important in a city where so much of the long-term art is "so centered on white male figures," says Goodfellow. "We're able to build diversity in our sculptural collection and in our murals everywhere for all people in Boston to really feel seen."

The murals and public art projects Street Theory will complete during the contract won't just be up for a season or a year — they'll be up for at least five years, during which the city is obligated to upkeep and maintain them. It may seem like a small caveat but murals are important staples and touchstones for communities, with murals like "Faces of Dudley" in Nubian Square and the one of Frederick Douglass on Tremont Street becoming enmeshed with local culture and identity.
Furthermore, mural and public art opportunities Street Theory facilitates through this contract won't just be for seasoned artists. Quiñonez says that building pathways for less experienced artists to tackle projects is important to her. "I want to really identify opportunities that allow artists to move through a scaffolded, tiered program. So there're opportunities for artists who are emerging and who are still trying to learn how to be a public artist and how to be a muralist on smaller scale projects."
Street Theory will facilitate upcoming murals at Malcolm X Park and BCYF Shelburne in Roxbury.