With masks off in hospitals, people with disabilities weigh the risk of care
Resume
Each time she leaves home, Christine Mitchell wears a mask, usually a black KN95 that covers her mouth and nose.
For most people, COVID is no longer the worry that it once was. But Mitchell can't afford to take her mind off it.
She has Marfan syndrome, a genetic condition that weakens her vital organs. She's suffered a failing heart valve, collapsed lungs and blood clots. She's also at high risk of becoming seriously ill from COVID.
So as the pandemic recedes into the background for policymakers and much of the public, Mitchell said she doesn't have the option to move on.
"This question of who gets to return to normal — I don't feel like I do," said Mitchell, 34, of Everett.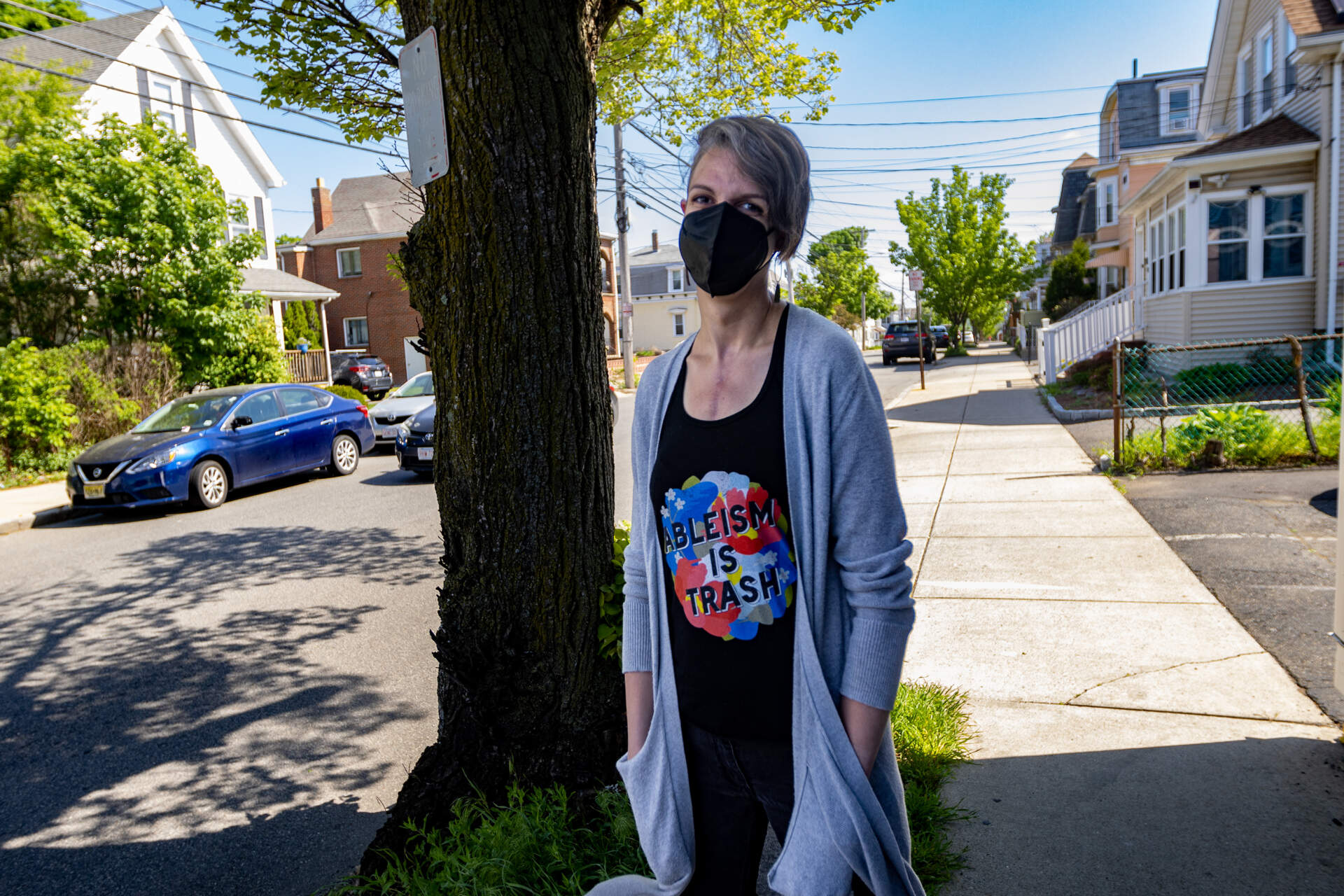 Millions of Americans are elderly, immunocompromised or have other disabilities that put them at higher risk of severe illness from COVID, even after vaccination. And now, in Massachusetts, people with disabilities are contending with a new hurdle: the end of the requirement that all patients, visitors and employees wear masks in health care facilities.
Mitchell said this policy change unnecessarily exposes patients to COVID and other viruses — and puts her in a difficult position.
"I don't really have the choice to avoid health care," she said, "because if I don't get that care in a regular way, then there's very real risk that I don't survive that. There's also a very real risk that if I get COVID, I don't survive that."
"I don't really have the choice to avoid health care."

Christine Mitchell
Hundreds of patients, health care providers, and other public health advocates are urging state officials to reverse course. Some of them say they're "on strike" from health care, avoiding treatment except for emergencies.
They argue that unmasking is unsafe — for everyone. Even healthy people have some risk of getting sick from COVID and developing long-term symptoms, even if vaccination helps reduce that risk.
Colin Killick, executive director of the Disability Policy Consortium, said the end of universal masking disproportionately hurts people with physical and mental disabilities who need frequent medical care.
"It's one thing to say we're not going to have universal masking in movie theaters anymore," he said. "But if we don't have the right to go to the doctor, where do we have the right to go?"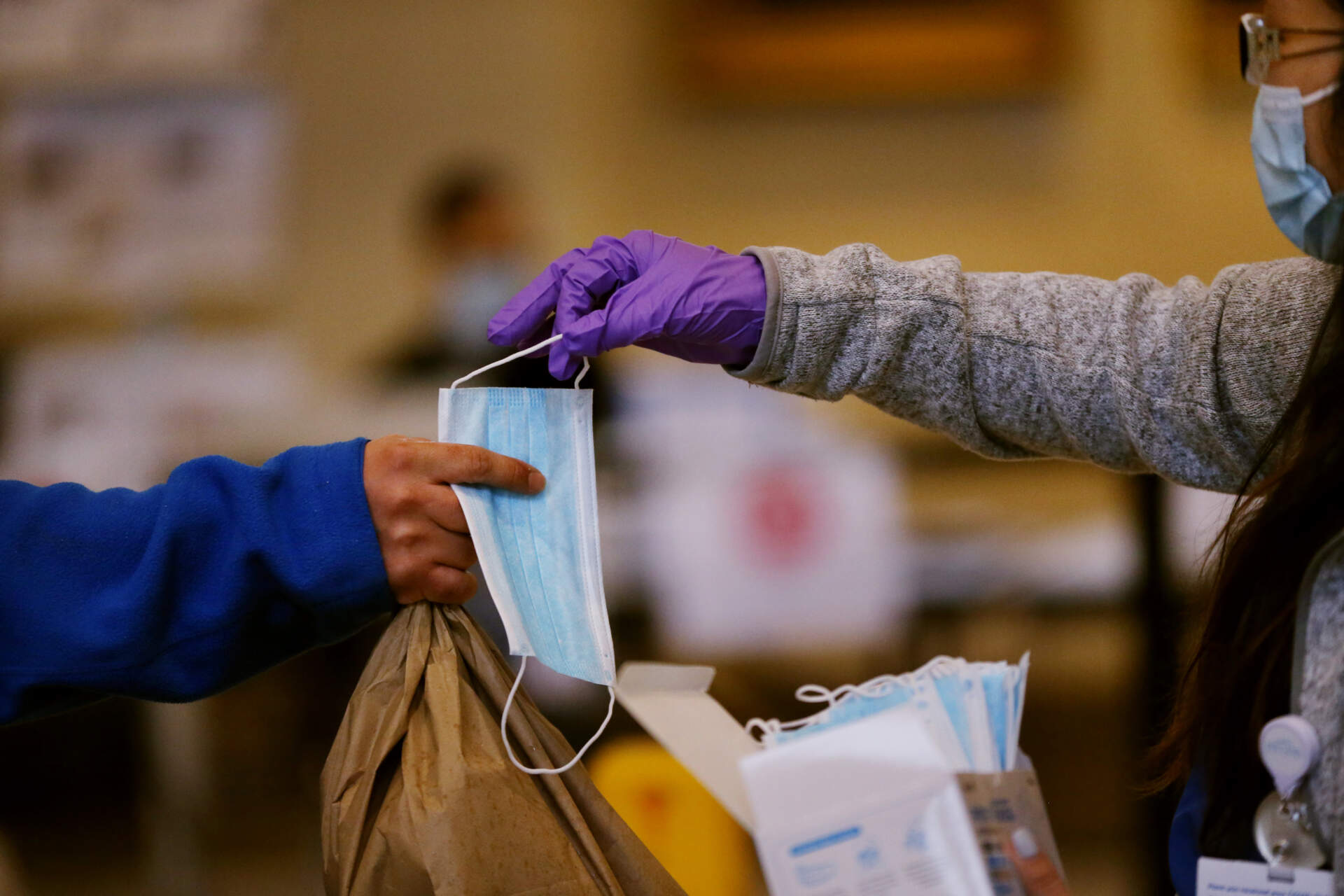 Millions of people in Massachusetts have been infected with COVID in the past three years, and over 22,000 have died. After a bump in cases over the winter, COVID infection rates and hospitalizations this spring have fallen into a relative lull.
On May 11, state officials ended the COVID public health emergency and with it, the mask mandate in hospitals and doctor's offices. Public health commissioner, Dr. Robbie Goldstein, said it's safe to remove masks now that COVID cases have declined, and there are vaccines and treatments to prevent and treat COVID illness.
It's a remarkable change from earlier in the pandemic when health care leaders and state officials begged people to wear masks to slow the spread of the virus.
Goldstein said officials ended the mandate after deliberating with experts, and they will continue to monitor COVID data and adjust policies if needed.
"I continue to have conversations with the health care community, advocates, and various stakeholders, as we move through this next phase of living with COVID," the commissioner said in a statement to WBUR.
For Killick, the decision to end the mask mandate in health care settings is ultimately a question of ethics: "Does society actually believe that the lives of disabled and immunocompromised people are worth saving? And are they willing to put up with a minor inconvenience for the sake of keeping people safe — or aren't they?"
State Sen. Patricia Jehlen said the end of universal masking in health care facilities is likely to cause some people to get COVID who otherwise would not have gotten it. "It's a very minimal ask to ask that people in those environments protect each other," she said.
Jehlen and state Rep. Thomas Stanley, Democrats who lead the Legislature's Joint Committee on Elder Affairs, have urged state officials to maintain the mask order.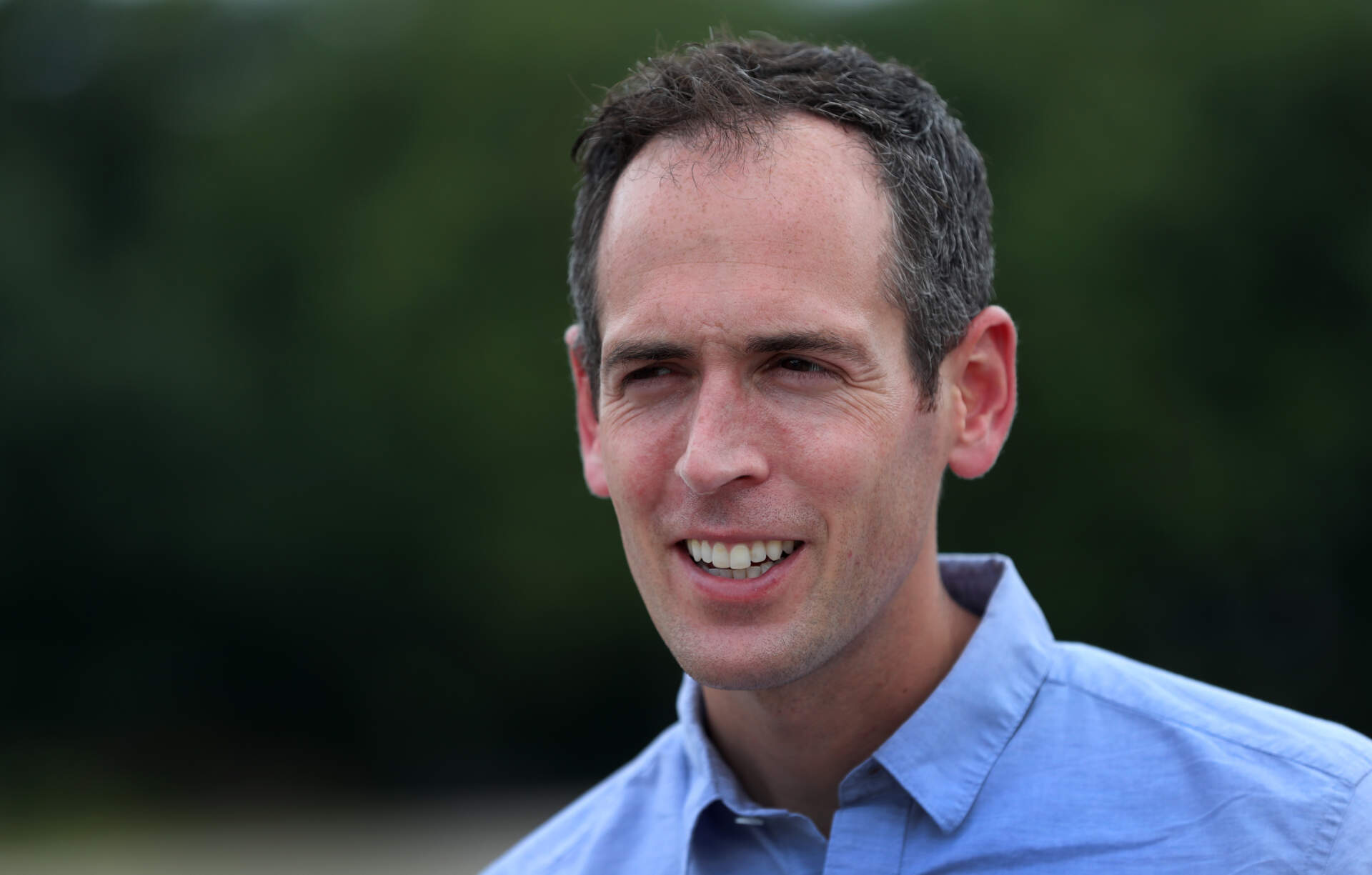 Without a state mandate, it's up to individual health care providers to set mask policies. And the biggest hospital systems, in most cases, have made masks optional.
At Mass General Brigham, for example, patients can ask their health care providers to wear masks, but providers don't have to comply.
"We are committed to ensuring our patients receive safe, quality care at all Mass General Brigham facilities and would encourage all patients to seek the care they need without delay," MGB spokesperson Michael Morrison said in an email. "We encourage patients with specific concerns to discuss them with their care team."
Dr. Lachlan Forrow, senior fellow at the Harvard Medical School Center for Bioethics, said questions about whether to wear masks are about more than data.
"They are value judgments," he said, "about what kind of risk we are willing to take."
Forrow was part of a group of experts who developed Massachusetts' standards for rationing care in times of crisis, as the pandemic unfolded in the spring of 2020. He said state officials should draw from that experience and halt the mask policy changes while listening to concerned patients.
"I think the single most important lesson all of us seemed to have learned early in the pandemic is: The people who are most affected by any decision need to be part of the decision-making process," he said. "Or, they don't have a reason to trust."
For now, patients bear the burden of requesting accommodations from their health care providers.
Laura Sabadini of Weymouth has a connective tissue disease that affects her whole body, including her immune system. She asks her providers to wear masks. She also tries to skip the waiting room and sit in her car until the doctor is ready to see her.
"I now have to ask for special treatment, which is ridiculous," said Sabadini, 51. "But that's what I have to ask for, and that is a long and isolating process."
Sabadini said she never leaves home for social reasons, only for medical appointments. She needs to schedule a procedure, but she's worried about spending time in a hospital around people who are unmasked.
"I have concerns that [COVID] would be something that could make me sicker permanently, or it could kill me," she said. "Or it could disable my partner, and then we would both be disabled without anyone to help us."
Mitchell, the patient from Everett, said that as so much of the public stops masking and taking other precautions, she needs to ramp up protections to remain safe — for example, by sometimes wearing more protective N95 masks.
She avoids places where she would need to remove her mask, including restaurants — and even the dentist's office.
But she can't put off her medical appointments indefinitely.
"I just most sincerely wish," she said, "that I didn't have to fear the place that I go to protect my health."
This segment aired on June 1, 2023.