Winter Hill school resuming classes at temporary sites after fallen concrete prompts safety review
Students and teachers at the Winter Hill Community Innovation School in Somerville will finish the remainder of the school year at various locations across the city and in neighboring Medford, after a piece of concrete fell inside the school last week, prompting a structural review of the building.
The incident caused city and school leaders to close the school and cancel classes on Friday. Further review determined that the school could not reopen before the end of the academic year, according to an announcement on the district's website.
"[Somerville Public Schools] and the city administration are working collaboratively to identify and plan for both short- and long-term action items for the Winter Hill school. More information will be shared in the next few days and weeks," the announcement said.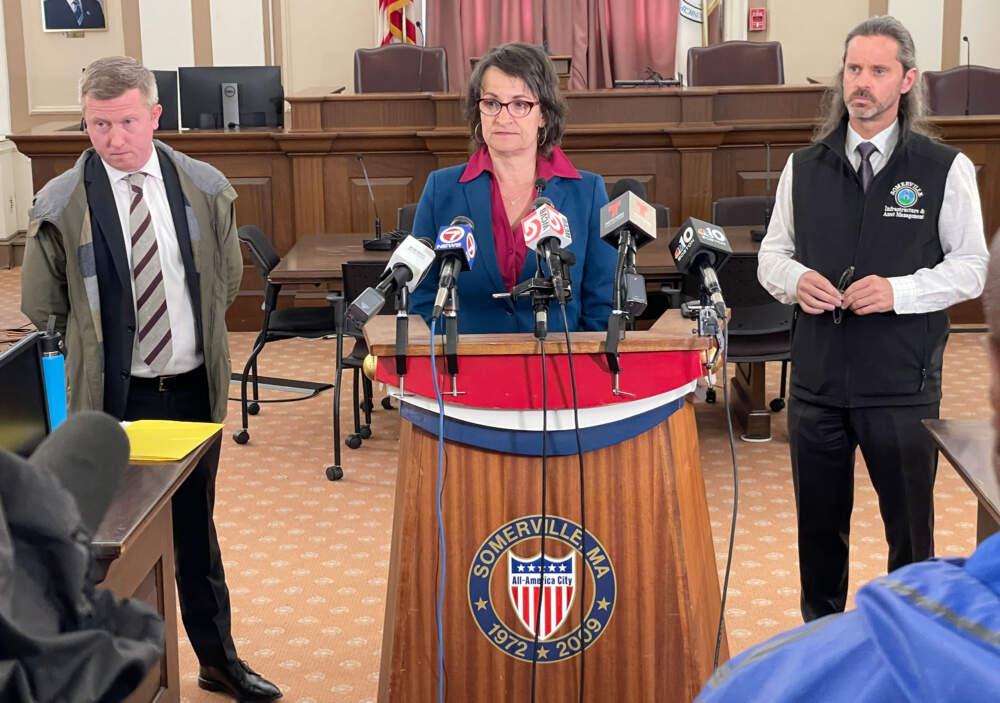 At a press conference Monday morning, Somerville Mayor Katjana Ballantyne said the closure was prompted by a piece of "non-structural concrete" that fell inside the building's north stairwell, raising questions about the school's safety, especially in the event of a fire.
Rich Raiche, the city's director of infrastructure and asset management, said at the press conference the school's structure has long been afflicted with water infiltration.
"Chasing problems in this building is a fool's errand," he said.
Ballantyne added that she will be pushing for a $1.3 million feasibility study to deal with what she called "decades of deferred maintenance" at the school.
Raiche said that kind of study may sound "unsatisfactory," but says the city needs it to answer "vital questions" before embarking on new construction.
Winter Hill parents and educators who gathered at the press conference indeed seemed less than satisfied.
Rami Bridge, president of the Somerville Educators Union, called the idea of further study "laughable" — noting that a similar study was folded into last year's budget.
And Uma Murugan, president of the school's parent-teacher association, said that even if the city deems the school safe, her concerns will endure.
"Whether a piece of structural concrete falls or non-structural concrete falls, it still falls ... it's inevitable," said Murugan, who has a third-grader at the school. "We need a new building. And we needed it three years ago."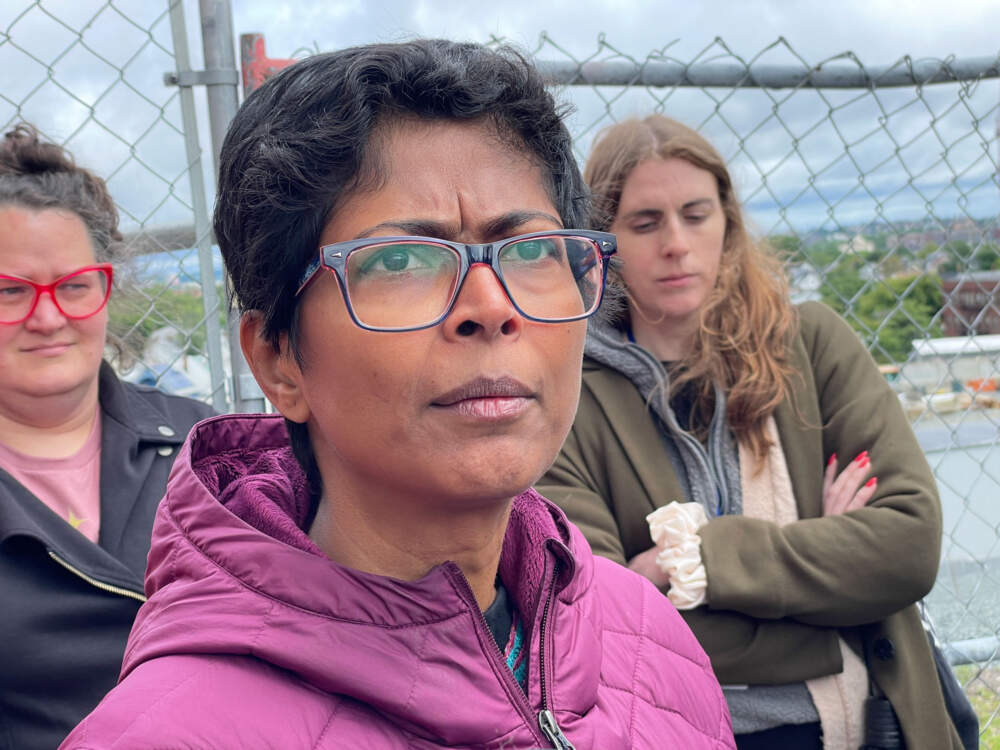 Somerville is offering Winter Hill students all-day recreation programming from Monday to Wednesday of this week. Classes will resume Thursday at temporary locations until the last day of school on June 16.
This week's relocation of classes carries echoes of past complaints over deferred maintenance at the 48-year-old school building on Sycamore Street. During the COVID pandemic, the innovation school was slower than other schools to reopen due to air quality concerns, and had to begin the return to in-person classes at the new and then-unoccupied Somerville High School.
Over the weekend, city and school leaders identified alternative locations to hold classes, along with details about transportation accommodations, which they outlined in the announcement:
AIM classes will resume at the Edgerly Building (8 Bonair Street); Pre-K and kindergarten classes will be held at the Capuano Early Childhood Center
(150 Glen Street); classes for grades 1-8 will be held at Olin Hall at Tufts University in Medford.
Buses will transport students in AIM and grades 1-8 between Winter Hill and the temporary classroom sites, with restrictions around parking around Olin Hall. No bus transportation is planned for Pre-K and kindergarten students.
School staff will bring classroom materials and the students' belongings to the temporary sites.