The hidden queer history of Boston suffragettes
Resume
Author Wendy Rouse unearthed the stories of queer suffragettes in her book, "Public Spaces, Secret Lives: A Queer History of the Suffrage Movement," including some who lived in Massachusetts.
She joined WBUR's Morning Edition host Rupa Shenoy to talk about the local examples of queer people in the struggle for women's voting rights.
Interview Highlights
On some of the prominent queer suffragists from Boston
"One of my favorites was Margaret Foley. Foley was a suffragist from a working class Irish-American family in Boston. And she had actually worked in a hat factory and became a labor organizer and then eventually joins the Massachusetts Woman's Suffrage Association, where they hire her to actually speak and become an organizer throughout the country. They called her the "great heckler" because she would stand up to politicians who were speaking on the street often and would interrupt them in the middle of a speech and ask them why they didn't support women's suffrage. So she kind of became a little suffrage celebrity. And of course, this meant that she had a lot of fans and a lot of suitors. There were many men who flirted with her, but she refused to marry. But on the campaign trail, working for the suffrage campaign, she had a friend named Helen Goodnow, who volunteered to work alongside Foley. And they spent much time together. They roomed together as they traveled across the country. And after that, Goodnow writes to her family that she's just absolutely enamored with Foley and loved spending time with her and, you know, just loves her. And they end up spending the rest of their lives together. They actually move in and they spend nearly 40 years together living in Boston until Foley passes away in 1957.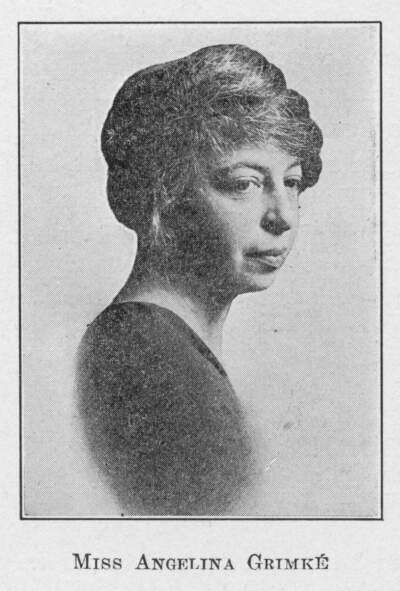 "Angelina Weld Grimké was a black suffragist and a writer whose work called attention not only to women's rights but to racial inequality. And she actually is most well known as a writer, as a poet whose work becomes emblematic of the Harlem Renaissance. But less well-known is the fact that she had many private poems that were never published. These were never published because they reflect her queer desire, her sexual desires for women. And she kept those concealed, probably because it would reflect poorly on her family and community at the time. They talk about wanting to kiss other women, and they're just beautiful love poems."
On domestic partnerships between women known as 'Boston marriages'
"Boston is perhaps most well-known for Boston marriages, which was a term that was used to describe a coupling of two women who chose not to marry men, but instead to pursue a life together. And this was quite common in the New England area, in part because of the large number of women's colleges. And it also was very common among women who had romantic relationships, who chose to spend the rest of their lives together in a coupling in that way. "
On what it took to unearth these queer stories and why they haven't been told
"I think this history is hard to recover in part because it has been so covered up by the queer suffragettes themselves, who were afraid that if their relationships were revealed, it might damage their career, damage their reputation in the community, so they sometimes destroyed their letters. And oftentimes, it was later people — writers, biographers, family members — who destroyed any evidence of the queer lives of these suffragists out of either fear or shame or homophobia."
"People are trying to erase the existence of gay and trans people in our present. But I think it's important that history reminds us that there have always been LGBTQ people and they will always exist."
On the challenges queer suffragists faced in Boston
"I think, just in general, there wasn't a lot of acceptance for gender nonconformity or for relationships other than heterosexual relationships. So that was a constant challenge — trying to live in a way that allowed them to live their queer lives freely in a society that was predominantly cisgender and heterosexual. And we see that even today, right? We see this constant challenge. And so I hope that this helps build some compassion and understanding for that, because LGBTQ rights are currently under attack. People are trying to erase the existence of gay and trans people in our present. But I think it's important that history reminds us that there have always been LGBTQ people and they will always exist."
This segment aired on June 21, 2023.