Celebrating Black music and culture, BAMS Fest is back for its fifth year and bigger than ever
Resume
For Catherine Morris, the founder and executive director of the Boston Art and Music Soul Festival, Franklin Park is a sacred ground of sorts. The site is home to Elma Lewis Playhouse in the Park, an open-air performance venue that has hosted Black artists since 1966. The park's tie to Black history is one of the reasons Morris decided to host BAMS Fest there. "Franklin Park is ground zero for us because of Elma Lewis," she says. "I stand on her shoulders."
Lewis, a famed Black Boston arts educator and organizer, created Playhouse in the Park in the 1960s to serve marginalized communities in Boston. BAMS Fest is a festival that continues the tradition set forth by Lewis — taking up space in one of Boston's central locations to celebrate Black people and Black art. "We need to think about how our people experience a green space, as Black and brown bodies," Morris says. "It's fertile ground. It's native ground. All those things we need to be in tune with."
These concepts shaped what would become the first annual BAMS Fest in 2018, where two stages featured musical acts at Franklin Park. The festival also had vendors, street artists, resource tents and more. Around 2,200 people attended the first BAMS Fest. Five years later, the festival is expecting close to 15,000 people.
In the past, BAMS Fest has been a free, one-day experience. This year, that will change. "What's been remarkable is the decision to scale, going from one day to basically three days," says Morris. "We start with the inaugural BAMS CONX conference, centering Black imagination, entrepreneurship, connection and unity at the Berklee College of Music." Patrons can expect to hear discussions on topics like equity in music, songwriting, sneaker culture and more. The conference will feature creatives and industry leaders, including drummer and composer Terri Lyne Carrington and journalist Dyana Williams, co-creator of Black Music Month.
Beyond the conference on Thursday, June 22, BAMS Fest is adding much more to its lineup, with a women's brunch on Friday, June 23, followed by ticketed music performances that night at Franklin Park. On Saturday, June 24, the music festival takes place, and even that is jam-packed with different activities and offerings.
"We have chefs. We have food trucks. We have a dedicated kids' zone, which is called 'Kids Play.' We have Black and brown face painters; we have dance," Morris says. "We have a vendor market. We have over 50 Black and brown nonprofits and businesses. And we added a job fair this year." To celebrate the 50th anniversary of hip-hop, Grandmaster Flash will close the festival, followed by an afterparty at Chez-Vous Roller Skating Rink.
One other marked difference from years before is the addition of a tiered ticketing system. Buying the BAMS Fam Access Pass at $225, for example, gives visitors access to the entire lineup of events offered during the festival, along with priority seating at Saturday's events. The new ticketing model was an important decision as the fest moves toward an end goal of expanding and offering more to patrons.
"As a nonprofit organization, as a cultural movement that started from zero to get to where we are, the tiered ticketing model allows for people to support," Morris points out. "The sustainability of continuing our tradition requires investment. It requires investment from the business community, from the local community, from the arts community."
However, "there will always be a portion of this that will remain free to the public," Morris says. Patrons who cannot buy a tiered ticket can always register for free to experience the music, art, vendors and more at Saturday's festival at Playstead Park. At the end of the day, Morris wants visitors to feel free: "Feel free to take off your shoes. You should feel free to be able to run. You should feel free to be able to do a cartwheel. You should feel free to dance."
One of the musicians taking the stage this year on Friday night is Tim Hall, a Boston-based musician. He's been playing the saxophone since he was 9 years old and now teaches other musicians at Berklee College of Music as an assistant professor in the professional music department. He's also the co-owner of the digital media company HipStory.
Hall has played on a multitude of stages and at many shows but his upcoming performance at BAMS Fest will be his largest to date as a featured artist. "It's very emotional to now find myself performing, not as a sideman, not a session musician for somebody else, but to do my own music at the festival," Hall says. "It's been an emotional experience."
Hall worked at BAMS Fest in different roles between 2015 and 2021. Although he's no longer working with the nonprofit on the business side, he still feels BAMS Fest is essential for musicians like him. Not only does the festival offer an opportunity to play on one of its two stages, but "there is an educational component to working with artists. It wasn't just like 'Submit your art or submit your profile,'" says Hall. BAMS Fest sought to create active platforms for artists to develop professionally.
It's a unique festival that is now drawing a national and international crowd. "It's different compared to any of the other festivals that you see like the big ones like Boston Calling," says Hall. "Boston is in this very unique position. We have all of these incredible arts institutions and universities — places like the Boston Conservatory or the Boston Symphony Orchestra."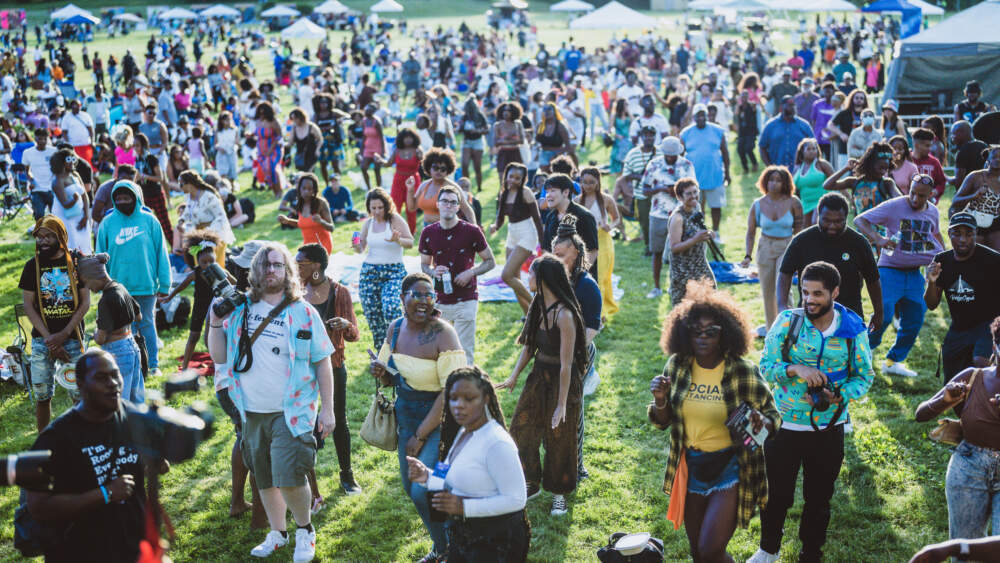 But both Hall and Morris point out that the city is still lacking major music venues and spaces that allow for expansive expressions of Black music and culture. Because hip-hop is included in the festival, Morris says she's run into barriers like insurance companies refusing to cover it. "There is a level of tension or trepidation with law enforcement about a potential, you know, gang affiliation." The festival pays a higher premium because of assumptions about hip-hop. "It's something we have to deal with every single year," says Morris.
The question of whether or not Boston is hostile to hip-hop has been raised again and again by musicians and festival organizers like Morris. WBUR's Amelia Mason reported in 2018 that hip-hop artists, DJs and event coordinators faced heightened difficulties when trying to book acts or ran into roadblocks when trying to execute hip-hop themed events.
For Morris, it makes the work BAMS Fest is doing even more important. "We're more than a festival," she says. "Everything from challenging our city government around the permitting process, how Boston police are involved in the permitting process. There are a lot of us giving our lives to the work so that future curators and producers and organizations don't have to go through what we are experiencing right now."
Despite the hurdles, the outcome is worth it. As Morris says, BAMS Fest is more than just a festival — it's a movement. "Doing a multidisciplinary intergenerational festival that feeds people, gives them nourishment, something they can be proud about starts to change the attitude about what's possible and will hopefully inspire the next generation to go bigger," says Morris.
This segment aired on June 22, 2023.