Mass. expands services for homeless families, opening intake center and shelter at Joint Base Cape Cod
The Healey administration announced Friday it will open an intake center in Allston for families, particularly immigrants, experiencing homelessness, where they could be directed to temporary stays in townhouses at Joint Base Cape Cod.
Dubbed a Family Welcome Center situated at the Brazilian Worker Center, people can seek support to access essential supplies, services and transportation to shelter. Healey will activate up to 50 Massachusetts National Guard members to support local and state authorities at the base, the governor's office said.
"Over the past year, we've seen a steady rise in shelter demand due to the rising cost of housing, more families arriving in our nation and our state from other countries, and delayed federal work authorizations," Healey said in a statement. "Our administration has been working hard to meet this unprecedented need and use every resource at our disposal to help families."
"It's a step in the right direction, but a drop in the bucket given how many families and individuals are in need of emergency shelter and longer-term housing resources right now in the commonwealth," said Kelly Turley, director of the Massachusetts Coalition for the Homeless.
Still, she called the opening of a Family Welcome Center a "new chapter" and said advocates have long requested that services be available during the night and on weekends. The center in Allston is slated to be open 4 p.m. to 8 p.m. Monday through Friday, and noon to 7 p.m. on Saturday and Sunday.
The administration plans to open similar facilities in "other areas across the state in the near future," the governor's office said. Health and Human Secretary Kate Walsh said the center and housing on the base will alleviate strain on hospitals, resettlement agencies and other organizations.
"Right now, we have families that are staying in the emergency room for a week or 10 days or two weeks," said Liz Alfred, an attorney at Greater Boston Legal Services, who has worked on the family shelter system for many years. "If they were staying in a place [like the Joint Base] with a bathroom and a shower where people are not experiencing sickness and trauma around them constantly that would be an improvement."
At the Allston center, staffers will determine families' eligibility for housing aid and provide connection to temporary and long-term shelter. However, Alfred said, it is "unclear" how the center and the housing on the Joint Base will interface with the state's existing family shelter system, called Emergency Assistance or EA.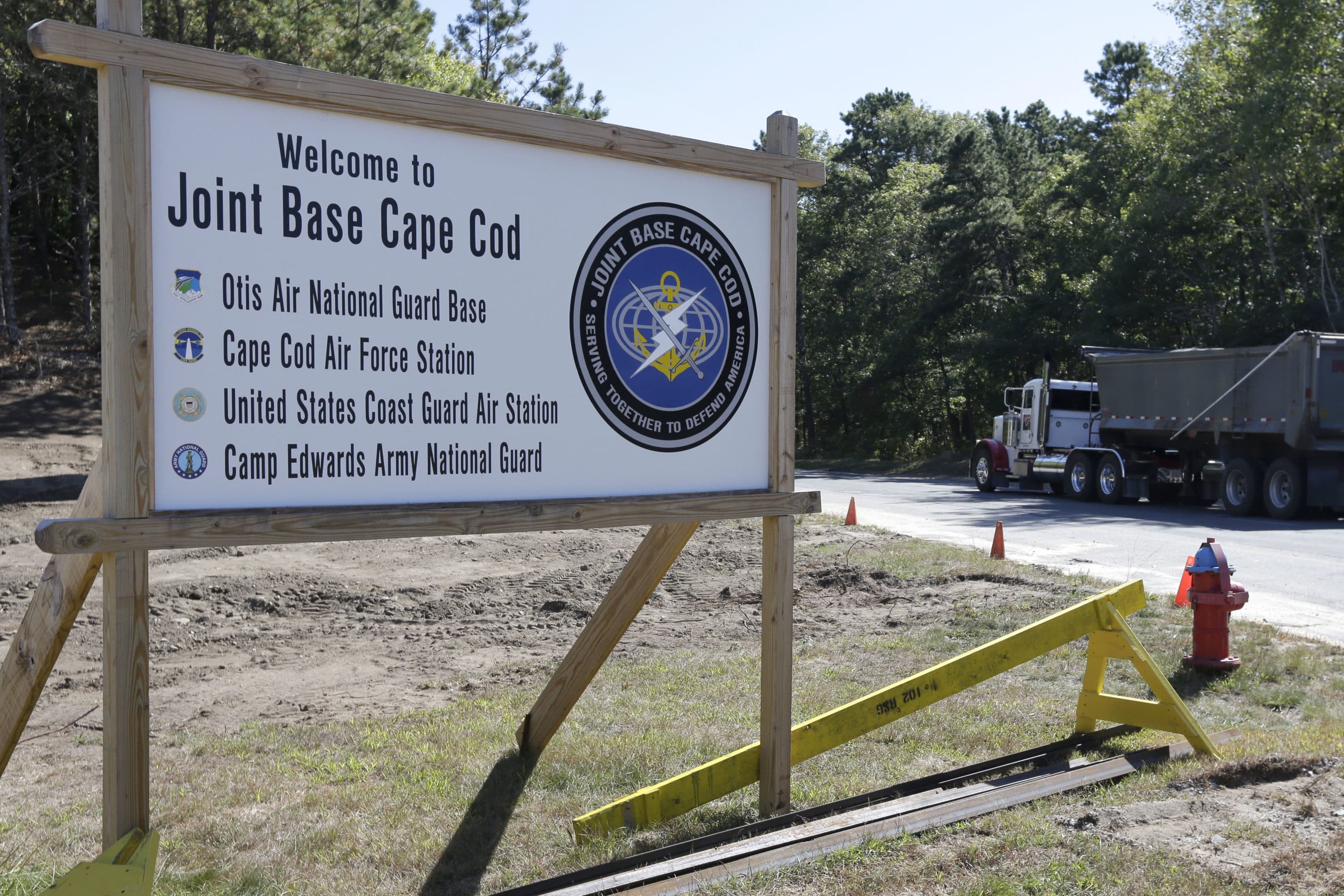 "My hope is that it can help families who maybe wouldn't be able to access the EA shelter system and it's not going to replace EA for people who would otherwise be in that system," Alfred said.
Food, baby formula and diapers will be available at the Family Welcome Center, with expanded resources — including health services and help enrolling with MassHealth, the Department of Transitional Assistance programs, WIC and other aid — slated to be rolled out in the "coming weeks," officials said.
The Massachusetts Emergency Management Agency will operate a shuttle for families to access local resources and contract with vendors to provide shelter programming, cleaning, laundry and medical services, officials said.
"The townhouses at Joint Base Cape Cod provide a comfortable and private location for families to be in community, enjoy outdoor space, and access service providers, resources and amenities to meet their immediate needs," Lt. Gov. Kim Driscoll said in a statement. "This is a temporary solution, but we are grateful to the Massachusetts National Guard and the service providers who are working hard to ensure we provide families with safe places to stay."
Amid a surge of immigrants arriving to Massachusetts, which is a right-to-shelter state, former Gov. Charlie Baker last year had established a temporary emergency shelter and intake center at the Bob Eisengrein Community Center in Devens. The site, capable of housing up to 60 families or 125 individuals, was operated by MEMA and closed in March.
Housing and Livable Communities Secretary Ed Augustus has said expanding the state's emergency shelter system is a priority.
"It is clear that our housing crisis is pushing our most vulnerable families into precarious housing situations and increasing demand for emergency shelter. We have engaged in a cross-cabinet effort to recognize and address the needs of new arrivals and longtime residents who are unable to find affordable, safe housing," Augustus said in a statement Friday. "The new Family Welcome Center and additional shelter at Joint Base Cape Cod will help us relieve pressure on our emergency family shelter system with an inter-agency response to meet the needs of residents and families."
With reporting and writing by State House News Service's Alison Kuznitz and WBUR's Gabrielle Emanuel 
This article was originally published on June 23, 2023.