New film 'Joy Ride' is a gleeful, exuberantly filthy celebration of misadventure
Could we be witnessing the return of the raunchy, R-rated comedy? Last month's very funny "No Hard Feelings" starred Jennifer Lawrence as a down-on-her-luck townie hired by two helicopter parents to deflower their socially awkward teenage son. And I've heard nothing but great things out of the Provincetown Film Festival about next month's "Bottoms," writer-director Emma Seligman's follow-up to her terrific "Shiva Baby," starring Rachel Sennott and Dorchester's own Ayo Edebiri as high school lesbians who start a fight club to try and pick up girls.
But the summer's most delightful surprise just might be "Joy Ride." Screenwriter Adele Lim's gleefully vulgar directorial debut sends four friends on a rocky road trip to China, toppling every prim and proper Asian stereotype along the way. It's an awfully generic title for a very specific movie. But I guess it makes sense when you learn that Lim and co-writers Cherry Chevapravatdumrong and Teresa Hsiao originally wanted to call it "The Joy F—k Club."
Audrey (Ashley Park) and Lolo (Cherry Cola) are two best friends with nothing in common except that they grew up as the only Chinese kids in a lily-white suburb. Audrey's a hugely successful lawyer who plays racquetball and has power lunches with the city's moneyed elite. Lolo is an unemployed artist who makes sex-positive paintings and sculptures shaped like genitalia. Lolo's the daughter of immigrants, while Audrey was adopted by white parents (an amusingly overcompensating David Denman and Anne Mumolo.) A fun source of friction in their friendship is Lolo's endless ribbing about just how Caucasian Audrey's interests are. Like, she listens to Mumford and Sons and can name every character on "Succession." Oh, and she might have lied a little bit to her bosses about being able to speak Mandarin.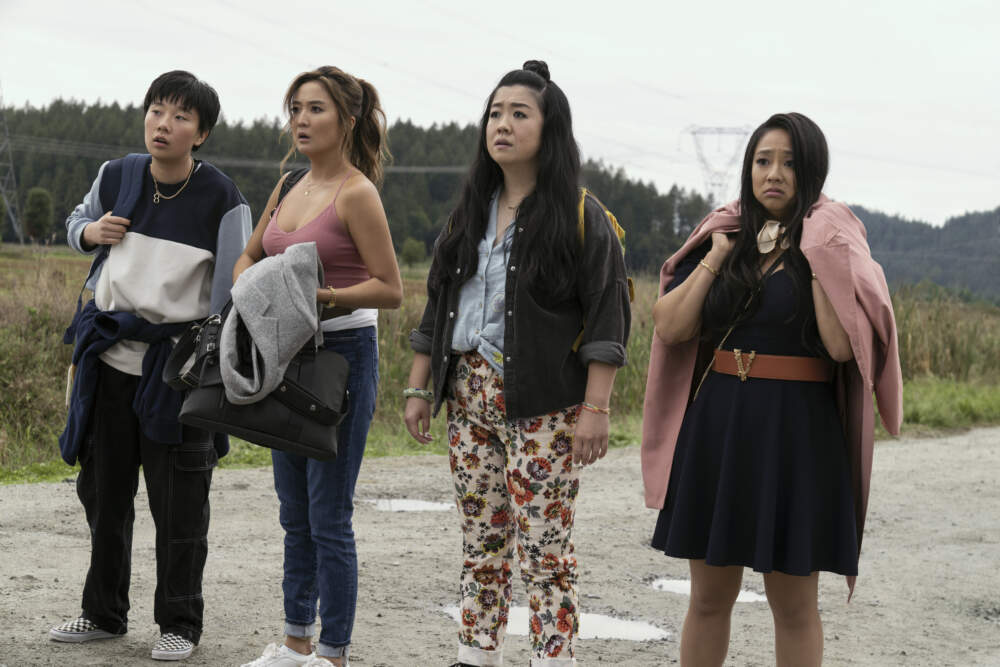 So when it comes time to close a big, career-making deal in Beijing, Audrey has to bring along her oldest friend as a translator. Lolo would be a chaotic enough companion on her own, but she's also invited her cousin Deadeye, an oddball K-Pop obsessive played by the hilarious non-binary performer Sabrina Wu. The aptly named character (you'll understand when you see their space shot stare) brings the left-field Zach Galifianakis energy to these "Hangover"-esque proceedings. Things really kick into gear when they meet up with Audrey's old college roommate Kat, a popular television actress played by "Everything Everywhere All at Once" Oscar nominee Stephanie Hsu.
Kat was quite the wild child back in school, counting two of the three Jonas Brothers among her conquests. ("Not Nick," we learn, to Lolo's disappointment.) These days she's engaged to her strappingly handsome co-star, pretending to be just as Christian as he is and telling more than a few little white lies about saving herself for marriage. Kat and Lolo are an awful lot alike, so naturally, they hate each other. The trip diverges from Audrey's itinerary almost immediately, with shocking shenanigans involving stashes of cocaine in private places, animal tattoos where the sun doesn't shine, some sexual misadventures that accidentally debilitate most of a China League basketball squad and a joyous K-Pop cover of a Cardi B song. (You can probably guess which one.)
Director Lim is a longtime TV scribe whose first movie credit was co-writing the screenplay for "Crazy Rich Asians." She made headlines for walking away from the sequel when her white co-writer was offered ten times her salary, and "Joy Ride" has the insolent energy of someone looking to settle a few scores. (It's a lot more fun than "Crazy Rich Asians," that's for sure.) But in between gross-out gags, the movie has some interesting things to say about cultural authenticity, with characters arguing over varying degrees of assimilation. Meanwhile, Audrey is stuck in the confused position of being pigeonholed as "the Chinese girl" when she's at home and an ugly American in China. The movie finds clever ways to confound her identity issues even further, including one that probably shouldn't be such a surprise, given the actress' background.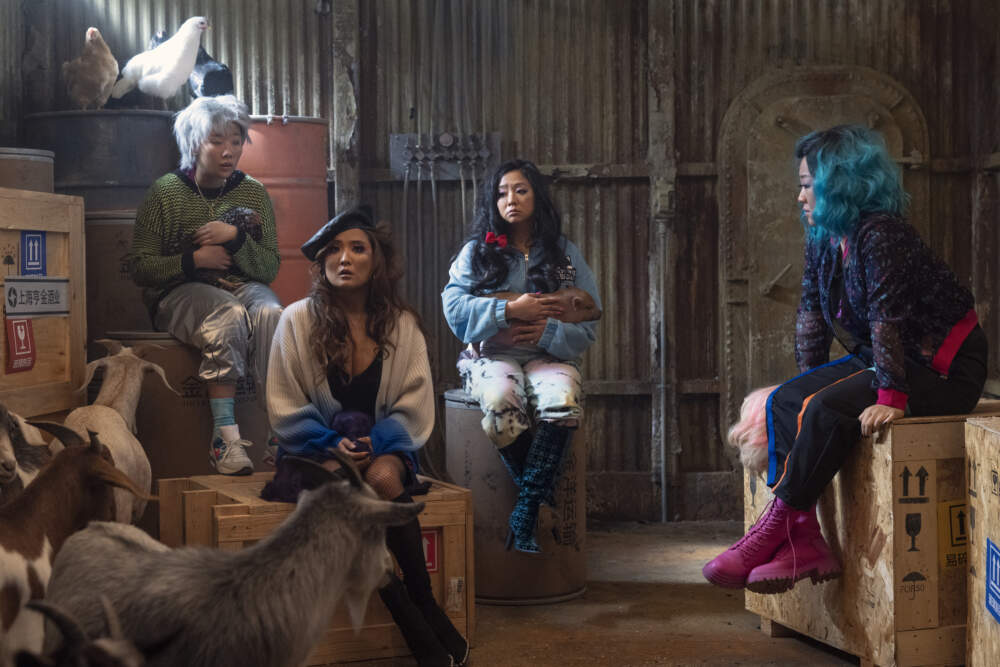 Emerson College alum Lim has claimed she came up with the idea for the movie while scripting Disney's "Raya and the Last Dragon," when she and her writer friends were blowing off a little adults-only steam on the family-friendly project by telling the most outrageous tales from their 20s. Indeed, it's tough not to notice how the screenplay has been reverse-engineered around its craziest set-pieces, with a fairly haphazard story barely tying them together. (The "business" stuff all feels like generic place-holder dialogue for scenes that were never finished.) Yet it's such a pleasure to see a female-driven film that's this gleefully, exuberantly filthy. Most sex comedies are centered on humiliation and shame. And while "Joy Ride" does contain one soon-to-be-legendary embarrassing reveal, it's much happier and more humane than you'd expect from something so crass. The movie celebrates these characters and their messy sexuality, with Audrey making one decision in particular that I don't recall ever seeing a female lead being allowed to do in a mainstream movie before.
The trade-off for such transgressions, I suppose, is a third act so focused on reminding us that this is a heartwarming story about friendship, "Joy Ride" seems to forget that it's also supposed to be a comedy. (Things get so heavy that someone sitting behind me at the screening started sniffling, then angrily insisted to her companion, "I'm not crying!") Interestingly, "No Hard Feelings" has a similar structure, tamping down the antics during the final reel in favor of warm and fuzzy sentiment. I was fond enough of the characters in both films to go along with it, but it also feels a little bit like a trick to make audiences feel better about themselves after laughing at so many filthy jokes. It's okay for movies to stay rude right up until the end. Especially with these four wonderful performers, who really put the joy in this "f—k club."
---
"Joy Ride" opens in theaters on Friday, July 7.