Wes Anderson's 'Asteroid City' is one of his most philosophical films, and one of his very best
Like Federico Fellini before him, Wes Anderson has invented his own entirely original, instantly recognizable visual signature — an analog playground as plaintive as a Peanuts cartoon that delights the filmmaker's legions of fans and drives his detractors up a wall. His stylistic affectations and dollhouse dioramas have only grown more intense and elaborate with each effort. Every new film is the Wes-iest yet, pushing further into eccentricity and artifice. "Asteroid City," the director's 11th feature, is no exception. It's an ingeniously constructed hall of mirrors that collapses in on itself like a house of cards, all the while asking big questions about the mysteries of the universe and the ways in which we use science and art to make sense of a cruel world we cannot understand. This is Anderson's most philosophical film, and one of his very best.
On one hand, we're watching a gorgeously pastel-tinted widescreen epic about an annual convention of Junior Stargazers and Space Cadets that takes place every summer in the titular desert town, pop. 87. A bunch of brainiac kids have been invited to show off their science projects for a bellicose army general (Jeffrey Wright) and a touchingly insecure UFO expert (Tilda Swinton) in this dusty tourist trap where once upon a time, a meteor landed and left a massive crater. Combat photographer Augie Steenbeck (Jason Schwartzman) has brought his science prodigy son Woodrow (Jake Ryan) and three younger daughters on a cross-country road trip but has neglected to tell the children that their mother passed away three weeks ago. "It never seemed like the right time," he rationalizes. The kids' gruff grandpa (Tom Hanks) shows up to lend some support after Augie finally breaks the news, unable to make a secret of the fact that he's never thought much of his son-in-law.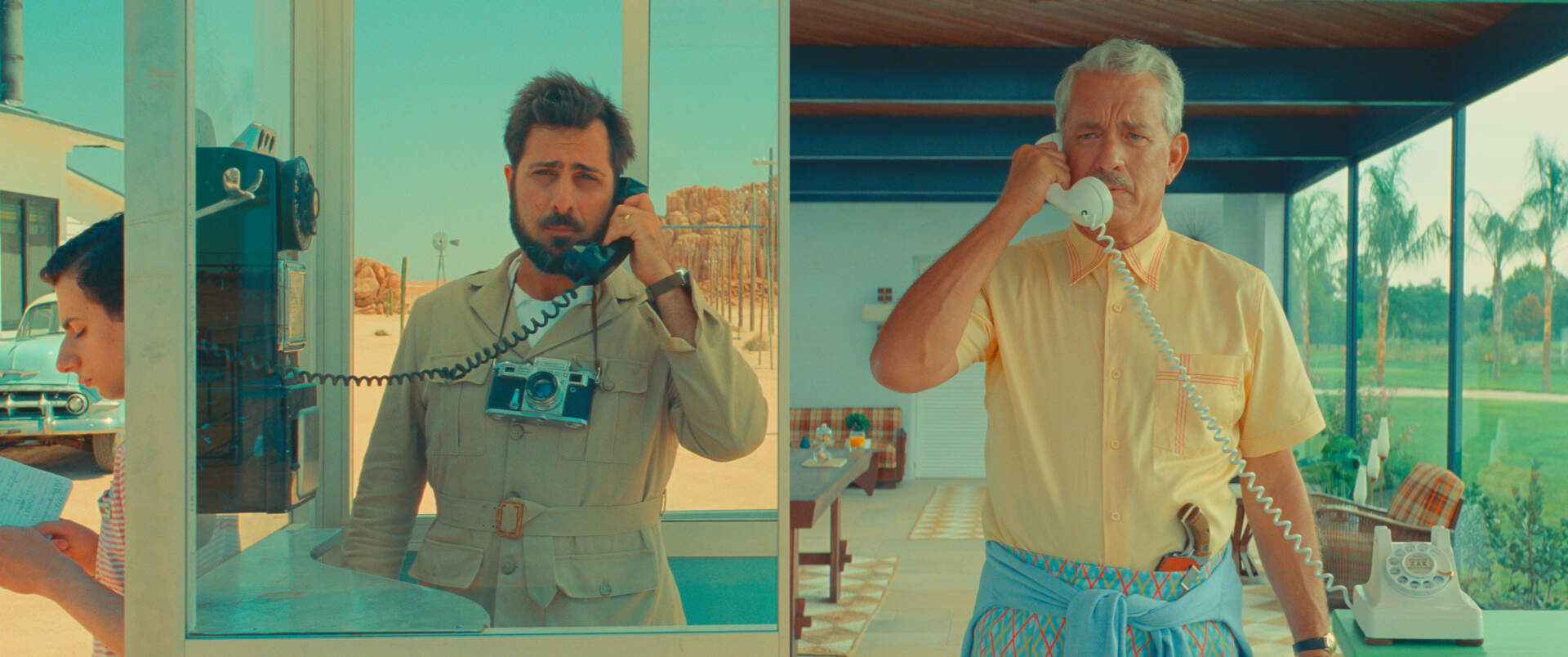 The atomic age production design by Anderson's usual collaborator Adam Stockhausen is a whimsical wonder of text-heavy diner signage and painted-looking desert backdrops, complete with stop-motion animated mushroom clouds popping off in the distance. Young Woodrow has his eye on fellow whiz kid Dinah Campbell (Grace Edwards) while everyone else in town can't stop gawking at her movie star mother, Midge. Played by Scarlett Johansson, whose affectless deadpan is ideal for Anderson-ville, she's a mashup of Elizabeth Taylor and Marilyn Monroe, a "gifted comedienne" with a penchant for playing "tragic alcoholics." Augie and Midge hit it off instantly, as both are "catastrophically wounded people who don't express the depths of our pain because we don't want to." But little does everybody know that this year's Junior Stargazers and Space Cadets convention is about to be interrupted by a very special, uninvited guest.
At the same time, we're also watching a black-and-white televised stage production about the making of "Asteroid City." The program is hosted by a Rod Serling-ish Bryan Cranston, who informs us that what we're seeing is "an imaginary drama created expressly for the purposes of this broadcast. The characters are fictional, the text hypothetical, the events an apocryphal fabrication." We meet the actors playing Augie and Midge, plus Edward Norton as a Tennessee Williams-esque playwright and Adrien Brody as a director who appears to be Elia Kazan in Marlon Brando's undershirt. Scenes are interrupted, questioned and workshopped at the Actor's Studio. (Schwartzman sits in the back, with his sweater pulled halfway over his face like those famous photos of James Dean.)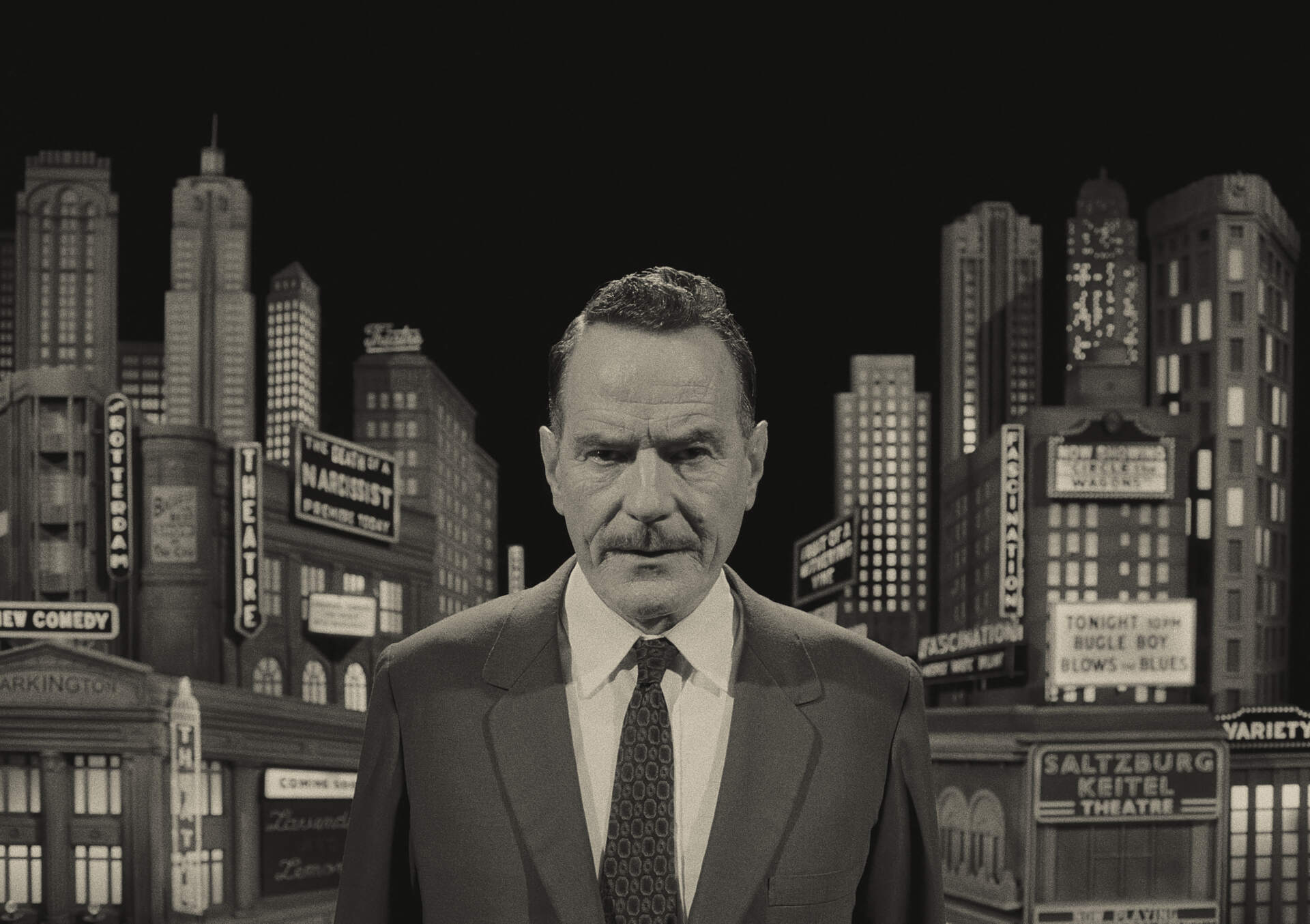 But then things in the movie start to slip, like when Cranston's black-and-white narrator finds himself in living color in Asteroid City and politely excuses himself because he's not supposed to be in this part. It gets all jumbled up; the borders between the movie's "reality" and "fiction" become porous and eventually meaningless. When Schwartzman says, "You're the wife who plays my actress," it may sound like he misspoke. But that line is the key that unlocks the movie. These glitches in the film's fabric represent how our feelings of love and loss can overwhelm the constructs in our lives we create to contain them.
The scientific method and method acting are one and the same in "Asteroid City." They're both ways in which we impose structure on chaos and attempt to explain the unexplainable to ourselves. People you love die, and alien rocks fall from the sky and the only thing we can do is try to quantify the experience somehow. We need to turn our sadness and confusion into something good for the world. Even if, as Swinton's frustrated professor says, "We haven't figured out how to make the math work yet." These actors are always asking, "Am I doing it right?" — a question nobody can ever answer for sure. Storytellers often like to pit science and art against each other. But Anderson, one of our most meticulous moviemakers, understands that they're two sides of the same coin.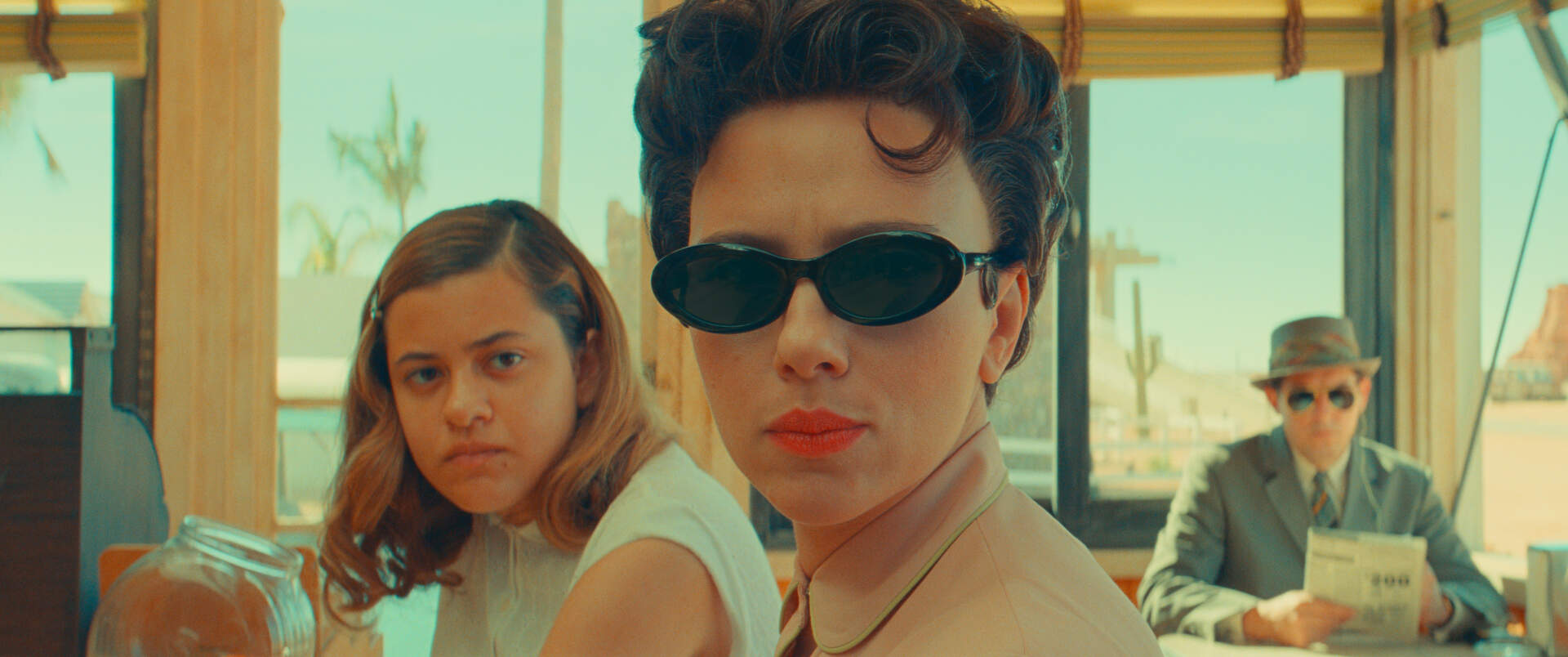 I run pretty hot and cold on Anderson's films. Sometimes it feels like he loses sight of his characters amid all the bric-a-brac, and his recent "The French Dispatch" disappeared entirely up its own artifice. But "Asteroid City" is one of his most robustly emotional movies, similar to (my favorites) "Moonrise Kingdom" and "The Royal Tenenbaums" in its chronicling of kid prodigies, depressive father figures and childhood innocence fading in the rearview. It's also a very funny film, with droll turns from the director's regular repertory company members and a honey of a performance from newcomer Tom Hanks, who glides effortlessly into the ensemble. (The only bum note comes from perennial over-actor Steve Carell, a last-minute replacement in a role originally written for Anderson muse Bill Murray.) Fans of a certain age may be slightly alarmed to realize that Schwartzman, the enfant terrible of the filmmaker's sophomore effort "Rushmore," is now old enough to play the bad dad in these things.
Cinematographer Robert Yeoman accentuates the story's slippery perspective shifts by shooting in multiple aspect ratios, which I worry some multiplexes might have trouble presenting properly. (When "Asteroid City" was first shown to area critics, the reliably unreliable AMC projection lopped off huge chunks of the image. A second screening had to be held at the Coolidge Corner Theatre, where the film looked flawless. I'd suggest seeing it there or at the Somerville Theatre to make sure you're getting the full picture.) This is an incredibly dense movie, both visually and thematically, and there's no shame in not having a handle on it all after a single viewing. We're all playing our parts on our own stages, and like Swinton says, "We haven't figured out how to make the math work yet."
---
"Asteroid City" is playing in theaters everywhere.