Gloucester Stage's 'Stew' has tasty ingredients, but could use a little more thickening
When preparing an intricate meal, it takes time before everything comes together. Storytelling can be like that too. In Zora Howard's "Stew," focused on healing, conversation, and cooking, the show starts slowly, and the plot simmers ever so lightly before boiling over to its dramatic end.
Food and family are at the center of this 90-minute show that premiered off-Broadway in 2020, was a Pulitzer Prize finalist for drama and is now at Gloucester Stage Company through July 23. In Jenna McFarland Lord's smart set — a kitchen with yellow-flowered white curtains, orange Formica counters, and lots of brown wood — Mama Tucker (Cheryl D. Singleton) makes her staple stew to feed her church family for a special occasion. As she sings gospel music and boils water for tea, a terrible noise outside startles her, but Mama convinces herself and her family that someone's tire blew out. She's too busy to investigate, and so are her girls Nelly and Lillian and her grandchild Lil Mama.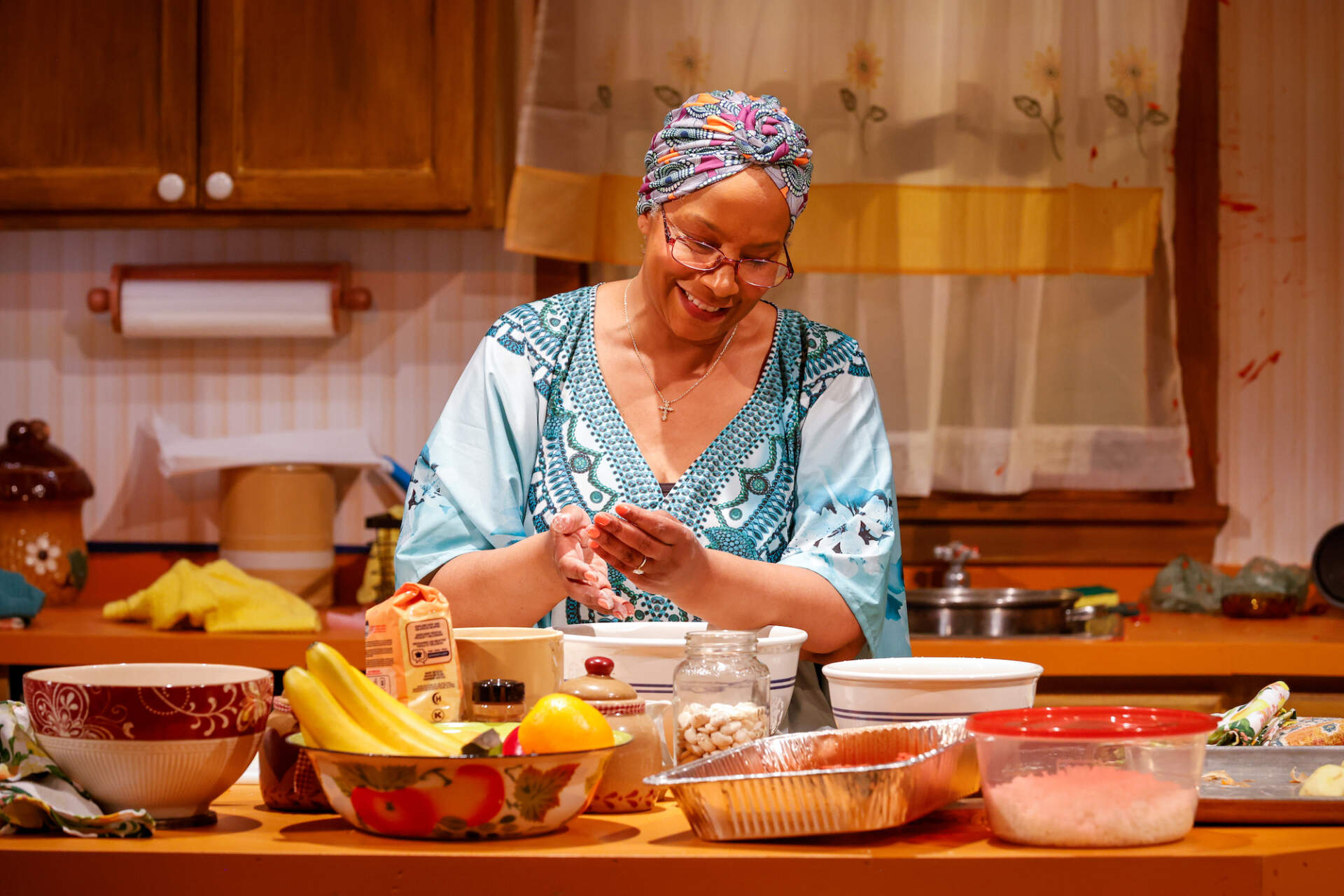 Rosalind Bevan, former WBUR contributor, directs the excellent physical movement of the Tucker tribe, who, with their hair wrapped carefully, help Mama stir pots, wash veggies, and clean up messes while they squabble and fuss. Seventeen-year-old Nelly (Janelle Grace) has a man whom she loves; Lillian's (Breezy Leigh, who recently starred in Huntington's "Joy & Pandemic") husband, JR, is missing in action; and Mama is a widow. There's no man of the house per se in this tale, and the only other male Tucker is Lillian's son Junior, who is at a friend's house.
There's a legacy of just pressing on and barreling through life's difficulties instead of sharing the load. As time goes on, commentary on familial cyclical challenges — teen pregnancies, unhappy marriages, loss — are reached for or nodded to, as the characters attempt to talk more about what's ailing them. But the tension feels too thin to sustain the play's middle, which makes the short production feel long. What helps is the physical comedy of Sadiyah Dyce Janai Stephens' Lil Mama, whose childlike stomping, huffing, and puffing is quite convincing. Amid all the sisterly bickering in the family, Stephens draws the eye, eliciting laughter and empathy.
One fun scene includes a dose of Shakespeare. Lil Mama is auditioning for a role in "Richard III" and once her family discovers it, they all jump in and compete over who should be the one to help her. They all continuously snatch the script from each other to deliver the lines, and Mama makes Lil Mama deliver her lines to her baby, a big, sweet potato. However, Mama has the last line in this scene when she starts with, "If ancient sorrow is most reverend, give mine the benefit of a seigniory, and let my griefs frown on the upper hand..." The women stop and listen to Mama, who had repeatedly told them in the scene that she was the co-founder and director emeritus of Mt. Vernon High Dramatic League. It feels like a glimpse of what could have been, maybe a dream unrealized, put to the side due to life's circumstances.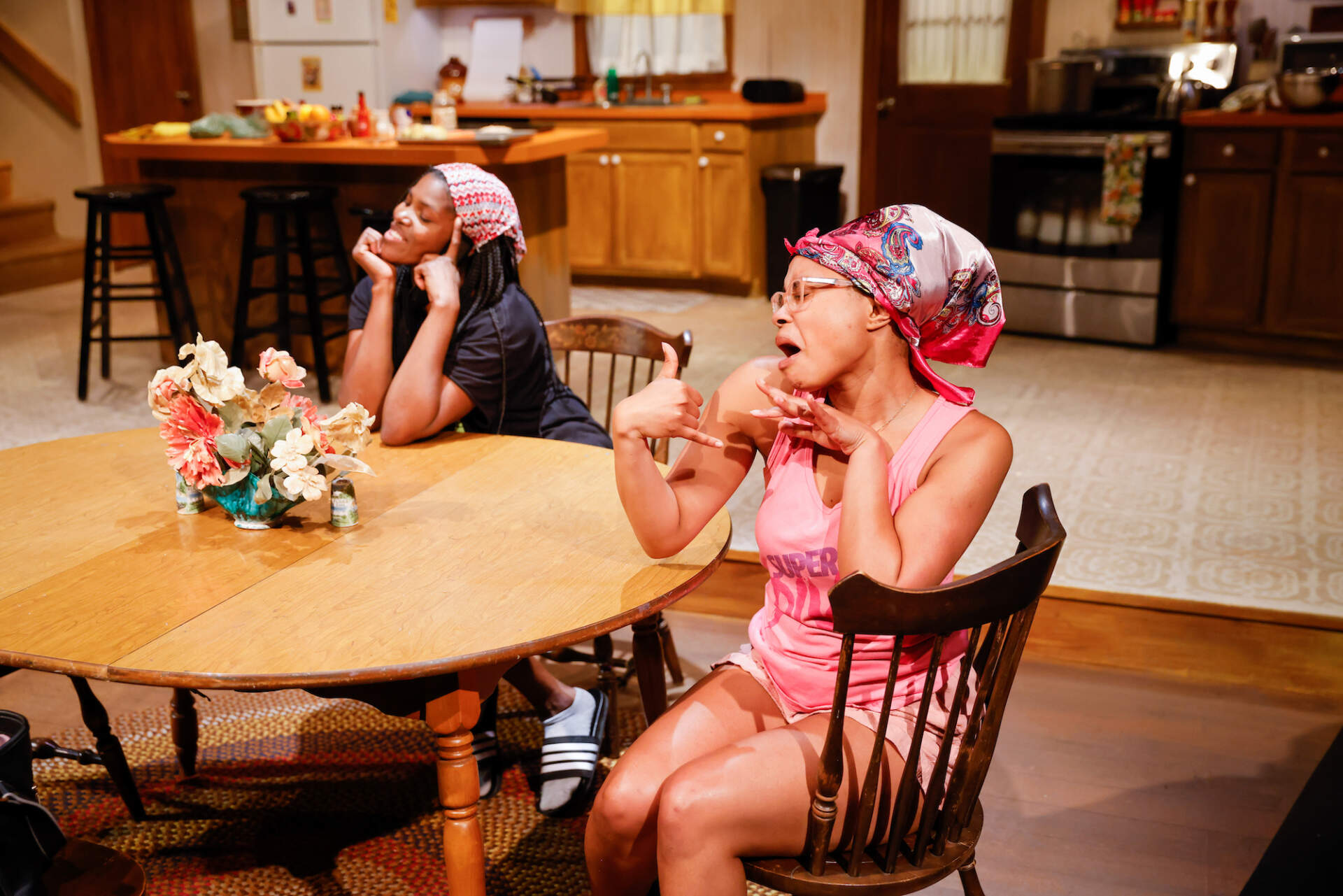 The future of another person in the Tucker clan is under threat, and the (almost) spilling of the secret that could thwart it results in an explosive fight that ends with a tossed and broken bottle of hot sauce that stains the wall. Its bang and its mess a foreshadowing.
It's hard to be sure which way to go when life throws its blows, and Nelly and Lillian debate the surety (or lack thereof) of their respective paths at one point. But it's not until the end of Howard's tale that the audience witnesses the biggest gut punch of all, which leaves the entire family reeling from its gravity.
---
"Stew" runs through July 23 at Gloucester Stage Company.