The Berkshires: Where the sublime isn't always a pretty picture
The Berkshires, like the rest of the country, reflects the attempt to put the COVID pandemic behind us while simultaneously acknowledging the difficulty in doing that. Some organizations, like Tanglewood, seem to have regained their foothold. Others have had to switch to a new economic model. Some newish theater companies, like Great Barrington Public Theater, have opened; meanwhile, the Williamstown Theatre Festival is not doing full productions, although that has more to do with the fallout from the LA Times exposé of their exploitation of interns who had been working extremely long hours in toxic conditions for little or no pay. New restaurants have opened, old favorites have re-opened and others have sold or gone out of business. The same goes for inns in the area.
All in all, though, critics Ed Siegel and Jacquinn Sinclair found the balance of art and nature, including torrential rain, to be as heady a mix as always.
Theater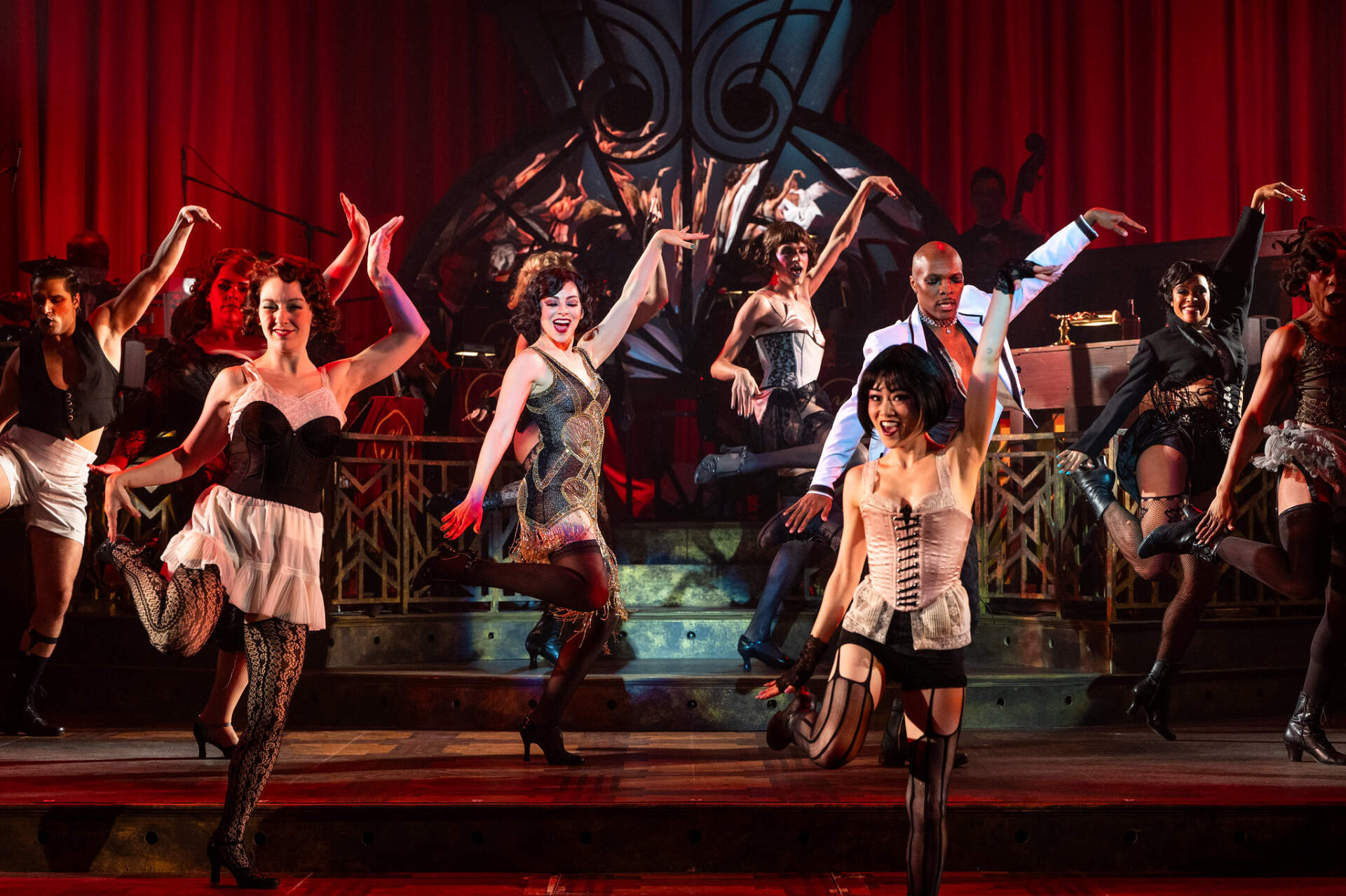 You have to hand it to new Barrington Stage Company artistic director Alan Paul, choosing "Cabaret" as his debut musical (through July 8 on the Pittsfield mainstage). His predecessor, Julianne Boyd, really put the company on the map in 1997 with a brilliant take on Kander and Ebb's tuneful exploration of Nazi-era Berlin in a production that transferred to Cambridge, picking up an Elliot Norton Award in the process. To me, Boyd was the first person to make sense of the material, and Paul, in his own vigorous way, is the second.
I frankly thought that the movie version — I didn't see the original on stage — was a mess, with director Bob Fosse, Emcee Joel Grey and star Liza Minnelli (followed by Louis Armstrong's cover of the title song) not knowing whether to condemn the "Come to the Cabaret" apathetic aesthetic or exult in its hedonism. The acclaimed Sam Mendes revival revelled a bit too much in its immersive faux naughtiness.
Boyd's version made the Emcee the personification of animalistic but charismatic evil, a reflection of Hitlerian politics. Paul flips the switch with the Emcee (Nik Alexander) starting out as a celebrant of the zeitgeist and then, along with the Kit Kat Club ensemble, becoming one of the chief victims of hatred mounted against LGBTQ citizens. And Paul handles the issue of antisemitism even more powerfully, all backed by a solid sense of stagecraft. Alexander is sometimes a little too silly in the first act, though it is a nice contrast to his later metamorphoses.  Krysta Rodriguez's Sally Bowles was as good as it gets, particularly her dissonant, tearful rendition of the title song.
Boyd's version is still the gold standard. But give Alan Paul the silver.
I'm looking forward to Julianne Boyd returning to the director's chair with Brian Friel's gripping "Faith Healer" (Aug. 1-27 on the BSC St. Germain Stage).  —ES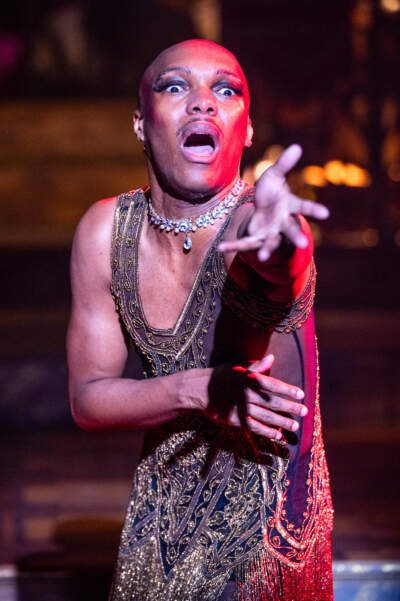 This was my first time seeing "Cabaret," and I found Alexander's prowess as the Emcee mesmerizing. The Broadway actor conjures up the theatricality and darkness reminiscent of Eartha Kitt and mixes it with his own brand of wonder and seedy-club glam.
Wilson Chin has created a fittingly dark and moody set for the Kit Kat Club with red velvet curtains, brightened by a looming gold structure and art deco touches. The vivacious ensemble, expertly dressed by Rodrigo Muñoz, regaled the audience with their smooth moves — courtesy of Katie Spelman — onstage and in the aisles. Patrons who arrive early for the show get to revel a little with the cast, who prime the crowd in the hallway by the bar.
The narrative offers great insight into the insidiousness of hate. While the Kit Kat Club patrons lived it up in Berlin, outside its walls, Hitler's ideas were seeping into the ground and taking root, catching at least some of the characters in the play by surprise. The scene where "Tomorrow Belongs to Me" is sung is quite chilling and signals a glaring shift.
Rodriguez's Sally Bowles is exciting to watch, but Alysha Umphress as Fritzie/Fräulein Kost is also quite good.
I'm looking forward to "Tiny Father," a world premiere by Mike Lew, showing now through July 22. —JS  
Great Barrington Public Theater has two stages, the McConnell Theatre and the 99-seat Liebowitz Black Box, located in the Daniel Arts Center on the campus of Bard College at Simon's Rock.
The theater aims to tell compelling stories with mostly local actors at affordable prices. They recently wrapped up London playwright Kit Brookman's "The Stones," a contemporary gothic tale that was staged at the 2022 Edinburgh Festival Fringe.
Great Barrington's American premiere of "The Stones" featured the Shakespeare & Company-trained Ryan Winkles and was directed by Michelle Joyner. Though the script didn't grab me, Winkles did. The long-time actor is a brilliant, engaging storyteller who easily carried the show on his shoulders. Two entertainers, Alex Sovronsky and Wendy Welch, provided the music.
Brenda Withers' comedy "Off Peak" which the playwright calls "A delightful new play about forgiving, forgetting, and the healing power of a good delay," and the love story "Just Another Day" by "The Wonder Years" actor Dan Lauria are up next. —JS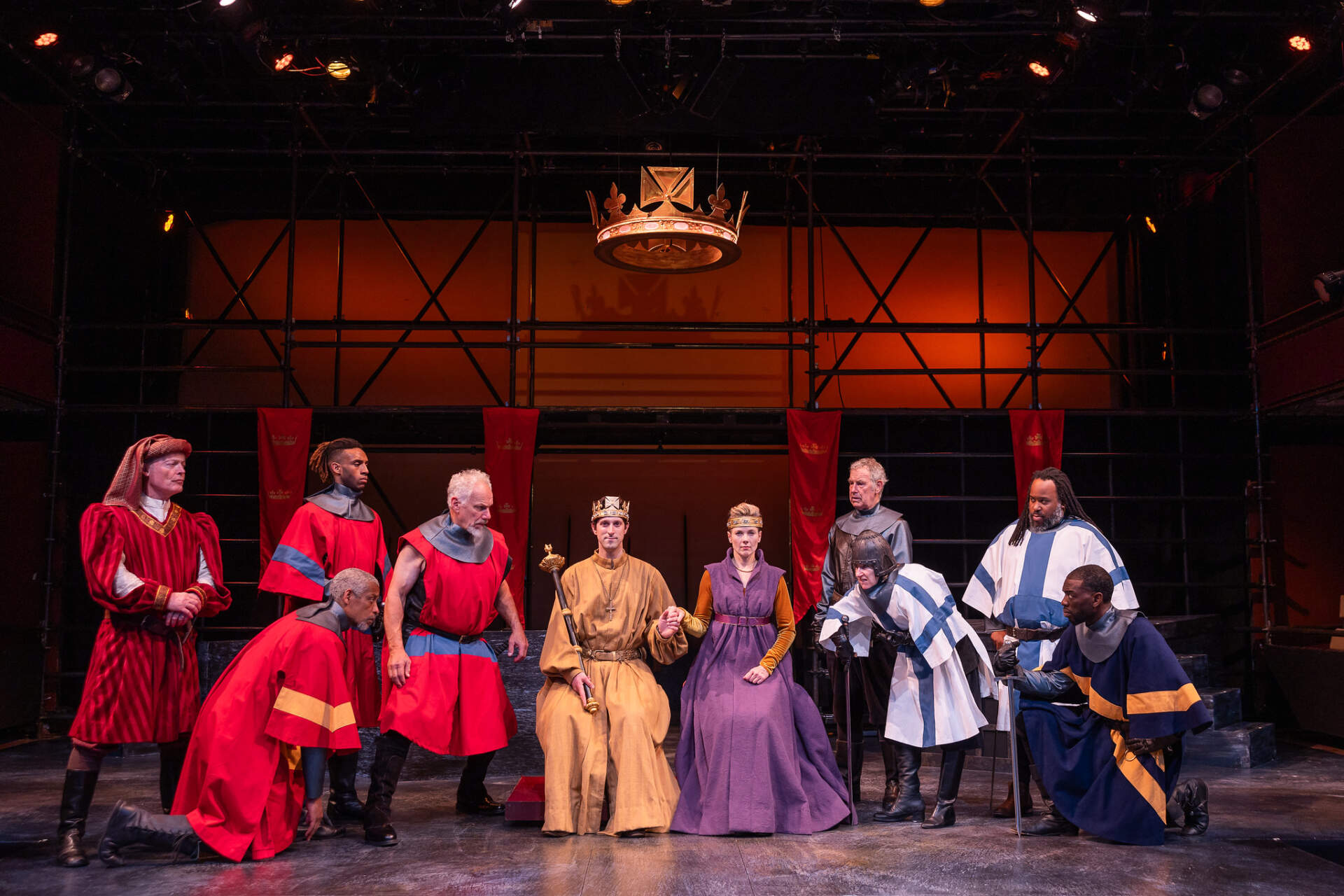 There are few theatrical things in the Berkshires more compelling than Tina Packer directing Shakespeare. The founder of this exemplary Lenox-based troupe combines a smart, contemporary-flavored analysis of Shakespeare with a from-the-gut acting style, almost always resulting in Shakespeare that is clear, nuanced and intellectually and emotionally engaging.
Packer and her two associate artistic directors need all of those assets to make "The Contention (Henry VI, Part II)" as forceful a production as it is (through July 15). Thought to be Shakespeare's first play, it doesn't feature any of the iconic heroic/tragic characters of his later years, and you really need to do some reading up on the play beforehand to figure out who's who and who's doing what to whom.
On the other hand, the ensemble is so good — the best I've seen at Shakespeare & Company in years — that you can still pretty much get it. It features three of the company's mainstays — Allyn Burrows, Jonathan Epstein and Nigel Gore — while also introducing several terrific new members, many of them actors of color. The weak member, alas, is David Bertoldi in the title role. He underscores Henry's ineffectuality with too much inanity and his poutiness is tiresome.
Nevertheless, Packer makes the production both historically important with echoes of "Macbeth" and "King Lear" and relevant, in contemporary terms, with shadings of the Jan. 6 riot and the power moves of  HBO's "Succession." Packer is quite a good actor, and she's been concentrating on that of late in Lenox. But she's an even better director, and it's wonderful to see her back in that role. Incidentally, she directed this play in Boston when Burrows was artistic director at Actors' Shakespeare Project and the material wasn't in the company's wheelhouse. Now that Burrows is the artistic director at Shakespeare & Company, he gave Packer another bite at the apple, and this time she eats it up.
Burrows, meanwhile, will direct "A Midsummer Night's Dream" outdoors Aug. 1-Sept. 10. It was Packer's final, wonderful production at The Mount when they were doing outdoor productions there. Many of the African-American actors in "Henry VI" will return in August Wilson's "Fences," directed by current Actors' Shakespeare Project artistic director Christopher V. Edwards July 22-Aug. 27. —ES
The Berkshires' great charm has been defined by how art and nature come together. This year, you could also make a case that it's a place where art and science come together. "Photograph 51,"  which closed last weekend, started out like a smart history lesson about the discovery of DNA's double helix structure, which has led to any number of genetic breakthroughs. More specifically, it's the story of how Rosalind Franklin got screwed out of recognition for her role in that discovery — and how she screwed herself. Less colloquially, Anna Ziegler's play moved from a history lesson to a grand theatrical tragedy as it progressed. I missed it at the Central Square Theater so was glad I had the chance to catch up.
David Auburn knows a thing or two about the mix of science and theater, having won both the Pulitzer Prize for Drama and the Tony Award for Best Play for "Proof." He's now BTG's artistic associate director and brought that same mix to BTG's excellent production. Another excellent director, Eric Hill, will be directing one of theater's finest plays mixing art and science, Michael Frayn's "Copenhagen," to the Unicorn Stage this fall (Sept. 28-Oct. 29). The play is a chilling speculation about another scientific race — for the Atom Bomb during WWII. The BTG is not using the legendary mainstage, which is undergoing renovation this summer. The Unicorn also hosts two world premieres, Christine Lahti in "The Smile of Her," which she wrote, and a musical, "On Cedar Street." The BTG also performs at the Colonial Theatre in Pittsfield ("Million Dollar Quartet," "The Secret Garden" and Hershey Felder as "Beethoven"). —ES
Visual Art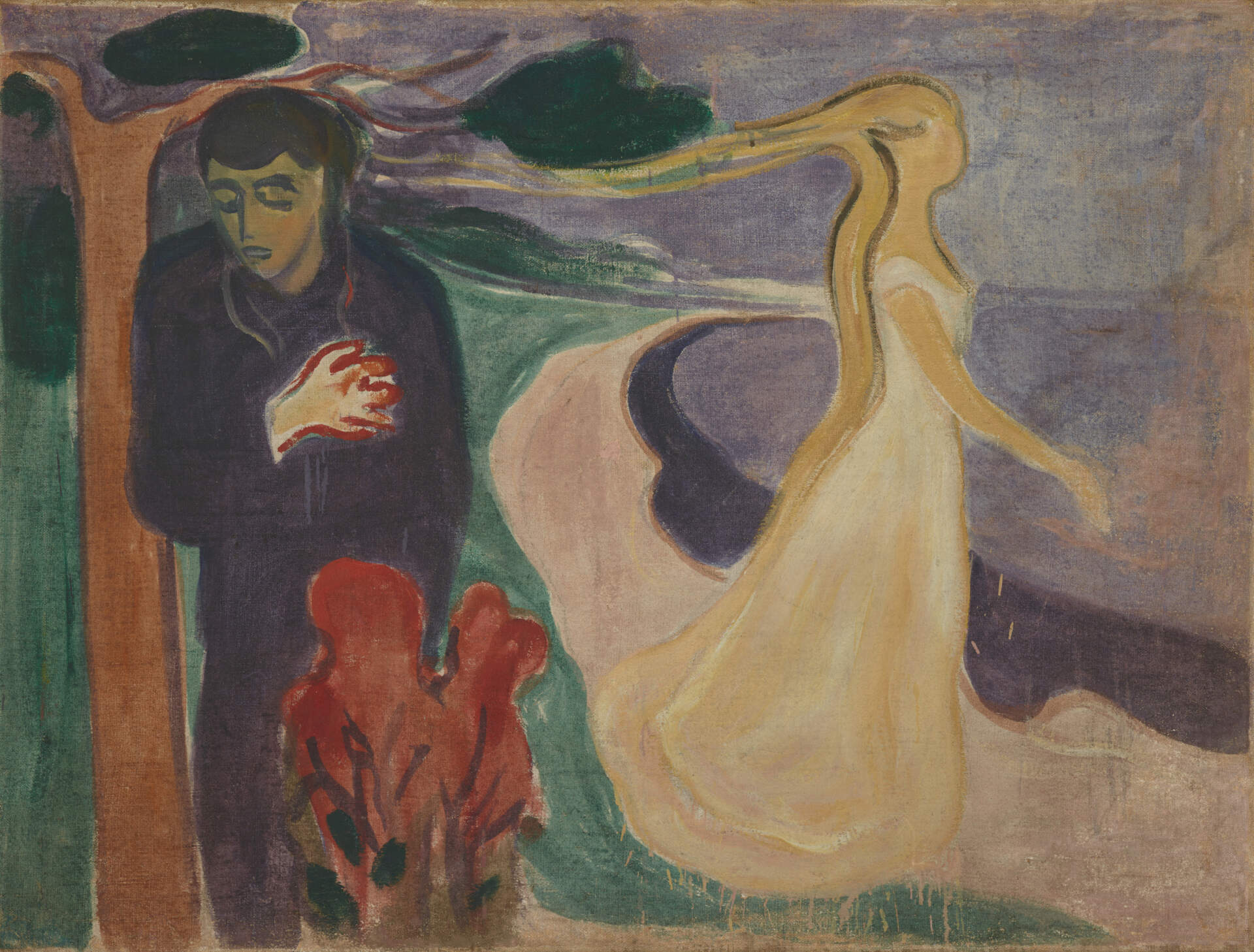 The Berkshire Museum in Pittsfield has made combining art and natural science a core mission. Its dedication to art was called into question in 2018 when it sold Norman Rockwell's "Shuffleton's Barbershop" in order to pay for "essential renovations" and, indeed, to stay in business. Others questioned that dire assessment.
For better or worse, the issue was adjudicated in the museum's favor, and a walk around the museum certainly makes you glad it's still around. There's a fine little exhibit up now, "Romance & Nature: Art of the Hudson School" (through Oct. 1), alongside John James Audubon lithographs. There are paintings of grandeur (Thomas Hill's "Yosemite Valley") and paintings that tell the story of America that some right-wingers would rather you didn't know. A friend pointed out the ominous date in the title of Edward Moran's painting of a Native American witnessing what for him would have been a giant ship approaching the shore: "Henrik Hudson entering New York Harbor, Sept. 11, 1609."
The exhibit quotes an 18th century essay on the nature of the sublime: "The sublime echoes the grandiose, awe, and horror." My friends and I questioned the intersection of the sublime and horror until the next day when we went to the not-to-be-missed exhibit at the Clark Art Institute: "Edvard Munch: Trembling Earth."
The Norwegian artist is of course best known for "The Scream," perhaps the most popular, if not kitschy, symbol of modernist horror and existential dread. But Munch, as this exhibit so eloquently and affectingly shows, was so much more than that. The Washington Post's Sebastian Smee called him one of the five great post-Impressionist artists; easy to see why here.
There is sublime horror aplenty with natural landscapes as the backdrop for personal profiles of Scandinavian depression echoing Strindberg or Bergman. Do the landscapes symbolize the psychological despair of his human figures, do the natural elements shape the characters or are they somehow the only relief from "the horror, the horror?" Did Munch predict climate change?
The introduction to the exhibit says, "Munch developed his own worldview that connected science, human biology, plant life, and the solar system" while "the paintings reveal an artist fascinated by humankind's interaction with the earth and the impact of one on the other."
The landscapes are fascinating in themselves, whether those marked by more primitive brushstrokes or by a more grandiose realism, but it's that interaction I found most affecting.
I've always loved the way that art and nature come together at the Clark, though I could have done without nature mirroring Munch's "The Storm" with one of the week's many torrential Berkshires downpours while moseying around the grounds.  —ES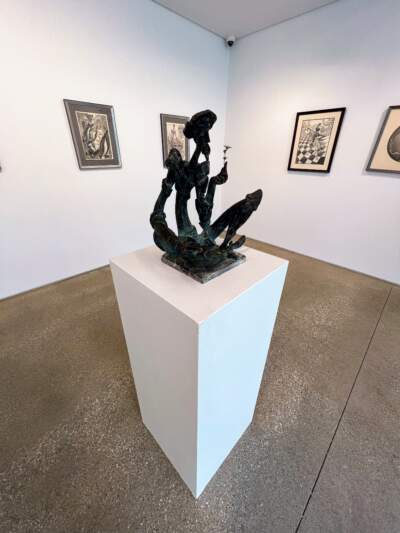 I agree with your thought about the coming together of art and nature in the Berkshires. Nestled into the natural landscape of West Stockbridge is TurnPark Art Space which offers an outdoor sculpture park and exhibition venues on a 16-acre former quarry. Art lovers can step out of the sun (or rain) and into Steven Careau's exhibit of multi-dimensional metal and wood sculptures on view in the Garage Gallery through July 31. There's an inherent tension in the beautifully crafted pieces that are at once delicate and sturdy. There are a couple of metal chairs inside, if one wants to stay a while and enjoy the views.
In the same parking lot of the Garage Gallery, a white building houses another gallery space and gift store. In that gallery space, there's a Nikolai Silis: Don Quixote Graphic Series exhibition where numerous black-and-white drawings adorn the walls and sit atop a table, surrounding a central sculpture. Both Careau's and Silis' exhibits are free. However, there's an admission fee to enter the more extensive outdoor sculpture park. Perusers of Silis' work can get a glimpse of what's on offer at the start of the sculpture park as they walk by. —JS
Dance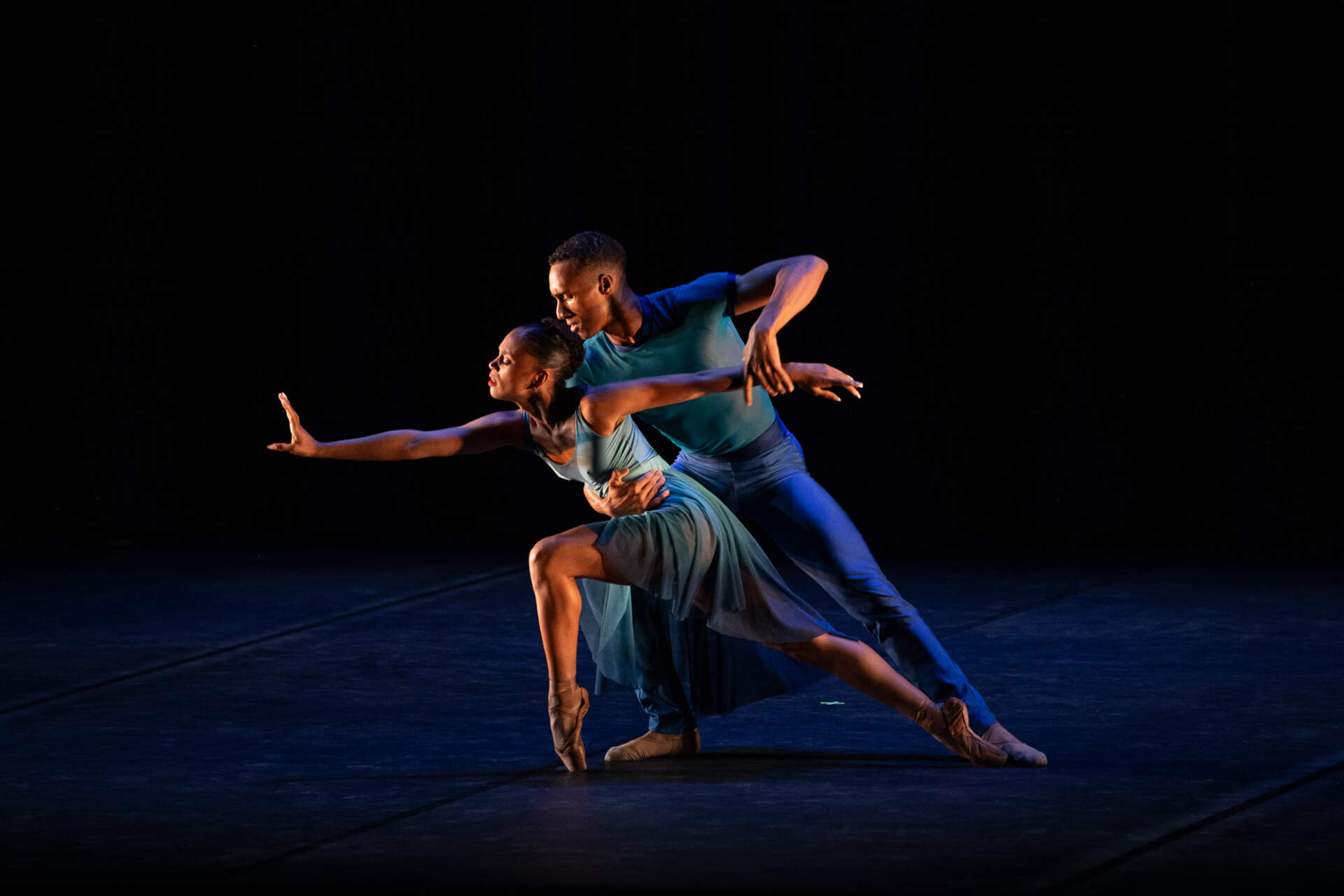 This year, Jacob's Pillow honored accomplished ballerina and activist Misty Copeland with the Jacob's Pillow Dance Award at the season-opening gala, a prestigious honor for visionaries in the field. Winners of the award are allowed to use the funds for whatever they choose.
Copeland, who strives to make dance accessible to underserved communities through her books, appearances and the launch of the Misty Copeland Foundation, released the short film "Flower" last year about a young woman who puts her dance dreams on hold to care for her mom with dementia.
During a conversation with Copeland before the cocktail hour, she said that she is eager "to continue in that work" behind the scenes, "creating content that's authentic to and reflective of what dancers actually experience and what artists actually experience as women of color." She never imagined she'd be doing this work, but "it's equally as creative, and I think [as] purposeful as being on stage."
Before the award presentation and electrifying performances, including Lil Buck's "The Swan," Dorrance Dance's excerpt of "SOUNDspace" and Dance Theatre of Harlem's Elias Re and Amanda Smith's "This Bitter Earth," choreographed by Christopher Wheeldon that moved my companion to tears, Princess Lockerooo and The Fabulous Waack Dancers, dressed as brightly colored bold, blossoms, beckoned attendees to the dance floor for a "ki-ki." Bill Irwin, comedian and dancer, also provided some comic relief with "The Busking Project" during the program.
Jacob's Pillow's Executive & Artistic Director Pamela Tatge talked about a commitment to diversity and the Pathways to Performance Choreographic Program, a partnership with the Kennedy Center to help create a pipeline of Black choreographers.
Jacob's Pillow has a lot of exciting offerings this summer, but I'm most eager for "Hip-Hop Across the Pillow" in celebration of the 50th anniversary of hip-hop. —JS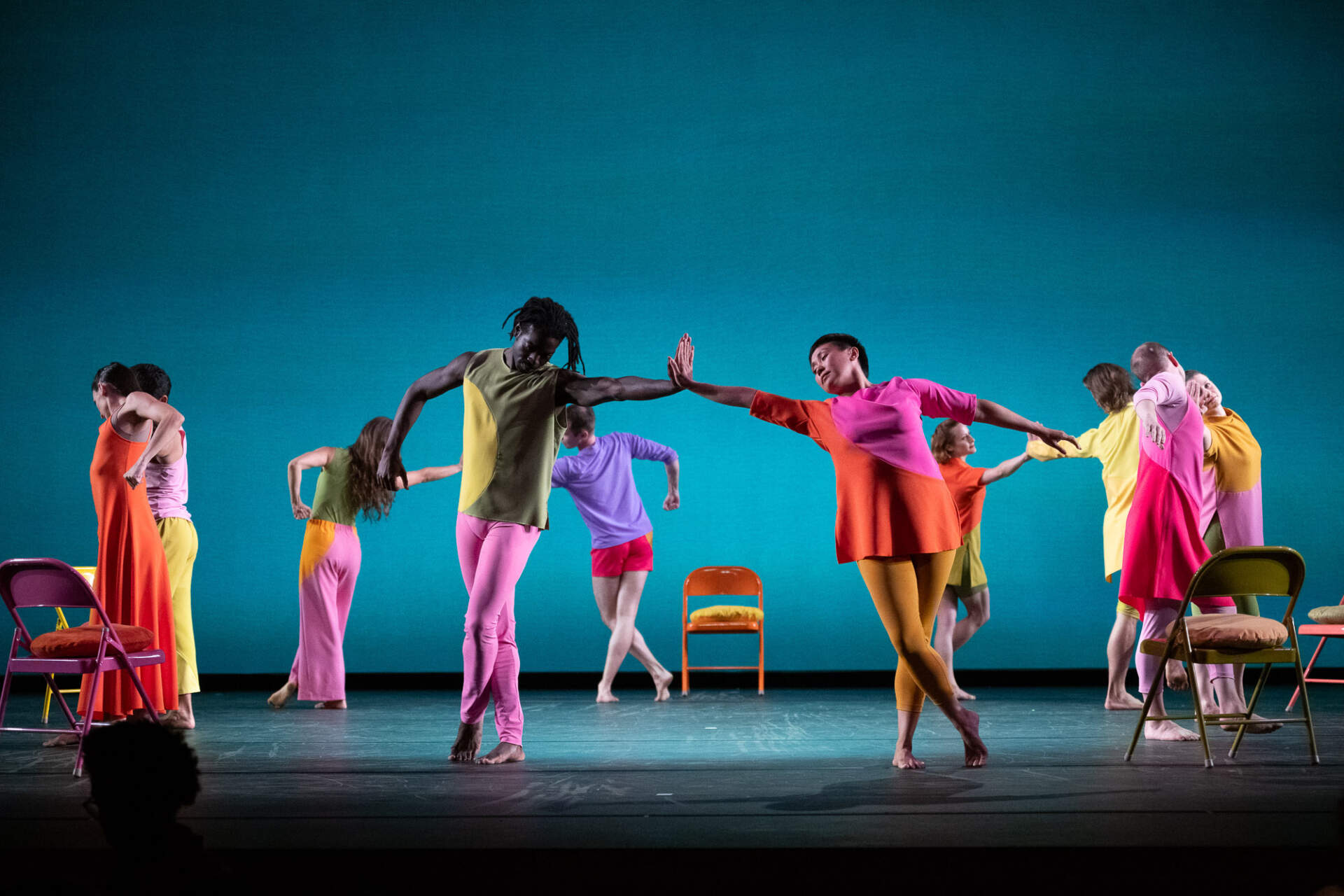 The Jacob's Pillow season began with a bang, AKA the Mark Morris Dance Group, who have appeared at JP more than any other company, presenting "The Look of Love," his 65-minute ode to Burt Bacharach and his unique popular music romanticism. Morris' smartly playful choreography, the 10 dancers, four musicians and three singers led by the lustrous Marcy Harriel made a great case for the artistry of Bacharach and lyricist Hal David, but there was a little too much repetitiveness in both the dancing and the music.
Still, it was a delightful evening at the Pillow, which seems to have rebounded nicely from COVID, fire and whatever else has been thrown in their way. Bacharach symbolizes Morris' eclecticism which in turn symbolizes how the Pillow season looks to be wonderfully eclectic, as usual, from Hip Hop Across the Pillow to the Martha Graham Dance Company in August. —ES
Music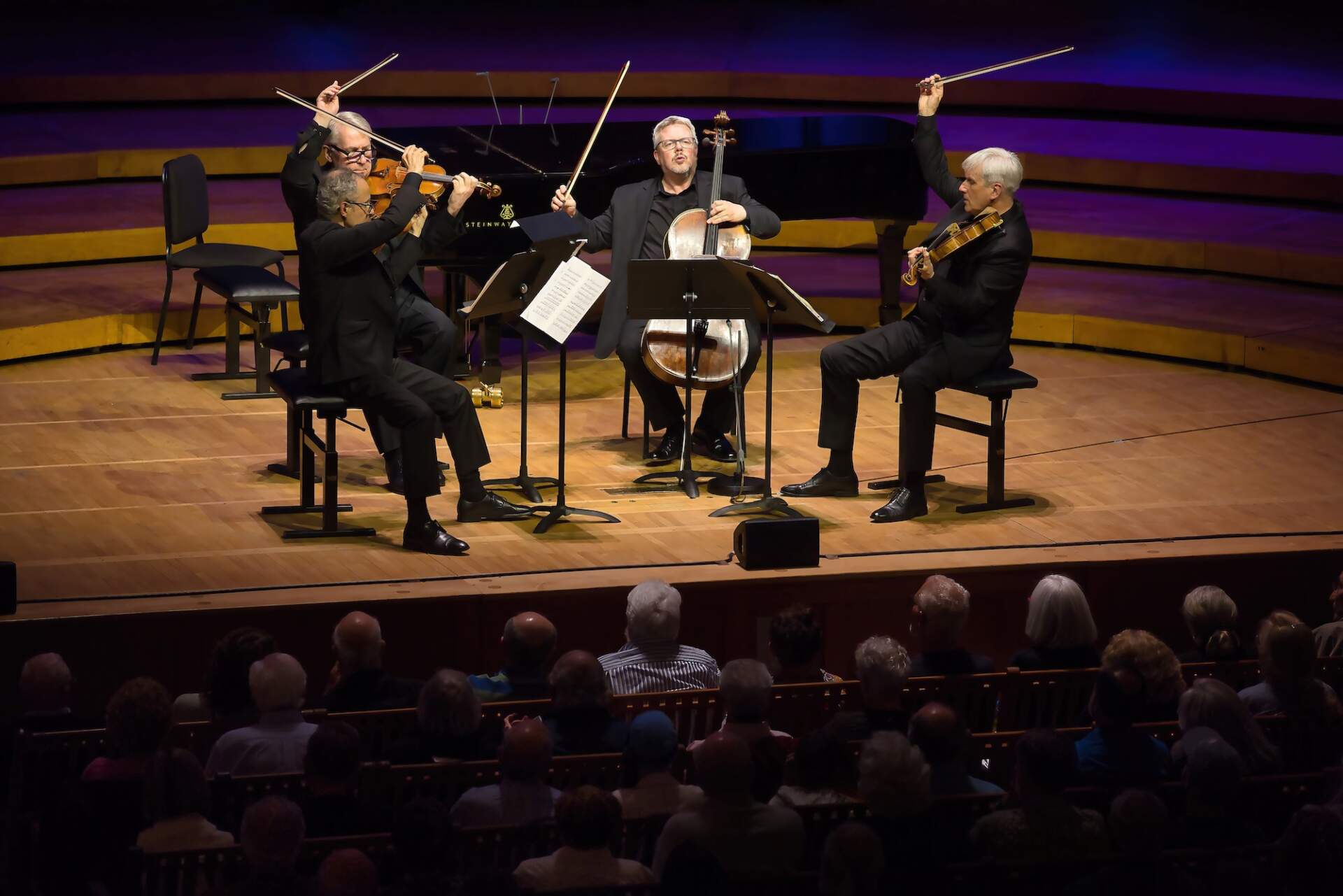 I thought attending last season's Celebrity Series concert would be the last chance to see the Emerson String Quartet in the state, but here they were in a scintillating concert at Tanglewood. The Boston concert spanned their greatest hits — pieces from their three great complete surveys of Beethoven, Bartók and Shostakovich. This one spanned the centuries — Purcell from the 17th Century,  Dvorák from the 19th, Shostakovich from the 20th and Sarah Kirkland Snider from the 21st ("Drink the Wild Ayre," fittingly based on a quote from the quartet's namesake, Ralph Waldo Emerson). It made you wonder why they're retiring as they're obviously still at the top of their game, but so be it. Dvorák's piano quintet brought the Ozawa house down as they were joined by Emanuel Ax.
The concert I'm most looking forward to is the all-Beethoven trio concert with Ax, Yo-Yo Ma and Leonidas Kavakos, the superb Greek violinist who replaced the late Isaac Stern and in the process has helped make this trio much more than an all-star grouping. Each of them will also be performing as soloists with the Boston Symphony Orchestra — Ax playing  Brahms on Aug. 4, Ma Shostakovich on Aug. 14 and Kavakos Tchaikovsky on Aug. 19. Andris Nelsons conducts the latter two. The Emersons, incidentally, have another Berkshires date, on Sept. 10, at South Mountain Concerts where they'll be followed by their former cellist David Finckel on Oct. 8. The charismatic Mr. Finckel rejoins the group for the final concert in New York on Oct. 21 and 22.
As I said when the Emersons played Boston, another superb quartet is rising as they're exiting — the Danish String Quartet who follow the Emersons to Ozawa Hall on Aug. 2. The annual Festival of Contemporary Music is July 27-31.
When I first started coming out to the Berkshires in the 1980s, you couldn't find a popular music venue to save your life out here. Now popular music is ubiquitous. The annual James Taylor hoo-ha ends the first round of Tanglewood's popular music series, and John Legend wraps it all up on Sept. 3. MASS MoCA is my favorite venue (Pixies, Modest Mouse and Cat Power on Aug. 26), but the Clark Art has a concert series with the likes of Joe Henry (July 5) and Jonathan Richman (July 26). I went to a scintillating outdoor event at the Foundry in West Stockbridge a couple of years ago, but a dispute forced them indoors. There are popular concerts at the Mahaiwe Performing Arts Center in Great Barrington (Cécile McLorin Salvant on July 20) and a Backporch Concert Series at Hancock Shaker Village. —ES
Food and Shopping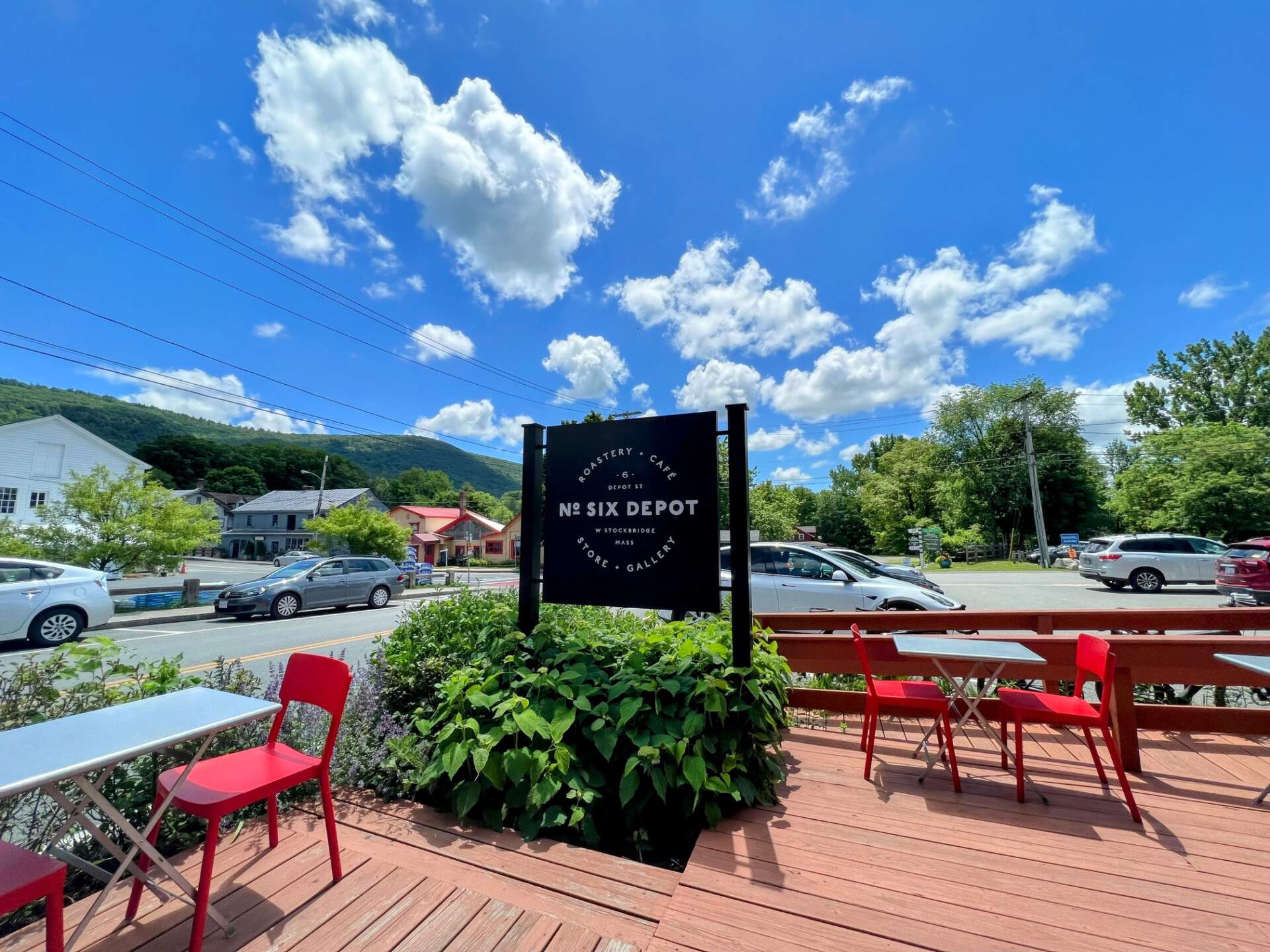 Though I was only in town for a short weekend, I covered as much ground as possible. I spent more of my time in Great Barrington and really enjoyed it. Railroad St. and the perpendicular Main St. are where the fun is. Before heading to see "The Stones" at Great Barrington Public Theater, I went to MoonCloud to grab food. The menu offers tagliere (think charcuterie boards), tinned fish, cheese and vegetables. You can buy a big tagliere to share or build your own. There are options for vegetarians too. Those who are dairy or gluten-free can gorge on the cooked and pickled veggies, rice crackers, and protein options. Just ask for recommendations. I had the finocchiona (fennel pork sausage), pickled rainbow carrots and rice crackers. There's an inventive cocktail menu, but I opted for the Safe Haven mocktail: fresh ginger juice, pineapple, cinnamon, bubbles, and lime with crushed ice and a lovely flower. Grab a meal just before sunset and catch a glorious mountain view.
Before leaving on Sunday, I had a delicious brunch at The Haven in Lenox. When I arrived around 11 a.m., the line was already out the door, but those in the queue were friendly and talkative. As you stand in line, it's best to peruse the menu to be ready to order at the counter. Our table noshed on the wheat-free French toast with blueberries, bacon, and the dill biscuit benedict with poached eggs and herbed potatoes. Tip: Sip on the caramel inferno latte with oat milk while you wait for the food.
Next, I hurried over to No. Six Depot Roastery and Café located in a former West Stockbridge train station and owned by husband-and-wife team Flavio Lichtenthal and Lisa Landry. The vibey café is painted black on its exterior and has red chairs outside to lounge in. The married couple have successfully built a cozy place where coffee lovers can linger outside or in while sipping on delicious brews or cold drinks. The coffee I grabbed (and all the bags), called Heart of Darkness, has a gold Bob Dylan quote on the back. I also purchased a locally made shrub (a drinking vinegar), called Carr's Ciderhouse Switchel.
Afterward, I returned to Railroad St. and stopped in GB9, which had an abundance of good finds, from wristlets and bags to fancy frocks and sculptural necklaces. I bought some white and yellow resin earrings and headed next door to HomeLove, a lovely home goods store teeming with candles, luxurious robes, a smattering of shoes and more. I spent way too much time in here. Armed with my purchases, a flower-scented candle called Summer Day and a felt, lavender fedora, my companion and I browsed the rest of the street which has a creamery, a cool record store, a pizza shop and more, before finally grabbing lunch for the road.
We settled on Marjoram + Roux at the top of the street and next door to MoonCloud. The café has lattes, teas, pastries, prepared food and several sandwiches. The rosemary ham sandwich on gluten-free bread with cornichons and mustard with a side salad was perfect mid-drive.
Around the corner on Main St. is a consignment shop, Boho Exchange, that had a nice array of jeans, leather bags and frilly dresses. I even found an Alexander Wang shirt inside. But make sure your wallet is full, or that you have time to sort through the racks for deals. —JS
Since most of what I was seeing was in Lenox, I gravitated to my old favorite, Bistro Zinc for dinner, but the best meal I had was at the new restaurant Cello, where the walleye ("Think a meatier cod," said the waiter) melted in the mouth. The only downside was the blaring mid-tempo rock music, but they did turn it down when asked. With the name and a big portrait of Yo-Yo Ma on the wall, maybe they should get him to curate their playlist. My favorite restaurant in the Berkshires is the recently re-opened Dreamaway Lodge, which is calling for an August visit. —ES
History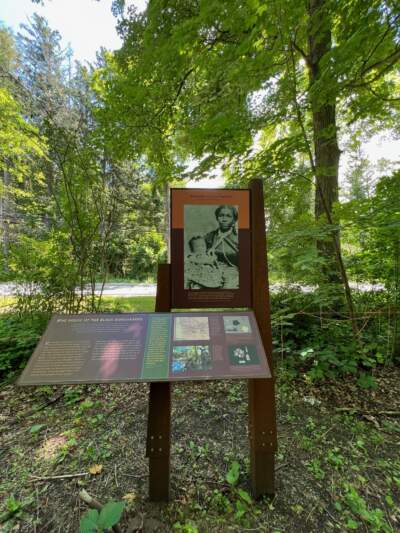 What I like most about the Berkshires is that there's much to see, do and learn. Often, there's something to discover tucked in a garden, such as the StoryWalk ® Project, where in this instance, pages of a children's book touting self-love "I Like Myself!/¡Me gusta cómo soy!" dot the grass between buildings in Stockbridge or hidden in the woods like the W.E.B. DuBois Boyhood Homesite in Great Barrington, where archaeologists have found nearly 30,000 artifacts.
The late DuBois was a prolific author, sociologist and activist born in Great Barrington. As a founding member of The National Association for the Advancement of Colored People (NAACP), Dubois spent his life advocating for the full civil rights of Black people and believed that Black people needed their own leaders to create great change.
The home DuBois grew up in is no longer standing, but site visitors can learn about his life, his career, the tragedies he faced and more. As I walked along the half-mile path hugged by seemingly sky-high trees, it was hard to imagine the refined DuBois running about in the forest. Seven markers on the trail are filled with facts and photos, signaling what's in store with names such as the "Grass Roots of Democracy" and "I Have a Sentimental Desire to Keep This Place."
The site offers free guided tours on Saturdays, and for hard-core history buffs, there's a list of 50 sites associated with DuBois to visit. Parking is free, and so is the site. —JS