In hard-hit Ludlow, Vermont cleanup is underway: 'We are taking care of one another'
Resume
Dump trucks and heavy equipment beep and bulldoze on either side of Ludlow, clearing the roads and stirring up a hazy layer of dust.
The wet sludge that covered much of the downtown has begun to dry, but the flood's footprint is everywhere.
Orion Jones stands near the back door of the Main and Mountain Bar and Motel. His work boots are covered in sludge and mud is spattered across his T-shirt. "Yesterday we were just focused on getting water out of this basement," he says, pointing down a nearby stairwell. "We've moved out a bunch of washer dryers and appliances, but most everything has had to go. So a lot of lifting!"
Jones is from Lancaster, Pennsylvania and happened to be spending the weekend with friends in Cavendish. He couldn't leave because of the flooding, so he and his friends headed to Ludlow to help with cleanup.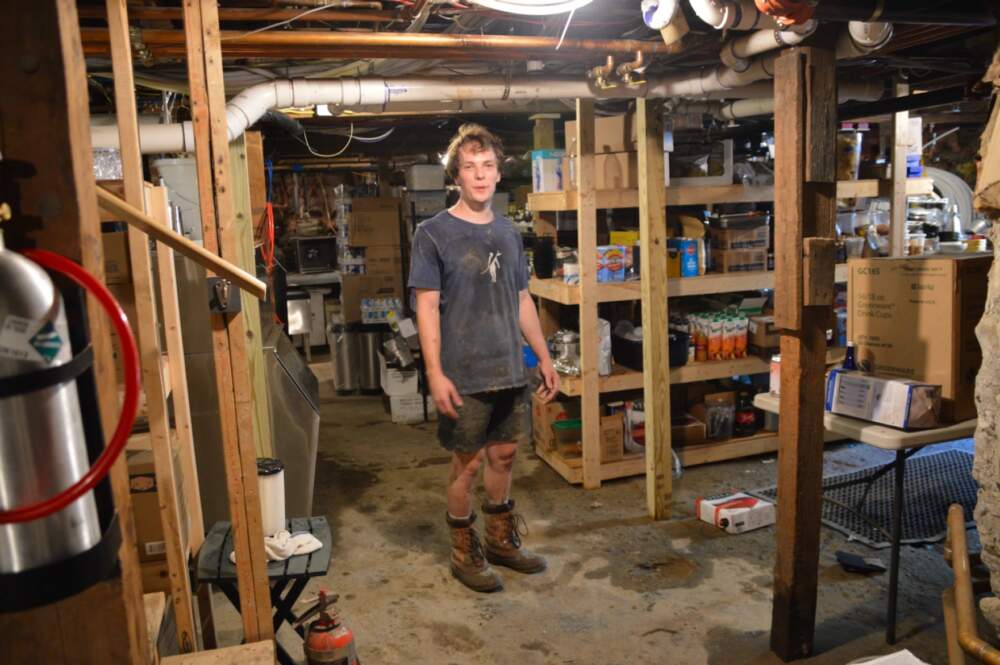 He steps down a darkened stairway to show the water damage in the motel's basement.
Water still puddles on part of the floor, and there's a pile of silt in the corner. A dank smell fills the room. "Oh my God, yes," agrees Jones. "And this pump has been going for 24 hours."
Thankfully, he says, the bar storage area fared better, and most items were on higher shelves.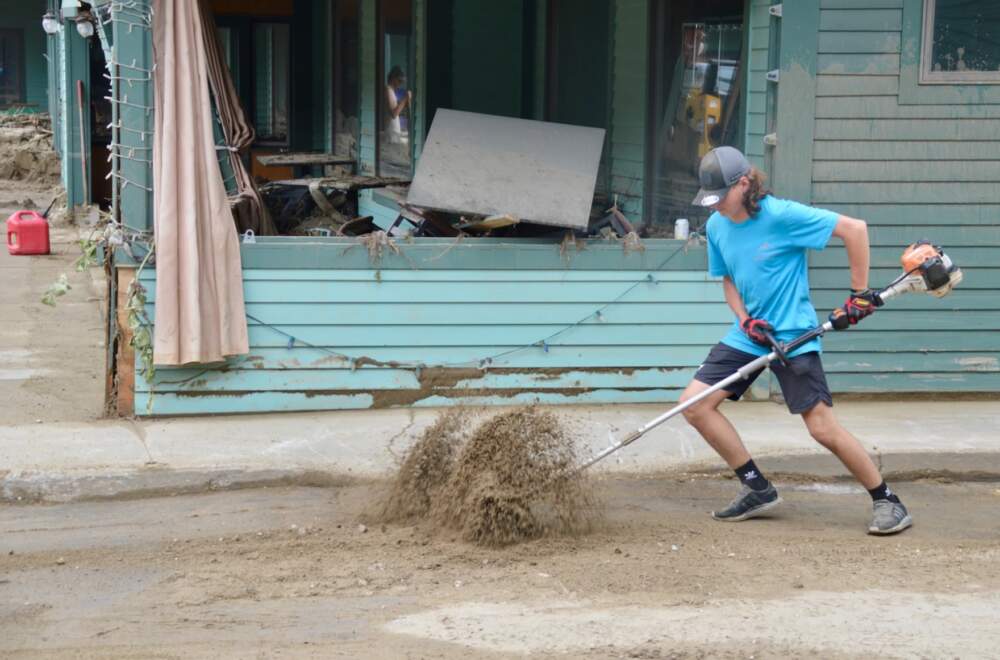 Jones walks across the street to the Homestyle Hostel to lend a hand there. Abby Childs, her husband Danny, and another friend are shoveling silt out of a back room.
The floor is slippery and there's mud everywhere. Abby Childs points to a water line on the wall. It's almost up to her armpit.
Danny Childs walks out of the room, arms straining, with a plastic bucket filled with muck. "We've filled fifty of these today, just in this room," he says.
The Homestyle Hostel sits right up against the Black River, which today is a muddy brown. The building's driveway is filled with mud piles and discarded furniture and appliances. A red KitchenAid mixer looks sadly out of place covered with mud on the steps.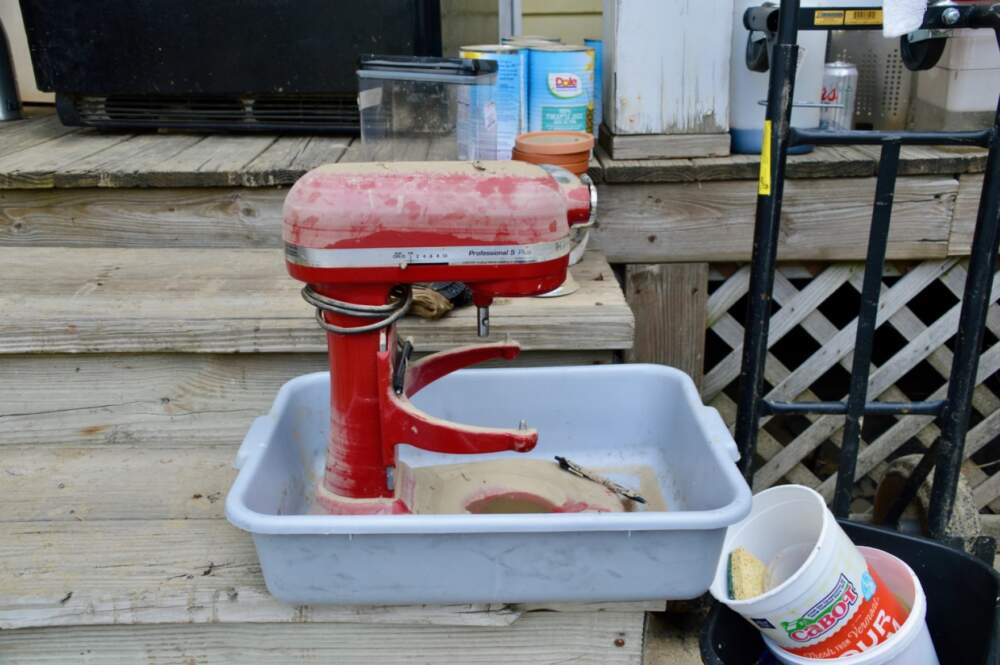 Abby Childs moved to Ludlow in 2017. Her home wasn't impacted by the flooding, she says, but so many others in town have been.
"My best friends own these businesses," she says, pointing to the hostel and the motel and bar across the street. "They're my Ludlow family, and I couldn't imagine spending a day any different."
Childs is a graphic designer and owns her own business. "I sat down yesterday trying to work and said, not a chance," she says. "I had to come over here, 'cause the destruction is unfathomable."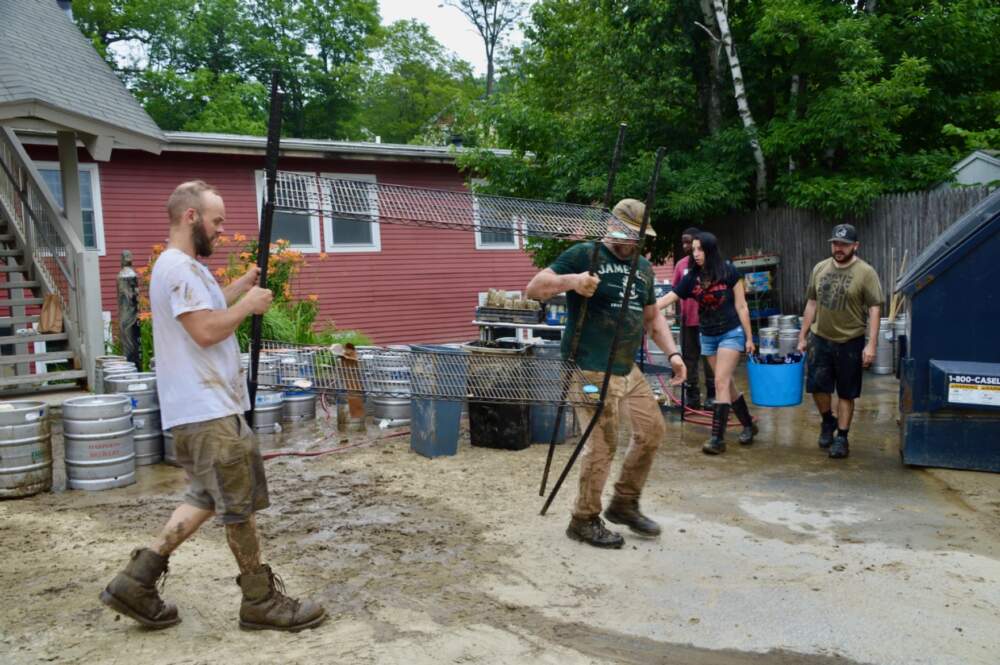 Alex Del Tufo and her father David own the Eight Oh Brew, a bar just down the street that the family opened last year. "We've had water levels close to the ceiling and so we're in pretty rough shape," Alex says. "But people just keep showing up," she says, pointing to a nearly a dozen volunteers who are carrying kegs of beer and metal shelving into the parking lot and hosing down glassware. "These are mostly just our patrons who have offered to help," she says, smiling. "Amazing."
Down the street, Craig Goodman stands in a white apron greeting people in the parking lot of his pizzeria.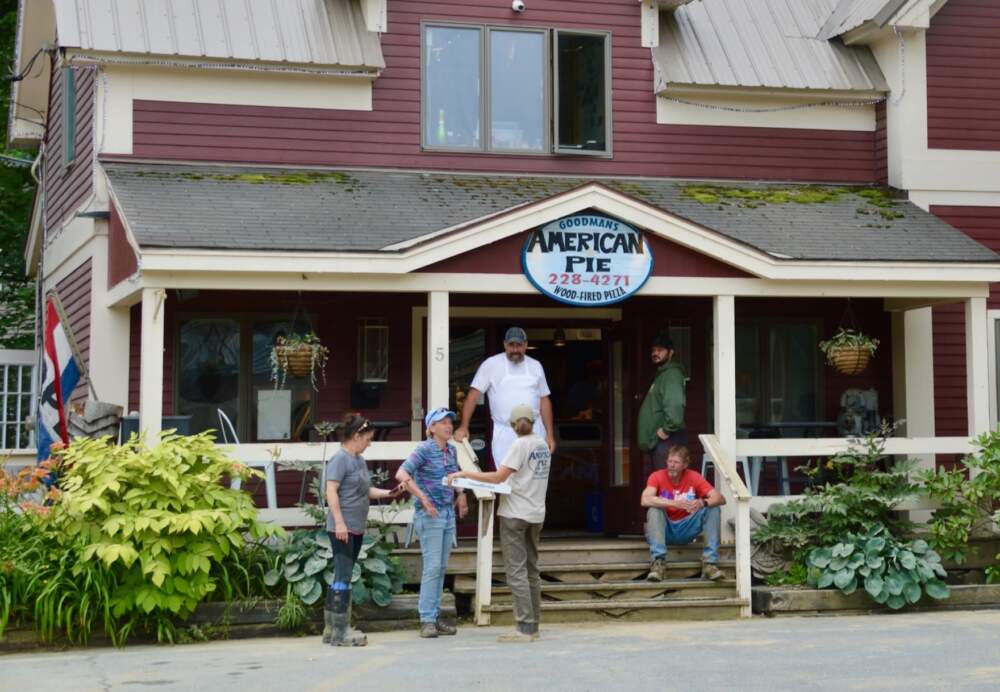 Goodman, who lives in Proctorsville, says the flooding missed his home and restaurant — this time. "When Irene hit, our restaurant was in a different location, and we lost the whole place, so the struggle for us — it was tough — it was tough," he says, getting teary.
Because he was able to open, Goodman wanted to give back with free pizza on Wednesday for anyone helping with the cleanup. By noon, he has a steady stream of tired and muddy patrons.
"Thank you for doing this," calls out one woman as she leaves the restaurant with a bottle of water.
"Yeah, thanks, Craig," calls out another.
In a sea of mud and debris, Goodman's American Pie offers a brief oasis where people can share stories, compare damage and reassure each other that things would get better.
"Everybody's helping one another," says Susan Mordecai as she walks down the pizzeria's steps.
She and Plymouth neighbor Mitch Rae are taking a lunch break together.
"Arms are out there, open wide, holding everyone," Mordecai says. "That's what it is, that's what we do — Brave Little State."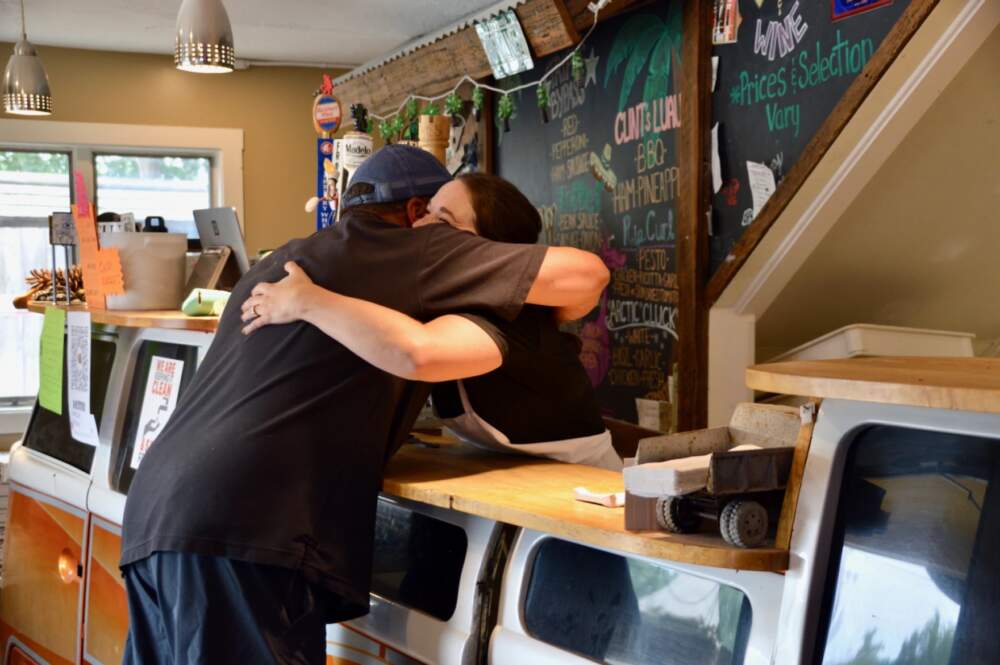 Rae nods in agreement. "We're accustomed to not having access to a lot of the luxuries of big cities and towns, so we like to fall on neighborly love."
"This sounds odd," Mordecai goes on, "but a few weeks ago, I, like a lot of people, were a bit heartbroken thinking. what are we doing? Where are we going as a world, as a community? Are we taking care of one another? It seemed like at that time we weren't. But when this came about I'm like, no, we are taking care of one another. So there's always a silver lining."
Inside the restaurant, Goodman had a bucket for donations and had set up a Venmo account for people to donate to the community. He says within twelve hours, it had $10,000.
---
This story is a production of the New England News Collaborative. It was originally published by Vermont Public. 
This segment aired on July 14, 2023.