The Huntington announces new executive director
On Thursday, the Huntington Theatre announced Christopher Mannelli will be joining as its new executive director, becoming only the second top administrative leader in the company's 41-year history. A lover of musical theater and a musician and actor himself, he's served as the executive director and co-CEO of Geva Theatre Center in Rochester, New York since 2016. He led them through the completion of their $10 million capital campaign as well as the renovation and modernization of Geva's 150-year-old historic theater complex. He joins the Huntington at a crucial time as it looks at the next phase of renovation and expansion, which, once completed, will provide 14,000 square feet of cultural space for performance and public events.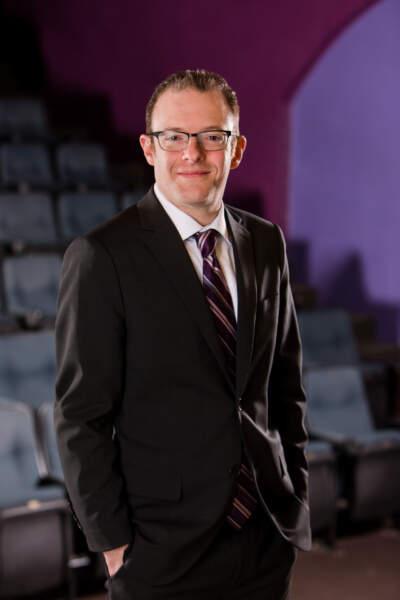 He said at Geva much of the plans were already laid out and he was there to execute them. "At the Huntington, I'm going to be closer to the, 'What space are we dreaming?' I'm really excited to think about how we're dreaming of a public space," Mannelli said during an interview. "That's not just for the audience that we have now, but for the audience that we're envisioning for the future."
Mannelli admits he wasn't looking for a change when the job crossed his path last winter. "I've known the reputation of the organization, " he said. "As I started to really see what the organization was engaged in now, looked more deeply into the values of the organization, and the vision that [artistic director Loretta Greco] has for the future, I got really excited and I said, 'Okay, I'm gonna, I'm gonna have a conversation with these folks and see where it goes.'"
Mannelli's appointment followed a six-month, national search led by a 14-person committee consisting of Huntington board members and staff. The Huntington's longtime executive director Michael Maso, whose tenure wrapped up on June 30, reached out to congratulate him and offer any guidance and direction in the transition.
While he's excited to get to work, Mannelli's initial plan is to take a step back and listen first.
"The most important thing is I've got to go there and I've got to listen to everybody," Mannelli said. "I've got to listen, not just to the staff, not just the board, but to the community and get to know the community and realize how the organization can connect deeply and authentically."
Before working in Rochester, Mannelli held leadership positions across the country, serving as deputy director of the Tony Award-winning Chicago Shakespeare Theater, managing director of Chicago's renowned Victory Gardens Theater, and managing director of the now-closed HotCity Theatre in St. Louis.
"With his deep commitment to building an equitable organizational culture, I am certain he will inspire our wonderful staff and board, while also engaging and strengthening our impact through the work on our stages, in classrooms, and throughout our community," said Artistic Director Loretta Greco in a press release.
Greco joined the Huntington last summer. She just completed the 2022/23 season by programming a successful production of "The Lehman Trilogy" — making the Huntington the first American theater company to do so. The upcoming 2023/24 season marks her first full season of artistic programming. Mannelli said there was an immediate connection between the two of them.
"We get each other because she's also a producer," he said. "She's an amazing artist, but she's also a producer. And while I'm a producer and I do all the administrative side, I'm also an artist. So there's great overlap."
Mannelli has an undergraduate degree in vocal performance and studied opera for many years. He's also a musician and plays a number of instruments.
Mannelli plans to wrap up his work in Rochester over the next few months. He will come to Boston to work fulltime on Nov. 6. When asked about his vision for the theater, he said he's learning from conversations he had with staff during the interview process on issues of work-life balance and the diversity, equity and inclusion work being done at the Huntington, which he said has also been an important evolution at his current theater.
He emphasized looking at the artistic vision, programming and how they plan to connect with new audiences and the community.
"I think it's really important not to lose the energy that we had," he said. "To have the work inform the conversation, to keep that conversation alive is critical…that the DEI lens is actually the lens that we're viewing everything for and creating the muscle for everyone in the organization so that it's not an extra lift, it's just what we do. It's just how we make decisions, how we think about things because it translates to every area of the organization."