Ocean warming is 'off the charts' this summer. But not in the Gulf of Maine. Why?
This summer, the world's oceans have seen record-breaking warming. The global ocean is now — on average — hotter than ever before in recorded history.
But the Gulf of Maine, which stretches from Cape Cod to Nova Scotia, is bucking the global trend. For decades, the Gulf has been warming three and a half times faster than the global average. It's still warming, but this summer it's not reaching the off-the-charts numbers seen in the rest of the North Atlantic.
WBUR's Barbara Moran spoke with Dave Reidmiller,  Director of the Climate Center at the Gulf of Maine Research Institute, to find out why.
The following conversation has been edited and condensed for clarity.
So, big picture, what's going on with ocean temperatures this summer? And with the North Atlantic Ocean, in particular?
Reidmiller: The entire North Atlantic, from the equator to north of Labrador, is off-the-charts warm. There are a variety of reasons we're still investigating, but a lot of it has to do with the El Niño that we're starting to experience. [El Niño is a climate pattern in the Pacific Ocean that moves warm water eastward, and can affect global weather.] But also there's the broader meteorological pattern that has enabled that warmth to stay in place.
We anticipate those El Niño conditions to reach their maximum towards the end of this calendar year, so the scary piece is that we're not out of the woods yet in terms of anomalous warming.
And what's happening in the Gulf of Maine?
We're still experiencing above-average warmth, but it's not the record breaking numbers that you're seeing in the broader North Atlantic.
So June, from a preliminary analysis, is coming in as the ninth warmest June [in the Gulf of Maine] on record, and July is coming in at the fourth warmest on record. Again, warmer than the long-term average, but certainly not the record-breakers that we're seeing in the broader North Atlantic.
Any idea why?
It was unusually rainy, gray and overcast for much of June and July. This is highly unusual in New England this time of year. And this broader meteorological pattern has basically kept cooler, wetter conditions here.
So it's really a meteorological issue that's driving this, not really a climate pattern.
How much has the Gulf of Maine been warming in recent years?
Since the early 1980s, we've seen an increase of about four degrees Fahrenheit in the Gulf of Maine. So almost one degree Fahrenheit per decade.
The global ocean has risen by about 1.5 degrees Fahrenheit during that time. So the rate of warming in the Gulf of Maine is about three and a half times faster than the global average.
Is that a significant temperature increase?
The Gulf of Maine is an ecosystem. And sort of like the human body, it's optimized to operate in a very narrow range of body temperature. And so if you or I run a temperature of  three or four degrees above normal, we start to feel kind of crummy. If you get five or six degrees above normal, you're probably in the hospital because systems are starting to shut down or organs are starting to act funny. And, that's frankly the stuff we're starting to see in the Gulf of Maine.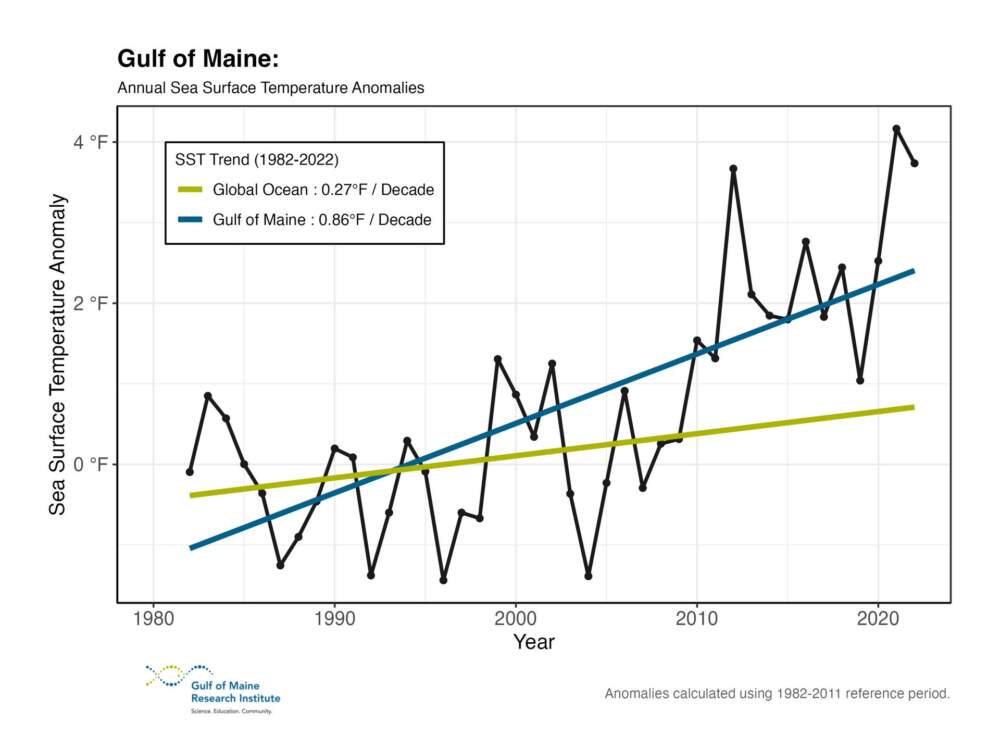 Can you give me some examples of heat-related changes you're seeing in the Gulf of Maine?
One of the biggest things you see is species shifts — the introduction of new species into this region, like long fin squid or black sea bass. In one sense that could open up new economic opportunities for a commercially harvestable species, but they also did not historically interact with the species that were already here. And so we're still trying to understand what those new ecosystem impacts are.
Also, when you heat up water, it expands. And so the accelerating warmth in the Gulf of Maine is also driving accelerated rates of sea level rise in this region.
What is driving temperatures up in Gulf of Maine?
There are basically two major ocean currents that influence the Gulf of Maine. One is the Labrador current that comes down from the Arctic. That tends to bring colder water from the Arctic, but of course the Arctic is warming exceedingly quickly.
On top of that, we also are influenced by the Gulf Stream, this massive ocean current that transports a ton of heat energy from low latitudes into the mid-latitudes.
And what we're seeing with the Gulf Stream is that instead of historically being kind of on the "jet" setting of a garden hose, it's widening out — like you've almost turned it to the "shower" setting.
That means warmer water from the Gulf Stream, which is heating up because of climate change, is spilling over more into the Gulf of Maine than it has been historically.
So to sum it up, you can think of the Gulf of Maine as a bathtub, right? And you have the cold faucet from the Labrador current, which is warming up. And you have the warm knob from the Gulf Stream, which is not only getting warmer, but you're also kind of turning that up. These combined forces that are driving warming in the Gulf of Maine.
Just completely randomly off topic, I used to do the Peaks to Portland swim every year in Casco Bay, Maine, and you can totally feel the water getting warmer over time. 
When I first moved here, I remember looking at some old historical photos from the 1890s and the whole of Casco Bay would freeze over between Portland and Peaks Island. There was a photo of someone literally moving a house from Portland out to Peaks Island, with horses on the ice. Just think about that. You know, we rarely even get ice in the harbor, much less a thick enough sheet to cover Peaks Island to Portland.
So what do you, as a climate expert and an ocean expert, make of all this? 
There are still things we don't know about how the earth system behaves and responds.
You're gonna continue to have this inter-annual variability. But we're seeing over time that this is an undeniable warming trend upward. And I think it's really important for scientists and businesses to come together and understand how this is changing, so we can reduce the volatility in the future.