City Council knew about Boston swimming pool closures long before summer
Resume
Months before this summer's record heat descended, Boston city councilors knew they had a problem on their hands.
The city planned to close a number of public swimming pools — many of which sit on Boston Public School building grounds — for renovations and repairs, depriving families of a prime escape from the area's hazy, hot and humid months.
"I just want to make sure we're working together and we're going to see that this summer is not leaving any communities out," Councilor Erin Murphy said during a March public hearing about the planned pool closures.
In the end, 10 of the city's 18 public pools have been closed all summer — and Dorchester and Mattapan have been hardest hit. Boston has closed all six city-owned pools in those two neighborhoods. That has residents and community activists questioning the city's logic in tackling these projects all at once.
"That doesn't make sense to me. Why close them all?" asked 84-year-old Mary Hamilton on a recent sunny afternoon in Roxbury. "Leave some open, fix those, and then do the others."
Some of the pools also were closed last summer, due to maintenance work and lifeguard shortages. And there will be additional closures next summer, according to plans discussed in the March council hearing.
Murphy grew up in Dorchester and said she learned to swim at the Murphy Community Center there, which was named for her grandfather and is closed this summer. In an interview with WBUR, she said she supports fixing and renovating the city's pools. But she said some of the work has been delayed because of disputes over who is responsible to pay for the repairs.
There's been a history of finger-pointing between the Boston Centers for Youth and Families, which operates the pools, and Boston Public Schools, which owns the buildings, Murphy said.
"This money is city money, tax dollars," she said. Families showing up to closed pools "don't want to know that it's one department squabbling with another. They just want it fixed."
In a statement, the Wu administration blamed the closures on years of neglect at these facilities, many of which were built in the 1970s. For instance, at the closed BCYF Perkins in Dorchester the city said the pool was losing water, many showers weren't working and a drain was slow.
The repairs and upgrades are being done "with a sense of urgency," to make the facilities better and more accessible for the future, a Wu spokesperson said in a statement.
Some of the closures are also due to overhauls being done to make buildings more energy efficient under the city's Renew Boston Trust program, according to the City Council hearing in March. Residents cannot access the pools when the school buildings that house them are being worked on.
Wu has also set aside $34.3 million in the capital budget for repairing and renovating the city's pools.
But critics are pushing back, arguing that multiple pools should not all be closed at once.
"It does have ramifications," said Lacee Satcher, an assistant professor of Sociology and Environmental Studies at Boston College. She said pools are essential places to cool off, especially for families without air conditioning and with children out of school and in need of activities.
Satcher suggested that by closing the pools, the same low-income and minority communities most affected by heat have even fewer ways to escape it.
"The idea that these pools are being renovated and repaired and renewed is a great thing, but you have to wonder, why all at the same time, in one of the hottest summers Boston has seen," she said.
"I think it's awful," said Rev. Vernon K. Walker, program director at Communities Responding to Extreme Weather, a Cambridge-based nonprofit.
Walker said accessible public pools are even more important in dense neighborhoods with few trees and lots of exposed concrete.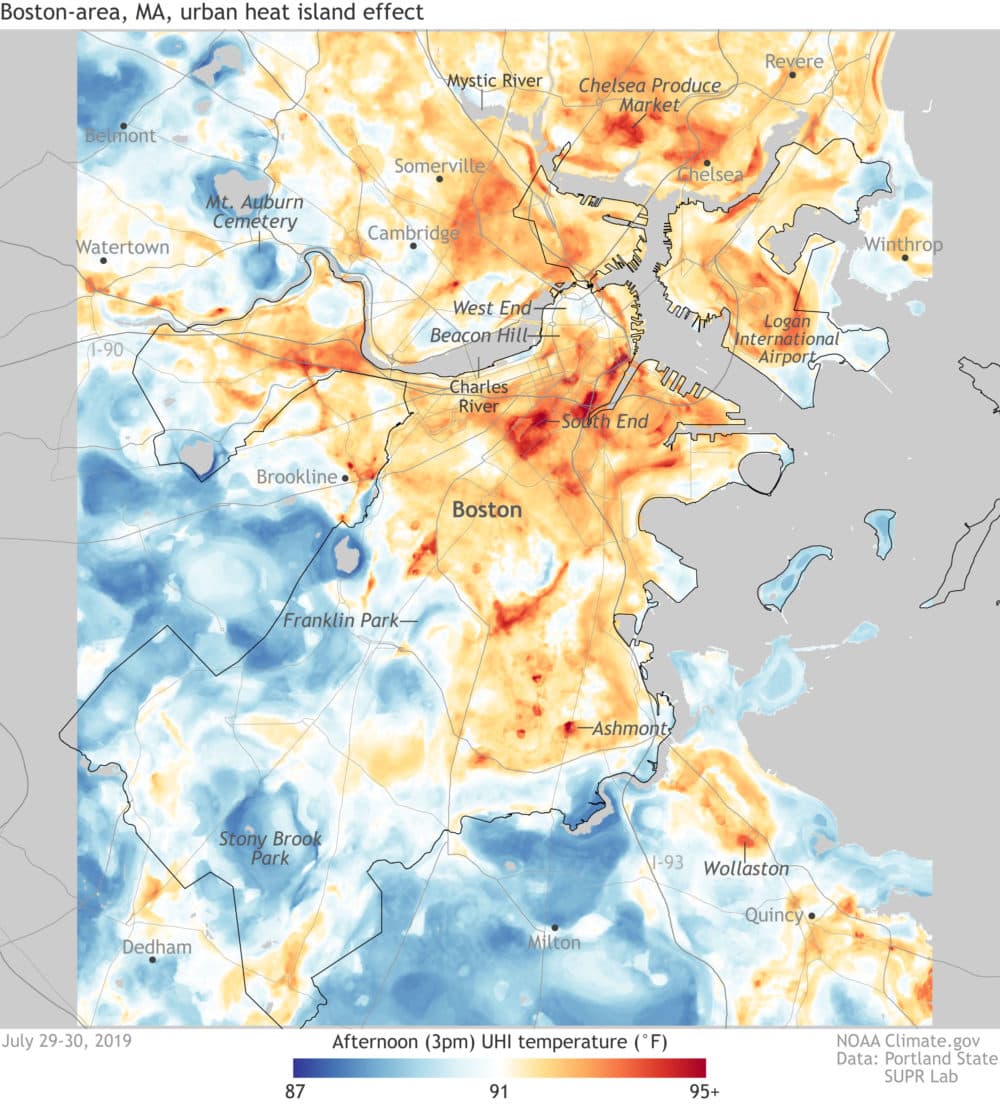 "If the temperature is 90 degrees on a given day, it could feel anywhere between 115 to 120 in places that suffer from the urban heat island effect, such as Dorchester and Mattapan," he said.
These neighborhoods are so-called heat islands, where temperatures on the expanses of blacktop and concrete soar above the air temperature. The EPA has said that heat islands are often an equity issue related to decades of public policy that allowed for redlining, concentrating industrial zones in low-income communities, and failing to protect green space.
City officials said they plan to re-open four of the shuttered pools by the fall.
Correction: This story was updated to include that one of the Dorchester pools closed this summer is named after Councilor Erin Murphy's grandfather.
This article was originally published on August 11, 2023.
This segment aired on August 11, 2023.