Narcan kits coming to MBTA Red Line stops
In Massachusetts, a push to expand access to naloxone, often purchased as the nasal spray Narcan, will include distribution boxes at 20 MBTA stations. A state budget signed earlier this month includes $95,000 for the initiative, which will cover every station on the Red Line.
The boxes will be available in three spots at each station:  the public bathroom, the in-bound platform and the out-bound platform.
The boxes are supposed to be checked daily, although it's not yet clear by whom. MBTA spokesman Joe Pesaturo said in an email that T staff hope to develop a plan in the coming months.
"In the meantime, Transit Police carry Narcan and they are trained in the proper use of it," he said.
Supporters of the project say it's important to make naloxone immediately available at stations to reverse the effects of an overdose. Research shows irreversible brain damage can happen in the first three to five minutes of an overdose.
Public bathrooms, such as those available at some transit stops, are sometimes overdose hotspots. In Cambridge, a small group of Harvard students noticed that about 10% of ambulance calls for overdoses were occurring at or near T stations. Finding a way to offer naloxone there "was a no brainer for us," said Jay Garg, policy chair with Harvard College Overdose Prevention and Education Students. The group began advocating for the MBTA to place naloxone boxes inside Red Line stations.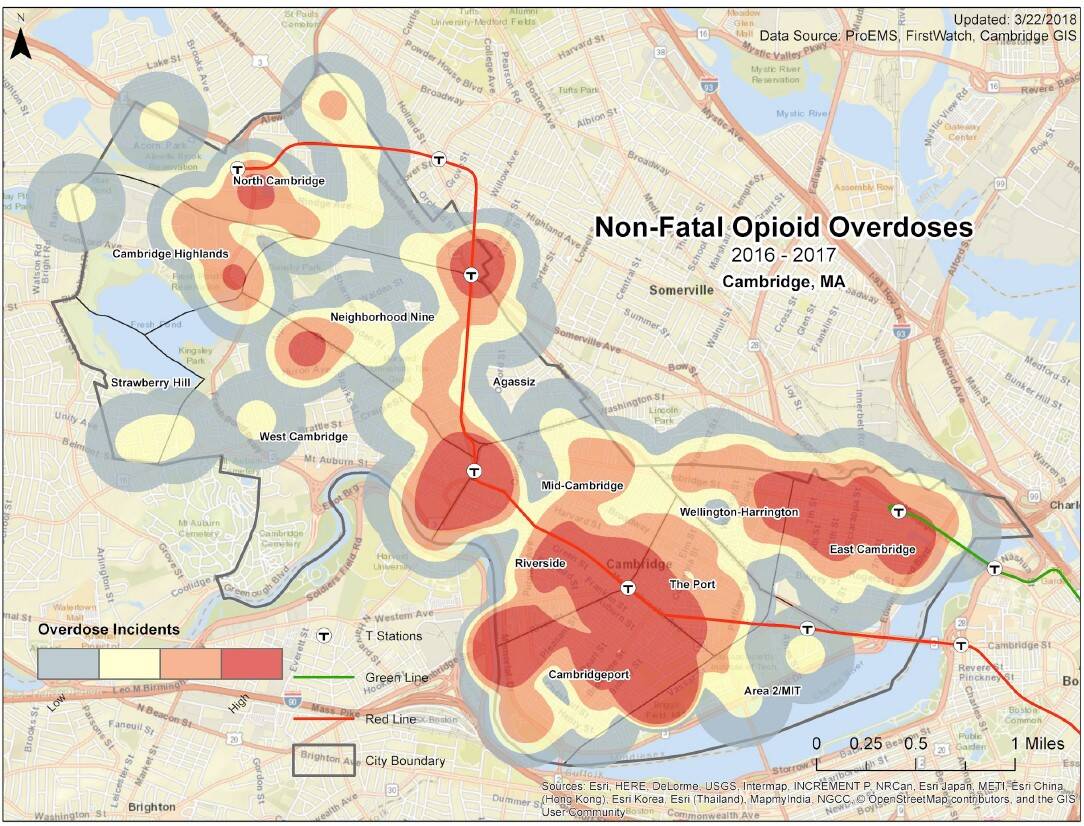 "Narcan should be in those places," Garg said. "It's pretty cheap. It saves lives, and it doesn't have serious side effects even when you use it on someone who is not having an overdose."
Widespread distribution of naloxone is one way Massachusetts and other states are responding to the drug overdose crisis. The powerful opioid fentanyl is blamed for a record number of opioid overdose deaths in Massachusetts last year.
"With the potency of fentanyl being used these days, time is absolutely of the essence to reverse an overdose," said Dr. Scott Weiner, an emergency physician at Brigham and Women's Hospital. "So putting boxes in places where they occur can empower bystanders to save a person's life."
Instructions on how to use naloxone will be attached to each box. Weiner, who helped the students develop the project, co-authored a paper with Garg that proposes a model for providing naloxone in bus and train stations. Weiner says this overdose antidote could become as ubiquitous as defibrillators. Some advocates have added naloxone to defibrillator kits, such as at the Boston Veterans Administration.
State Sen. John Keenan, a Quincy Democrat and one of the lawmakers who proposed funding the naloxone boxes, says he'd consider expanding the project.
"If successful, this program can serve as a model that will help save lives beyond the Red Line," Keenan said in an email.