State places homeless families in unstaffed sites, raising safety concerns
Resume
More than 10% of the households in Massachusetts' family shelter system are now in hotels and motels without the usual support staff and services. As of Sunday, 638 families were in these unstaffed units, raising concerns among advocacy groups about health and safety for those families.
The unstaffed units, which are meant to be temporary, are part of an effort to respond to increasing family homelessness. While the state does work to provide food or cooking facilities, many families in unstaffed units do not have access to translation, transportation and case management, among other services.
Adam Hoole, a senior paralegal at Greater Boston Legal Services, said he gets calls several times a week about problems at unstaffed shelter units.
"I had an organization call me about two weeks ago, and at that time, they were telling me about 10 families that had no access to food," he said.
Advocates later learned that food was available, but the families were unaware due to language barriers.
"The families just didn't have anyone to talk to, to know where to go," Hoole said.
Some community groups and religious organizations have stepped up to offer services. However, a number of shelter providers and advocates have flagged safety concerns about the strategy, which has been in place since July.
"We're all worried about congregate settings where we don't have staff and we don't know what's going on — we don't know who has access to those sites or doesn't," said Danielle Ferrier, CEO of Heading Home, which contracts with the state to provide roughly 350 family shelter units in the Boston and Lawrence areas.
Ferrier said staff at the shelters overseen by her organization are trained to monitor who is coming and going, and identify any suspicious activity. It's important, she said, because shelter residents are particularly vulnerable to exploitation and scams.
State officials recently turned to unstaffed shelter units — which they call "temporary hotel placements" — because a housing crunch, combined with an increase in newly-arrived immigrants, have outstripped the capacity of shelter providers. The state is required to provide shelter to all eligible families under a unique Massachusetts law.
"Temporary hotel placements are made to ensure that families can sleep with a roof over their heads," said Kevin Connor, a spokesman for the Executive Office of Housing and Livable Communities, in a written statement. "Conversations are ongoing to identify new strategies to transition families into permanent housing or long-term shelter support services."
While placing families in unstaffed sheltered units is not unprecedented, homeless advocates said this strategy has not been used in many years, and has never been used at this scale.
"We're all worried about congregate settings where we don't have staff and we don't know what's going on."

Danielle Ferrier, CEO of Heading Home
Kelly Turley, associate director of the Massachusetts Coalition for the Homeless, called the approach a "last resort."
Earlier this month, Gov. Maura Healey announced a state of emergency, saying the family shelter caseload is growing "exponentially" and it is "unsustainable." Also this month, lawmakers allocated $324 million toward the family shelter system in the fiscal year 2024 budget, a 48% increase over the previous year's budget. There are currently 5,861 families in state-funded shelters, a more than 80% increase over this time last year.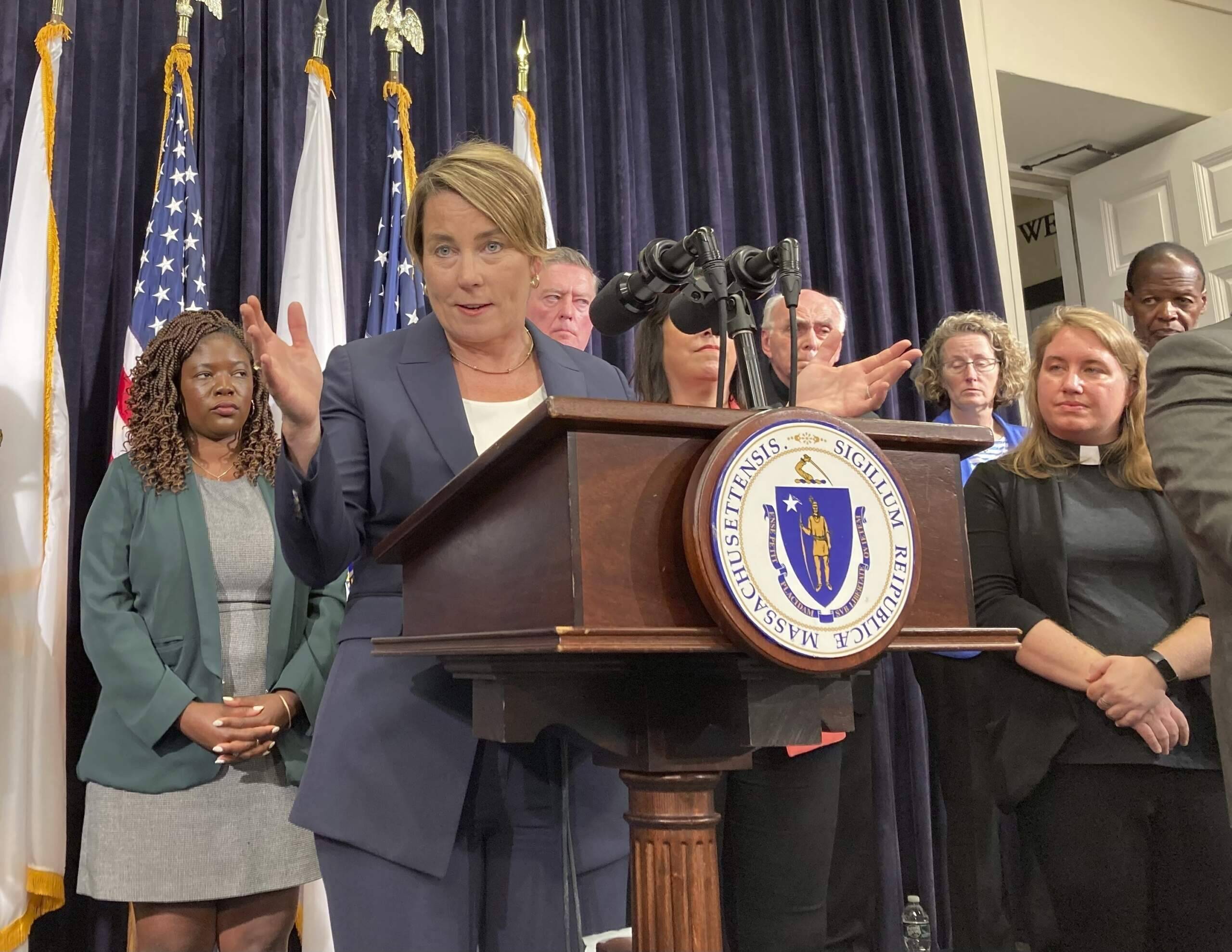 Shelter providers have struggled to hire enough staff to expand more quickly, Hoole said. "It's a really low pay, low benefit job that is also a very difficult job," he said. "I think really the state has to be thinking about incentives to get people to want to do this work."
Some advocates and service providers, including Ferrier, argue the state should activate the Massachusetts Emergency Management Agency, or MEMA, as it did during the pandemic. Ferrier called the current situation "chaotic."
"There's a lot of folks that want to be helpful," she said, "and we just need someone who is organizing us so that we aren't duplicating or dropping [things]."
This segment aired on August 21, 2023.