Local hardcore band Actor Observer's new music video is an angry love letter to Boston
In late May, the five-piece hardcore band Actor Observer was one of 12 acts with New England ties that played a stage dedicated to them at Boston Calling. That's where frontman Greg Marquis urgently paced back and forth while introducing their visceral song "Fool's Gold" with an impassioned plea.
"Every year it gets harder and harder to stay," he said of the struggles so many Boston artists face. "We've lost music venues, rehearsal spaces, friends, homes, to rising costs of living and lack of community support. And while it's amazing that all of you are here right now, please remember there are countless local venues and local businesses where you can see some of the most underrated, amazing talent around for the same price as that beer that you're drinking right now. Don't let this weekend be the only time you show up for your local music scene."
Then the vocalist unleashed Actor Observer's dirge-like diatribe that begins with the lyrics: "All my friends are overworked and underpaid/ Resigned to think that it will always be this way/ The storefronts change/ but our problems stay the same."
Now that performance footage weaves through their raw and relevant music video that dropped on Tuesday, Aug. 29. "We planned to film it because it was such a special occasion," Marquis said of their major festival debut, "we were like, this is the biggest show we've ever played — and it's in our hometown."
For Marquis, this Boston-steeped project is a cathartic art piece, "about how it's been such a challenge to stay in this city, to stay active as musicians in this city, and the question lingers over your head of should quit or should I move?"
The video's visuals and words channel the band members' ongoing frustrations with issues including artist displacement, gentrification and rampant development. In it, Marquis sings, "We have been let down/ By a place that never promised us a thing/ For our wasted loyalty/ To a city of thieves."
"This is our love letter to our city," Marquis said of the tune, which came out in November of 2022 on the album "Songs For The Newly Reclusive." The band's relationship to the city is rather toxic, he joked, then added "Fool's Gold" shares a similar sentiment and spirit as LCD Soundsystem's song about their hometown. "It's like our, 'New York, I Love You But You're Bringing Me Down,' but for Boston. That's what this song and video are for us."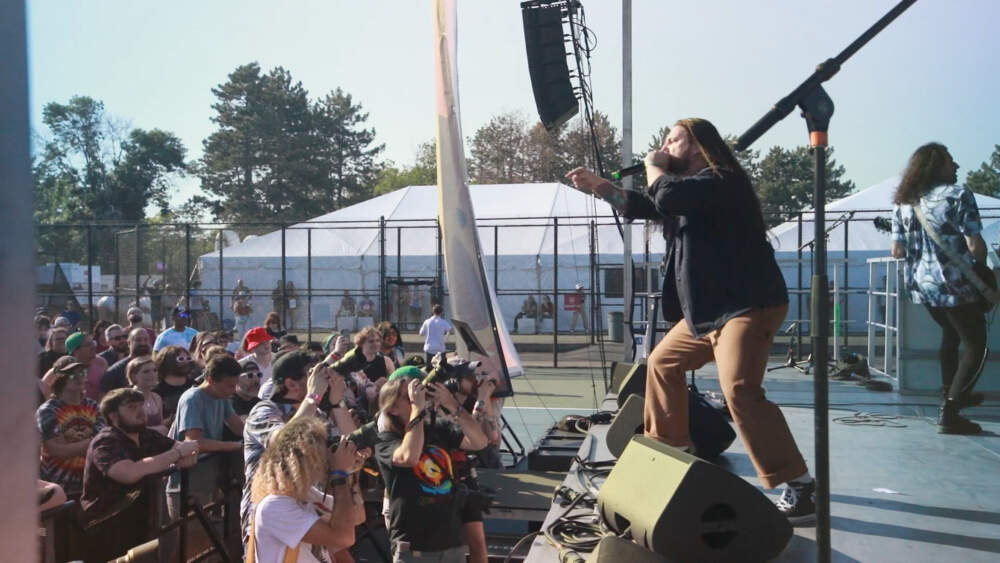 The video takes viewers on a mini-tour of musically meaningful local haunts. There are Easter egg-like glimpses of familiar venues — some still in business, others defunct — including the legendary club Great Scott and the Sound Museum rehearsal space complex.
Marquis said his partner, Michelle Mee, suggested they take the Boston Calling performance footage and project it onto the Sound Museum's exterior, along with a few other spots around Boston. The tense intermingling of Boston's past and present creates a striking visual and emotional juxtaposition.
It was also Mee's idea to revive one of Marquis' previous video concepts that would feature song lyrics spelled out on venue marquees. To make that happen, he made some phone calls. "I thought people would be like, 'That's not going to work. We can't put your lyrics up there.'"
Well, Marquis was wrong. Now the video features a sequence with "Take it back," a line from the song's chorus, spelled out in capital letters on The Sinclair's light-bathed black marquee. The words "Your captive audience awaits" and "But no one stays" also sit atop Brighton Music Hall's entrance. "This is fool's gold" is above the Paradise Rock Club. "I love that line," Marquis said. The Crystal Ballroom, Rockwell and Roadrunner make cameos, too. The video's primary videographer and director is Ben Eames. Marquis and Mee co-directed the production.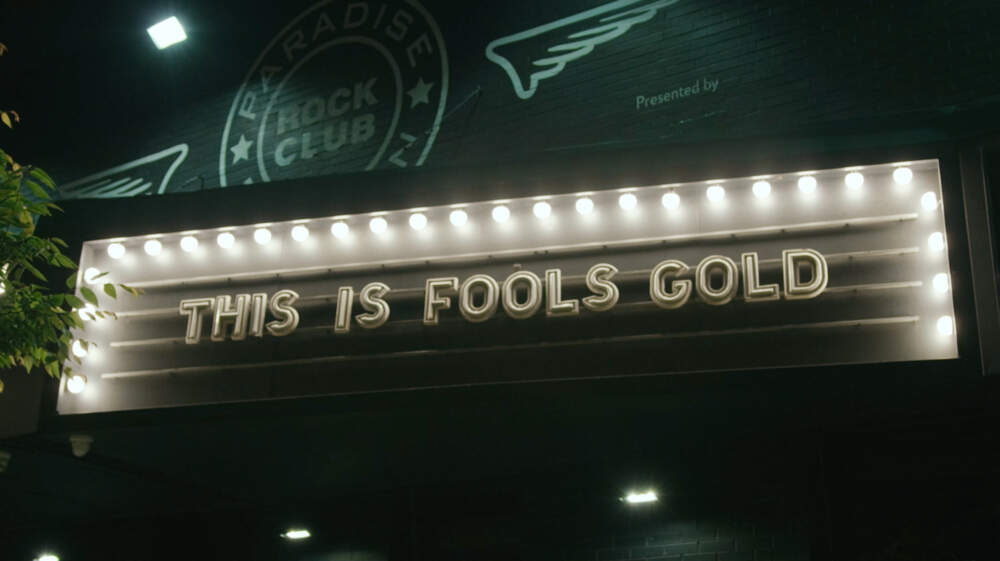 Like a lot of local musicians, Marquis and the band's guitarist Nick Grieco, are employed by Bowery Boston/AEG, which own venues including the Sinclair and Roadrunner. (Marquis is a lighting director and stagehand, Grieco runs Emo Night at the Sinclair.) "We have worked for, and with, so many local venues and music industry folks around here," Marquis explained, "so we also care about the advocacy for the music industry worker — especially after seeing what happened to our entire peer group over COVID."
Actor Observer has been proactive in the fight to ensure dozens of musicians who lost their practice spaces at the Sound Museum would be guaranteed a new home to make their art. "There's been some good efforts, and I've definitely heard over the past five years more people talking about the issues," Marquis said. "But the question is always is it too little, too late?"
Grieco, who is 34 years old, said making ends meet as a musician has been a never-ending hustle. He moved here in 2006 to attend Berklee College of Music. Marquis, 32, left Connecticut in 2009 because he wanted to be part of Boston's music scene. Every year they wonder why they've tried to build a life in a city where rent eats up approximately 50% of their monthly income. The video plumbs that question's essence and tension, too.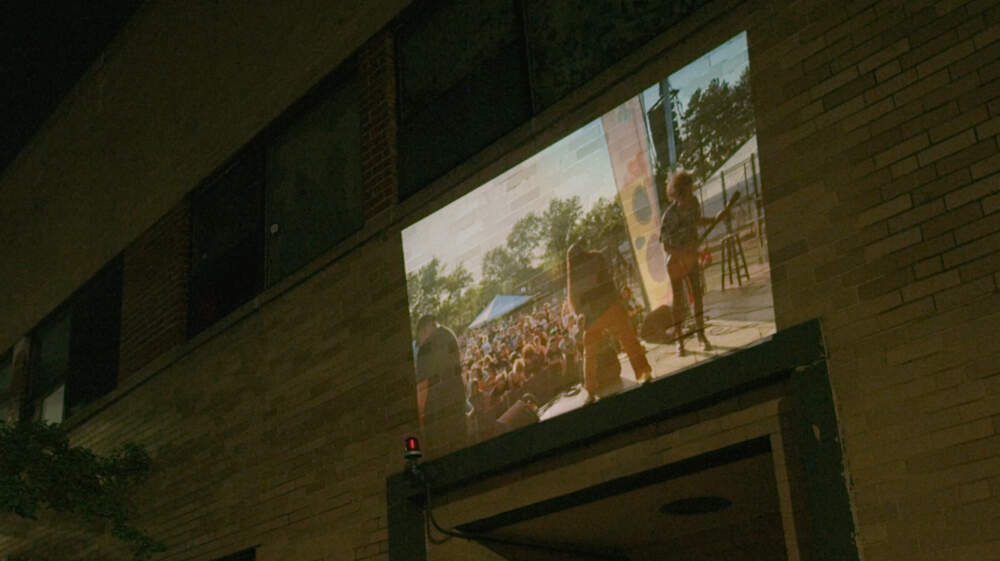 "It's that feeling of like, maybe I'm complaining about something that's just entirely my fault — like, I could have left," Marquis said. "But we do love it here. I mean, we're New Englanders, born and raised, so we do have a hometown mentality living in this area."
Actor Observer's video also embeds the Boston Calling footage inside their actual homes, including in their bedrooms. Grieco has rented an apartment in an Allston two-family for 8 years. He and his bandmates feel lucky because their recording studio and rehearsal spaces are in the basement. "Rent increases every year," Grieco added, "but the house enables us to stay." He wanted to buy it when it went on the market a few years ago, "but I didn't have a million dollars," he said with a laugh.
Watching friend after friend leave, Boston has been heartbreaking, and you can see and hear that lament in the video. "We wanted to highlight the truly emotional experience of it," Marquis said, "which is years and years of regret, doubt, friendships and relationships coming and going, people not knowing where they're going to live, or just being caught up in living paycheck to paycheck."
That witch's brew of feelings fuels the driving, melodic sections in "Fool's Gold" that vacillate between Marquis' rage-filled howls.
"We are an angry, aggressive band," Marquis acknowledged with a smile. "And we're very prepared to not get radio play for that reason. But, that's why it's an appropriate medium for us to talk about something like this that affects us and our community and city we care about, 'cause it is something worth screaming over."
---
Actor Observer kicks off a multi-city tour that includes a stop in Lowell on Saturday, Sept. 2, and wraps up in Hartford, Connecticut on Sept. 10.