Mass. expects to get high winds, waves and rain from Hurricane Lee
Resume
Hurricane Lee is spinning approximately 840 miles south of Nantucket as of Thursday morning, and remains a large and powerful Category 2 storm.
While its intensity has decreased slightly since Wednesday afternoon, the wind field has become quite expansive: Hurricane force winds extend 105 miles from the center of the storm and tropical storm force winds extend outward about 290 miles. The hurricane itself is approximately 600 miles wide!
In other words, Massachusetts doesn't need to see a direct hit to experience effects.
The impact of the storm is expected to be greatest along the south coast and outer Cape where waves have been building offshore already, and the rip current risk is elevated along the south coast and outer Cape. A tropical storm warning is in effect for the Cape, islands and some of the coastline on the south shore. The rest of New England coastline (except for Connecticut) is under a tropical storm watch and a hurricane watch is in effect from Stonington, Maine to the U.S./Canadian border. In addition, a storm surge watch is in effect for Cape Cod Bay and Nantucket.
Boston will likely be spared the brunt of the storm over the weekend, according to city officials. Predictions show the city could see around 4 inches of rain and wind gusts up to 30 mph, Mayor Michelle Wu said at a press conference Thursday.
This brush with a hurricane comes after days of sporadic, sometimes heavy rainfall in many communities, with Leominster and North Attleborough suffering flooding. It also adds to a series of wet weather events that scientists warn may become more normal with climate change.
Let's break down all the details on Hurricane Lee so you can make and adjust your plans in the days ahead:
Where will Lee make landfall?
As of Thursday morning, the hurricane looked to take a track into far western Nova Scotia or the Bay of Fundy (the body of water in between Nova Scotia and far eastern Maine), with the cone of probability on either side of that. While the center of the cone is important, so too are the edges, because the storm may deviate on either side.
The storm will also change as it moves north, picking up forward speed, weakening and transitioning from a tropical system to a post-tropical one. The biggest difference between the two is that the center of the storm transitions from a "warm core" to a "cold core" system. The designation "post-tropical" is not a downgrade — it merely means that the storm has undergone that transition.
Wind Impacts
The wind will increase out of the north Friday night with peak wind gusts after midnight into Saturday afternoon out of the north-northwest then northwest.
The strongest gusts will be focused over Cape Cod and the islands, where gusts of 55-65 mph are likely, and isolated gusts to 70 mph are possible. Isolated to scattered pockets of wind damage are likely in these areas. Along the remainder of the coast of Massachusetts and Rhode Island, gusts to 45 mph will occur. Inland, wind will not be a concern.
Because the ground is so saturated in many cities and towns from recent rain and leaves are still on tree branches, it will be easier for trees to blow over at lower wind speeds, resulting in pockets of power outages. Behind the storm, the wind will shift to blow out of the northwest.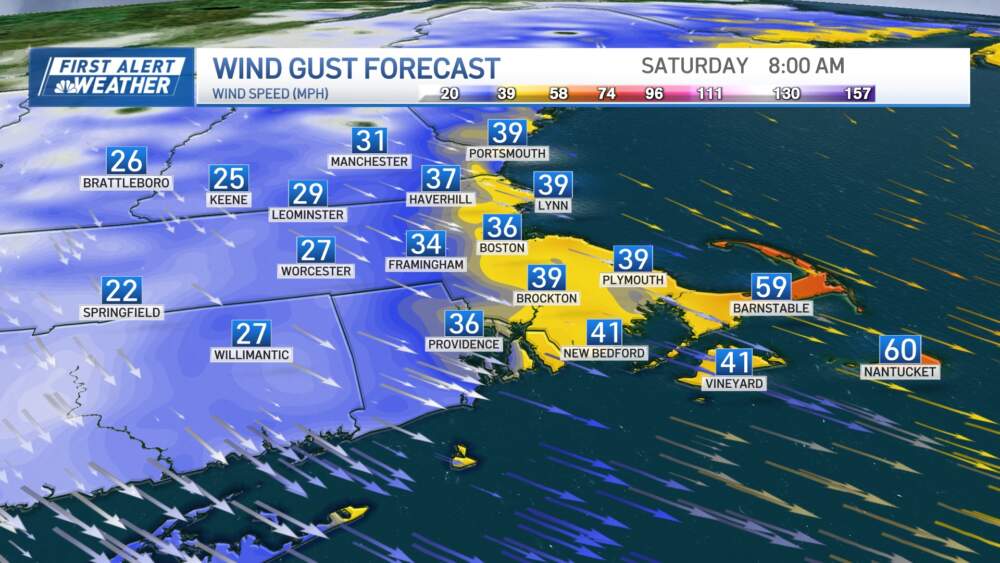 Rain Timeline
Rain should be limited to the coast, with perhaps the western edge of the rain extending as far west as the 495 belt, depending on track. Some of the heavier elements of rain could pivot onto Cape Cod, resulting in some higher rain totals there.
Rain begins overnight Friday, continues into Saturday midday, then tapers off west to east during the afternoon Saturday. One to two inches of rain is possible on the Cape, with locally higher totals possible on the outer Cape.
For Boston, 0.25 inches or less is expected, with amounts tapering off rapidly the farther west you go. Much of central and eastern Maine looks to receive 1 to 2 inches of rain with 2 to 4 inches from the midcoast to down east Maine, ending Saturday evening.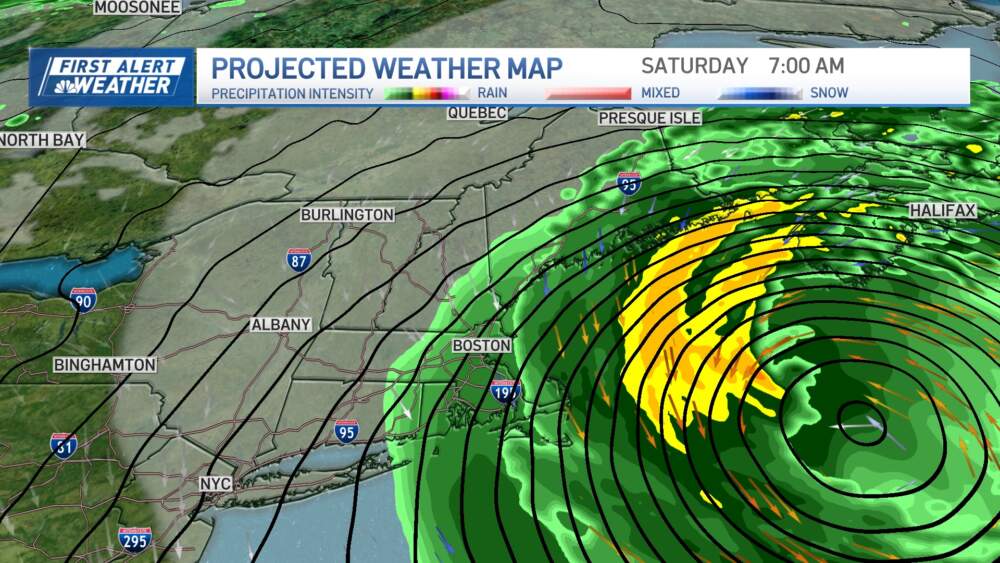 Coastal Issues
Waves are already building and are a remarkable 40 to 50 feet around the center of the storm. Waves will be 10 to 15 feet off the outer Cape by the end of Friday. That translates to big surf, beach erosion and rip currents. Not to mention, life threatening conditions for our marine community.
With the waves and water piling up as Lee makes its closest pass on Saturday morning, 15- to 25-foot breakers and a 2- to 4-foot storm surge is possible in Cape Cod Bay. That will result in minor to perhaps moderate coastline flooding during high tide Saturday morning, with the most significant impact expected on the northern shorelines of Cape Cod and Nantucket. Those that live right on the coast should keep their plans flexible on Saturday and take time to secure objects outside.
Impacts in Boston
With the storm turning slightly to the east Thursday morning, the worst impacts of Lee look likely to miss Boston. "That said, conditions are still anticipated to be similar to that of a nor'easter," said Mayor Wu.
Current weather projections show the storm arriving in the Boston area late Friday night and lasting through Saturday, with the worst weather occurring overnight Friday and into Saturday morning. Giving the timing of the storm, as of now, there's no change in schedule for Boston Public Schools, Wu said.
The National Oceanic and Atmospheric Administration forecasts between 1-3 feet of storm surge along Boston Harbor. Luckily, the peak storm surge is likely to hit around 6 a.m. Saturday, coinciding with low tide.
"However, a low level of storm surge may continue such that at our high tide around 1 p.m., we could see minor flooding in low-lying areas," Rev. Mariama White-Hammond, the city's Chief of Environment, Energy, and Open Spaces said at the press conference. She flagged areas like Morrissey Boulevard in Dorchester, Long Wharf in Downtown and Lewis Mall (near Pier's Park) in East Boston.
City officials also warned residents to watch out for downed powerlines and trees, and asked that people stay indoors during the storm as much as possible so that the streets remain clear for emergency responders. They also asked that residents clear any debris from catch basins on the streets to help prevent flooding, and reminded people to check in on neighbors and family, especially those who are home-bound or who have accessibility challenges.
Other things to note:
The Boston Public Library and BCYF Community Centers will remain open for their regular hours and serve as a safe place people can go.
If you see a downed wire, do not touch it. Call 911.
If you see a downed tree in a public right of way or any other issue, call 311.
The city has contacted all permitted crane operators to ensure their equipment is secure.
The city is coordinating internally on where it should be ready to deploy floodwalls and sandbags, if necessary.
To help people stay safe, the city of Boston has these tips on how to prepare an emergency kit, with additional resources here. It is also sending emergency notifications through AlertBoston.
This article was originally published on September 14, 2023.