'Skies seem to be shaking': Mass. native talks about sheltering in Israel amid Gaza conflict
Resume
The war between Israel and the militant group Hamas stretched into its fourth day Tuesday. Death tolls climbed on both sides, as Israel launched a siege of the Gaza Strip in response to a surprise attack Saturday by Hamas.
Israeli media reported Sunday that more than 900 Israelis were killed by Hamas attackers and rocket fire, according to NPR. Palestinian health officials said at least 680 people in Gaza were killed by Israeli military airstrikes. Thousands of others were reported injured, and the United Nations said nearly 190,000 people have been displaced from their homes in Gaza.
The Associated Press reported that, as of Monday, at least 11 U.S. citizens died in the conflict, according to John Kirby, a spokesman for the National Security Council.
Andrew Jacobson, a Swampscott, Mass., native who graduated from Brandeis University and lives in Israel, spoke with WBUR's All Things Considered host Lisa Mullins Monday as he sheltered with a friend in Tel Aviv, about 40 miles from Gaza.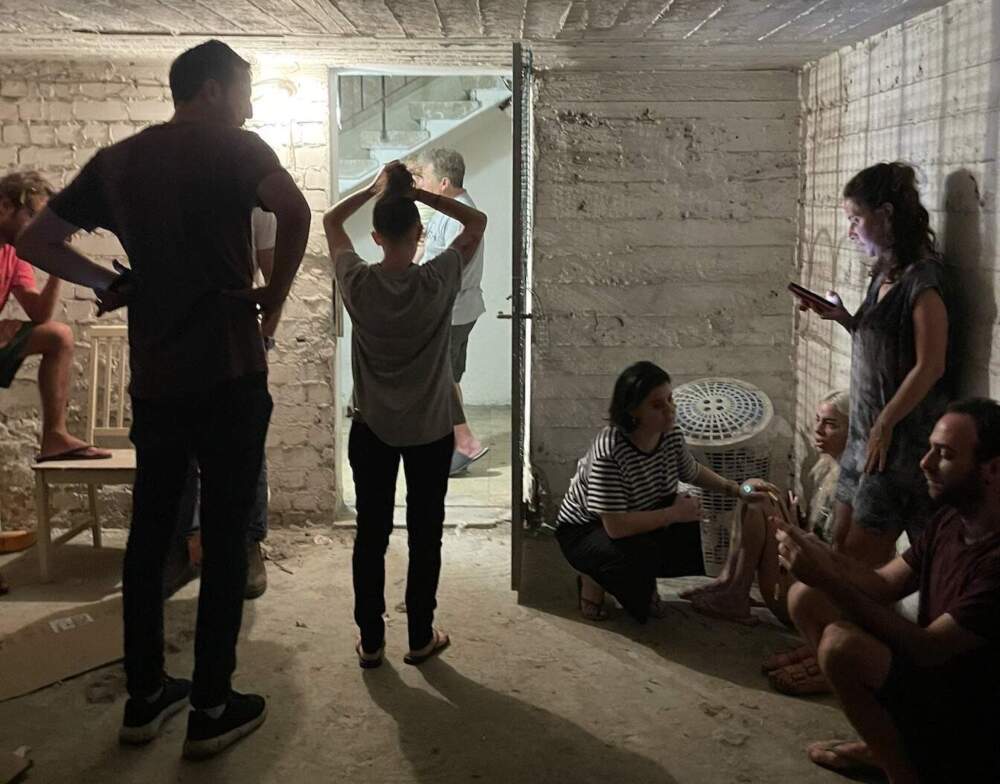 Interview Highlights
Highlights from this interview have been lightly edited for clarity.
On his experience in Tel Aviv on Monday:
"The skies seem to be shaking. Today we have not heard any sirens. But yesterday [Sunday] morning and [Sunday] evening, we had several sirens.
"We don't have a shelter in the apartment; we have a shelter in the bottom of the building. So when the siren goes off in Tel Aviv, we have 90 seconds [to get downstairs]. You see kids. There's a grandmother here as well. Yesterday there was a woman pretty hysterically crying."
On a poignant experience at synagogue:
"During the Torah reading, they called up a soldier to do the blessing on the Torah. And normally people wouldn't have their phones in synagogue, but of course, for any matter of life and death, people are permitted to connect to technology.
"During the time the person was reading from the Torah, the soldier's phone rang, and he picked it up. Everybody went absolutely silent, as if to listen to what the person on the other end of the line was saying. The soldier answered the phone, spoke for a minute or two, told the rabbi that he was being called to duty.
"He asked the rabbi then for a blessing, who laid his hands on the soldier's head, [the rabbi] closed his eyes and blessed [the soldier] to go in peace and return in peace. It was one of the most chilling moments I have ever experienced."
On collective war effort by Israelis not serving in the military:
"The efforts of Israelis is absolutely astonishing. Across my social media and friends, just to give you an idea, I'm seeing friends baking hundreds of cookies to deliver to soldiers so they can have something nice to eat.
I'm seeing efforts of taxi drivers to drive soldiers who have been called up to military bases for free. I'm seeing massive numbers of people buying food and supplies, such as hygiene products. And, there's a massive center in Tel Aviv now collecting those items and organizing drivers to bring them to the front lines.
On if he would leave Israel and return to the United States:
"I have no plan to leave Israel. My people is here. I'm an American. I'm also a Jew, and I belong here.
"I didn't serve in the Israeli Defense Forces... but I do feel a very deep responsibility to contribute to the safety of my people in whatever way I can. And that's why I'm not leaving."
This segment aired on October 9, 2023.