Hundreds march through Boston in support of Palestinians
Resume
Hundreds of protesters gathered Monday evening in front of Boston Public Library in Copley Square for a rally in support of Palestinians, chanting "long live Palestine" and "from the river to the sea, Palestine will be free."
Mahmoud El-Rifai, a Palestinian refugee and a research scientist at Harvard Medical School, read a Quranic verse to the crowd. He said he was protesting because "the whole world is just accepting of the killing of innocent people in Gaza."
While some local Palestinians fear speaking out because of professional or social repercussions, El-Rifai said that given what his people are facing in Gaza, he has no choice but to call for justice.
"When I see the bloodshed and the injustice taking place, my fear is not justified anymore," El-Rifai said. "I will risk something for them."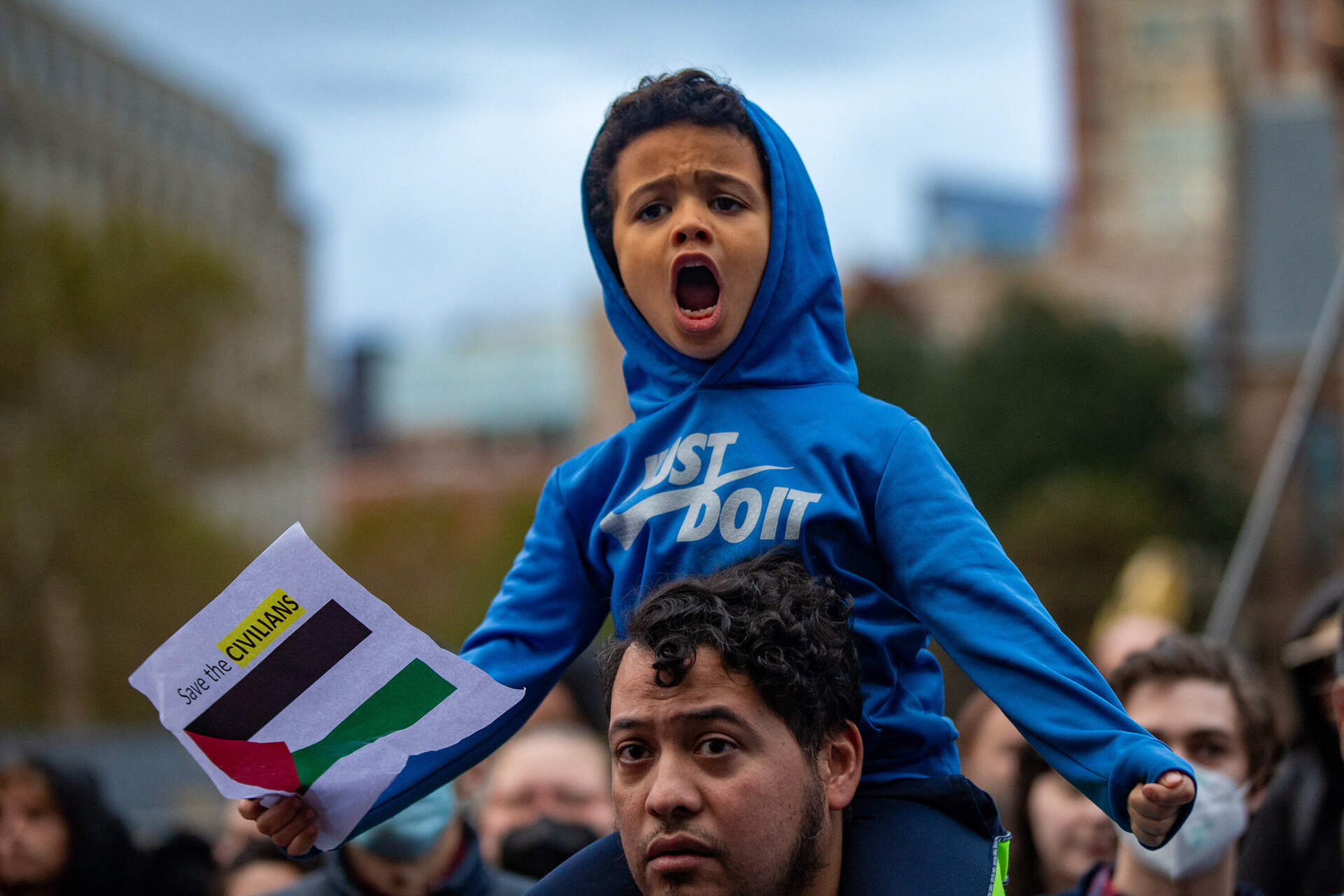 The event was organized by the Boston branch of a group called Party for Socialism and Liberation and by the Boston South Asian Coalition, according to their Instagram post.
An array of young local Palestinians at the event spoke about the suffering of family members in Gaza. Among them was organizer Lea Kayali, who told the crowd this was a moment that would define history.
"The people of the global majority know that Palestinians deserve to live in freedom and dignity. Millions of people around the world have taken to the streets," Kayali said.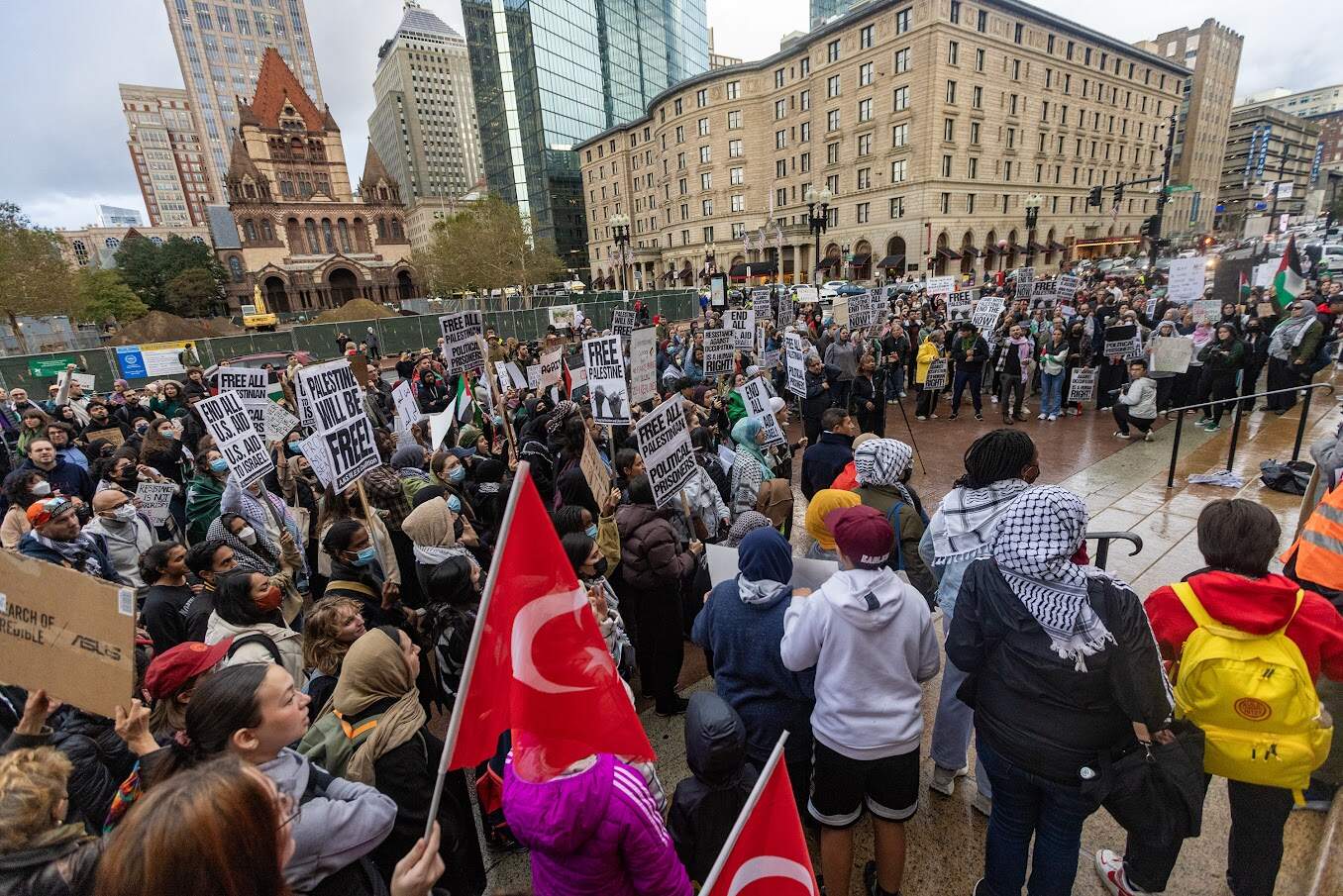 Kareem Rajeh, 18, a student at UMass Boston, came from Methuen to show support for the Palestinian cause. Born in Texas, Rajeh said he has relatives in Gaza who have lost their homes and are fleeing the Israeli incursion into Gaza.
Rajeh said he believes many U.S. politicians are blindly supporting Israel with military aid. "They should quit it immediately and give aid to the Palestinians in the Gaza Strip," he said.
More than 2,700 Palestinians have reportedly been killed, according to the Gaza health ministry, and thousands more injured as Israel has retaliated after the violent Hamas attack launched on Oct. 7. For Israel, it's already the deadliest war in decades, with more than 1,400 killed.
As Israel plans a broader attack, hundreds of thousands of Palestinians have been forced to flee Gaza, creating what officials say is a humanitarian crisis, with no water or supplies.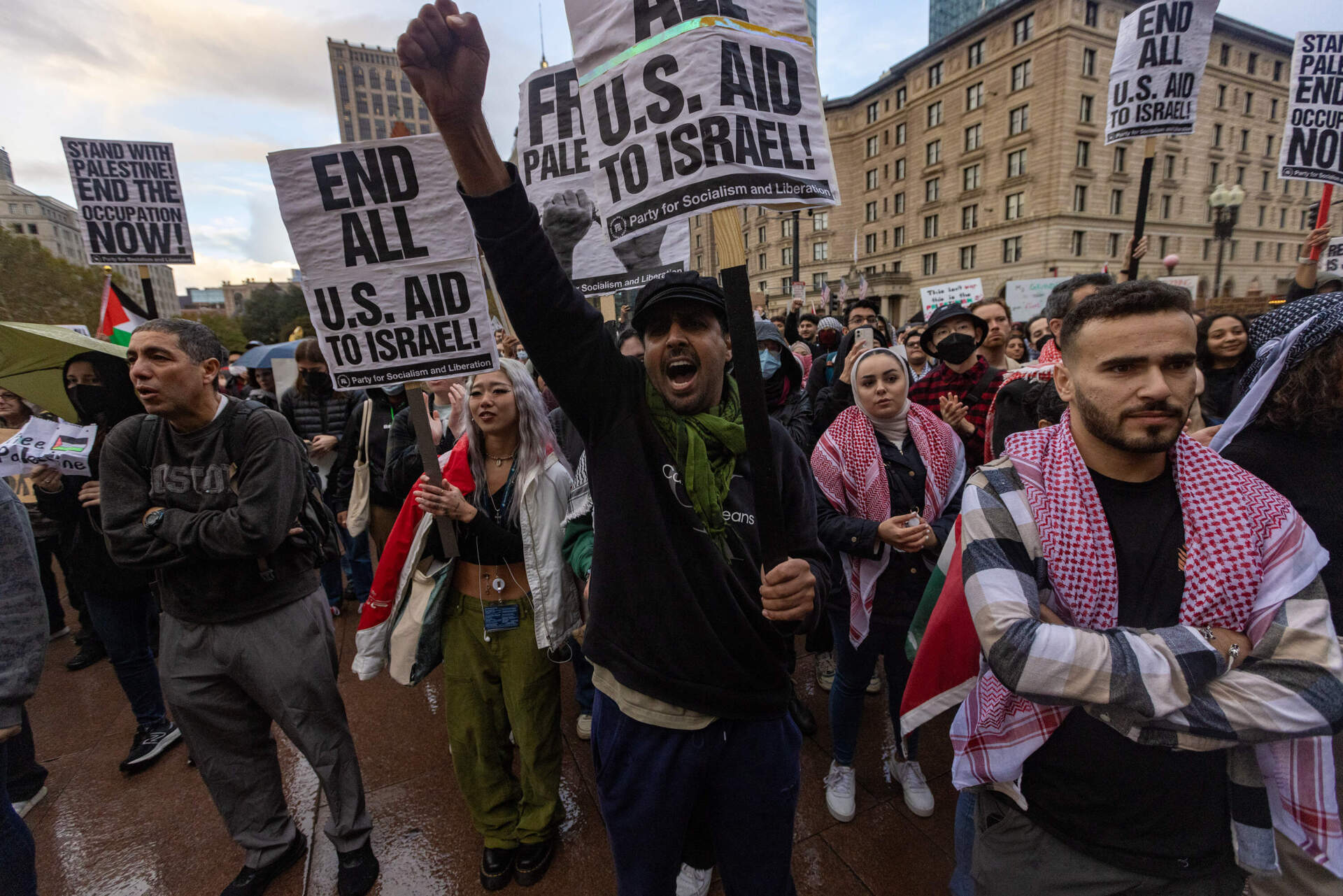 Following the speeches in Boston on Monday night, the crowd marched down Boylston Street to the Israeli consulate at Park Plaza. Some carried signs that said "Resistance against occupation is a human right!" and "End all U.S. aid to Israel."
Meanwhile, a group of five Israel supporters gathered across the street from the rally; a woman played the Israeli national anthem on a violin.
Rena Sidlow, a 29-year-old psychologist who works near Copley Square, said she felt angry hearing anti-Israel chants from the library steps.
"I walked across the street to get closer, and I saw this woman playing the violin ... and so I just stood by," she said. "It was a beautiful moment — I couldn't move."
Sidlow added that she has family on the frontline of the conflict with Hamas, and friends who are missing. But even if she didn't, she said, "there's no degree of separation for Jews around the world."