Massachusetts family remains trapped in Gaza after repeated attempts to cross into Egypt
A Massachusetts family remained trapped in Gaza Monday morning, despite spending several days at the Egyptian border and efforts by members of Congress to get them across.
Wafaa Abuzayda, her husband, Abood Okal, and their 1-year-old son waited for hours at the border Monday after a social media post from U.S. State Department indicated border crossings might be permitted for some Palestinian Americans for a short period on Oct. 16. The border never reopened.
In a text message Monday morning, Abuzayda said the situation is chaotic. She and her husband have been following media reports, hoping to get out of Gaza and return home to Medway, Massachusetts. She said her family is still in limbo — staying with relatives near the border in Rafah.
Abood Okal said the family stayed at the border most of Saturday, too, and is frustrated that there is not better coordination from the U.S. government.
"The recurrence of promises and hopeful news followed by disappointment is not making things easier for us at all, aside from having to deal with everything else going on during this war," Okal wrote in a text to WBUR Monday.
A friend of the family, Boston attorney Sammy Nabulsi, said there is limited food, water and fuel in Gaza. He said the family is staying about a five-minute drive from the border and made trips there throughout the weekend and on Monday, waiting hours to try to leave each time. He said there is not enough fuel in Gaza for the family to repeatedly travel to the border, only to not be permitted to cross.
"For me, today is like a do-or-die situation for this family and the other American families that are there," Nabulsi said. "I'm sorry I'm getting emotional, but this is insane."
Nabulsi also believes that once Palestinian Americans in Gaza cross the border, they will have to arrange their own transport to Cairo (about a five-hour drive) and flights home from there. He said he has been in touch with members of Congress from New England.
Between 500 and 600 Americans are believed to be among the tens of thousands of people who left northern Gaza last week after Israel ordered an evacuation as it prepares for a ground offensive into Gaza. NPR reported that Egypt wants Israel to  allow humanitarian aid to get into Gaza before the border opens, and Egypt's president has called Israel's actions "collective punishment against the Palestinians."
U.S. Secretary of State Antony Blinken expressed confidence Sunday that Egypt will open the border to allow for the transfer of supplies and other aid and for Palestinian Americans to get out as Israel prepares for its offensive.
Some members of the Massachusetts congressional delegation have said they are working with the State Department and the White House to get the Massachusetts residents home safely.
"It is gutting that families, including Abood and Wafaa's family, arrived at the Rafah crossing at the time advised by State on Saturday and have not yet been able to cross," said U.S. Rep. Ayanna Pressley in an emailed statement. "They have a one-year-old in their arms. It must be an imperative for President Biden and for all nations involved to safely evacuate Americans and save civilian lives."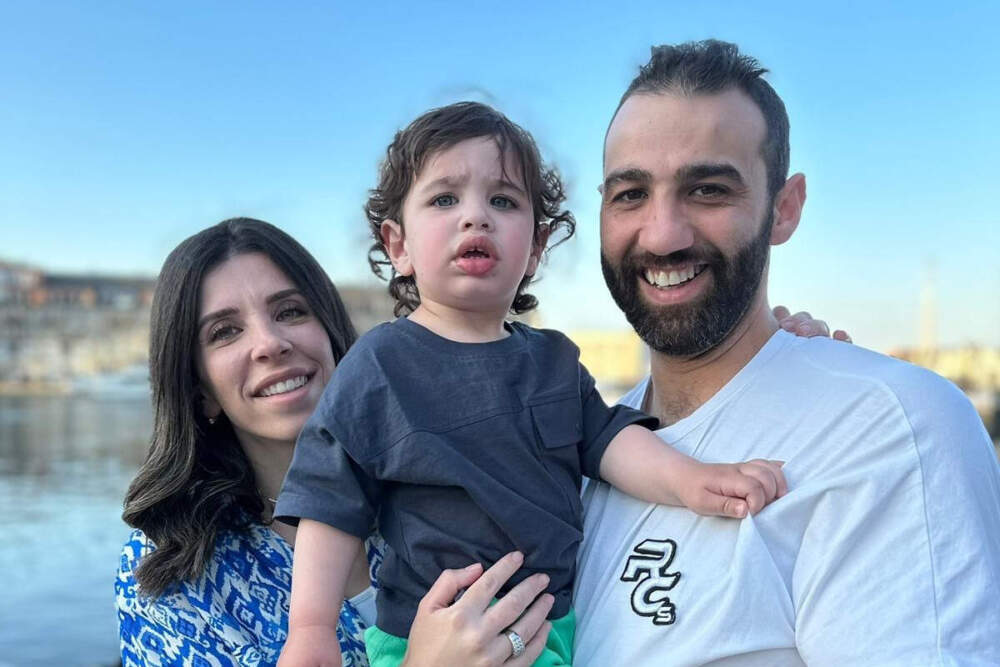 The family has been trying to leave Gaza since the Hamas attack on Israel on Oct. 7. Okal's sister and her three children are also at the border trying to get back to their home in New Jersey. Last week in an interview with WBUR, Okal said his family is trying to stay together.
"So we decided that we stick together," Okal said. "We either live together or die together."