Ukrainian national rowing team welcomes the 'holiday' that is the Head of the Charles
Resume
Members of the Ukrainian national rowing team will compete in this weekend's Head of the Charles regatta in Boston and Cambridge. It's the team's second appearance in the event — the first being last year after Russia launched its war against their country.
The Head of the Charles brings more than 11,000 athletes from around the world and tens of thousands of spectators to the Charles River.
Members of the Ukrainian national team are competing as a solo woman's boat, a 4-seat women's boat, and an 8-seat men's boat.
One of the team members from the 4-boat is Nataliia Dovgodko, from Kyiv. The 32-year-old Olympic gold medalist said she's grateful to be here for the Head of the Charles, which she described as being like a "holiday" because it's such a big celebration of rowing.
The Ukrainian team came here with the help of Andrii Ivanchuk. He's from Ukraine, and he used to row on the national team. As of a few years ago, he's the head crew coach at Simmons University in Boston.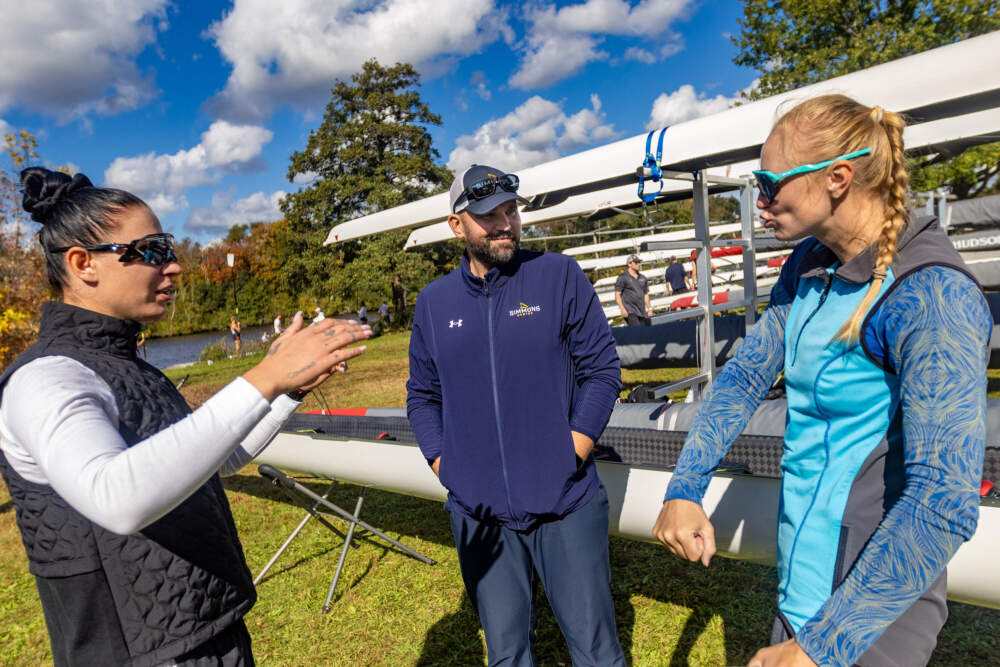 Ivanchuk and the Ukrainian team say it means so much for them to be supported in their host cities of Boston and Cambridge when life at home has changed so much.
"People lost their homes in one moment, have to run away from the war," Ivanchuk said. "And when they meet here such a warm and kind hosting, that is where you can see, 'Yeah, the United States stayed with us. And the people of the United States stayed with the people of Ukraine.' "
"All people who see us here say, 'Welcome. We support you,' " said Ukrainian rower Daryna Verkhogliad. "All people in America, in Boston [are] very kind. And I'm very honored that I represent Ukraine here."
For the rowers, being here is about more than representing Ukraine, though. Dovgodko said she and her teammates also want to win their races.
"I think it's great to compete in this competition, because Boston [is] like city of sport and city of rowing," she said.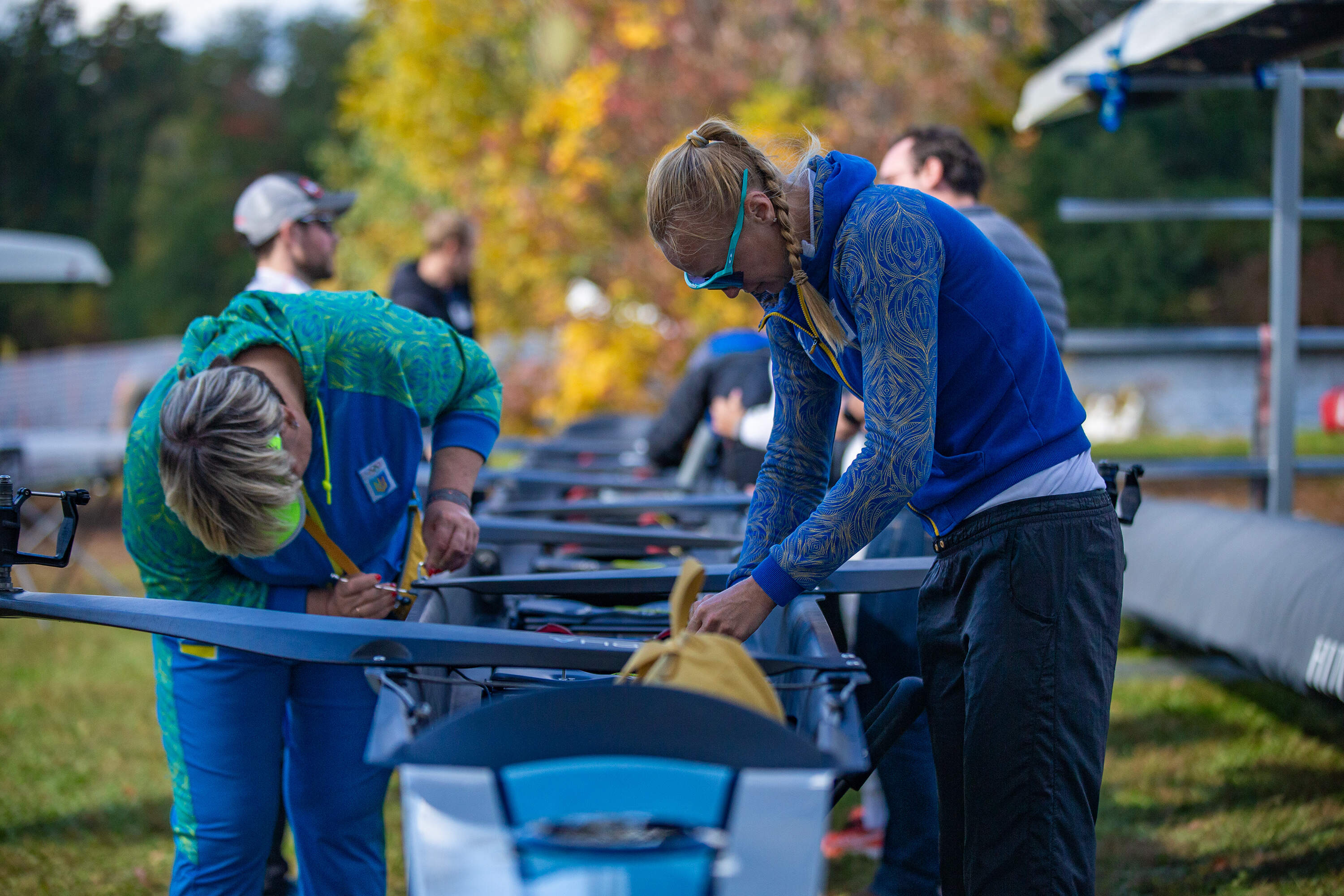 Dovgodko's biggest supporters aren't here to cheer her on. And she's used to that. Her husband and 6-year-old son are at home in Kyiv.
When the war started, she was at training camp in Turkey.
"It was hard to enter and go back home," Dovgodko said, recalling the time when many people were trying to flee Ukraine. "You don't know what to do. And when you call to your family, and they don't know what to do. They sit at home and say everything [is] too loud. It's a lot of bombs. Lots of scary times."
Last fall and winter, the team was in Ukraine for an extended period holding training camps.
"You don't have holiday, because you sit by two walls in your apartment," said Dovgodko, who said she lives on the 25th floor of her building. "And Russian rockets [go over] your head."
When she's able to be home, it still brings a feeling of comfort, though.
"It's harder to be out from [one's] country, and you worry all the time about your family."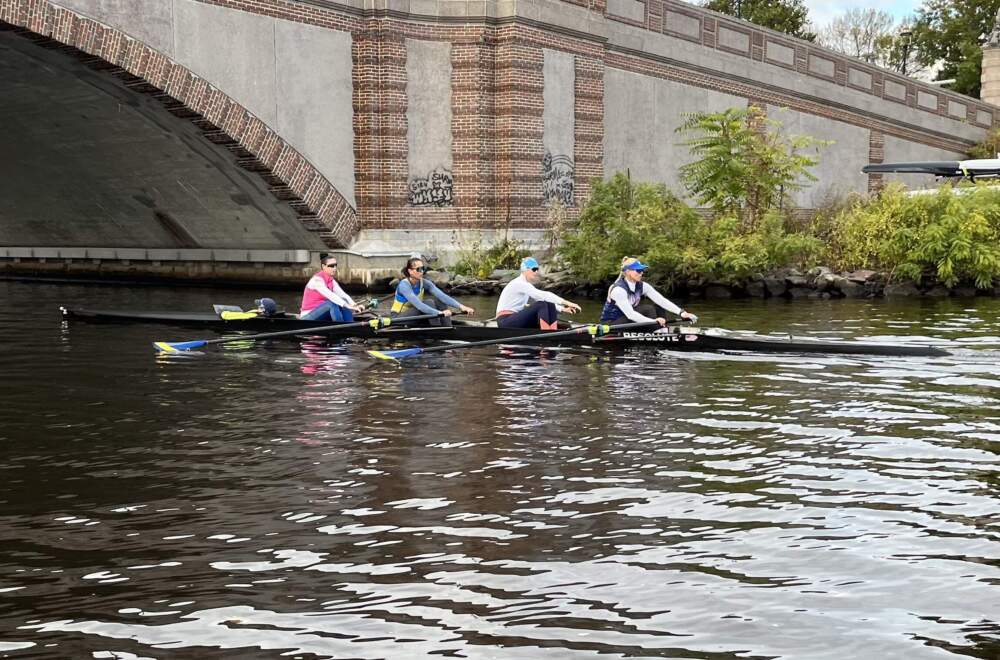 She said this year, when she is rowing on the Charles River, she finds it easier to focus on what's going on in the boat and with her team than last year when her thoughts were constantly on the war. That's because people in Kyiv have largely adjusted to the new normal, she said.
It's hard to not get distracted, in a good way, she said, by the cheers of "Slava Ukraini (which means "Glory to Ukraine" in English) — from spectators, though.
She wishes she could respond. But she has to focus on the task at hand: winning a race in the prestigious Head of the Charles.
This segment aired on October 20, 2023.