City of Boston removes tent encampment at 'Mass. and Cass'
Resume
The city of Boston has cleared a tent encampment in the area known as "Mass. and Cass," widely viewed as the epicenter of the state's opioid addiction, mental health and homelessness crises.
Over the past week, outreach and city workers distributed flyers and made attempts to alert people living in the encampment about the removal efforts and find them alternative housing.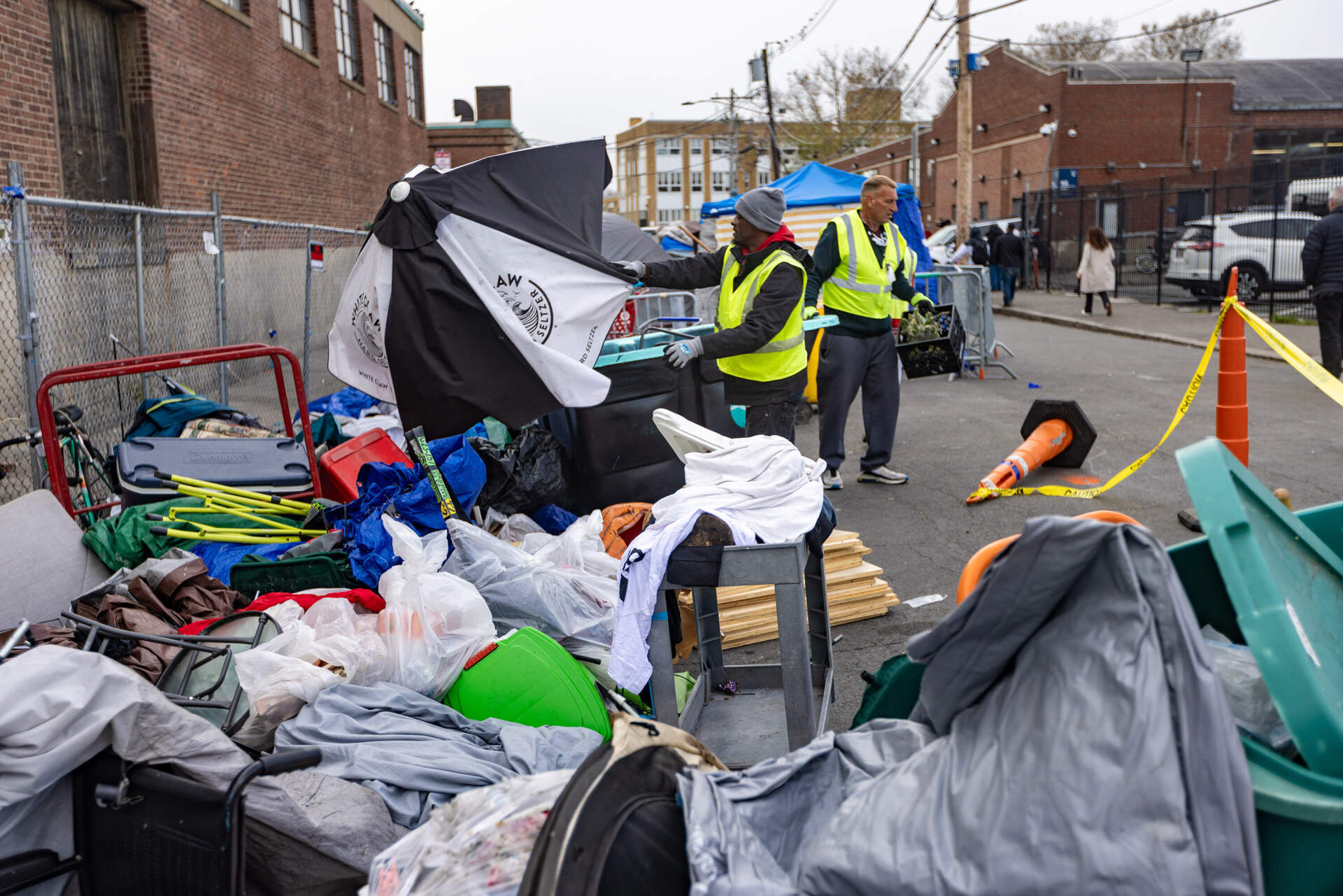 The dismantling of the encampment, near the intersection of Massachusetts Avenue and Melnea Cass Boulevard, took place Wednesday as a new city ordinance went into effect allowing police to remove temporary structures from public property.
Mayor Michelle Wu told reporters at the scene the city would continue to monitor progress cleaning up the encampment while prioritizing getting people housing, addiction treatment or mental health services.
"This effort will be sustained and we know this will not be fixed overnight, " Wu said. "I feel very grateful and confident that the coordination that we've seen is unlike ever before in the city and the infrastructure that's been built up that we can tap into is also at a different place than we've ever been before."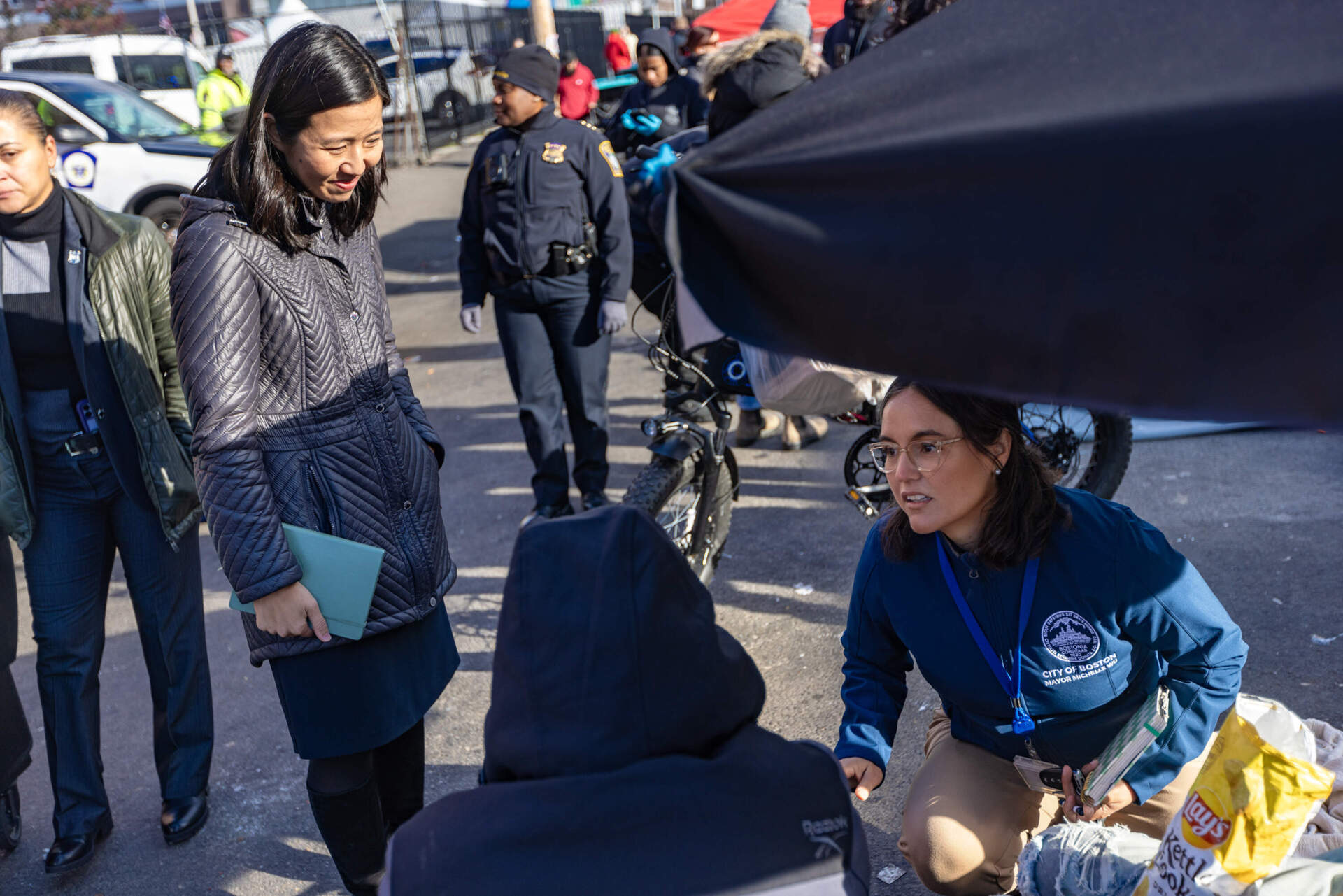 City officials said they had about 14 tents or similar structures to dismantle at the beginning of the day. At noon, a handful of people in the area remained going through the debris. Shortly after 2 p.m., all tents had been taken down. City workers used knives to cut down tarps strung to metal barricades. They loaded large bins and dollies with debris that would be tossed into a few nearby garbage trucks.
Not everyone was happy about leaving the encampment.
The last two tents left standing were occupied by people with pets. City workers tried to find ways to accommodate the dogs, including arranging vaccinations for the animals so they could live in alternate housing. In one case, they found a temporary home for two dogs, with the promise the woman staying in the tent would be reunited with her pets in about a week. The woman referred questions to Danielle Boyle, a friend helping her move out of the tent.
"This is just crazy," Boyle said. "This is just so fast, and they're just taking everything away from everybody down here and just throwing everybody all over the place like they just don't care."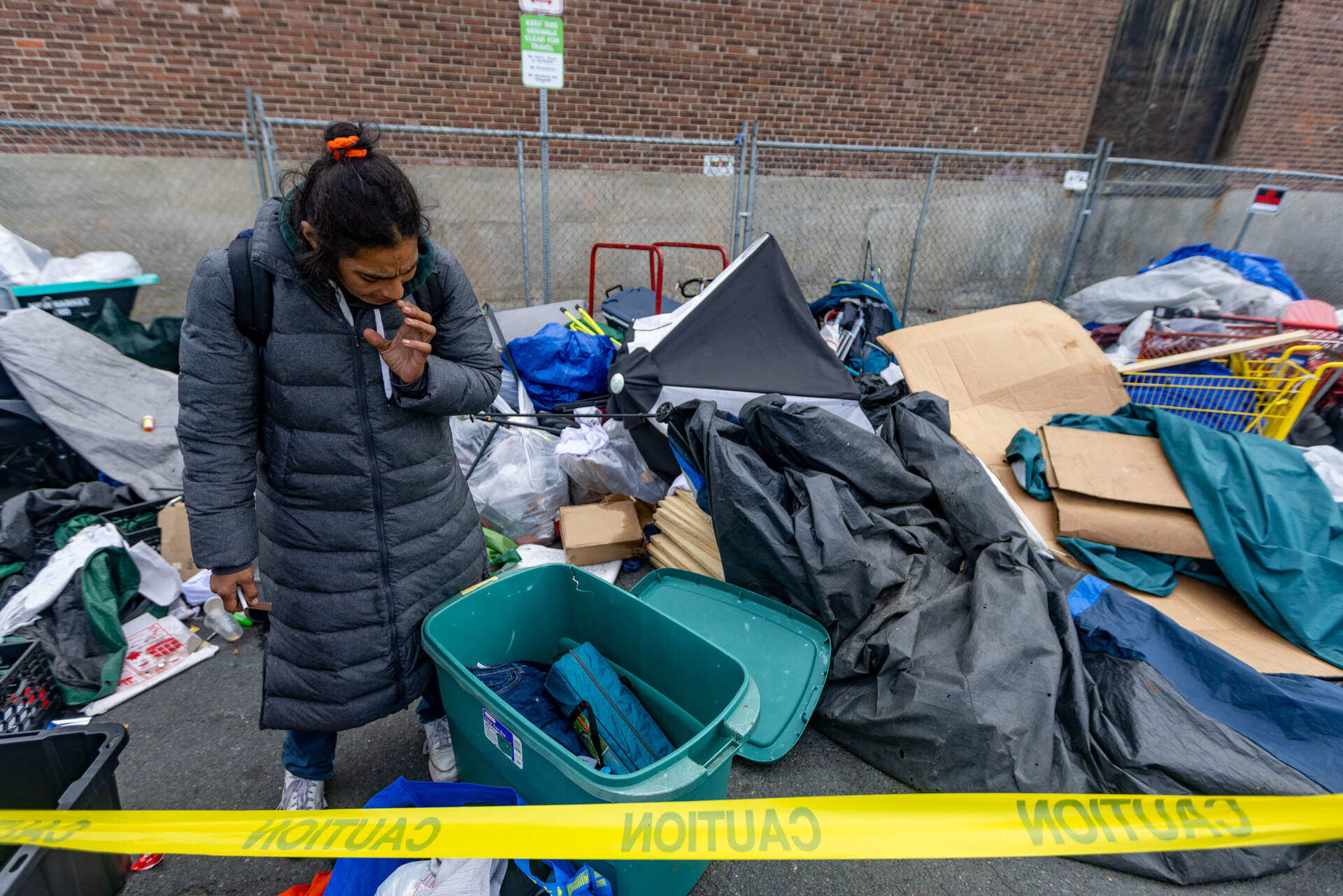 For the past year, Iyoki Ortiz-Simmons has been living in the encampment. She was going through some of the debris, because she said she wasn't able to collect all of her belongings before her tent was removed. Although Ortiz-Simmons was placed in transitional housing, she said it's unlikely she'll stay there permanently and at times will likely sleep on the streets again. She said she expects many people will return to the area.
"We're still planning once a week to all congregate here ... just to smack 'em in the face," Ortiz-Simmons said. "Because it's our constitutional right to have a gathering — peacefully."
Over the past week, the city said it moved 80 people into alternative housing or other facilities. At least another nine people were reunited with friends or family members, according to the city.
Some individuals living in the area were given $25 gift cards to replace any belongings they had to abandon. The city also said it is holding some people's possessions in storage and giving them access to their items for about four hours a day.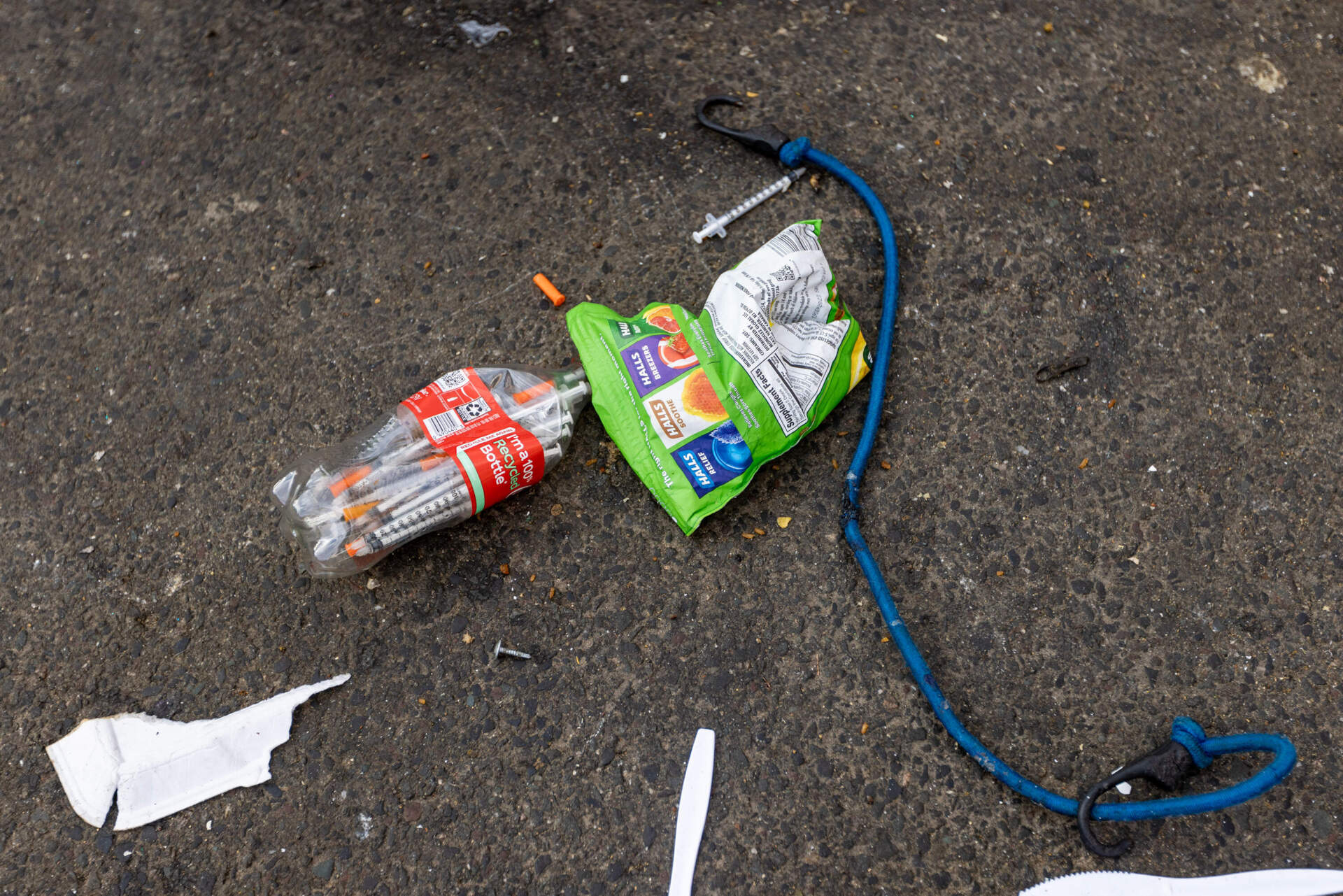 Although the new ordinance allows police to remove tents, no tents were removed by police Wednesday, and no arrests were made.
Additional police patrols were on site, with roughly two dozen officers standing on either side of Atkinson Street. A Boston police command center was set up at the end of the street, near the Suffolk County Jail. Police said mobile units would patrol other neighborhoods to ensure a new encampment does not crop up elsewhere in Boston.
"We've got to make sure this doesn't bleed out into the neighborhoods with the people who did not take shelter," said Sue Sullivan, executive director of the Newmarket Business Assocation. "We've got to make sure that people know that illegal behavior is not going to be allowed on the streets. This was a disaster down here."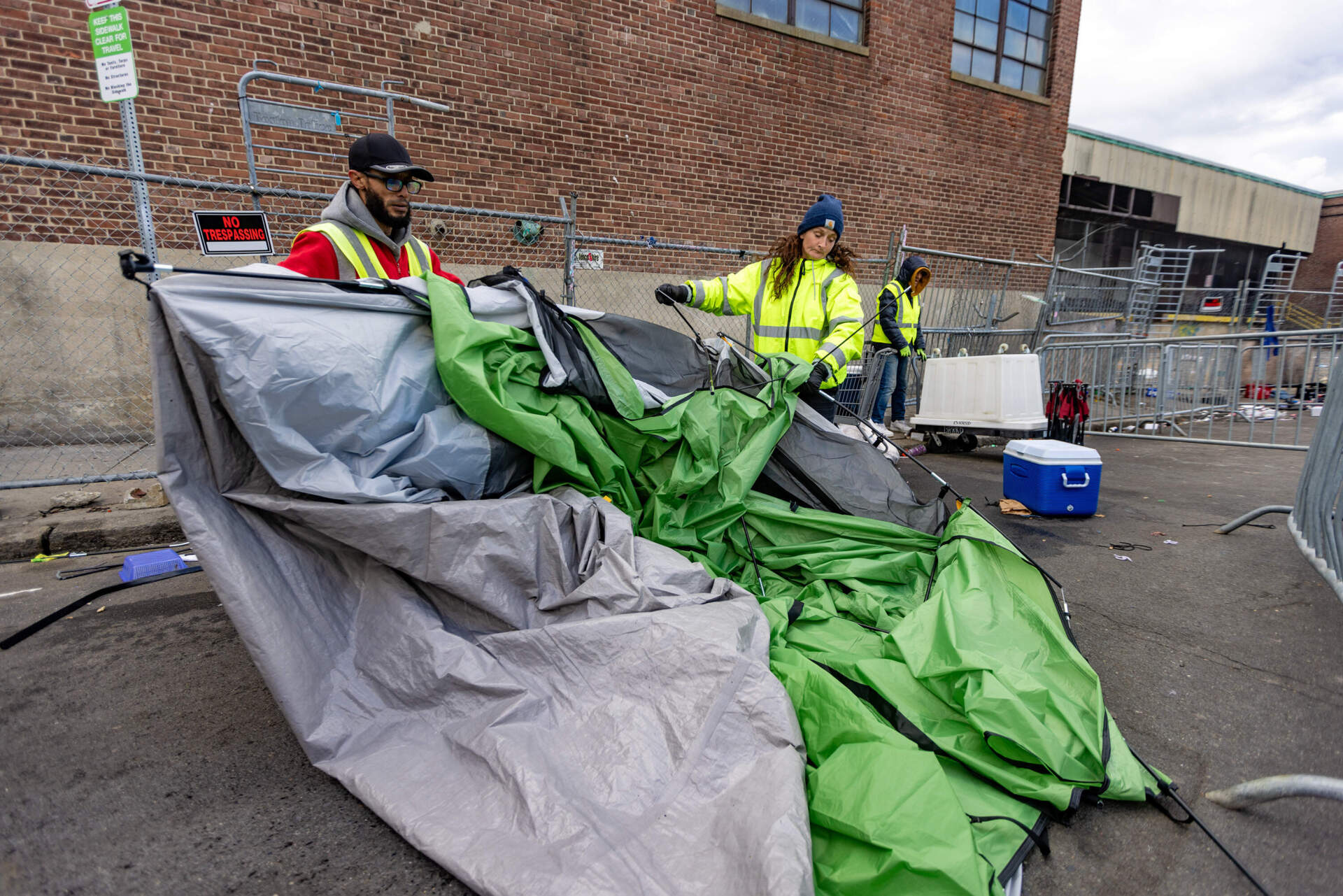 After visiting Atkinson Street to see the tents come down, Boston City Council President Ed Flynn in a statement praised city employees, public safety officials and nonprofit workers, writing that they're doing "critical work in assisting the homeless and those with substance use disorders into shelters and drug treatment centers.
"It is equally important," he added, "that our city continues to show that we are serious in maintaining a zero tolerance policy moving forward when it comes to the public safety issues that occurred partially due to the tents and encampments in the area- including violence, drug trafficking, and the exploitation of women."
The city ordinance in part came about after police said over the summer months there had been an uptick in emergency calls and reports of violence — such as assaults, stabbings and sex trafficking — in the encampment area.
Two years ago, according to Wu, roughly 44 tons of debris was collected in an earlier clearing of an encampment in the area. City officials said that this week, at least 2 tons of material has so far been collected, with about another ton of material expected to be thrown out.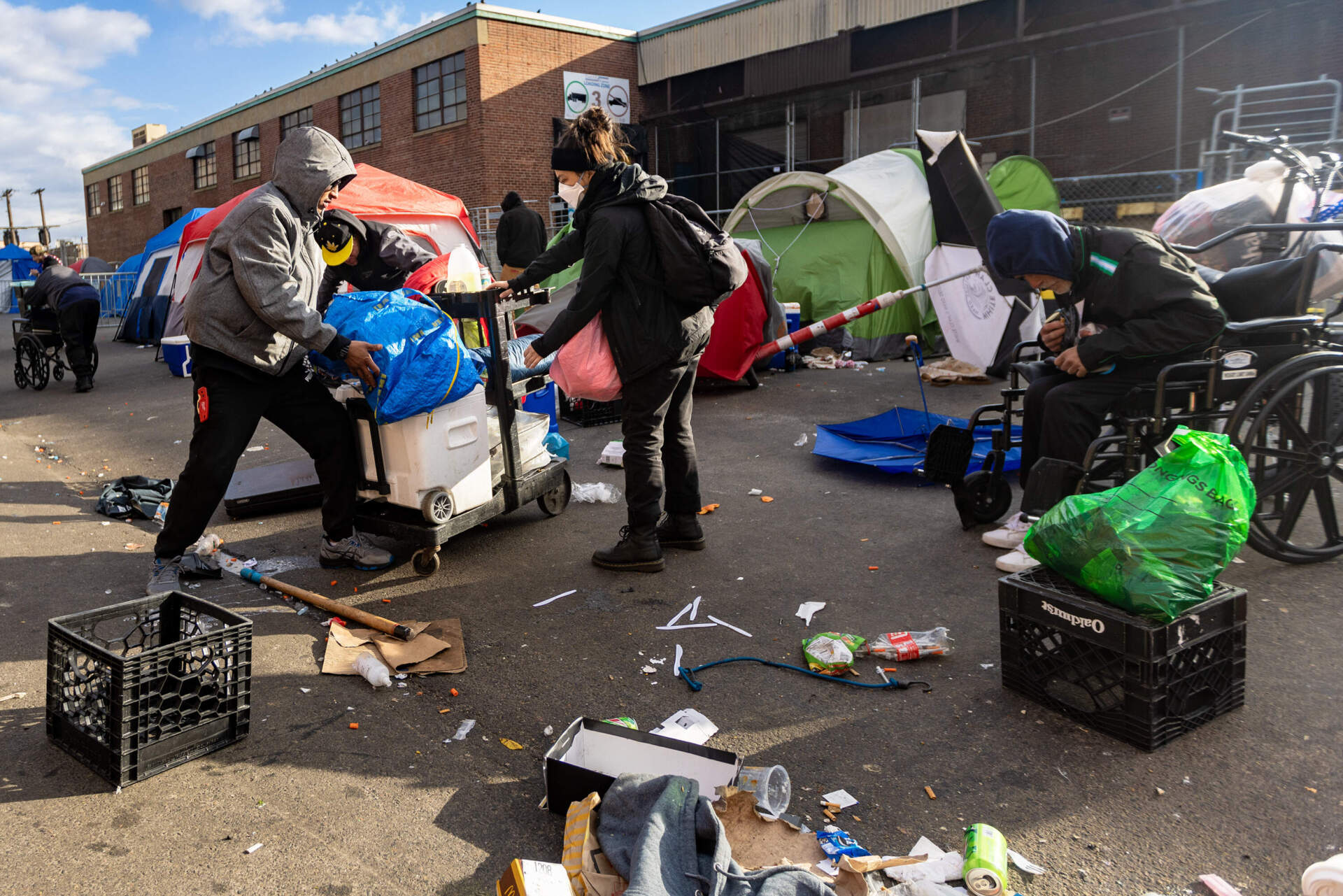 Representatives from the ACLU of Massachusetts and the National Lawyers Guild came to monitor the dismantling of the encampment to observe whether people's rights were protected. They said they will continue to watch how the city handles people who are unhoused and struggling with substance use.
After the tents were removed, dozens of people were lingering on side streets and along nearby Southampton Street, many wheeling shopping carts and belongings into the city.
This article was originally published on November 01, 2023.
This segment aired on November 1, 2023.