As Boston police prepare to remove 'Mass. and Cass' encampment, some wonder what comes next
Resume
For the past two years, Victor Arias has worked in the area of Boston described as the epicenter of the state's opioid, mental health and homelessness crises.
As a security officer for Ware Security, a firm hired by the Boston Public Health Commission to patrol the so-called "Mass. and Cass" area, his daily shifts take him through the few city blocks cordoned off to contain a large tent encampment.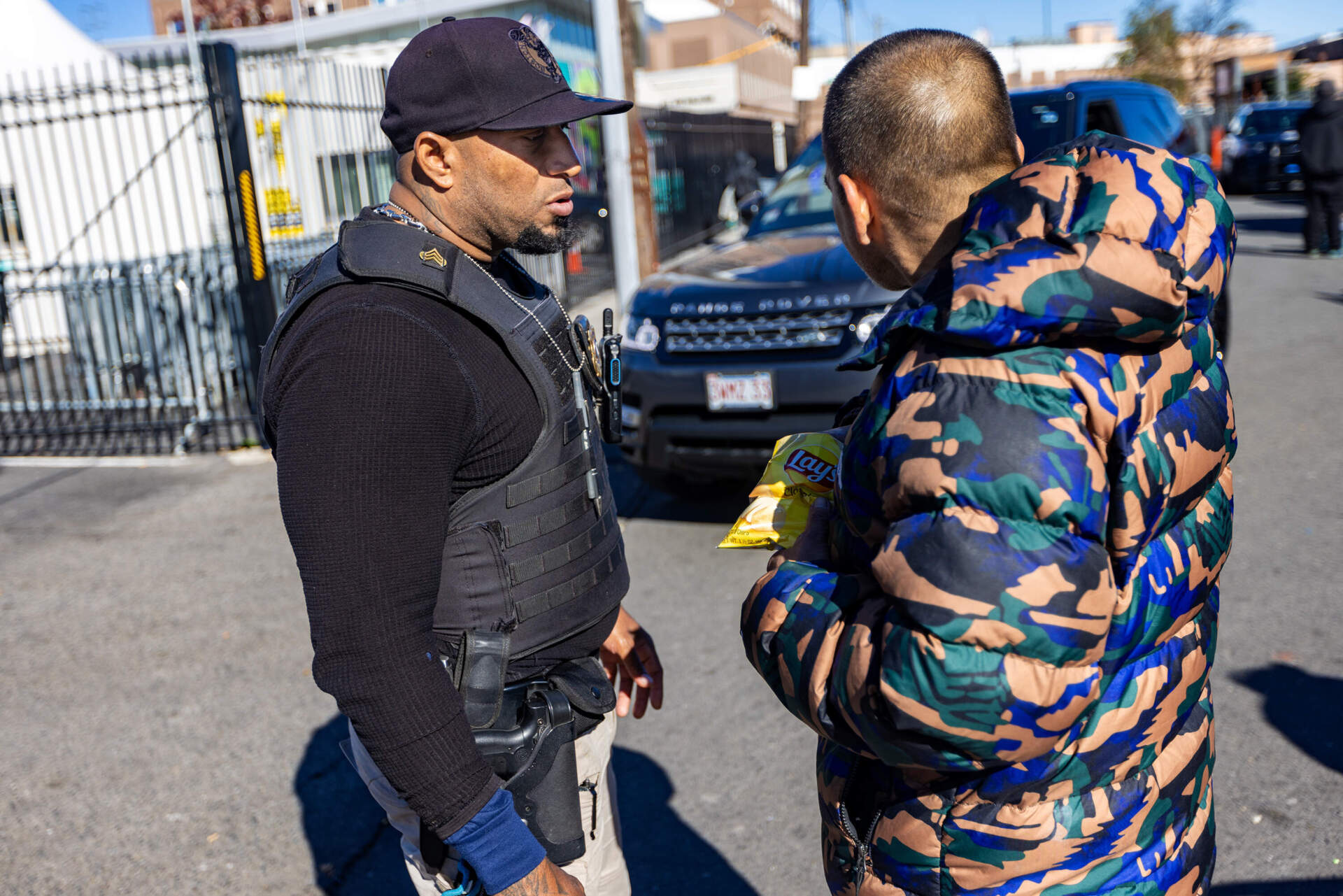 In the days before a new city ordinance was set to allow the removal of tents, Arias greeted a person who frequents the area.
"Hey, what's up my man?" Arias asked the young man as he moved through the crowded street, visibly under the influence.
"Hey!" the man yelled while twisting in a circle. Then the man kept walking down Atkinson Street, the center of the encampment.
The ordinance, which Mayor Michelle Wu said will remove all tents from the area, was scheduled to take effect Wednesday. Last week, city workers began handing out paper notices to those living in the encampment warning that all temporary structures must be removed from public property by Nov. 1, and explaining to people that "you will be offered access to a place to stay before that date."
Before police can start removing tents, the ordinance requires the city to offer people shelter, transportation to shelter and a place to store their belongings. In the lead up, workers distributed flyers with information about shelters, transitional housing and substance use treatment programs.
Arias's car was parked on Atkinson Street, where two metal barricades placed a few hundred yards apart contain most of the encampment. On Friday, the area was crowded with tents, tarps, bins, folding chairs, people's belongings, wheelchairs and debris. City officials estimated nearly 100 people were staying there in about 50 tents.
By Tuesday, dozens of tents had been taken down, but about 20 tents and tarps remained behind the metal barricades. Many of those still in the encampment were packing up their belongings.
"There's a lot of work to do out here. It's not just drug addicts, but a lot of people have real mental problems."

Victor Arias
Over several days this past week, dozens of people in the area were observed injecting or smoking drugs. Some were nodding off. Some were selling various items.
"Get your sodas here," yelled a man selling drinks out of a cooler bag.
"Who needs Suboxone? I got Suboxone," said another man, who was apparently trying to sell the brand name medication for addiction treatment.
Wearing a bullet-proof vest over his tall, burly frame, Arias regularly checks in on people living around the encampment, especially with the looming tent removals by police.
"There's a lot of work to do out here," Arias said. "It's not just drug addicts, but a lot of people have real mental problems."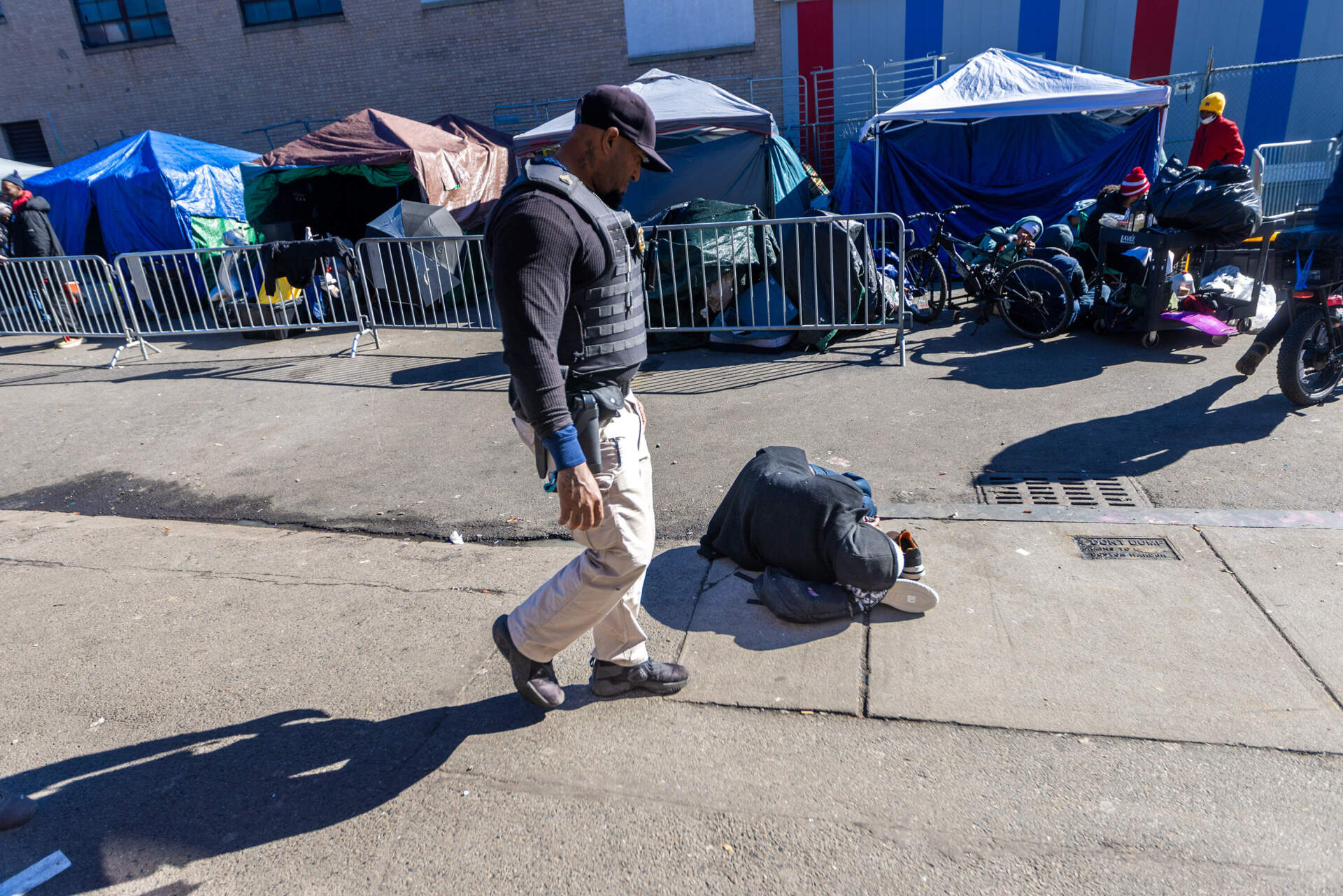 On a recent day, a crowd began to gather around a man on the ground as several people shouted out "help" and "overdose." Arias quickly moved toward the man, who was unresponsive. Arias started administering the overdose reversal drug Narcan.
"C'mon, breathe," Arias said as recovery workers from the Boston Public Health Commission also rushed to the man.
"Step back, he needs some space," Arias yelled to members of the crowd.
The man groaned, his eyes fluttered.
"Can you hear me?" Arias asked. "I need you to breathe."
The man opened his eyes. Arias and a Boston Public Health Commission Recovery worker helped him to his unsteady feet.
"How many fingers am I holding up?" the worker asked the man.
He did not answer.
"You just overdosed and were given Narcan," the Boston Public Health Commision worker told him. "You can't do any drugs for awhile. We need you to take some deep breaths, and do me a favor and move your body a bit this way and then that way. Show me you can stand."
The man swayed at first but then stood upright, opened his eyes and smiled.
"Do you want an ambulance?" Arias asked.
The man shook his head no and walked away into the crowd as several people cheered.
---
Reversing overdoses with Narcan is something Arias said he does multiple times a day.
"I love to be out here because I can help people," Arias said, "and a lot of people need help out here."
City officials said they've reserved 100 shelter beds and 30 temporary beds at a Boston Public Health Commission facility on Massachusetts Avenue. At least a half dozen social service agencies and advocates walked through the encampment this week to help people find shelter and other services.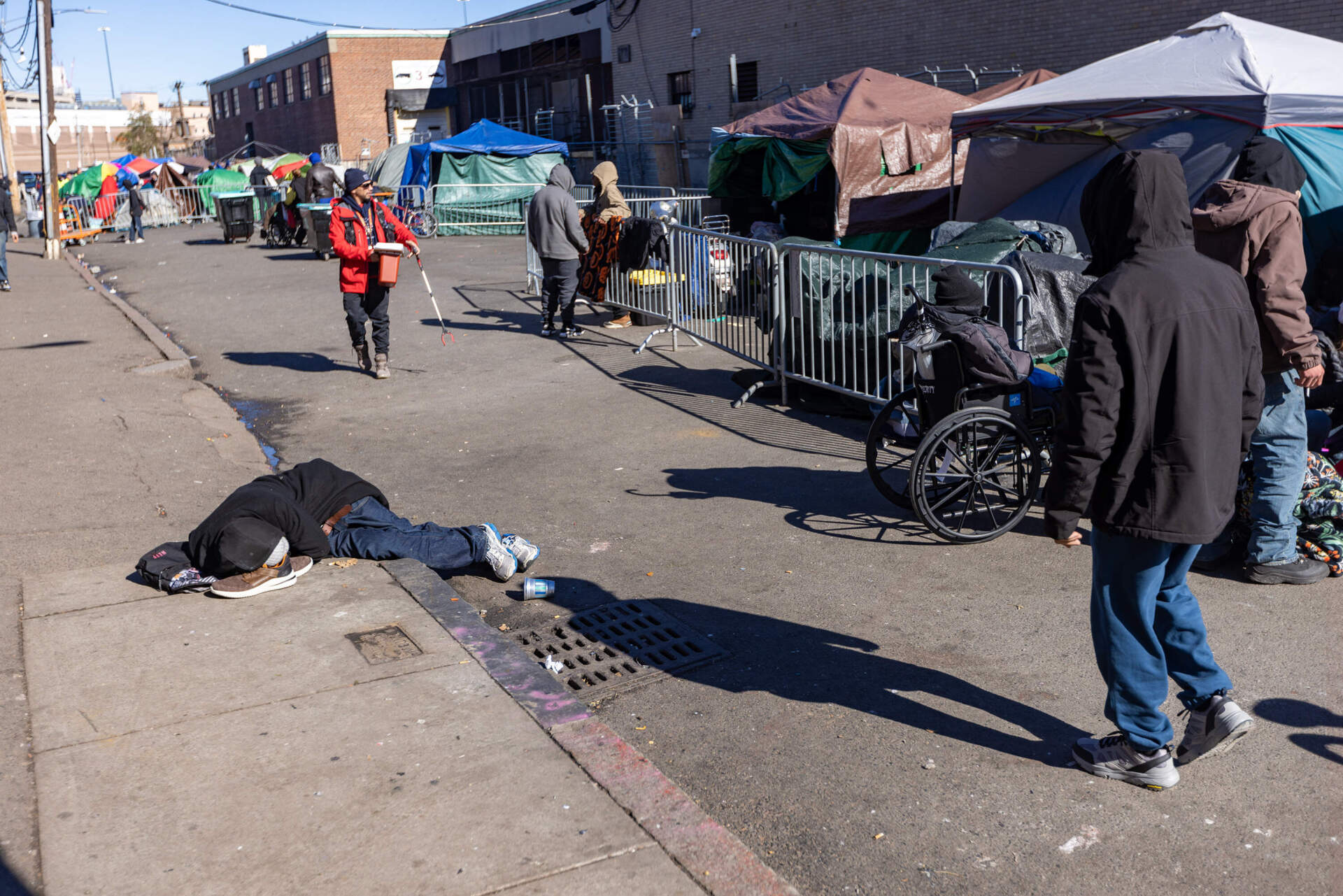 Corey Hinds, who has been living under a tarp in the area for most of the year, said an outreach worker helped him secure housing through a Boston nonprofit.
"I will be going," Hinds said. "They will not see me again out here, and I will respect the city ordinance."
But others said they weren't sure where they'd go after the area is cleared Wednesday. Corrina Phillips, 33, said she has been living in the encampment for about a year and thinks she'll sleep in her car for a while.
"I don't know what I'm going to do," Phillips said." I don't like staying in shelters. My things have been stolen before, and it makes me anxious."
The ordinance is one of several plans Boston has come up with over the years to address the addiction, mental health and homelessness crisis on vivid display near the intersection of Massachusetts Avenue and Melnea Cass Boulevard. Various social service agencies exist in the area to help address such issues and draw many people there.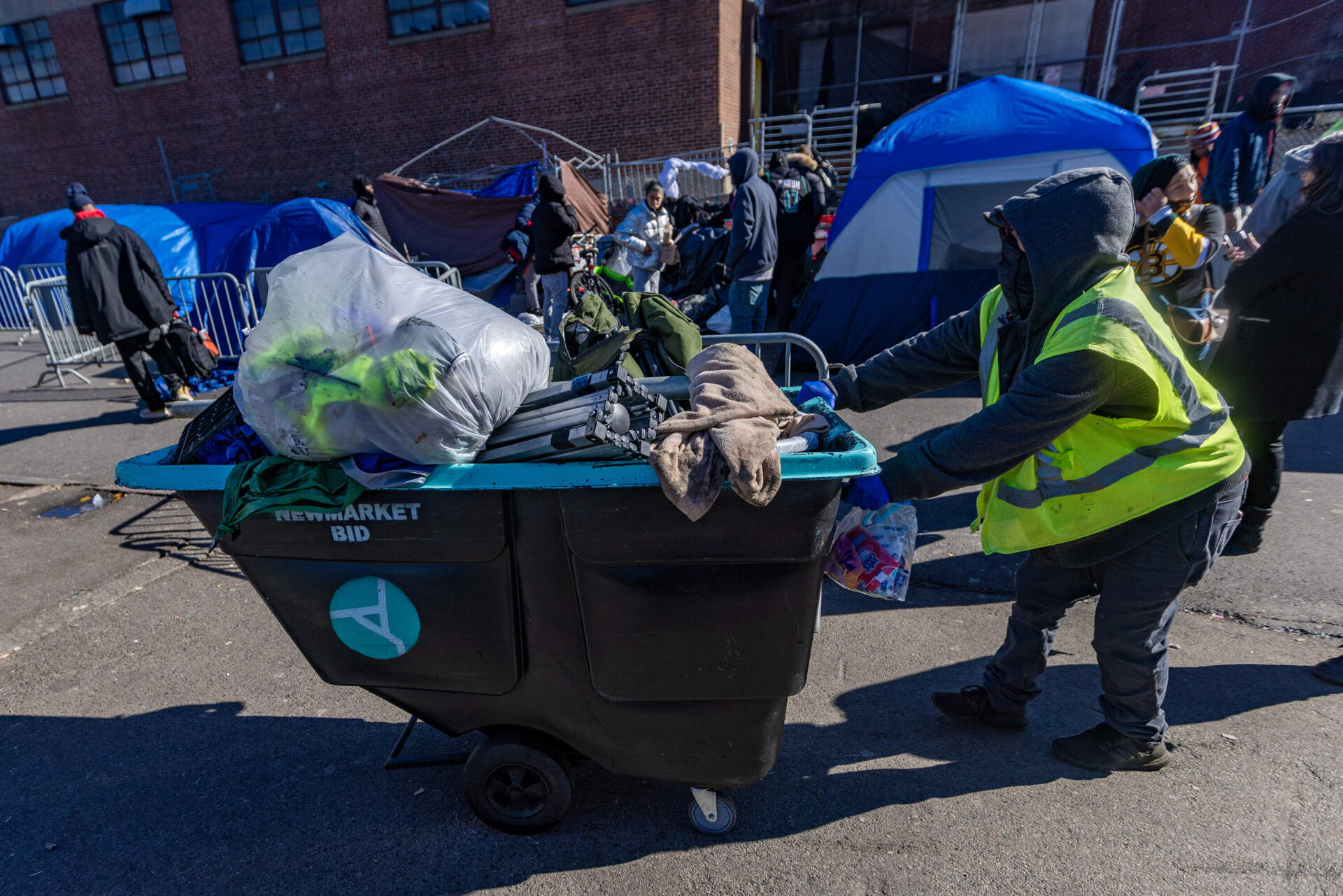 Although Wu cleared tents from the neighborhood shortly after taking office in 2022, an increase in violence as well as a staggering number of police and emergency medical calls over the summer prompted the new ordinance. Police said there have been assaults, stabbings and sex trafficking, with some crimes hidden by the tents.
The Boston Engagement Center, which opened in 2021 to offer harm reduction and other support services to people congregating there, remains closed because of the violence and crowds. Groups, such as Boston Health Care for the Homeless Program, stopped sending outreach workers to the encampment over the summer, citing "unsafe conditions." Some city leaders asked to declare a "state of emergency."
Wu promised the new strategy will be different. This time, people will be offered shelter and workers will help them leave the encampment before winter sets in.
"They're gonna take care of the people who need shelter and need all different things," said Sue Sullivan, executive director of the Newmarket Business Association, a group that represents businesses in the neighborhood. "But it's all the other people that will scatter to the wind that the police and others are going to have to make sure that they're not in every alleyway and every park and every neighborhood."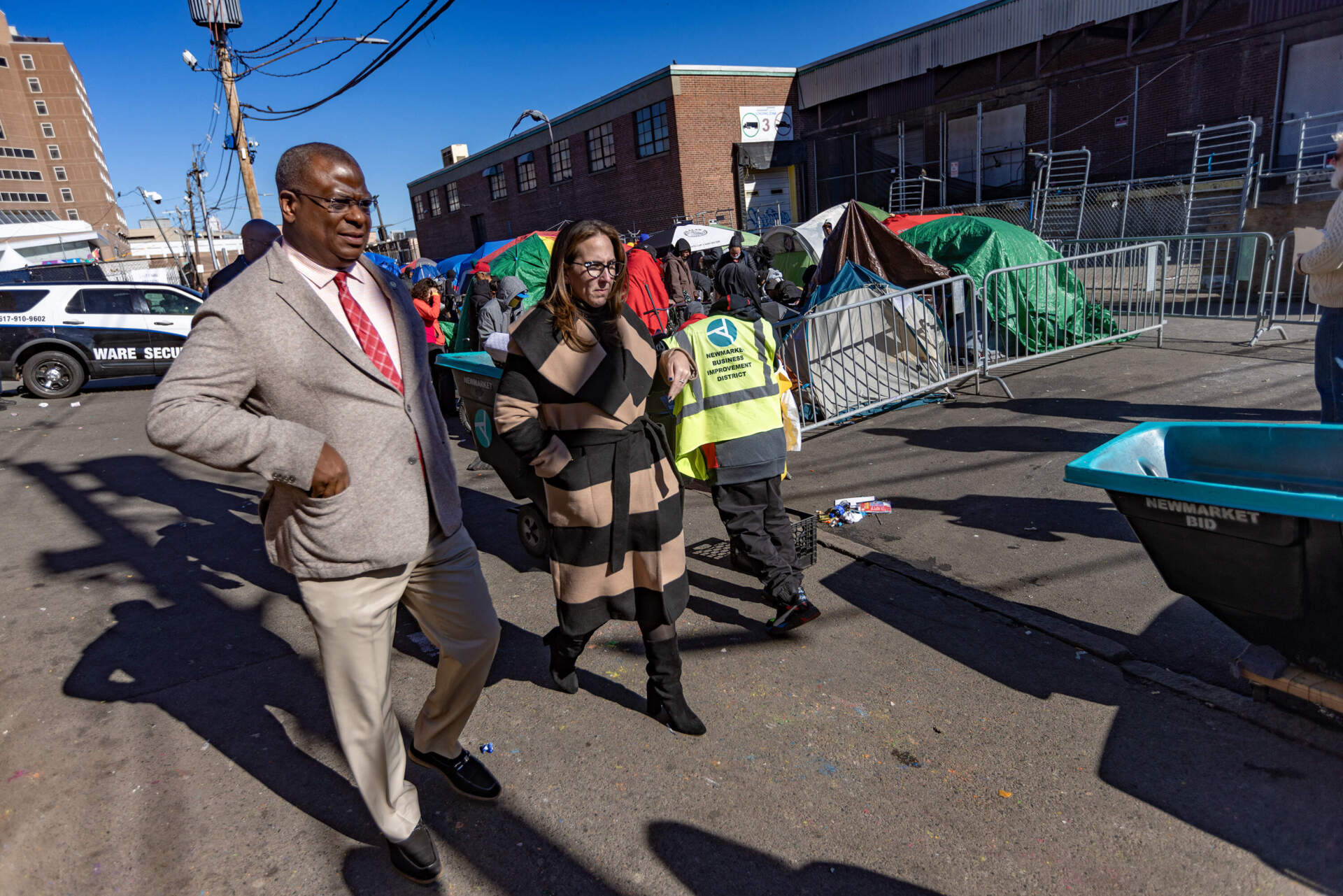 Boston police and social service agencies will play roles in the enforcement of the ordinance. Police Commissioner Michael Cox has said there will be a heavier police presence with additional officers on patrol. On Tuesday, Cox visited the area and spoke with 10 officers who were added onto the patrol in preparation for Wednesday's enforcement.
A police "command center" was expected to open nearby, and city officials said officers will prevent encampments from setting up elsewhere in the city.
The American Civil Liberties Union of Massachusetts, which has sued the city over how it removed tents in the past, said it will monitor Wednesday's enforcement efforts.
"The City must ensure that people's property is safeguarded, and that available temporary housing includes realistic options for the people who will be displaced from their only living situation and cannot sleep in congregate settings due to disability or family circumstances," said Carol Rose, executive director of the ACLU of Massachusetts, in an emailed statement.
---
Advocates expressed concerns people dispersing may end up in less safe situations. They've visited those they work with in the encampment to make sure they're aware of the ordinance and have cell phones to reach them once the tents are cleared. Many advocates point to research suggesting fatal opioid overdoses increase when people are isolated and may not have access to overdose reversal drugs or other addiction medications.
"I don't feel optimistic that this is going to create systemic change," said Abigail Judge, who co-leads Boston Human Exploitation and Trafficking, a group that helps women living in the encampment. "I think that the reasons why people come here are not going to go away because people are housed, because people are in active addiction and are neurobiologically dependent on substances."
Arias, the security guard, said he's also concerned about the disruption of what he described as a community created in the encampment. Providing shelter to those struggling, he said, is just one part of a broader effort needed to address the complexities of addiction and mental health problems.
"A lot of people also have housing and it's not safe for them to get high in their own house because a lot of people die in their own apartment," Arias said. "I lost two family members a couple of years ago in an overdose. Unfortunately, nobody could help them because they was alone in the room, and they died.
"All the time, I feel like if I can help somebody, in their honor, I'm gonna try to help them."
This article was originally published on October 31, 2023.
This segment aired on November 1, 2023.