Why candlepin bowling took off in New England — and not anywhere else
Editor's Note: This is an excerpt from WBUR's Saturday morning newsletter, The Weekender. If you like what you read and want it in your inbox, sign up here. 
---
Ask a group of New Englanders if they'd like to go bowling and you'll likely be met with a question:
"Big ball or little ball?"
"Big ball" refers to tenpin bowling, the more widely version of the game, with wide pins and heavy balls with three holes.
"Little ball" refers to candlepin bowling. Candlepin is played with narrower pins and a smaller, 2.7-pound ball — which, according to candlepin fans, makes for a more challenging game. And, most importantly, it's become iconic to New England. In fact, with a few exceptions, you can only find candlepin bowling alleys in New England and Canada's Maritime provinces.
This month, I set out to explore the origins of candlepin bowling and find out why the game never expanded nationwide. To my delight, I uncovered something extra: A tight-knit, enthusiastic community determined to preserve the legacy of a game created right here in Massachusetts.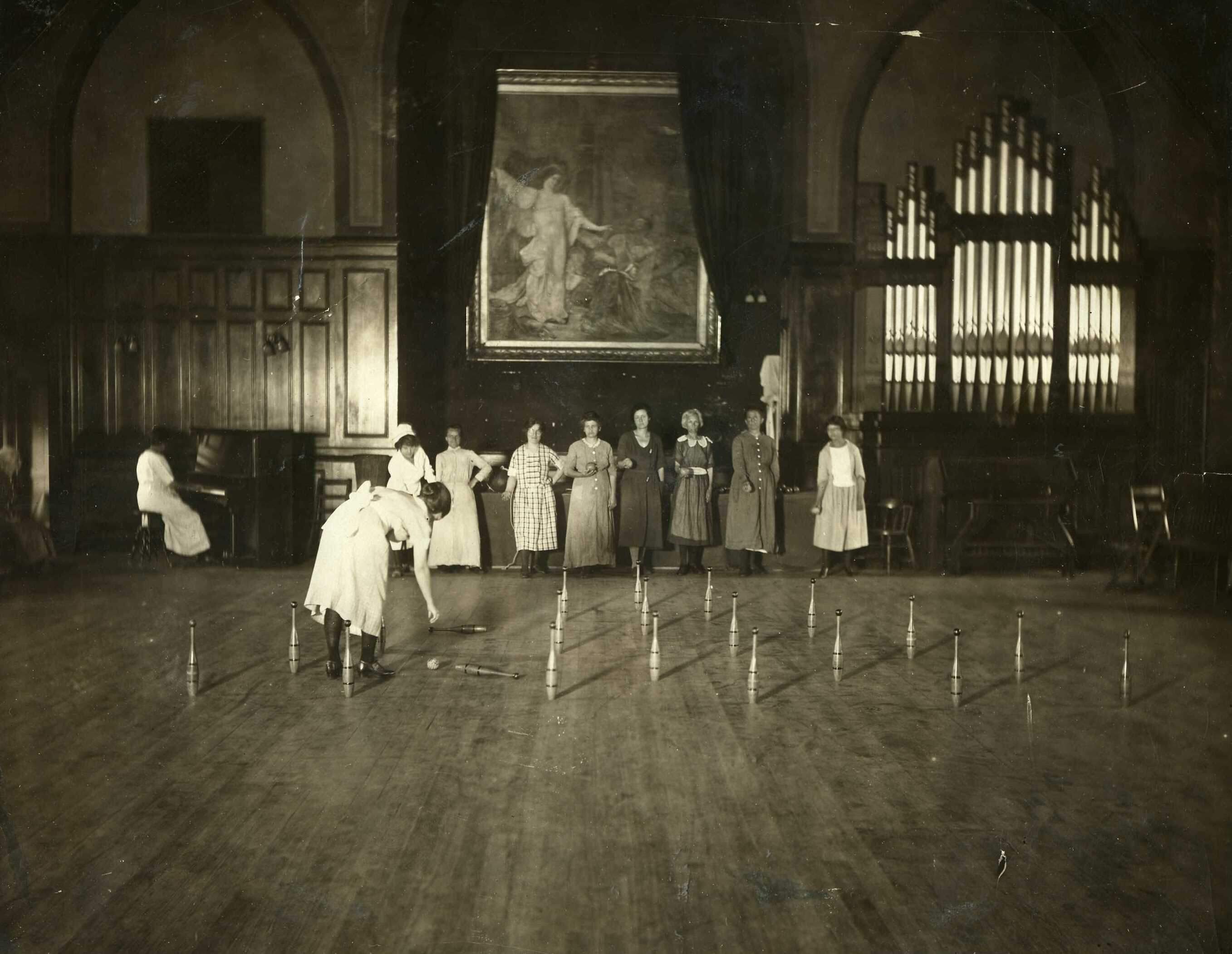 Candlepin bowling was founded in 1880 by Justin White, a bowling alley owner in Worcester. The game took off due to its accessibility; the lighter balls allowed for adults and children of all ages and abilities to play the game. In the mid-20th century, recreational leagues became popular among families and communities.
"There was one in almost every town," said Mike Walker, president of the Maine State Candlepin Bowling Association and owner of the Big 20 Bowling Center in Scarborough. "They were everywhere, like a Dunkin Donuts. Everybody and their grandmother was in a bowling league. It was the thing to do."
Local TV stations even began to broadcast candlepin bowling competitions. "Candlepin Bowling," a program hosted by sports commentator Don Gillis on Boston's WCVB, drew in more than 200,000 viewers during its Saturday afternoon time slot, according to "Lunch with Tommy and Stasia," a book chronicling candlepin's TV "golden age."
When I recently visited a candlepin senior league at Webster Timber Lanes in Abington, several members fondly recalled getting hooked on Gillis' show, which ran on WCVB up until 1996. Jeanie Matott, one of the competitors, began bowling because of her mother and her sister. "But I think [candlepin] being on TV when I was a kid made it popular too," said Matott.
Despite its popularity in New England, the game did not expand nationwide. Candlepin bowling center owners say that, in some ways, the game is a victim of some of its own old-fashioned New England hardiness — and capitalism. For one, they blame the larger bowling industry's disinvestment in candlepin alleys due to a lack of repeat pin and machine sales.
"Tenpin bowling centers buy their pins almost every year," said Walker. "If they get broken, they have to replace them. Candlepins last for 15 to 20 years. We're not buying them anywhere nearly as often as a tenpin center."
Candlepin bowling centers also rely on a fairly basic pin-and-ball sorting mechanism, the majority of which were manufactured by the now defunct Bowl-Mor company. Webster Timber Lanes is home to one of these machines.
"Bowl-Mor built such a simple, well-running machine that they didn't have a lot of repeat sales," said John Pumphrey, the owner of Webster Timber Lanes and president of the Massachusetts Bowling Association. Showing me the candlepin machine, he explained that "everything in here is standard."
"The motors are basic," Pumphrey said. "The bars are ones you can get. So that's part of the reason Bowl-Mor went out [of business]."
Without a major manufacturer, new candlepin machines must be built by custom request. "But that's like a mom-and-pop shop, or the guy's making it in his garage or something like that," said Pumphrey. "It's very difficult for the game to expand if you've got nobody making the machines."
With those larger industry forces at play and fewer folks interested in taking on the big responsibility of managing the region's many aging bowling centers, it can be a struggle just to keep the tradition alive — even in New England. In a cruelly ironic twist, the last candlepin alley in the game's birthplace, Worcester, shut its doors in 2020.
Still, candlepin bowling endures. In the Greater Boston area, Sacco's Bowl Haven in Somerville and Brighton Bowl (both operated within American Flatbread pizza restaurants) and Ron's Gourmet Ice Cream and Bowling (in Dedham and Hyde Park) offer diners a casual introduction to the game. Meanwhile, centers like Walker's Big 20 and Pumphrey's Webster Timber Lanes host organized leagues that allow bowlers of all ages to perfect their skills — and compete.
"It is a challenge to keep these machines running right," Pumphrey said. "But if you love the game, it's not that big of a deal."
Loyal candlepin bowlers hope to see more people pick up the game as a social pastime again. Jerry Kelley, a player in the same senior league as Matott, says camaraderie is what makes being in a candlepin league special.
"We've had [people from] 44 out of 50 states come in this summer," said Walker. "We keep track on a board. Everyone that comes says, 'Hey, how can we open one of these? We want it back in our state.' "
P.S. — If you want to learn more about candlepin bowling, check out this deep dive from Maine Public into the game's enduring popularity in New England. If you'd rather just bowl a game, Boston Magazine has a guide to all the centers in the Boston area.