Fun between the flurries: Your winter guide to Boston
Winter in Boston is known for being kind of a jerk. You'll wake up one day to find the city blanketed in beautiful drifts of pillowy snow, only to watch them promptly transform into shrinking piles of hard, blackened ice.
There's no doubt you need to prepare for the weather if you live here. But there's also plenty of joy to be had as the temperatures drop, too. Read on for advice on how to dress, drive and save money on heat, in addition to tips on what to eat (soup, mostly), drink (hot chocolate, obviously) and do to have some fun.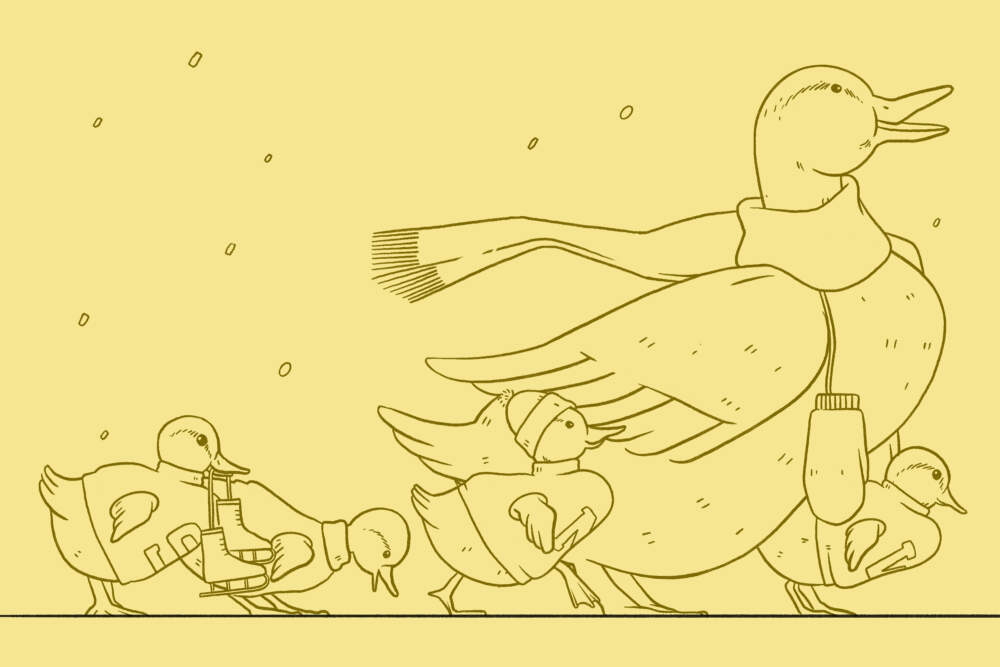 ---
How to survive winter in Boston
Dress for the weather
Brrr! Boston can get pretty chilly in the winter. If you moved here from a warm state, chances are you'll need to stock up on cold weather clothes.
You'll need the essentials: A hat that covers your ears and a down or synthetic insulated coat that covers your butt. (It's really no fun to have a cold butt.) Be sure to layer up inside that puffy coat, and make sure you have proper hand and footwear: boots should be insulated, and mittens will keep your hands warmer than gloves. Consult this guide on how to stay warm from a professional dog sled musher for more tips from a true expert.
Your life will be immeasurably improved by a couple pairs of lightweight silk long johns. They make the walk to the bus station much more bearable, and prevent you from slowly turning into an icicle if you sit still in a chilly office all day.
Resist urge to drink a lot of alcohol
When it's cold and dreary outside, it may be tempting to curl up with a bottle of wine. But experts caution against hitting the booze too hard in cold weather because it causes the blood to rush to your extremities, making you feel warmer while causing your core temperature to drop.
Plug those leaky windows
One of my favorite things about Boston is its cuteness. Cobblestone streets, brownstones covered in ivy, Victorian houses with whimsical Queen Anne shingles — cute, cute, cute! But all that old, full-of-character architecture Boston is known for tends to be quite drafty. That is why you should definitely look into weatherizing your home, whether you own or rent.
Pro tip: Massachusetts offers free energy audits through its energy efficiency program Mass Save, which can also help you pay for weatherization and upgrades.
Get help paying your heating bills
Paying for heat can really put a dent in your paycheck, especially with rising energy costs. Luckily, Massachusetts residents can get utility bill subsidies through a federal program called the Low Income Energy Home Assistance Program, or LIHEAP. Don't let the name fool you — you don't actually have to live below the poverty line to qualify. In fact, the program is extremely underutilized, probably because people wrongly assume they earn too much to receive assistance.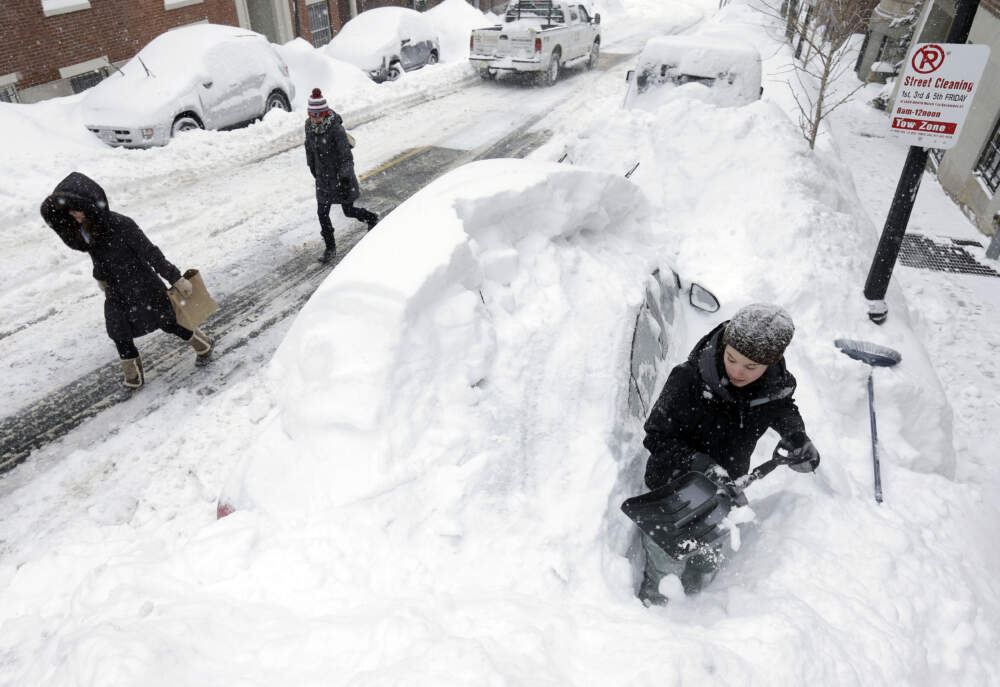 You can relax about parking. Except when you can't.
The city deems it extremely important to restrict parking twice a month, and in some neighborhoods, weekly, in order to dispatch a hilarious little truck with giant brushes to each and every street. If your car is parked where the street sweeper is scheduled to clean, it will be ticketed and/or towed.
Pro tip: search the city's database to find out your block's street sweeping schedule and sign up for reminders from the city. (You can register for a similar service in Cambridge.)
Here's the good news: Bostonians in most neighborhoods can relax their vigilance from Dec. 1 through March 31, when daytime street cleaning is suspended for the winter. In the North End, the South End and Beacon Hill, street cleaning is paused from Jan. 1 through Feb. 28.
In the event of a snow emergency, parking is restricted on certain roads. So, be sure to check the signage near your car when snow is in the forecast. The city provides a list and map of restricted streets and garages where you can store your car during a snow emergency.
Prepare your car for the cold and snow
It's generally a good idea to get your car serviced before the winter starts in earnest. If you don't want to splurge for a tune-up, consider swapping your all-season tires for snow tires, and make sure to regularly check the tire pressure, top off the windshield fluid and replace your windshield wipers if necessary. The state has some helpful resources for winter driving and car kits, along with advice on pet safety and emergency planning.
Tend to your mental health
Winter in Boston can be dreary and gray, which translates to "depressing" for many people. There is even a clinical term for wintertime depression: seasonal affective disorder, or SAD. If you're prone to the SADs, consider investing in a light box, which mimics the sunshine we miss so desperately in the winter months. The National Institute of Mental Health has more on how SAD is diagnosed and treated.
---
How to thrive in a Boston winter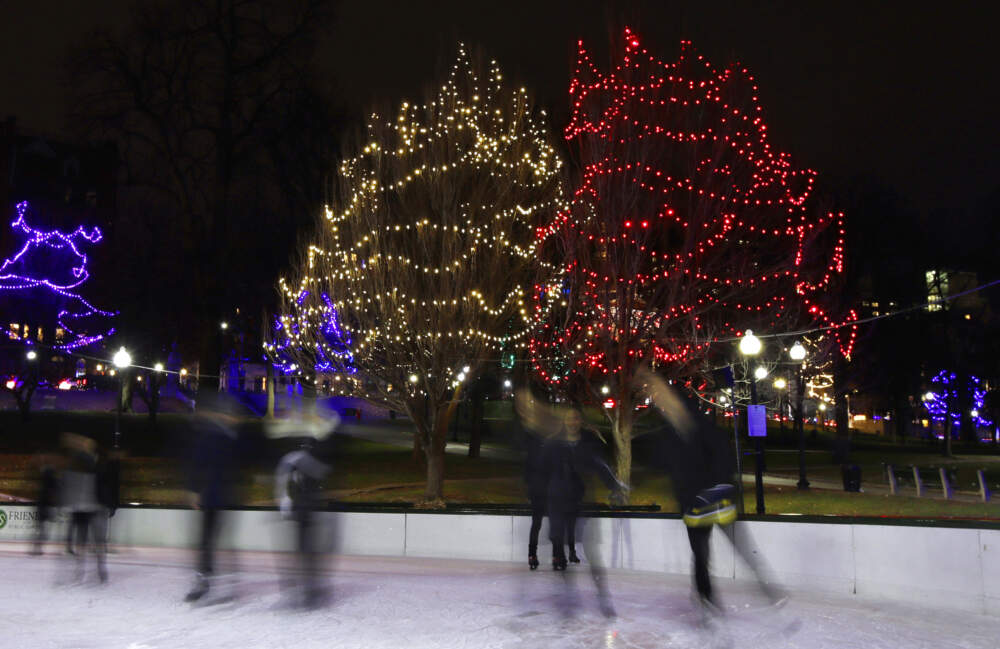 — Tips for if you dare to venture outside —
Skating
Dig those skates out of the closet and find a scenic spot to glide (or wobble) across some frozen water. The Boston Common Frog Pond is probably the most popular skating location in the city, and arguably the prettiest. But there are several nice outdoor rinks around town: The Rink at 401 Park in Fenway, Kelly Outdoor Rink in Jamaica Plain and Community Ice Skating at Kendall Square. Make sure to take advantage of Boston's cold days as climate change makes them fewer and farther between.
Winter Walk
Every February, the Winter Walk brings together thousands of housed and unhoused Bostonians to raise money to end homelessness in the city. The walk traverses two miles of the city and ends with a shared meal. Funds raised by marchers are distributed among 20 local nonprofits that provide food, shelter, healthcare and other aid to unhoused Bostonians and residents of Massachusetts.
Snowshoeing or cross-country skiing
When there's snow on the ground, you don't have to leave the city to discover a winter wonderland. To the south, the Blue Hills Reservation stretches 7,000 acres from Quincy to Randolph and offers hiking trails appropriate for both snowshoeing and cross-country skiing. There's also a little downhill ski area that's perfect for beginners.
To the north, the Middlesex Fells Reservation, Lynn Woods and Breakheart Reservation feature some decent trails, too. For more details on snowshoeing spots near the city, check out this great guide from DigBoston. If you're willing to drive a ways, The Boston Globe put together a nice broader Massachusetts roundup as well.
Polar Plunge
Every New Year's Day, a group of brave Bostonians run into the icy waters off L Street Beach for the L Street Brownies New Year's Day Polar Plunge. The tradition dates back to 1904, when members of the Southie social club donned old-timey bathing suits and plunged into the bay. It's one of the oldest ongoing polar plunges in the nation.
---
— Tips for if you'd rather be cozy indoors —
Bookshops
There's no better time to browse a bookshop than in the winter. Plus, it's a great way to support a local business. Trident Booksellers & Cafe on Newbury Street and Porter Square Books in Cambridge feature quaint cafes where you can sit and nurse a hot cup of coffee while you read.
Hot cocoa
Hot chocolate is to winter what ice cream is to summer. L.A. Burdick, which has locations in Back Bay and Harvard Square, is widely regarded as the area's gold standard; its "drinking chocolate" is truly the richest, most exquisite liquid you'll probably ever taste.
But there are other places around town to find quality hot chocolate. Flour Bakery + Cafe, which has multiple locations, puts a delicious spin on the classic with a dollop of rich ganache in its chili-laced "fiery hot chocolate," and Gâté Comme Des Filles in Somerville's Union Square serves a thick Parisian-style hot chocolate topped with whipped cream. If you're willing to make the trek to Salem, Kakawa Chocolate House offers several unique chocolate "elixirs" based on the chocolate drinking traditions of both Europe and the pre-Columbian Americas.
Bowling
Winter is "a mighty fine time to go bowling," in the words of my editor. As it happens, Worcester is the birthplace of candlepin bowling, which many New Englanders insist is a far superior form of bowling to the conventional 10-pin. (Or "big ball bowling," as it's known in my house.) Candlepin pins are, as the name suggests, skinnier. And the balls are smaller, which makes the game harder. But to make up for it, you get three rolls per turn.
Sacco's Bowl Haven in Somerville's Davis Square and Brighton Bowling (in Brighton) pair candlepin with wood-fired pizza and an extensive beer list. For a more classic feel, check out Southie Bowl, a.k.a. South Boston Candlepin, Central Park Lanes in East Boston or Ron's Gourmet Ice Cream and Bowling in Hyde Park. If you simply must, King's and Lucky Strike Fenway are the spots for traditional bowling.
Soup
There's nothing better in the wintertime than a bowl of hot soup, and the Boston area is a hotspot, as it were, for yummy soups of all kinds: ramen, pho, hot pot, classic chicken and a creamy regional take on clam chowder.
In recent years, Boston has become kind of a mecca for ramen. In recent years, Boston has become kind of a mecca for ramen. If you can clear your schedule for a long post-prandial nap, try Yume Wo Katare in Porter Square for its incredibly rich broth and springy hand-cut ramen noodles. The jiro-style ramen shop only serves one dish – pork ramen – in absolutely gigantic servings, and eating there is a truly communal experience. Once your stomach has reached capacity, you are invited to stand up and share a personal dream or aspiration with the other diners, who offer encouragement. Then the staff (lovingly) grades your attempt to finish one of those massive bowls of soup. It's a little awkward but very sweet.
Eater published a thorough roundup of the best soup spots in Greater Boston, which it updates periodically. I can personally recommend the duck confit noodle soup at Cicada in Cambridge's Central Square and the Thai street noodle spot Dakzen in Somerville.
Pickleball
Try pickleball, the racket sport sweeping the nation. The pandemic turned out to be a huge moment for pickleball, a game that's kind of like a cross between ping-pong and tennis. In the last few years, the sport has become the subject of multiple long-form magazine features, a hobby for venture capitalists and retirees and the target of backlash from tennis players who compete for court space and neighbors annoyed by the sound of the paddle smacking the ball.
Pickleball's rise in popularity is likely due to its low barrier to entry, and I can personally attest to the fact that it's a lot easier for the casual player to pick up than tennis. The recently-opened PKL in South Boston offers indoor courts for rent, as well as shuffleboard. Afterwards, you can grab a dumpling at nearby Mei Mei or a beer at Castle Island Brewery around the corner (or get food and drink at the on-site bar).
The Beanpot
Every February, four Boston-area colleges duke it out on the ice. The annual Beanpot hockey tournament pits the hockey teams from Northeastern University, Boston College, Harvard University and Boston University against each other at TD Garden in Boston.
Art museums
Boston's major art museums — the MFA, ICA and Gardner Museum — all offer free admission and special programming on Martin Luther King Jr. Day; the ICA and the Gardner also offer free admission on Presidents Day. Why not take in some culture on your federally mandated day off?
---
Holiday Happenings
Markets
Do your shopping at holiday markets and support local artists in the process. Check out the Boston Women's Market Holiday Shop at rotating locations and the long-running Harvard Square Holiday Fair to shop wares by local businesses indoors.
For an outside stroll plus snacks, try the Snowport at the Seaport or the Downtown Boston Holiday Market. For vintage vibes, check out the SoWa Vintage Market during the SoWa Winter Festival and the Somerville Flea Holiday Market.
All the nutcrackers
The Boston Ballet's annual presentation of Tchaikovsky's beloved fairy ballet "The Nutcracker" is a Boston tradition, and great for kids.
"The Slutcracker" is a raunchy take on the Nutcracker ballet featuring Boston's many burlesque and drag performers. The massively popular show, which hits the Somerville Theater every holiday season, is an irreverent riot – though not for the prudish among us. Definitely not for kids.
For more than 20 years Tony Williams' "Urban Nutcracker" has put a multicultural spin on the classic ballet, melding modern dance forms like tap, hip-hop and jazz into a reimagined story.
Other winter traditions
The Midwinter Revels, originally titled the Christmas Revels, has been a beloved December event in Cambridge for half a century. The annual production explores a different culture through its winter traditions each year, performed by a mix of both professional and amateur singers, dancers and musicians. It is perhaps best-loved for its communal ethos, expressed through an invitation for the audience to join the choir in song.
First Night is Boston's annual celebration of the Gregorian new year (what most Americans simply call New Year's Eve). Musical performances, figure skating, puppet shows and more unfold at a few venues throughout the day. The festivities converge in Copley Square with a parade followed by a big concert, a countdown to midnight and a fireworks display.
Boston's Chinese New Year Parade takes over the city's Chinatown neighborhood every lunar new year in February, led by local lion dance troupes decked out in spectacular costumes.