This article is more than 14 years old.
In "Tricksters in the Madhouse" (University of Nebraska Press), John Christgau makes a convincing case that a single game between the Minneapolis Lakers and the Harlem Globetrotters in 1948 is worthy of a book. In part, that's because the Lakers were all white and the Globetrotters were all black. Beyond that, though the Lakers were simply a strong pro basketball team, the Globetrotters were entertainers who never let actual basketball get in the way of attaching a rubber band to the ball or cake-walking around the court for a laugh. Finally, it was argued, at least by the owners of the two teams, that whichever club won the game could claim it was the best in the world. That possibility was convincing enough so that 18,000 people paid to see the game...a far larger crowd than the Lakers or the Globetrotters usually drew for a week's worth of work, let alone a single game.
John Christgau has arranged his racial, historical, and psychological concerns and contentions along the narrative line of the game itself, but he's done it adroitly enough so you won't find yourself skipping his digressions to find out who's going to score next. When we spoke, Mr. Christgau, who heard the 1948 game on the radio when he was a child, told me that he'd used newspaper accounts and interviews with folks who were either playing in the game or watching it to recreate the contest, possession by possession. He claimed nobody'd called or written to contradict the result. If he's not entirely accurate - and who knows if he's not? - he's consistently entertaining, which counts for a lot in an enterprise like "Tricksters in the Madhouse."
The fact that the Globetrotters nipped the Lakers with a last second basket in Chicago that night 57 years ago did not, of course, obliterate racism in basketball, any more than Jackie Robinson's arrival in Brooklyn a year earlier transformed Major League Baseball into an utterly colorblind commnity.But as Mr. Christgau points out, nobody who had claimed that black players couldn't work together to make a team, couldn't execute complicated plays, couldn't keep their minds on what they were doing and so on, would be as likely to think or say such stupid, uninformed, bigoted things after the Globies beat George Mikan's guys.
This program aired on February 18, 2005. The audio for this program is not available.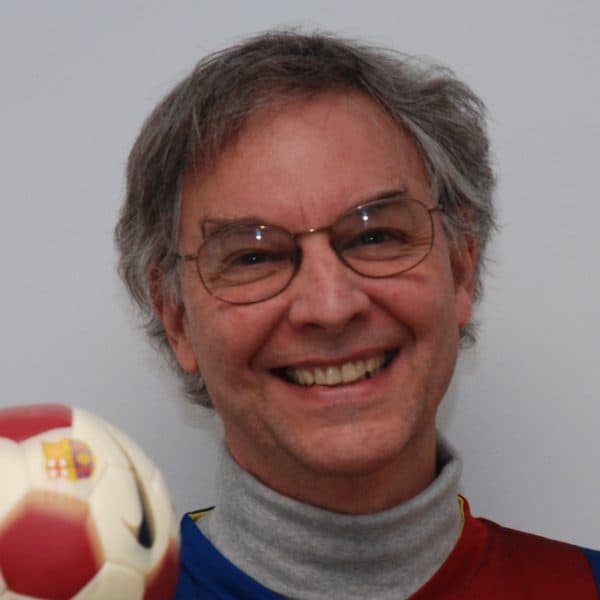 Bill Littlefield Host, Only A Game
Bill Littlefield was the host of Only A Game from 1993 until 2018.