This article is more than 14 years old.
What's frightened fans of Manchester United so thoroughly that they've burned the team's new owner in effigy?
Are they worried that Malcolm Glazer will raise ticket prices? Certainly he will. So would anybody else who assumed a controlling interest in a monstrously successful and popular but magnificently expensive sports operation. especially if that somebody had borrowed four hundred ninety million dollars to make the $1.47 billion takeover possible, and had been assured by precedent that raising ticket prices will alter only the economic profile — not the number — of those demanding tickets.
Manchester United fans also fear that Mr. Glazer will sell old Trafford, Man U's ancient and honorable stadium. Maybe he will. Except for the magical money machine, Fenway Park, buildings wear out...even buildings bleeding tradition and echoing with the ghostly "thunk" of goals denied by the near post.
This week premier league executive Richard Scudamore said that "in the fullness of time," he and other league executives would be meeting with Mr. Glazer's representatives to learn what the new owner has in mind for the world's richest soccer team. One might have thought, especially given the rowdy demonstrations against Mr. Glazer outside old Trafford, that a meeting should have occurred at some point before "the fullness of time," but never mind. What the meeting will reveal is that Mr. Glazer's plan is to vastly increase the stream of euros, dollars, yen, pesos, rubles and so on flowing into the man u. coffers. In this respect, he differs not at all from various English, American, Japanese, German, Spanish, Mexican, Italian and Russian men who own sports franchises.
It's healthy to regard this latest evidence that the world is getting smaller even as the wealthiest people in it are thinking bigger as a no-lose proposition.
If Manchester United under the stewardship of Malcolm Glazer climb to the top of the premiership and eventually topple first place Chelsea, a team owned by a man who is precisely as English as Malcolm Glazer, then the global regard for U.S. competence in the world of soccer will spike. That would be a good thing for the soccer business.
If Man U. fall upon times even harder than recent times have been, fans can blame the yank, an increasingly popular, satisfying, and, in many cases, rational course of action that may, in a modest way, begin to tilt toward upright a world the lunacy of which is indicated by a soccer team that costs $1.47 billion dollars to control.
This program aired on May 20, 2005. The audio for this program is not available.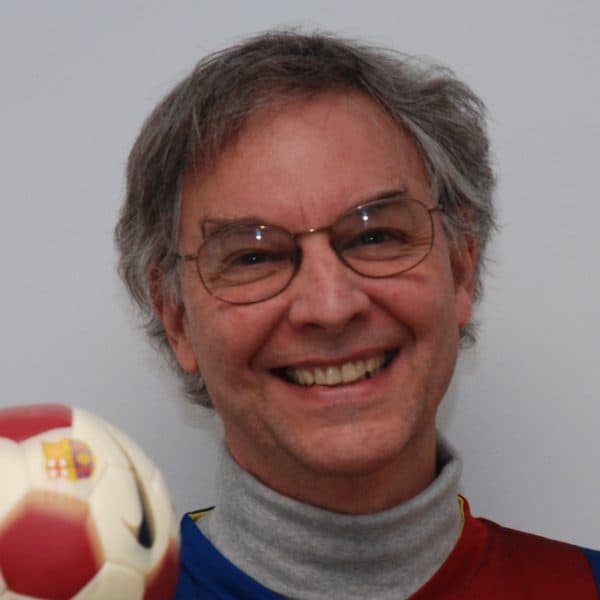 Bill Littlefield Host, Only A Game
Bill Littlefield was the host of Only A Game from 1993 until 2018.