This article is more than 12 years old.
Can Santa bring manners? Can Santa do that?
If so, then I hope that the jolly, old fat
Man will bring them to T.O., who, lacking a call,
Spat into the face of DeAngelo Hall.
T.O.'s Mr. Owens, a Cowboy this year,
A player with talent, although it's not clear
That he has the sense God dispensed to a box
That is made out of cardboard and filled up with rocks.
For spitting and hitting young Hall in the face,
T.O., this disreputable, world-class 'scape grace,
Was fined three one thousandths of his yearly pay...
So plainly he never again will dismay
His teammates, opponents, and coaches and fans,
And anyone else who has made any plans
To find in a football game reason to cheer.
Would you root for Owens? It seems to me clear
That for all of his talent, he's lacking the sense
That you'd find in a picket that's part of a fence.
Can Santa bring self-control? Can he give one
The patience to not throw a punch? It's begun
To appear that he can't, or Carmelo'd have had
That patience, assuming he hadn't been bad.
But his former stockings were filled, not with coal,
But with money. So much that if there were a hole
In each sock Melo hung by the chimney with care,
A great deal of money would still have been there...
But, he's there for basketball and not to box --
(I wish I had not just used up the word "socks.")
Carmelo forgot he was not there to fight,
Threw a punch, ran away, and from there it's goodnight
To Irene, or at least to Carmelo for now:
So Iverson's gone to the Nuggets. That's how
The Denvers will make up the 'Melo they lack,
Since, like T.O., he's part of the ballclub's attack.
If Santa can carry in his heavy bag
Both manners and patience, and still never lag
Behind all his reindeer as he makes his way
From football to basketball, well, then I say
I hope he remembers to stop on the roofs
Of the players I've mentioned, and his reindeers' hoofs
May wake up the lads who've behaved like such goofs.
But if Santa can't help those guys, if it's too late
To reform their behavior with magic, well, great,
I still have an errand for Old Nick to do,
And it's all about children, for whom, it is true,
The old guy exists, and so here is my plot:
He goes to the home of each child that he's got
On his list and he gives them the wisdom to see
That T.O. played the pig and that 'Melo may be
A great player but not a role model, not him,
At least on that night when on some antic whim
He threw that dumb punch. Santa, give us, I pray,
The wit to stop worshipping people who play
The games that we like just 'cause they play 'em well,
And grant us the wisdom to easily tell
That a man who is spitting or one in a fight
Is prob'ly at least a few shades shy of bright.
So Santa, regard my plea now, in your season,
And as we go nuts watching games, grant us reason.
This program aired on December 20, 2006. The audio for this program is not available.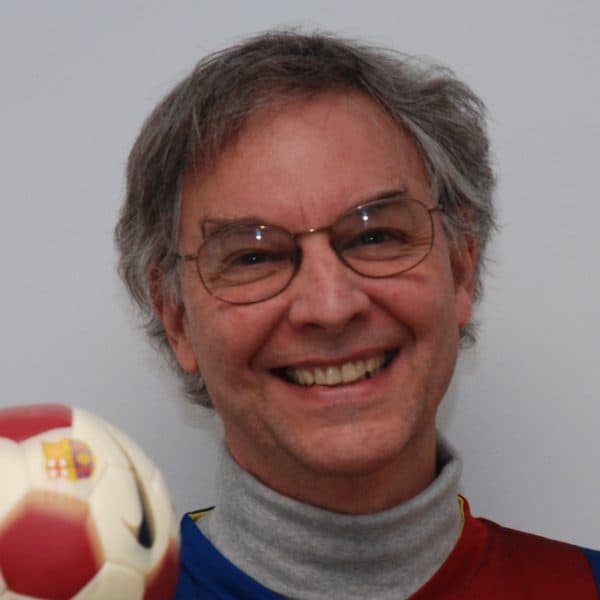 Bill Littlefield Host, Only A Game
Bill Littlefield was the host of Only A Game from 1993 until 2018.