This article is more than 11 years old.
I wish I'd thought of it.

Chuck Culpepper, a sportswriter in the U.S., decided that there might be a book in going to England and writing about a team in the Premiership – the U.K.'s top soccer division - from a fan's perspective. He sold the idea to a publisher, which means he was paid to do this thing. This seems to me about like being paid to get Christmas presents. Having considered several teams to which he might have awarded his loyalty as a fan, Culpepper settled on Portsmouth. The club had recently gained promotion to the Premiership after a string of seasons in lower divisions, and Culpepper felt the 2006 season might offer some excitement: Would Portsmouth play well enough to avoid relegation back down to a lower level? The short answer is that they did. In fact, Portsmouth played so well that for a giddy time, Culpepper thought they might challenge such giants as Manchester United, Chelsea, Liverpool, and Arsenal at the top of the table, as they say in England. Culpepper witnessed numerous games at Fratton Park, Portsmouth's home ground, but he also traveled throughout the country to away games. When he could not secure a ticket, he watched the games on t.v. in neighborhood pubs or stood outside the stadiums, trying to guess what all the shouting was about. When he managed to get in, he heard the creative cheers, chants, and songs that have long distinguished English soccer fans, though he sometimes had to nudge the fan next to him and ask for a translation. One of his fellow Portsmouth fans attended games dressed in a bear suit. The bear suit was Portsmouth blue. The result of this season-long adventure, Bloody Confused, is one of the more entertaining books I've ever read. It will delight soccer fans, of course, but anybody who likes to laugh out loud while reading will enjoy it as well.
This program aired on October 23, 2008. The audio for this program is not available.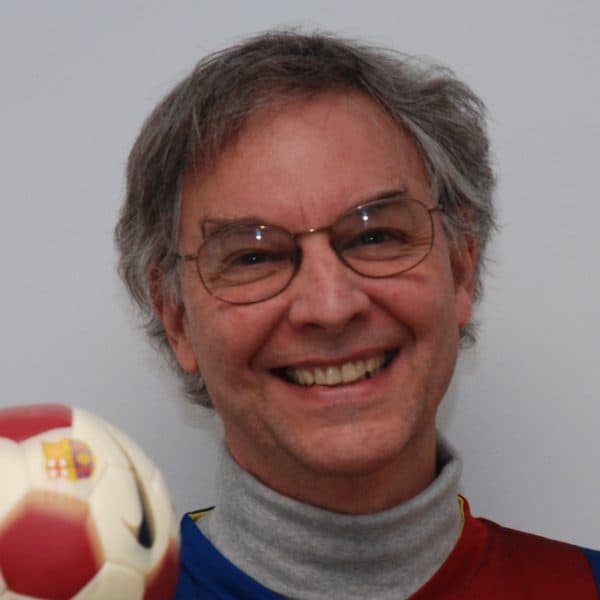 Bill Littlefield Host, Only A Game
Bill Littlefield was the host of Only A Game from 1993 until 2018.