Music on Only A Game – 8/1/2009
This article is more than 12 years old.
• Notre Dame Victory March by The USC Trojan Marching Band (from Fight Songs, Delta Records, 1989)
Gary's Take-Whether they're collaborating with Fleetwood Mac or performing the fight songs of rival schools, that krazee Trojan band really kills it, doesn't it? I looked for the Japanese version of this but, alas, it doesn't exist…yet.
• Too Tough to Die by The Ramones (from Too Tough to Die, Sire Records, 1984)
Gary's Take-The Tough Guy Competitors were too tough to die, but most of The Ramones weren't. RIP, Joey et al.
• Cricket by The Kinks (from Preservation Act 1, Konk Records, 1998)
Gary's Take-Leave it to Ray Davies and his beloved brother, Dave, to establish the bounds of propriety.
• Take Him Fishing by Merle Haggard (from All Gone Fishin', Bandit Records, 2006)
Gary's Take-I tear up every time I hear this. In fact, I'm tearing up right now. Excuse me…
This program aired on July 31, 2009. The audio for this program is not available.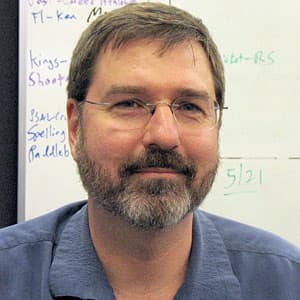 Gary Waleik Producer, Only A Game
Gary Waleik is a producer for Only A Game.