This article is more than 10 years old.
I Can't Get to First Base With You by the National Pastime Orchestra (from A Century of Baseball in Song, Vol. 1, The Sporting News, 1989)
The writing credits go to a certain duo called "Fisher & Mrs. Lou Gehrig". Upon further research, it turns out "Fisher" was a one Fred Fisher, a songwriting friend of the Gehrigs. The Mrs. Lou Gehrig was Eleanor Gehrig, the putative Iron Filly.
Apparently, the song was considered too dirge-like to be a hit, but some claim it outperformed "I Could Stay at First Base for Decades With You", penned by a mysterious "Mrs. Pipp".
Hip Priest by The Fall (from Hex Enduction Hour, Kamera, 1982)
I saw the Fall's tour supporting this record. They played the legendary Rathskeller in Boston's then-seedy Kenmore Square. I was pinned to the front of the knee-level stage by a surging crowd. The only way to avoid the pain was to crawl up on the stage directly in front of Steve Hanley's Ampeg bass amp. It was so loud and laden with low end that the entire room appeared to vibrate when Hanley played the low strings. But it was only I that was vibrating.
Theme from Checkmate by MX-80 (from Das Love Boat: Instrumentals 1975-1990, Atavistic, 1995)
I felt rooked that there weren't more tunes on here by these instrumental kings. Sorry…
Love Roller Coaster by Ohio Players (from Didn't It Blow Your Mind: Soul Hits of the '70's, Vol. 17, Rhino, 1995)
My 9th favorite band from Ohio behind Guided by Voices, Great Plains, DEVO, the Breeders, the Amps, Pere Ubu, Scrawl, and New Bomb Turks.
Air from Handel's Water Music (from Mad About Baroque, Deutsche Grammophon, 1993)
The "poetry" of Adonal Foyle deserves much, much worse than this, but I couldn't find any Cowsills or Stockhausen…
The Refrigerator Man by Willian "Refrigerator" Perry (from YouTube)
Perry looked more like a washing machine, in my opinion.
This program aired on August 20, 2010. The audio for this program is not available.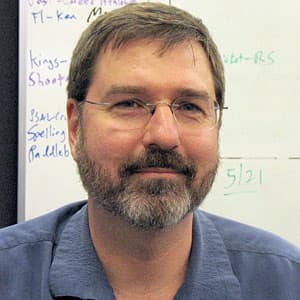 Gary Waleik Producer, Only A Game
Gary Waleik is a producer for Only A Game.